Real Boats for Real Blokes. the words on Brian Collings' T shirt describe perfectly the philosophy behind every AMF Pro-Sport series boat. AMF build serious aluminium boats that are guaranteed tough (another T shirt message) and quite unashamedly are targeted towards the serious sportsman who wants more in a boat than just good looks and ride.
T he AMF Pro-Sport Series – 5.8m to 6.6m – are built in Wanganui by River City Marine Limited and have been since 1995, when owner Brian Collings bought the jigs and patterns from the Te Puke boat builders of the same name – AMF – for the outboard powered Pro-Sport series. Initially he went to the company looking for a new boat that would do everything he wanted offshore from his base at Wanganui. He liked the workmanship offered by AMF but felt they needed to be altered to suit what he wanted in a hull for West Coast boating. In collaboration with Paul Sharrat they came up with the new Pro-Sport Series in 1988.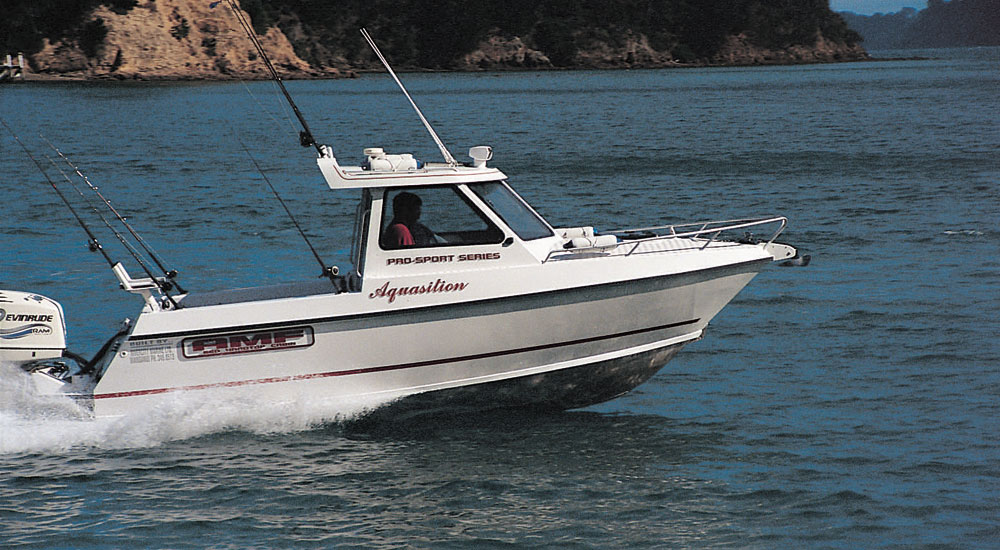 When I first talked to Collings about a test, he had ideas of a trip across Cook Strait to D'urville Island from Wanganui, a serious cray dive and fishing trip and then back home all in one day. However I felt it was about time he came to sample the Hauraki Gulf, which I found out after our test, he had never seriously boated on.
We chose a well-used – and I only say that because it had done a staggering 400 hours in 14 months – Pro-Sport 660 Hardtop. Aquasition may have had more sea miles under the keel than any trailerboat I have ever tested before, but you couldn't tell. Apart from a few wear points around the anchor, it was still in pristine condition and looked like it had only recently come out of the factory. You would think an aluminium boat that had been used so much would show signs of stress, or at least rattle a bit. Not so. Aquasition didn't even squeak!
The Hauraki Gulf can be very unpredictable so picking the right day was important. I wanted sunshine, the AMF boys wanted rough water. Fortunately we got both and a full day, from dawn till dusk, certainly gave me a whole new appreciation of hardtop boating. No wind, no spray, no noise and total protection from the weather.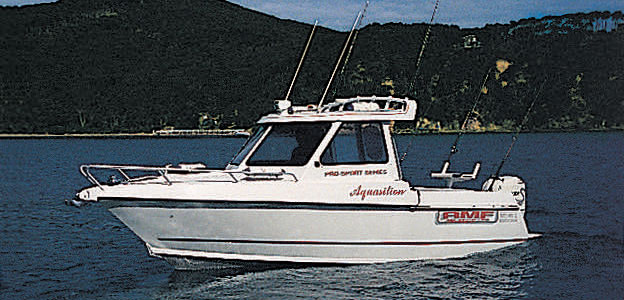 We left Stanmore Bay, Hibiscus Coast around 7:00 am and headed past Kawau Island and Little Barrier Island for our first destination, Simpson's Rock. The owner of Aquasition, Peter Lloyd, had a favourite deep water fishing spot marked on the GPS – sorry, but if I told you the co-ordinates I'd be dead – and as soon as our lines hit the bottom we were in. Snapper, Porae, Kingfish and even nuisance Barracouda, the fishing was great. The 42 nm run took us less than 1hr 30min in a whitecapping 0.5m following sea. The 660 handled it with ease, with the Evinrude 200 Ficht Ram sitting on 4500 – 5000 rpm and according to the fuel gauge emptied 60 litres from the 240-litre tank.
The open plan cockpit of Aquasition is unpretentious but very practical and sensibly set-up for fishing. Rod holders are strategically placed on the coamings, transom and even beside the bait station. It's the sort of cockpit that can comfortably fish four people – except when you hook a barra – and the raised coamings offer excellent support in the sloppy sea when you're busy working a fish. Although I found them too high to sit on, AMF also offer a lower coaming as an option. The rear transom door gives good access to the boarding platforms either side of the outboard, but in the low-sided boat this isn't included as the coamings are already at the right height  to step over.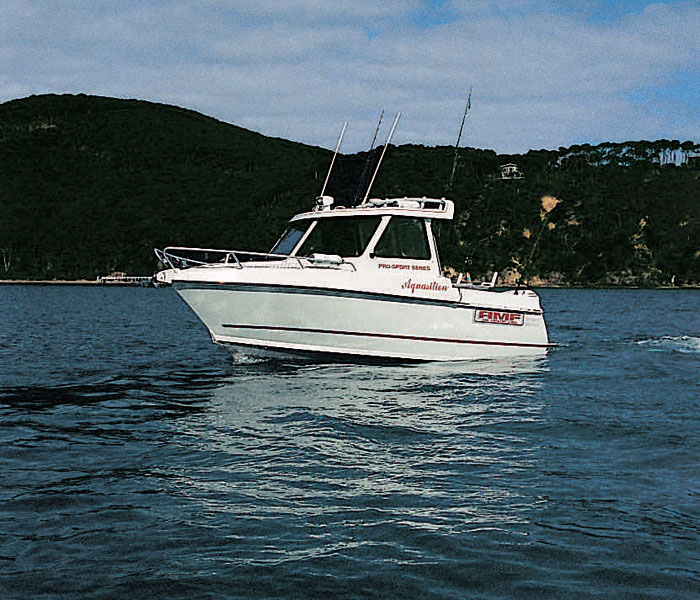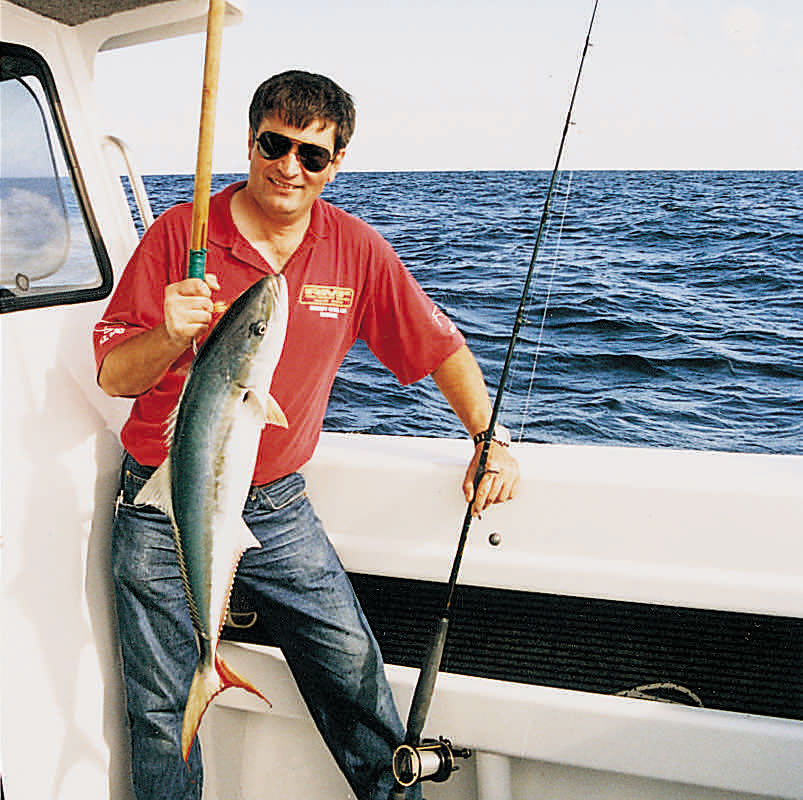 The central bait station is mounted on a purpose-designed board, which again is at the right height and easily accessed by all those fishing. With no storage bins built into the cockpit sole you'll need to take your own. The large Bailey bins are excellent and also double as cockpit seating. Storage is available in wide side trays, which are large enough to stow dive bottles, plus the area under the transom either side of the fuel turret is deep enough for slide-in plastic bins. The two deep cycle batteries and oil tank have their own well-protected lockers above. AMF offer a variety of seating options, although for the serious fisho, the extra space taken by fixed seating would be a nuisance.
After a few hours of reasonably productive fishing the wind had lifted to over 25 knots and the sea state was looking a little unpleasant. Stability while fishing was good and the 5mm thick treadplate floor gave us excellent grip. The 660 doesn't have a self-draining cockpit but any water aboard simply drains back in the deep sump and is expelled via a bilge pump. We decided to head back to Little Barrier and shelter in the lee of the cliffs and try out a few more snapper spots.
Unfortunately we didn't add much to the bin and after a pleasant lunch, headed back to Kawau's North Passage. This time we had 1m-1.5m waves right on the nose. With the 660 trimmed reasonably flat, we had a dream ride at 30-35mph all the way back. The hull responded well to the helm and if you kept an eye on the changing wave pattern, you could set the boat right where you wanted it. We did take a few knocks, but again the hull felt tough and stiff. No rattles no squeaks and no 'tinnie' noise! Passengers have the option of hanging onto a rail beside the skipper in the shelter of the hardtop, or standing outside, still well protected by the wheelhouse in front.
You get a very different feeling when driving from inside the enclosed wheelhouse and I can understand why Aquasition's owner spends as much time boating in the winter as in the summer.
On the way back to Stanmore Bay, we tried out a few more fishing spots but none were as productive as Simpson's Rock. It didn't really matter as we already had plenty and I was pleased that we had been able to test the 660 in such different water conditions. Flat out in the calm the 200 Evinrude Ficht got the 660 up to 46 mph @ 6000 rpm. For much of the 117nm round trip we sat around 35 mph – 38 mph @ 4500 – 5000 rpm and peeled off the distance reasonably quickly. The fuel gauge indicated a total of 143 litres used, which I thought was reasonably good for the miles we had covered.
This is a boat on which you can quite comfortably spend nights away and Aquasition certainly has been used to the max for such a purpose. The forward cabin is surprisingly large with a generous vee berth with 2m bunks which are ideal for two people. There is a portable head under the central squab and plenty of space to stow your gear.
The side shelves are so wide that they can be used as bunks for kids or in the case of Aquasition to stow away all the safety gear, lifejackets, charts etc. There is also a lot of space under the squabs for those extended trip provisions. As the side decks taper away considerably forward of the hardtop, all anchoring chores are easier done by going through the cabin and using the Weaver deck hatch and a foot operated capstan switch.
The wheelhouse area, like everywhere else in the boat, is customised to suit each owner's particular requirements, even to the extent of fitting a compact galley complete with stove. In Aquasition's case that area has been taken up with an L shaped seat with deep storage under. If you are going to sell a boat to sportfishers than you must allow plenty of space for all the electronic toys. In the 660 Hardtop there's plenty and you have the option of either flush or bracket mounting, plus there is still room for the engine instruments switches and service panels. The 6mm toughened glass windows are bolted and bonded into alloy frames and are offered with an optional wiper and freshwater washer unit.
Since producing their first hardtop in 1996, AMF Wanganui have found a niche market that appreciates the 'brilliance' of this style of sportfishing boat.  Customers are usually boaties who have had a number of boats previously and know what they want in a boat. Based on the 660 hull, you have the option of a fully enclosed wheelhouse with aft sliding door – as on the test boat – or with a completely open back. The 660 is a full warped plane hull, 18 1/2 deg deadrise at the transom with 6mm plate on the bottom and 4mm on the side. Collings believes in building exceptionally strong boats that will take the hard abuse he expects his clients will give his product. Skimping in areas of construction to save weight is not an issue and at 2100 kg trailerable weight, the Pro Sport 660 Hardtop isn't light. AMF use the best quality fittings throughout the boat to ensure that the end result is as good as they can make it.
Full-length stringers and a box girder system under the sole tie the whole boat together and the sealed area under the floor is pressure tested before the boat leaves the factory. Underfloor buoyancy accounts for 1332 litres of air, enough AMF say, to keep the boat afloat in the event of a swamping. All welds are full length on the seams with no skip welding and very simply are as good as you'll ever see on an aluminium boat – probably better than most! The fuel tank is not an integral part of the boat, rather a separate unit that is welded in place and filled via an interesting arrangement that allows rapid filling with no risk of blowback.
Of the 200 plus AMF Pro-Sports on the water ten of those are 660 Hardtops and even though they are a no-nonsense sportfishing boat that number is steadily growing. Although I am not what you would consider a serious fisherman and spend more time towing wakeboards than hanging a rod over the side, I can now understand the passion some people have with hardtops. They are probably as close as you'll get to a trailerable version of a small launch and there's no doubting the 'creature comforts' are a whole lot better than an open runabout. Winter boating takes on a new meaning and with the AMF Pro Sport 660 Hardtop cabin, you've got yourself a great all-season fishing machine.
Model   –  660 Hardtop Cabin
Price (Std Package)   –  $66,008 –includes boat/motor/trailer.
Price As Tested – $100269
 Designers – Paul Sharrat & Brian Collings
Material – 5083 aluminium
Type  – Hardtop cabin
LOA – 6.60 m
Beam – 2.45 m
Hull Configuration – semi deep vee
Deadrise At Transom – 18.5 deg
Trailerable Weight – 2100 kg
Engine Capacity  –  175 – 225 hp
Power Options – Outboard only
Fuel Capacity – 240 litres
1000 rpm @ 4.5 mph
1500 rpm @ 7.0 mph
2000 rpm @ 8.5 mph
2500 rpm @ 10.0 mph
3000 rpm @ 15.0 mph
3500 rpm @ 22.5 mph
4000 rpm @ 30.0 mph
4500 rpm @ 34.5 mph
5000 rpm @ 37.5 mph
5500 rpm @ 42.0 mph
6000 rpm @ 46.0 mph
All speeds recorded using an Eagle GPS and rounded off to the nearest 0.5 mph.
NOTABLE STANDARD EQUIPMENT
6mm hull bottom, 6mm keel wear strip, bilge pump, hydraulic steering, toughened glass windscreens.
NOTABLE OPTIONS ON TEST BOAT
Rocket launcher, lockable cabin door, dive ladder, berley bucket in platform, fuel flow meter, GME VHF, GPS, Humminbird 3D sounder, wiper and washer unit, spot light, deck lights, Anchormate capstan, painted hull, 240 litre long range fuel tank.
Make – Evinrude
HP –  200
Model – Ficht Ram
Cyl Type – V6
Max RPM – 6000
Propeller – 4 Blade
Retail Price – $21913
Make – Voyager
Braked – Yes
Suspension – Duratorque
Multirollers – Yes
Std Features – Sub lights, jockey  wheel, tandem axle.
Retail Price – $7330