We look at GRP boats under 5.5m and offer some advice on what to look for when buying your new or second-hand boat. Cabin, cuddy, runabout, open or bowrider, there are plenty of options from both Kiwi and US builders.
Although there has been a real swing towards larger production trailer boats both in GRP and aluminium, there are still a surprising number of models at the lower end of the size range to pick from. In recent years the under 5.5m range has without doubt been dominated by the aluminium boat market in both open runabouts and cuddy cabins. But fear not, for those who have an affection for fibreglass, then look no further.
Currently, there are more than 70 new production models that fall in the under 5.5m boat category from both local manufacturers and imported brands. All are light enough to be towed behind a 2-litre car, small enough to be powered with an outboard under 90hp and comfortable enough to offer fun boating in sheltered waters.
Of the more than 70 boats in our about 50%  are full cabin or cuddy cabin and the rest are open, runabouts or bowriders. Interestingly, there are no imported cabin boats, that's the domain of local builders, but when it comes to centre consoles, the US brands dominate.
The style of boat you choose should be determined by what your intended use is, be it fishing, towing water toys or family boating. A boat under 5.5m is not designed for offshore boating, but you might be surprised at how well some of these boats perform and handle in rougher water.
When it comes to cabin or cuddy cabin boats, the layouts are generally similar, with a full cabin offering two small berths, with a good-sized forward hatch to make anchoring a lot easier. A cuddy cabin is a cross-over between a runabout and a cabin with a 'token' cabin area that offers some weather protection and may or may not include a couple of short berths. Still a great place to keep the gear dry or for kids to have a rest while you are fishing.
Due to the very nature of their size, they don't typically have full side decks, or in fact side decks at all, so a generous size hatch is essential. The bollard and fairlead should be close enough to be easily reached and the anchor locker big enough to handle about 50m of anchor tackle and a 4kg – 5kg anchor. Better still, fit a small capstan or drum winch – also suitable for a bowrider or runabout – and then you can do all your anchoring chores from the helm.
Storage in the cabin is generally in side trays, and these will differ depending on the space available. If the boat is full enough in the bow and high enough in the cabin, then there's also space provided under the squabs for storage, but in some models, there isn't enough depth, so the area is used for buoyancy. Be warned, just because a manufacturer says the boat has built-in buoyancy it doesn't always mean it can't sink! However, the exception is, if the boat is built to the New Zealand CPC buoyancy flotation standard you are guaranteed it has been certified to have positive buoyancy even if completely swamped, and will not sink. 
So that you don't get that closed-in feeling all have open bulkheads, well at least one side anyway, and again depending on the cabin height, make sure there is enough 'stoop room' when getting in and out of the cabin as well as sitting headroom for at least two adults.
If you are considering an open runabout, such as a bowrider, then obviously there is no cabin, with space taken up with a couple of side squabs, with storage under. Having a soft bow cover is a good option as is a dome-on curtain to stop the draft between the two consoles.
If you go for a centre console layout, then everything is left open, with a grp centre module. This can have storage inside,  a single forward seat with storage under and a single or twin bucket or bin style helm seating. While you do sacrifice some weather protection, sun or rain, you do get an excellent fishing platform with plenty of workspaces.
At the entry-level of the under 5.5m sector are the open, tiller steer boats, which can be fitted out with basic seating or as much as you want. A side console allows somewhere to fit a fishfinder and is a great place to keep your phone and keys dry.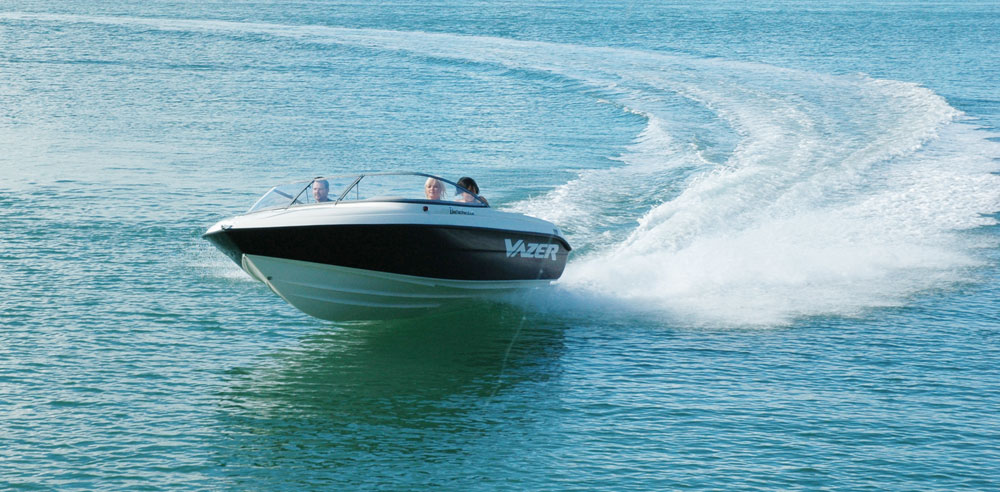 Cockpits in cabin boats under 5.5m tend to be reasonably uncluttered, with basic seating layouts. Most favoured is twin forward bucket seats and either removable rear bin seats or moulded transom jump seats. Double back to backs are great but will mean you have to sacrifice some usable floor space when fishing, something that is often at a premium in a boat this size. Also, it's ideal to have the forward seats swivelling as they make great places to sit when the fishing is a little slow and for an observer to look over the transom when you are towing water toys.
A fore and aft adjustment base on the helm seat would be worth considering as an option. It's well worth including in the package, and you'll find it makes your driving that much more relaxing. If the weather cuts up, then you want to be able to stand to drive without the seat base rubbing into the back of your legs. The controls should be in an easily reached position when seated or standing, and the steering wheel placed, so you don't have to wrench at it every time the boat gets a little out of shape.
A few boat manufacturers now leave the final fit of the seat base to the retailer who can custom fit the position to suit the owner. This is a good idea as everyone isn't built the same and the position that suits you will not always suit someone else.
Small boats traditionally don't carry much in the way of electronics apart from the customary depth sounder/fishfinder. However the addition of a VHF and a 6″-9″ MFD is worth the investment. It is important to make sure that the electronics have somewhere to be mounted within easy viewing. Check there is depth and height under the screen for bracket mounting or the flat spaces left on the fascia are enough for flush mounted electronics. As single outboards are the only power options there is never a lot of instruments, so the dash panel doesn't need to be large. Some of the MFDs also include engine data, so there is no need for any separate instruments.
Small boats tend to get knocked around more than big boats in the rougher water, so having something for your passengers to grab onto is also a must. A stainless handrail around the screen will save you having someone bending or at worst, breaking the screen as they wrap their hands around the aluminium window extrusion. A couple of rear deck bolted handrails will look after your aft seat passengers.
Storage in the cockpit is usually a couple of full-length side shelves with padded or timber facings, under the seats and if there is enough space available, under the centre of the cockpit sole. Although you probably don't need more than a couple of 25-litre tote tanks for your day's boating, many of the boats listed offer underfloor fuel tanks as an option. There should be enough space under the aft deck to carry not only two standard sized tote tanks but also the battery and if necessary an oil reservoir.
Transom arrangements vary a lot, and while some of the later models have moulded transom steps and portofino style sterns, many are traditional with flat transoms and optional boarding ladders. A simple arrangement is a stainless fold-down ladder one side and an outboard auxiliary bracket the other. However, with the advent of modern outboards, the use of the smaller auxiliary for trolling is not so necessary, with the reliability of outboards having taken away the perceived need to carry a spare engine.
If you are comparing one similar boat to another, then make sure you know exactly what the package includes. Standard features can mean anything from the most straightforward deck hardware to canopies and carpets, so be warned, getting the boat on the water could cost a lot more than your initial estimates. If the boat is built to CPC standards, then you will also have a bilge pump, battery isolating switch, battery box, navigation lights and structural hull warranty.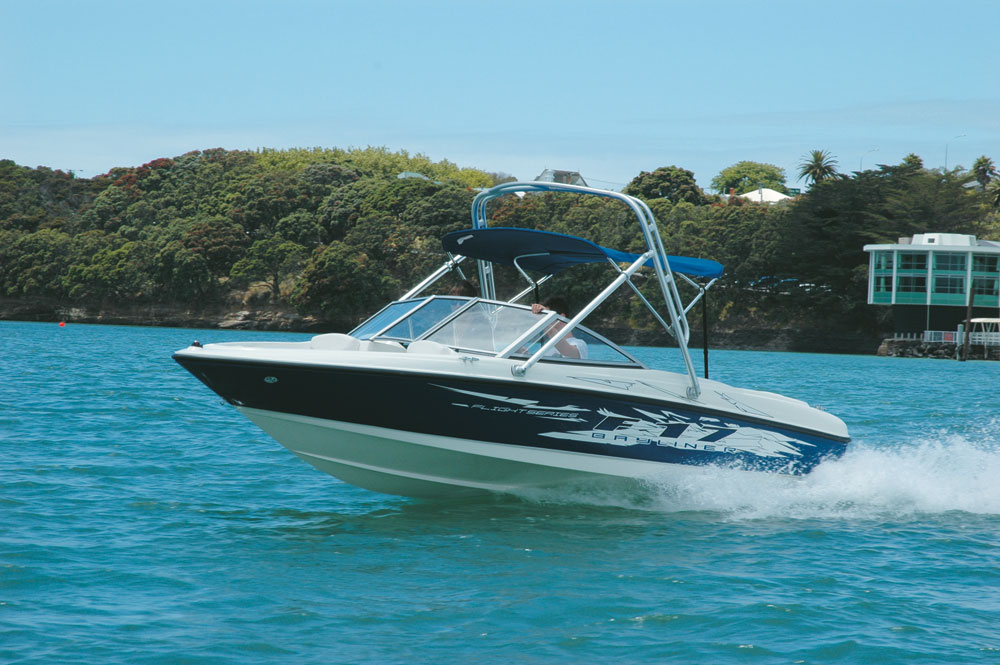 Boats under 5.5m don't usually require much more than 90hp and in fact, will perform adequately with as little as 50hp. You should expect around 35-37 mph with a 50hp outboard, 38-40mph with 70hp and 42-44 mph with 90hp. Don't take this as gospel as the speed of a boat can vary considerably on not only the hull design but also such things as the choice of the propeller and the engine height.
As a rule of thumb, a standard set-up will have the engine bolted on with the cavitation plate level with the keel. When the boat is lightly laden the outboard should be able to pull somewhere close to 5500 rpm with the trim no more than 1/4 to 1/2 out. If it pulls more, it could be under-propped (too little pitch), and if it pulls less, it could be over-propped (too much pitch).
If the boat is also used for skiing, then a prop that allows the engine to reach the top end of its rpm range would be advisable, especially if you are going to tow adult slalom skiers from deep-water starts. If you have kids into other water toys such as wakeboards, kneeboards and tubes, then the mid-range options will be enough. Having one propeller that suits all purposes is fine, but if you can afford it, a separate one for skiing and towing water toys is also a good idea.
Hull shapes, while all being of the medium V deadrise style, each have their particular characteristics, so the ride and speed may differ somewhat between one boat and another. Traditionally a deeper V boat will ride and handle better than a shallower V boat in the moderate to rough water. Some designers prefer wide flat chines, others turn them steeply downward, some like a sharp V-shaped keel, others go for a soft rounding, and a few carry a wide ski plank. Our list even includes a catamaran, which is an entirely different design.
Whatever the hull shape it is important to remember that this is a boat under 5.5m in length and weighing less than 700 kg wringing wet, so it's never going to be your answer to blue-water boating. However, in the right environment each will perform to its ability, and once you learn your boat's limitations, you will enjoy far more pleasurable boating hours.
No boat package is complete without the trailer, and these have improved so much in recent years that launching and retrieving is an effortless task. High ratio winches, multi and self-centring rollers and submersible lights have taken a lot of the hassles out of the whole launching and retrieving exercise.
So just what do you get in a complete turnkey ready-for-the-water package? Apart from the boat, motor and trailer you should talk to the retailer about all the extras that you will need or should have. Some basic options are safety gear, such as a minimum of two adult and two children's lifejackets and a powerboat flare kit. You need to have enough lifejackets for everyone onboard. An entry-level fishfinder, VHF, anchor pack and even a canopy are well worth considering.
If a boat carries the CPC certified plate, it means that it will already be fitted with navigation lights, bilge pump, battery box and isolating switch and carry a structural hull warranty. It's the marine equivalent of a warrant of fitness. The final retail price should also include the installation and full on-road costs, i.e. trailer WOF and registration. All you need to do is hook the boat up to the back of the car and head for the launching ramp. But remember, buying a boat is just like buying a car – it still pays to shop around for the best deal.