The AMF brand has enjoyed an enviable reputation for decades, building some of the toughest aluminium boats anywhere in the market. Some people say that once you have an AMF, it's the last boat you will ever own. Freddy Foote went to Tauranga to get aboard the AMF Pro Sport 720, powered by the all-new Hyundai SeasAll S250 diesel.

For a number of years AMF had been running two separate factories, though both were under the ownership of Brian Collings. The AMF Pro Sport Series were manufactured in Whanganui, while the AMF Offshore Series and custom projects were built in a separate Mt Maunganui facility. But now, both parts of the company have now come under the one roof in Whanganui.
Collings says the 'brand reunion' will provide better service to the company's current and future clients and will give AMF the opportunity to further develop its range of world class aluminium boats through combined resources.
Though this 720 Pro Sport is essentially a production model, it was actually built at the company's Mt Maunganui facility, one of the last boats to be built there before both AMF operations were merged in Whanganui.
The owner of the boat, David Purvis, wanted a reasonably serious fishing machine – a bigger and more powerful version of the AMF he had previously – again he wanted diesel power, especially the new Hyundai SeasAll S250 diesel sterndrive.
Where this particular boat differs from a normal production 720 Pro Sport is purely in a few of the dimensions. The hardtop section is higher than normal by around 50mm to cater for the owner's taller frame of around 2m.
"Our Pro Sport range is largely our production range where we have incorporated what we think are the best features to have on the boat, though we can be flexible with a few additions here and there," says Collings.
To say that an AMF is built tough is an understatement. Not many builders use aluminium box girder system to construct their hulls!
AMF places box beams on a hull jig and these are trimmed to create a hull shape.
Collings says the box beam creates a full depth girder system between the hull plates and the main deck. With this construction method there is no way the hull or deck will move and the hull won't buckle out of shape.
Mini bulkhead frames are fitted within the box beams to add to the stiffness and then a bulkhead frame is added at the front of the box beams and at the front of the fuel tank position.
Each hull has 25 full-length longitudinal hull welds alone; this at a minimum of five metres per weld is around 125 metres per boat – certainly it's a lot of welding!
For'ard in the cabin, there is a traditional V-shaped berth with an insert that makes it a large double berth – so over-nighting is a possibility. There is plenty of storage underneath the berths on both sides, and a chemical toilet is positioned forward, though with no sign of a curtain, privacy could be an issue.
At the helm area, the dashboard is spacious and has plenty of room for the various controls and electrical systems. A BEP switch panel took care of all the other onboard systems. This boat was set up with a large multifunction Garmin display above the dash on a bracket; a VHF radio and a stereo unit are mounted above.
To port, passenger seating is made up of a long inward-facing bench seat with storage underneath. The skipper's helm is a fixed bench unit with further storage underneath. Designed to suit the skipper's tall frame, I found it was a little too far away from the wheel for my liking, and preferred to stand while driving, but no doubt, it's absolutely perfect for his requirements.
As the hardtop was to be enclosed with lockable folding doors, Purvis specified that he wanted storage inside the cabin area for his rods, so immediately behind the skipper's seat, vertical rod holders are fitted.
The whole cabin area is light and airy; sliding windows on both sides are a great feature and keep the area ventilated on warmer days. Handrails and cabin lighting are mounted into the roof above. An overhang from the hardtop roof section extends over the cockpit to provide some extra shelter from wind, rain and sun.
The cockpit is very fishing focussed and is spacious and very functional. A sink unit is fitted in the for'ard port corner. While there is no water tank built into the boat, water for the sink is stored under the unit itself in the form of removable bottles.
In the opposite corner to starboard is a catch bin seat, that is removable and can be positioning around the cockpit where needed and to obviously store the day's catch and take it ashore.
The engine cover is a prominent feature in the cockpit, and lifts forwards to provide access to the Hyundai SeasAll S250 underneath. When in the closed position, non-skid pads provide a place for passengers to sit while waiting for the bite.
Large side shelves run the length of the cockpit for the storage of gaffs and miscellaneous items. Wide coamings house six rod holders and a couple of pop up cleats for when at the wharf. A rocket launcher above includes a further six rod holders while two more are part of the bait board mounted in the centre of the transom.
High sides give a feeling of immense security when moving around in the cockpit and I can imagine will give you that added confidence when battling something large on the line. Stability was excellent – with three adults moving around the cockpit throughout the day, I hardly noticed the boat lean at all.
A live bait tank is plumbed into the aft port corner and whilst there is no walk-through built into the transom, there is a sizeable T-style dive ladder on the starboard side of the narrow boarding platform, which has more than enough room to help secure any marlin for the trip back home.
No underfloor storage is available on this particular boat, the large 300L fuel tank putting heed to that. Cut and fitted tube matting makes it easier underfoot to move around the cockpit, and sumps in each aft corner of the cockpit take care of dispersing any water that comes onboard.
Hyundai Power
This AMF 720 Pro Sport was our first chance to get a look at one of the new Hyundai SeasAll marine diesel engines.
Hyundai SeasAll is a corporate venture network of the Hyundai Motor Company utilising extensive diesel engine R&D. Hyundai SeasAll Marine is based in a 5000sqm facility at one of Hyundai's R&D centres located in Hwasung City, Gyounggi Province in Korea with nearly 8,000 engineers and 2,000 as powertrain engineers.
Collings says that he traditionally fits his AMF hulls with a lot of horsepower to get a combination of a good cruising speed and economy.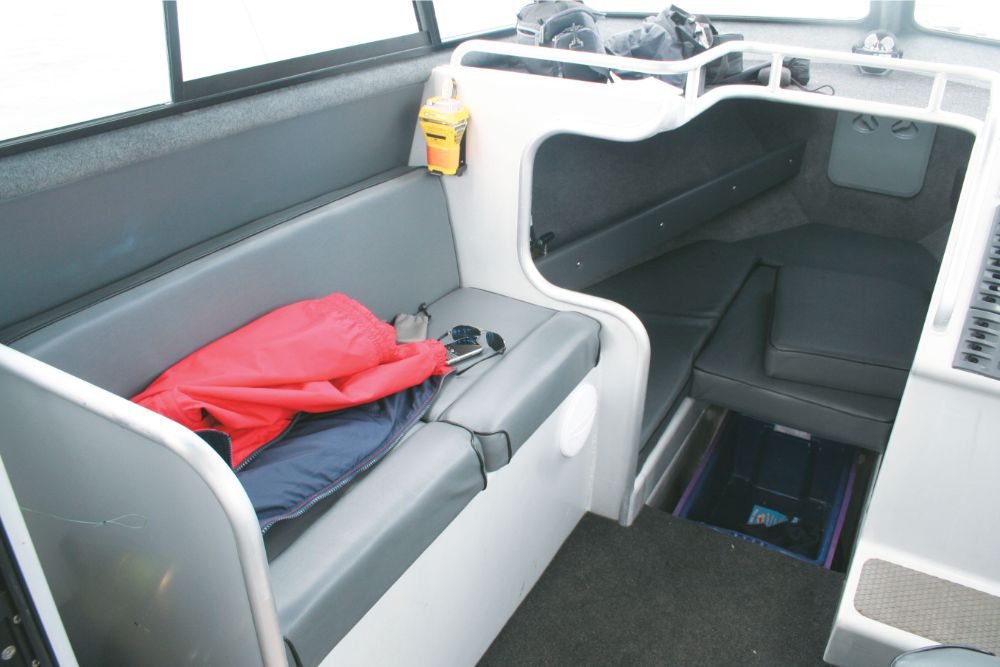 The Hyundai SeasAll S250 was an ideal match for the 720 Pro Sport. First impression of the engine is how it delivers its power. It has a really broad torque curve and very little turbo lag is evident. "The figures are certainly the best I've seen for quite some time, the engine is very lightweight and delivers great torque and power right through the rev range. There's certainly no turbo lag from when you put the throttle down, and the power comes on very quickly," said Collings. "I had a feeling that the engine would be good, but it has definitely exceeded my expectations. There is a lot of useable power right through the rev range, Dave couldn't be happier. He's averaging 10L per hour and that's pretty good," he added.
"We've powered a lot of boats over the years with a lot of different engines, both diesel sterndrive and petrol outboard, and with the ease of the actual installation on this boat, and all these great numbers we're seeing, we'll definitely be looking at installing another engine into another AMF boat soon," said Collings.
Fuel economy was really quite impressive. With a top speed of 37knots at 3800rpm the instrumentation showed that the S250 diesel was consuming just 37.8L/h. Interestingly enough, looking through the Hyundai SeasAll brochure, this figure is well under the factory quoted figures of 51L per hour.
At a cruise speed of around 30knots @ 3000rpm, fuel use came down to around 27L per hour. For the trolling enthusiasts you'll be pleased to know that down at around 6.5knots @ 1000rpm, the lowest fuel consumption we saw was 2.5L per hour.
Noise wise, it was reasonably quiet and certainly not any louder than any other diesel engines we've experienced in the past.
All Hyundai SeasAll engines come mated with MerCruiser sternlegs, this particular boat running a MerCruiser Bravo III leg swinging a pair of 17" stainless steel Vengeance counter-rotating propellers.
The secret behind AMF's hull design is the variable deadrise hull with a moderate 18-degree deadrise at the transom. Test day conditions greeted us with flat calm conditions inside Tauranga's harbour, with a very gentle rolling swell outside the harbour entrance.
The conditions hardly tested the true abilities of an AMF hull, but when underway you can immediately feel confident that the boat will perform well in the harshest conditions.
Packages for the 720 Pro Sport start from around $145,000, which will see you with an open hardtop, a Voyager Tandem Trailer with cab assist brakes and a 200hp Yamaha Salt Water Series outboard. Elect for an enclosed hardtop and expect to pay around $NZ154,000 for the same package.
This particular boat as tested was $NZ230,000, but when you look at a few of the custom options that were included into the boat, such as the high roof, seating layout, custom AMF Aluminium tandem axle trailer, Hyundai SeasAll S250, it all quickly adds up, and you get what you pay for.
Overall, the AMF 720 Pro Sport was one of the safest and most well constructed alloy boats I have ever been on, and it's no wonder that government agencies from around the world are commissioning AMF to build custom boats for a variety of applications.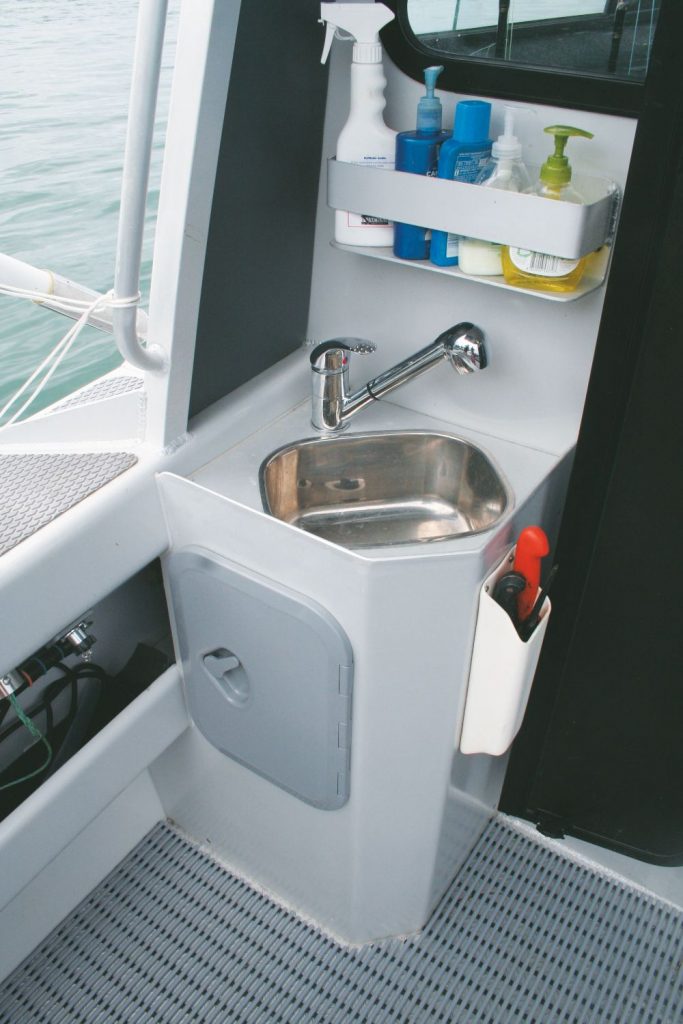 In my opening lines I mentioned that some say an AMF is the last boat you will ever own. Maybe not the words that Collings wants to hear, and although there are a number of repeat AMF customers who upgrade to bigger boats, the craftsmanship and quality is so good, that it's more than likely you will wear out before the boat will.
If you are looking to go that little bit further with a few extra dollars to craft your ultimate boat, then you only need three letters in your vocabulary – A, M, and F!
Model: AMF 720 Pro Sport
Priced from: $NZ145,085
Price as tested: $NZ230,000
Type: Hardtop
Construction: Aluminium
LOA: 7.2m
LOH: 7.5m
Beam: 2.45m
Deadrise: 18.5 degrees
Trailerable Weight: 3000kg
Engine Capacity: 175-250hp
Power Options: Sterndrive or outboard
Fuel Capacity: 200L
Water Capacity: 50L
RPM                      Knots        L/h
680                       4.4            1.3
1000                     6.5            2.6
1500                     8.9            7.9
2000                     13.4          15.5
2500                     21.8          20.4
3000                     29.1          26.9
3500                     34.7          33.0
3800                     37.0        37.8
Notable Standard Features on Test Boat
6mm hull, rocket launcher, bow rail, rod holders, cleats, bilge pump, sliding windows, interior upholstery                   
Notable Options on Test Boat
Hyundai SeasAll S250 diesel sterndrive, Garmin multi function display, toilet, custom trailer, game poles.
Make: Hyundai SeasAll
Power: 250hp     
Model: S250S
Cylinder Config.:  V6
Displacement: 2959cc
Max rpm: 3800       
Propellers: 17" pitch s/s Vengeance
Retail Price: Packages from $NZ41,000
Make: AMF
Braked: Hydrastar
Suspension: Leaf
Rollers: Skids
Std Equipment: Brakes, jockey wheel
Retail Price: $NZ24,575