SERIOUS ASSAULT
Looking for a boat that will handle just about any seas, anywhere, anytime? Check out this Assault RIB, a big boat that packs a big, mean punch!
This is not a boat for whimps or anyone who doesn't mind going boating in atrocious sea conditions. The Assault 1050HT is one mean machine that is a no nonsense all weather, all year round RIB. To be honest, an 11m RIB is not for everyone and whilst RIBs of this size have been favoured by commercial, yachting and safety organisations, they have never really found a huge market with the recreational sector.
The guys at Family Boats, distributors of the Assault range, hope to change that and have presented their latest offering, the 1050HT, as an up-market RIB with the fit and finish that they hope will appeal to the recreational user.
Being someone who has 'thrashed' big RIBs in poker runs and offshore to some seriously cool fishing spots, I have to admit to a liking for such boats. While it's probably not the sort of boat I would own myself, I do love what they can do. They represent another style of boating that once savoured has you wanting more.
Fortunately, when I took the Assault 1050 for a run on Auckland Harbour, it was blowing 25 knots and there was a mean sea running through Motuihe Channel. What a cool ride! Flat out with the two Yamaha 225s screaming out to 6000rpm and the speedo on 52mph, the Assault 1050 simply 'ate' the water. The ride, the handling, the experience, was sensational.
With the flexing of the tubes as they find their own way across the swells and the extreme 26-degree deadrise hull, the boat offers a superbly smooth, soft ride. Interestingly there are no trim tabs and when running hard the tubes just touch the water, providing extra stability. They help to keep the boat level both underway and at rest.
So by now you might get the feeling I liked, sorry loved, the way the boat rode and handled. Well you'd be right and during the test run I really felt like locking the helm onto Northeast and not stopping till we reached Great Barrier Island for lunch.
This is not a serious fishing boat, but then it was never designed to be, although fishing from it is certainly not a problem. As a dive/fish boat for someone who wants fast, all-weather transport to extreme boating areas off the coast, the Assault 1050HT is going to do the job just right. As a weekender it's okay, but not really set up for the task and as a family fun boat for day cruises in the harbour it probably is a little overkill.
So where does the Assault 1050 HT find its niche? To me it's a boat that is ideal as your own private 'taxi' to your island home, such as Great Barrier or Waiheke or getting into places like Marlborough Sounds or the Whitsunday Islands. It would be a great boat to run hard in a poker run or marathon, as long as someone else was paying the gas bill! Plus, it is also perfectly suited as a superyacht tender.
The 1050 has its heritage in the smaller centre console Assault 890, based on the South African built Gemini hull, but in a larger and mid cabin form. The hulls and hypalon tubes are still made in South Africa by Gemini, but the cabin and all superstructure has been designed and produced locally by the Gemini importer, Family Boats.
"We went for a mid cabin style, which still gave us a big cockpit space, full length bunks, enclosed head, a small galley and still with a big very usable open bow", says Family Boats' Peter Carlson.
Quite simply, after the boat arrives from the SA builders, a few alterations are done to the existing cockpit moulding and the entire Kiwi mid-cabin module, complete with hardtop, is dropped in and glassed into place. No bulkheads or structural areas are altered and with the addition of the cabin onto the existing cockpit sole, the boat becomes a lot stiffer.
He adds that they also wanted a through-hull anchoring system and to make the Assault 1050HT a bit more upmarket than most large RIBs, hence the teak flooring by Firebird Marine. The tubes are commercial classification 1670 grade Hypalon and the spaces in the GRP hull are all foam filled so it's virtually unsinkable. Tubes are available in a variety of colours including black, blue and military grey.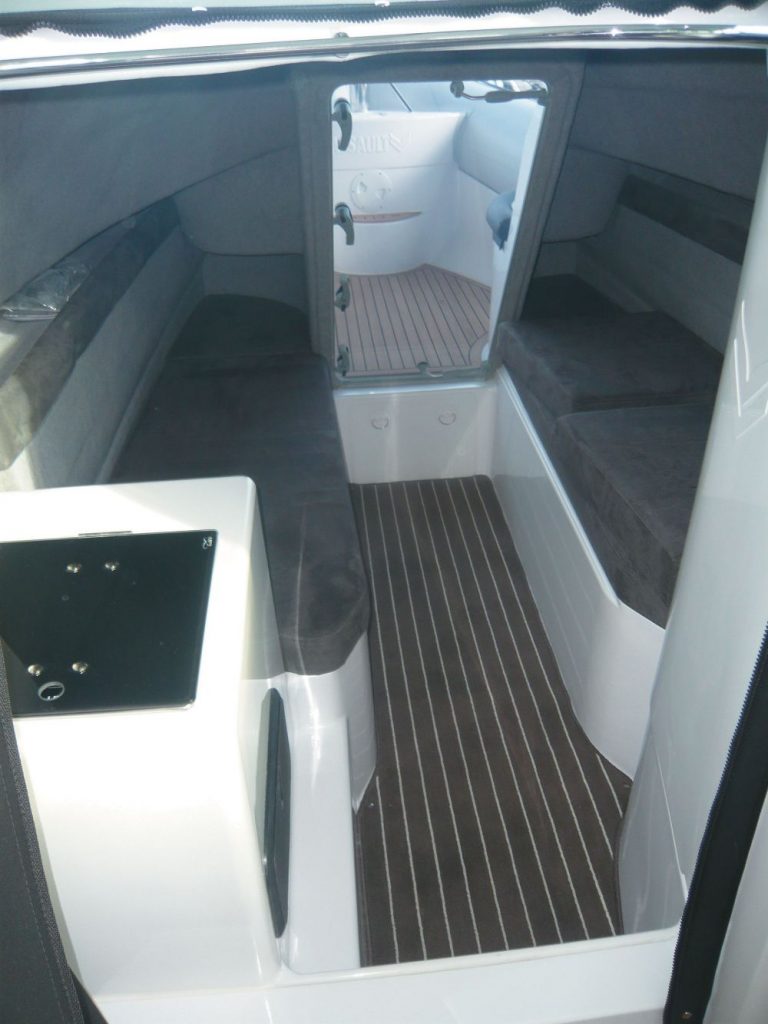 One of the features I liked on the Assault 1050HT is the massive self-draining cockpit – great if you have plenty of friends or need to transport something out to your holiday home. Should you get any water aboard, big bilge pumps get rid of it very quickly, plus there's also the rear scuppers.
Hanging onto the transom of our test boat was a pair of Yamaha F225s, which are ideal for the boat, but certainly not the only option. While at this stage the 1050HT is available with outboards only, I wouldn't be surprised to see a diesel sterndrive package available in the future. This boat will run well with as much as twin Yamaha 350hp V8 outboards, or as little as twin 150s. A single Yamaha V8 350 would still give you a top speed around 46mph.
The full-width transom moulding houses a twin battery set-up below and a bait board above. There's no rear boarding ladder available with the twin outboard arrangement, but with a single you would be able to fit a telescopic ladder. If you have twin outboards I would suggest a Dixon RIB ladder, which drops over the side of either tube. A heavy duty stainless steel roll bar comes complete with a tow hook should you want to tow water toys.
The cockpit teak sole has bouyancy chambers built-in and two 150-litre fuel tanks down the centreline. There is also optional long range tankage should you require it. While there is obviously no side storage due to the tubes, most of your gear can be kept in the mid-cabin and the rods in an optional rocket launcher overhead.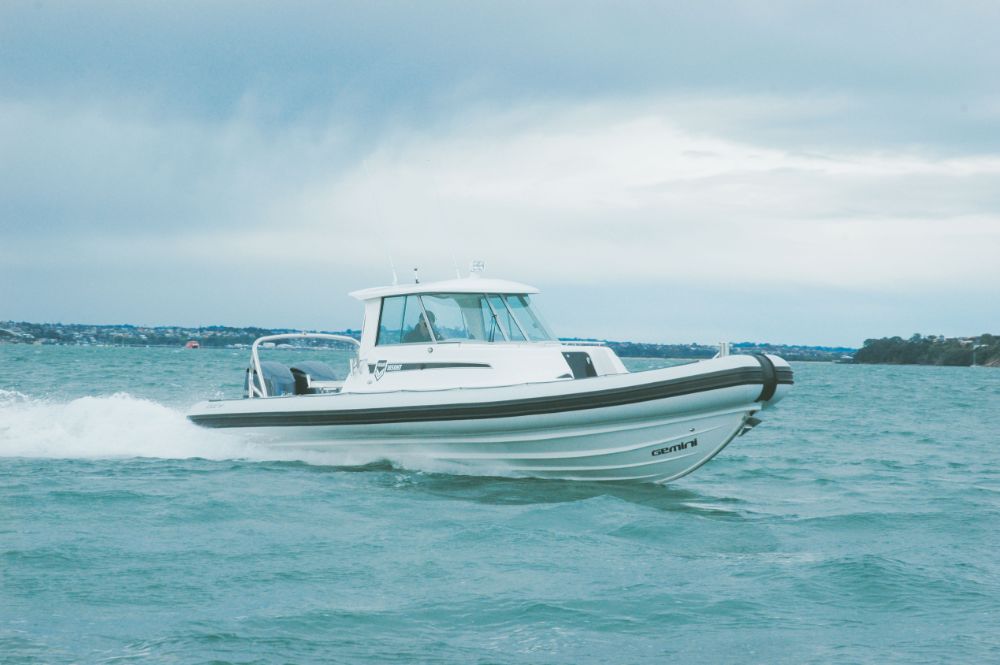 While there is no rear cockpit seating provided, a good addition is a large fish/cool bin with a seat cushion, which doubles as somewhere to stow the catch and also provides extra seating. No under floor lockers or fish bins makes this reasonably essential if you are into fishing.  Standard seating is a pair of forward seats from Hi Tech Plastics, with fore and aft adjustment and stainless steel frames. They are of excellent quality and are very comfortable. There is also a couple of small quarter seats facing aft, which double as the lid for access into the cavernous storage space below. There's enough room under both sides for dive bottles and bags, plus space available for a fridge/freezer unit.
This is a boat that I found equally as comfortable standing or seated to drive. With the passenger and driver both having footrests available, you aren't left with your legs dangling when seated. The controls are recessed to starboard so you don't lose any of the workable beam around the helm. The facia is big enough to mount a 12" MFD with plenty of space around for all the other necessary controls, switches and instruments.
The hardtop mounted over a Taylor Made screen with alloy frame provides all-weather protection, with sliding side windows for extra ventilation, plus there's a wiper for both forward screens.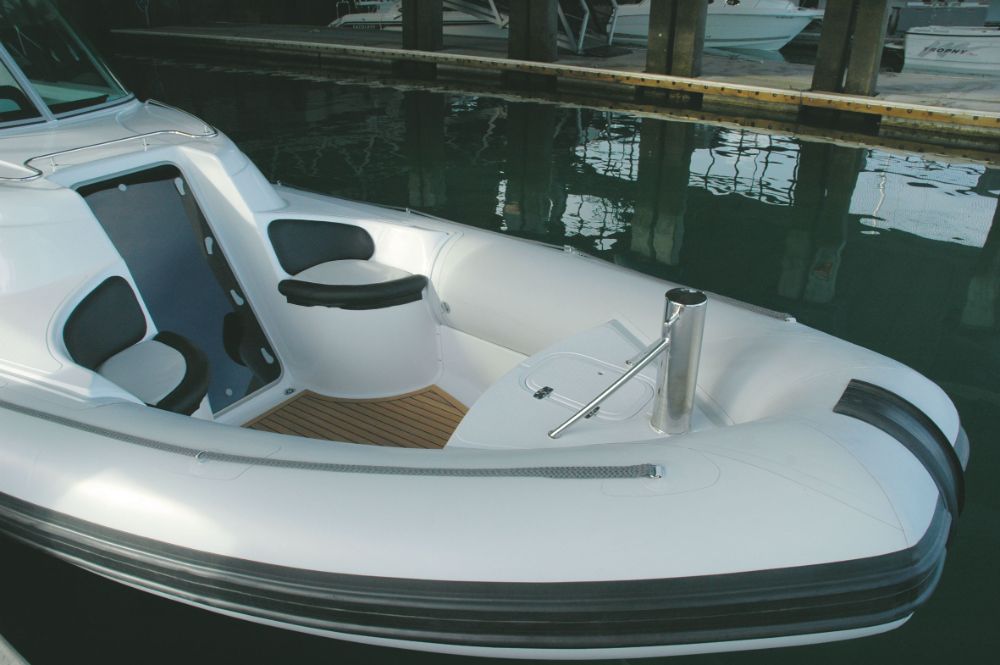 If you see yourself using the Assault 1050 as an overnighter then you've got everything you need already built into the standard boat.
To port, inside the mid cabin is a compact galley, with single-burner grill that folds open to reveal a moulded sink unit, with hot and cold freshwater systems available. It's certainly adequate for day trips and overnighters.
The Assault 1050HT mid-cabin provides two 2m+ berths with a central walkway through to the open foredeck area. Twin infills transform the space into one massive berth, with storage provided both under the squabs and in deep full-length side shelves.
I liked the completely separate head compartment and the fact that the door opens aft to provide some extra privacy. A drawer curtain is also available to cover the cabin entrance.
A sleek profile and weathertight Cule hatch separates the mid-cabin from the bow of the Assault 1050. Up here you'll find a couple of extra quarter seats, which are ideal for anyone who likes a bit of wind in their hair when underway and to top it off they are surprisingly comfortable. A dedicated anchor locker with the thru-hull anchoring system gives the boat a more up-market look, rather than having the anchor tackle exposed over the tubes. There is still a large robust stainless steel mooring post should you ever need to be towed or for mooring up behind another vessel.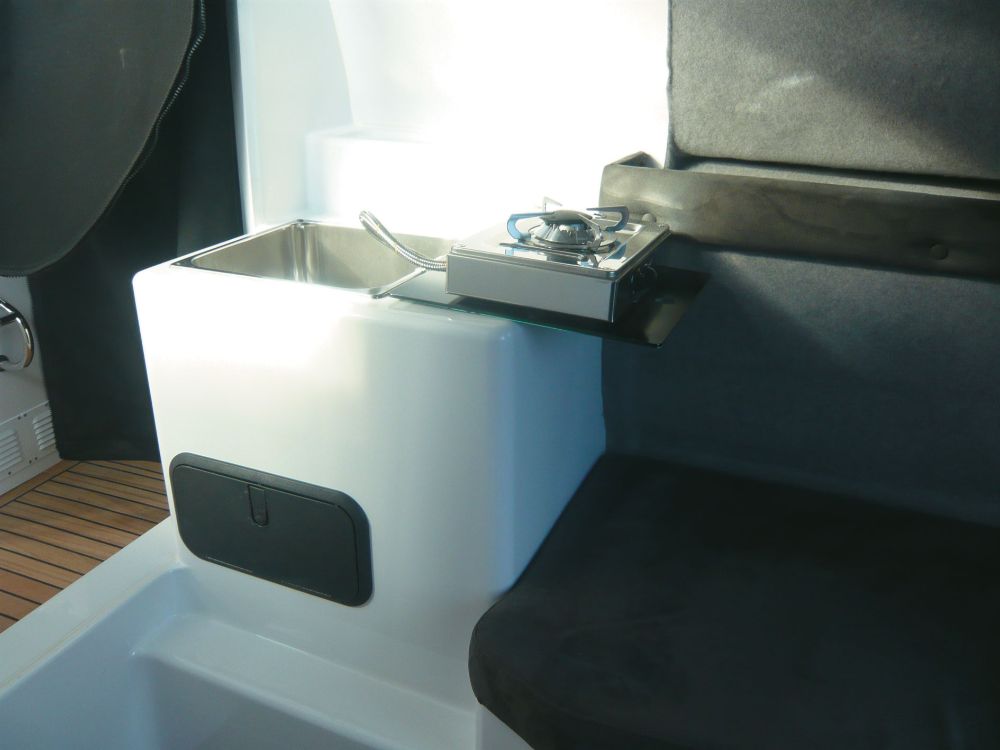 With the Assault 1050, the company has taken a big leap into what is a very exclusive market, with few players, but those that are there already have a strong foothold.
Assault says that its boats are built military tough and I can quite believe it. This isn't going to be a boat for everyone and it's certainly a very niche market product, but if you are in the market for a superyacht tender, all-weather taxi or just something that you can take out fishing/diving and boating in any weather, then the Assault 1050 HT has got to be on your shopping list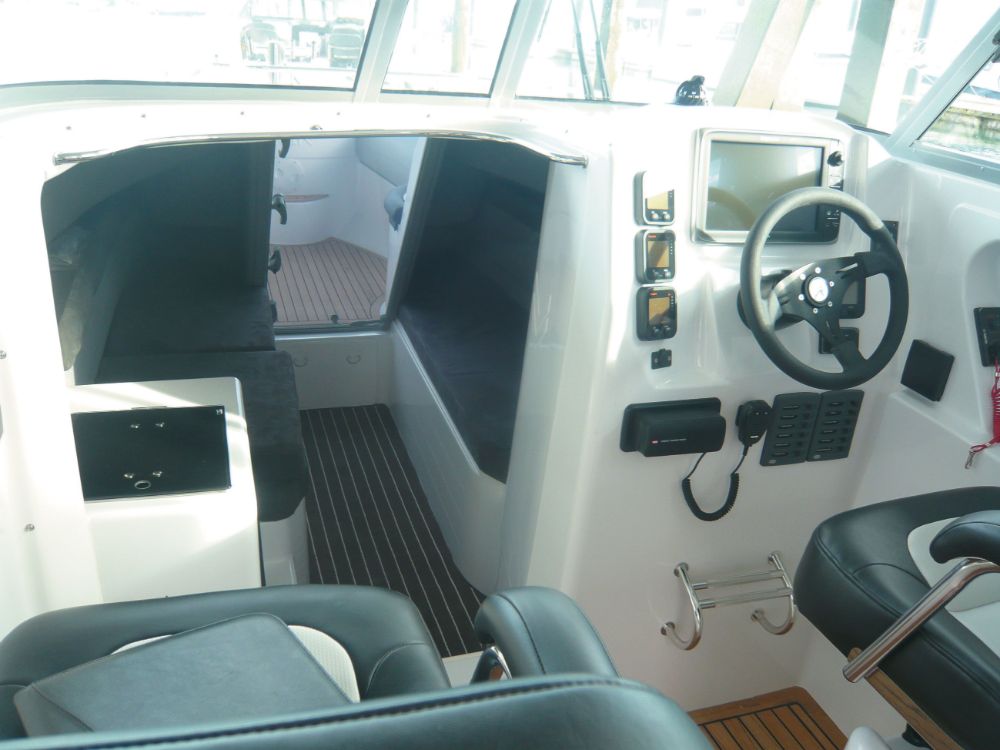 Model:  Assault 1050 HT
Priced from: $NZ199,995
Price as tested: $NZ247,500
Type:   RIB Hardtop
Construction:   Fibreglass/Hypalon
LOA: 11.0m
Beam:  2.90m
Towing width:  2.80m
Tube Diameter: 550mm
Deadrise: 26 degrees
Height on trailer: 3.1m
Trailerable weight: 3500kg (approx.)
Trailer: Southern
Power: 2 x Yamaha 225hp
Propellers: 19" pitch stainless steel
Power options: 300-700hp
Fuel capacity:  500-1000 litres
Manufacturer: Southern Boats, www.southernboats.co.nz
Boat Supplied by: Family Boats, 247 Ti Rakau Drive, East Tamaki, Auckland 2013, Ph +64 9 274 0511, E: [email protected]