No need to break the bank for this Italian job
Stylish Italian cruiser is surprisingly affordable, despite its striking European appearance
One is unlikely to mistake the Azimut Atlantis 34 for one built in either New Zealand or Australia. Its appearance is one that even just a decade or two ago would have been described as "space-age."
The Atlantis 34 has none of that rugged muscularity so beloved of designers and builders in this part of the world. Instead, it features a sharp, fast-looking bow, a swept-back rakish windscreen and superstructure, oblique cabin and cockpit windows and a stylishly-simple black-on-white exterior.
Perhaps, given that Azimut is as Italian as Ferrari or Lamborghini, that is not surprising. What is, though, is its price tag. While similar-sized cruisers can cost up to twice as much, a brand new Atlantis 34, like the one featured here, will cost just $330,000 and some change (the exact amount depends on the exchange rate: the base cost is 190,000 Euros — hence the $330,000 — and buyers can also choose from a wide variety of optional extras).
In New Zealand, a partnership between Pinnacle Marine & Automotive Ltd (Azimut's distributor) and Vinings Marine has been established to represent Azimut. The man responsible for the brand is company director Grant Saunders, a multi-year Azimut veteran who spent a decade representing the company in Asia.
Not surprisingly, he is a huge fan of the brand and will happily spend as much time as you are willing to give him singing its praises. Distilling the raft of facts that he presents, both orally and through one of the most impressive boat brand catalogues I have seen, the key advantages are these: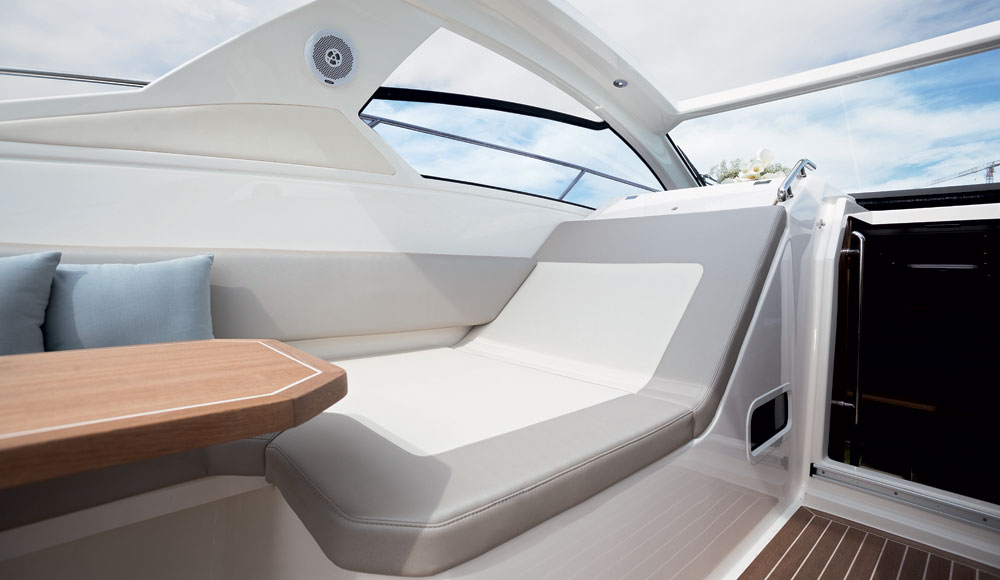 Azimut use only the best materials for every part of their construction
They invest heavily in both R&D and in the latest technology
They are a privately owned and run by Paolo Vitelli, chairman of the Azimut/Benetti Group
They build their massive portfolio (which ranges from the 34 to their flagship 100ft+ models) themselves, mostly at their base in Turin
They are the top-selling luxury yacht brand in Europe, the US, Asia and South America and have a worldwide support network.
Grant says there are currently around 30 Azimut yachts in New Zealand waters with one of those very impressive Azimut 100 flagships (normally resident in Picton) currently at Gulf Harbour, Auckland.
To check out the latest Atlantis 34 to arrive in New Zealand, I join Vinings' new yacht sales executive, David Hawke, for the vessel's return from the Auckland on Water Boat Show to its home berth in Half Moon Bay Marina.
David is quick to point out that this is a "base" version of the 34. The owner mainly enjoys day trips out with friends and family, does not intend to overnight on board and has spec'd his boat accordingly.
It is just as well he pointed this out because the Atlantis 34's "basic" is pretty darn impressive. For a start, the boarding platform is no token gesture; it is of a very comfortable size. Add rails, rod holders and a bait board and one would have a spacious, functional fishing area, and one safely away from the fabric and fittings of the entertainer's cockpit above.
The platform also includes a hot and cold water outlet, complete with shower; fittings for the manual overrides of the engine room and cabin bilge pumps (in the unlikely event they are needed); a hose socket (for using a marina's water supply) and the shore power fitting. One can also bypass the cockpit and head directly up to the bow if required, a handy feature for those berthing alone or short handed.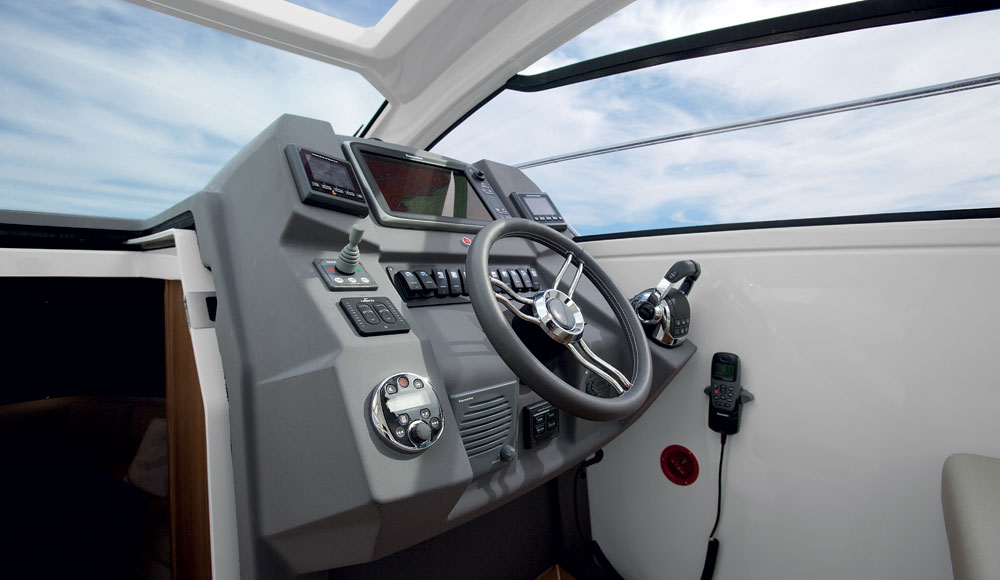 The Atlantis 34's cockpit is obviously one for those who enjoy al fresco relaxing. A large lounger, ending in an aft-facing sloping backrest, opposite the steering station, occupies the entire port side, as well as running three-quarters of the way across the transom. The squabs are all Stemar, an increasingly popular fabric thanks to what David says is its ability to "dry in seconds".
The lounger is serviced by a good-sized dining table that can conveniently drop down to form another comfortable berth if required. As one who loves to sleep out on a warm summer's night, it has a definite appeal. There is also a handy space moulded into the area below, which the owner has sensibly filled with a perfectly sized chilly bin; a good sized locker under the aft squab and a handy little locker above the lounger which is ideal for stowing everything from sunglasses and cellphones to fishing tackle or even a small gaff.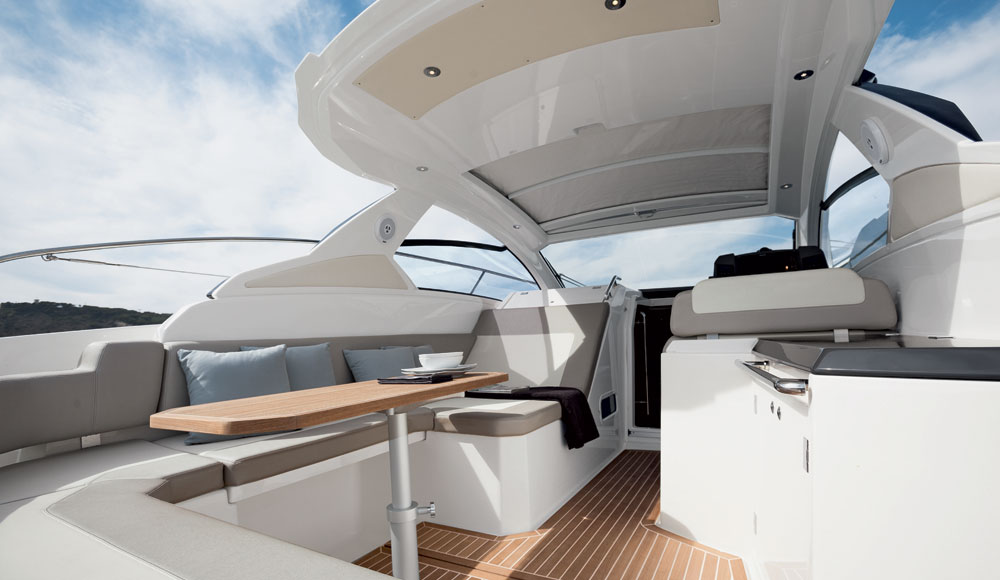 A fairly basic entertaining module (with a flat bench space and sink protected by a hinged moulded Perspex cover) occupies the cockpit's starboard side, with a couple of spacious cupboards under. However, David is quick to point out that the area has been specifically designed to accommodate a grill alongside the sink and a fridge underneath. With those installed, one would have virtually everything they needed and the only reason to go below would be to visit the head.
With its grey polycarbonate fascia, the Atlantis 34's unusual-looking helm station provides a stark contrast to gentle curves and flowing lines found elsewhere on board. It is almost as though the Azimut design team decided that things had become a little too European and brought in an American muscle car designer to add some rugged masculinity to things. Personally, I think it is a wonderful contrast, with the odd shapes, strange angles and black, dark grey and silver instrumentation leaving no doubt that, while the rest of the vessel may be for relaxing and frippery, this is where the real work gets done.
Pride of place is occupied by the 12" Raymarine MFD, flanked by the digital gauges for the twin Volvo 220hp diesels. There are also numerous rocker switches for items such as the wipers, their washers (which are positioned on the blades themselves), the horn and the Quick windlass. Controls for the engine bay fire extinguisher and the Raymarine VHF are on the starboard bulkhead below the Volvo throttle module. This latter includes separate and joint trim controls for the stern legs and a cruise control function. There are also controls and digital readouts for the Lenco trim tabs.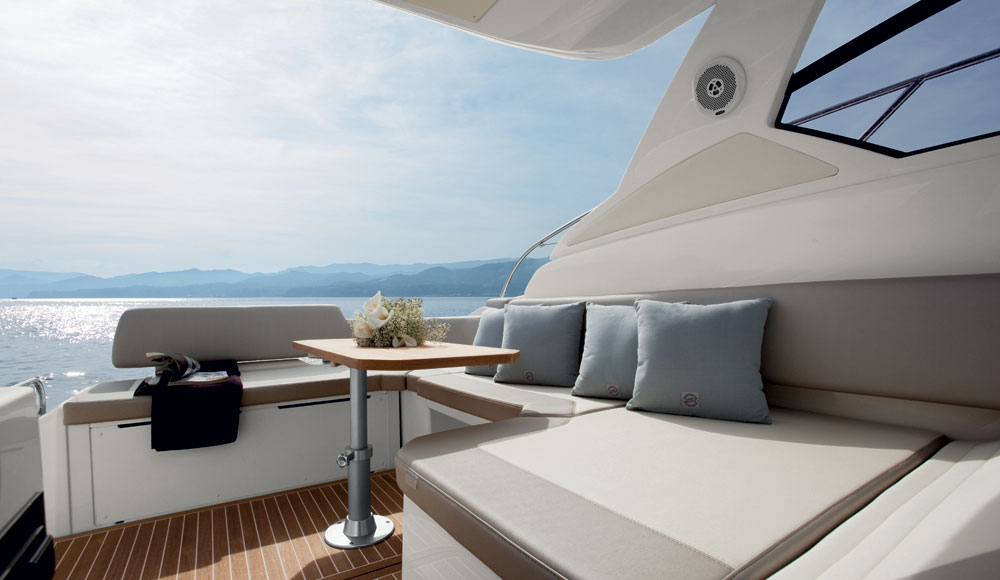 Access to the engine bay is via a hydraulic ram that gently raises the entire aft section of the cockpit. There is good working space around the two engines and a surprising amount of stowage forward of them. There is also a handy sight glass on the starboard fuel tank for those who want to double check the accuracy of their gauge.
Perhaps the Atlantis 34's most prominent feature is its full-width canvas sunroof. Totally waterproof when closed, its canvas top, combined with the supporting fittings and windscreen surrounds (all jet black), provide a striking contrast to the white gelcoat everywhere else. When open (an easy, single person operation), it delivers fresh air and sunshine while channelling the breeze safely overhead.
As is the case on many vessels of this size, the Atlantis 34's cabin serves a dual purpose: as a saloon during the day and, for those who like to overnight, as a main or secondary cabin. There is also a separate cabin down under the cockpit sole. However, although it is nicely appointed and certainly more private, it is also more enclosed and I, for one, would certainly prefer to sleep in the saloon or, in fine weather, up in the cockpit.
Given that the owner has no intention of overnighting, he has done away with the saloon table's adjustable pedestal, opting instead for an attractive fixed stainless steel version. The décor is fabric and teak, attractively offset by the stainless steel portholes. There is also a good-sized hatch over the dinette, protected by both a blind and an insect screen.
There is ample stowage in open lockers behind the settee's backrest, in a mirrored-door locker by the head and in the drawers underneath.
The basic galley is to port with a sink, two-burner hotplate and more handy stowage, plus there are outlet grilles for an air conditioning system should the owner decide to add one.
There is also an AC/DC switchboard, a fuse board and one for the circuit breakers to control the ship's electrics, inverter/generator and black water holding tank.
On starboard, the head and shower area has everything one would need for a day out, an overnight or even longer. The vanity features a stylish round basin, there is a stainless steel faucet and cup/toothbrush holder and ample stowage in an open locker behind, mirrored lockers above and another two below. An enclosing shower curtain can be deployed to keep the splashing to a minimum.
The separate cabin features a low-to-the-ground double berth, a mirrored hanging locker, stalk reading lights and handy stowage behind the headboard and to the side. Ventilation is via small opening hatch into the cockpit above and through another stainless steel porthole tastefully hidden behind a small venetian blind.
Although there are no handrails to grab onto on the side decks, grooves in the cabin top, presumably designed to safely channel water aft, provide a good enough grip in most conditions.
Unlike with a lot of vessels of this size, the bow is not somewhere one can take squabs to sunbathe or relax if one wishes. Rather, it has been specifically designed and properly appointed for such activities. The bow squabs are not provided as standard, they are designed to be left in place more or less permanently. They come with their own protective cover, are large enough to easily and comfortably accommodate at least two adults and have a brace of drink holders inset on each side.
On an unusually calm and relatively windless spring day, there is little we can do to test the Atlantis 34's rough water handling. We do stalk the wakes of passing ferries but they provide little in the way of a challenge, regardless of our angle of attack.
What we do discover is that the 34 is as stable underway as it was at rest. This allows me to write comfortably while seated at the cockpit table, something not expected on a vessel of this size.
It is also apparent that, while good trim control is needed to get onto the plane, the tabs are barely needed. While that may change in rougher conditions, I think it unlikely. This is a very well balanced craft and proves very easy to drive using just the individual stern leg trim controls. The 34 is also incredibly easy to handle, turns on a dime and has no discernable vices either at speed or in low wake areas.
Although this particular vessel is not set up for fishing, future ones might be and, if so, their owners need have no worries about the Atlantis 34's ability to reverse at speed if required: it is not an issue and the splashback is minimal.
Although the vessel's fuel computer was not yet enabled, the Volvo 220s are renown for their efficiency and with the Atlantis 34 displacing just 8 tonnes, one can expect this to be a reasonably economical set-up. At 3000rpm we were doing a comfortable 22 knots and at 3500, just over 27. Those in a hurry can push on to 4000rpm for 33 knots.
That would probably be just to show off but, why not? The Azimut Atlantis 34 is a vessel that seems destined to be shown off.
Boat Design Name: Azimut
Year Launched: 2015
Exterior Design: Neo Design
Interior Designer: Neo Design & Azimut Yachts
Builder: Azimut Yachts
LOA: 10.25m
Beam: 3.44m
Draft: .94m
Displ (loaded): 8 tonnes
Max Speed: 33 knots
Cruise Speed:  27 knots
Construction: GRP
Fuel Cap: 650 litres
Water Cap: 185 litres
Engines Make: 2 x 220hp Volvo  Penta D3
Drive Train: Stern drives
Anchor Winch:  Quick
Anchors: Manson
Steering: Volvo
Engine Controls: Volvo
Lighting: Cantalupi LED
Paint (Antifouling): International
Hatches: Lewmar
Stainless Steel Fab: Azimut
Upholstery:  Stemar
MFD: Raymarine
VHF: Raymarine
Entertainment Systems: Sony
Base Price of Boat:   ?????
Boat Design Name: Azimut
Year Launched: 2015
Exterior styling & design: Neo Design     
Interior Designer: Neo Design & Azimut Yachts
Builder:  Azimut Yachts
LOA: 10.25m         
Beam: 3.44m           
Draft:  .94m 
Displ (loaded): 8 tonnes
Max Speed: 33 knots
Cruise Speed:  27 knots
Construction:  GRP
Fuel Cap: 650 litres
Water Cap: 185 litres
Engines Make:  Two x 220hp Volvo  Penta D3 diesel engines
Drive Train: Stern drives
Air Conditioning:  NA
Watermaker:  NA
Bow Thruster: NA
Stern Thruster: NA
Stabilisers: NA
Anchor Winch: Quick
Anchors: Manson
Steering: Volvo
Engine Controls: Volvo
Lighting: Cantalupi LED (including Nav Lights)
Paint (Antifouling): International
Hatches: Lewar
Liferaft: NA
Davit Crane: NA
Tenders: NA
Stainless Steel Fab: Azimut
Upholstery: Stemar
MFD: Raymarine
VHF: Raymarine
Entertainment Systems: Sony            
Base Price of Boat:  €190,000 /$NZ330,000
Price As Tested:  €190,000 /$NZ330,000
| | |
| --- | --- |
| rpm | knots |
| 1000 | 6.9 |
| 1500 | 8.7 |
| 2000 | 10.5 |
| 2500 | 15.2 |
| 3000 | 22.0 |
| 3500 | 27.3 |
| 4000 | 33.0 |