The Downeast 37 is a sleeper. It's a boat that while you do not expect a lot from, it delivers more than you ask. Leaving the dock at The Spit, for a few hours on Sydney Harbour it was a short cruise past the 5 knot zone and into the outer harbour where I was able to give the throttles a bit more stick. While I loved the sedate cruising mode and the sheer delight of being on the harbour on such a beautiful day, the whole boat came alive with some speed under its keel. First impression was of an extremely quiet boat, especially considering it's so open and also the way in handled the big swells. It's a boat you can toss around like a runabout and it responds instantly. As we pushed out through the Heads, it was next stop New Zealand for me, but with only 1100 litres of fuel that wasn't going to happen. The Back Cove Downeast 37 was a pleasure to drive at any speed and I liked the unrestricted visibility available from the raised helm position. But all good things come to an end and reluctantly I had to hand the Downeast 37 back to ed Elderkin, principal and director of Emarine, Australasian importers of Back Cove and Sabre boats from the US. The Downeast 37 is the company's latest creation and such has been the popularity of it since its release in July 2013, Jed had to wait until hull #007 to get hold of one. "Its a boat we have been waiting for and ever since it was announced, I have had clients talking to me about it", says Jed.
"I know it's going to be a popular model, especially for markets such as Sydney and Auckland, where this style
of boat will be a perfect match", he adds. Priced from $Aus575,000, (about $Aus40,000 less than the Classic 37) or $Aus635,000 for the fully optioned boat I reviewed, the Back Cove Downeast 37 represents excellent value on today's market. Just prior to going to print, Jed sold the boat and currently has another one on order.
Back Cover has been in Australia/New Zealand since 2006 and to date Emarine has put 40 Back Cove boats on the water. An excellent result for such a specialist style brand. The range consists of five models from the Back Cove 30, through to the Back Cove 41. One thing they all have in common is their Maine lobster yacht traditional styling and single engine shaft drive. Back Cove has a custom of producing elegant vessels of timeless style that incorporate state of the art modern systems and construction methods. Those familiar with the Back Cove brand, will recognise many similarities between the new Downeast 37 and the original Back Cove 37. Firstly they are both based on the same 11.59m x 3.96m solid resin infused grp hull. Corecell coring is used as a sandwich material to help reduce engine noise. Underneath is a conventional medium vee hull with 16 deg at the transom, with downward turning chines forward. Long secondary spray rails help disperse the water away and off the fordeck and screen. A feature of the Back
Cove design is the slight tumble home in the topsides and the signature spoon shaped bow, which certainly identifies the boat as a Back Cove. Like all Back Cove models, a single propeller shaft runs in a shallow pocket which helps reduce the draft and running angle. The Back Cove Downeast 37 is offered with three engine packages; Cummins QSB 6.7 @ 480hp, Yanmar 6CX @ 530hp or, as in the case of our review boat, a Cummins QSC 8.3 @ 600hp.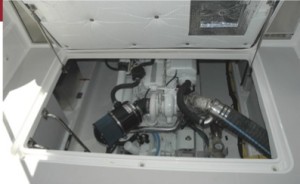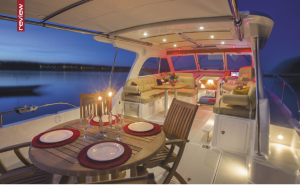 On a smooth Sydney Harbour, we got just shy of 30 knots on the GPS @ 3080 rpm and best cruise was around 2700 rpm @ 25.5 knots. Being a single engine boat, the fuel consumption figures are certainly easy to accept, with 120 lph at WOT and 85.5 lph @ cruise speed. If you are happy mooching along at a more sedate 10-12 knots while enter- taining your guests in the expansive cockpit, then the fuel consumption drops to a very miserly 25-30 lph. 
While, in cruise mode, the Downeast 37 has a range of around 300nm, and if you are in 'party' mode then you can expect almost double that.
To help compensate the low speed manoeuverability with a single engine, the Downeast 37 is available with variable speed Sidepower bow and stern thrusters. It's a great unit that works well, especially when docking. Getting in and out of the tight berth at The Spit Marina would have been very difficult without them. By controlling the thruster's power, you get even more precise handling of the boat in all conditions. Another great advantage is that when you run the variable speed thrusters at less than full power, the usable run time is extended, with close to continuous usage being possible when you are running the thrusters at less than 50% of full power.
The Back Cove Downeast 37 was the third Back Cove I have had the privilege of testing. I say privilege because they are a boat that delivers in all aspects, from sheer good looks to performance, handling and finish. The Back Cove Downeast 37 breathes a quiet elegance in an understated way. Contemporary, classical and above all finished to the very highest level.
Then there's the wow factor. The Downeast 37 answers a lot of your needs for a large cockpit day boat, with the occassional overnight, but with a focus on entertaining a large group of friends.
Stepping aboard I was immediately in awe of the space provided from a single level cockpit sole that stretches uninteruppted from the transom to the companionway…. over almost 6m! The single level living space is 14sqm of pleasure and elegance with a very practical layout. It's the sort of space that you'de feel comfortable entertaining a few dozen guests or equally a fishing party of half that number.
​
The most visual difference between the Classic 37 and the Downeast 37 is there is no bulkhead aft, allowing the wheelhouse area to morf seamlessly into the cockpit. To achieve the single level throughout, the cockpit level of the new Downeast 37 has been raised over that of the Classic
37 and accordingly the side coaming rails are higher. While overhead there is still the protection of a solid grp hardtop, with a sliding Lewmar hatch, you'll need clears around the aft areas if you want more all weather protection. The helm deck is air conditioned so with the clears and canvas covers in place you can climate control the entire cockpit space. The Downeast 37 comes standard with a SureShade electric power-driven retractable shade system, that automatically extends or retracts canvas at the touch of a button. Self- supported framework means the shade does not interfere with boating activities such as fishing, boarding and docking plus when retracted it surface-mounts to full integrate within the hardtop.
The Downeast 37 has an entirely new deck mould to accommodate the very different layout. While the Classic 37 is a boat you could quite comfortably spend a few weeks away cruising with friends, the Downeast 37 is more of a weekender and dayboat.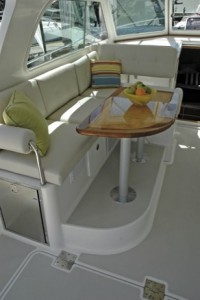 The wheelhouse area is split between a starboard side helm with a Stidd helm chair, port side dinette and extra lounge seating. The inlaid dining table can be lowered to transform into a second sleeping area and the aft facing L-settee can convert to a double 'mates' lounger, which can seat two people facing forward while underway. Double height seat cushions allow your guests to have a clearly elevated position with excellent sightlines every whichway. Lift up the moulded seat base and you have access to a massive storage space capable of keeping things like water sport toys, roll up paddle boards, chairs, tables, fishing gear or whatever you want to carry on board.
The helm in our boat was still waiting for the electronics to be fitted to the ample space provided. While a single Garmin 8015 GPS/Map with HD radar is included in the spec list, you do have the option of adding your own electronics package. Down aft, there's a very neat removeable seating arrangement that allows you to easily detach and stow the seats out of the way in a dedicated storage area when you want more uncluttered deck space. Twin large cockpit hatches open to a very large lazarette with access to the fuel tanks, generator and battery system and the other to the engine room.
A central transom door opens to a fixed wide swim platform, complete with telescopic swim ladder and hot and cold shower. A rise and fall swim platform would be a great option.
A wide companioway with a sliding door leads down into the accommodation and galley area. Accomodation is down to one forward cabin with an island berth with multiple above and below storage. There are a hanging lockers either side, and as the cabin is not seperated by a solid bulkhead, a privacy curtain is used to section of this part of the cabin.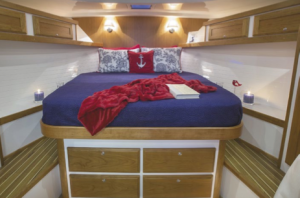 While the Classis 37 had a separate galley above, the Downeast 37 has seen that go below with a Corian surface countertop, large stainless steel sink, 2-burner cook top, convection mircowave oven and a combo fridge/freezer. The interior of the Downeast 37 differs from all other Back Cove's, with its handcrafted Herreshoff style of white panels and cherry hardwood trim. The detail in the timberwork is another testament to the quality and precision workmanship that goes into all Back Cove boats. In other Back Cove models, the interiors are conventional grp moulded units. Storage is adequate, but if you need to stock up, you can always stow extras in the locker under the mate's seat in the wheelhouse. There is also an additional fridge and icemaker in the cockpit under the starboard settee, so you do not need to go downstairs for your drinks.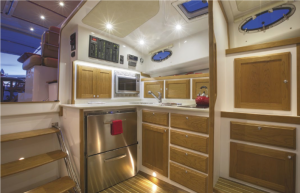 Opposite the galley is the head/shower compartment which features a full shower stall, solid surface counter tops, with cedar wood framed lockers and overhead mirror, adding that little extra touch of quality. There is also a full length mirror behind the door.
The Back Cove Downeast 37 is a boat that will appeal to anyone looking for an upmarket day boat, with occassional weekending. It's a boat that offers a huge amount of versatility to allow you to partake in whatever suits you need at the time. A hallmark of the Back Cove brand is wide-walk around side decks, plenty of handholds and clear, uncluttered surfaces. Fishing, cruising, family outings or enetertaining guests, this boat is a seriously good multi tasker.