While Kiwi readers will probably struggle to understand what I'm complaining about, by Gold Coast standards at least we blurry monsters mounding up level with the helm station's lucked out on the weather while reviewing Hampton's 700 Skylounge.
Air temperatures hovered somewhere in the mid teens, the bridge windows were smeared with drizzling rain and a stiff breeze chipped away at a heaving swell offshore from Main Beach's famous skyline. After similar weather the last time I reviewed a Hampton for Pacific Powerboat the Sunshine State's favourite slogan about the weather being beautiful one day and perfect the next is sounding pretty hollow.
Still, if not a "beautiful" day it was I suppose perfect to experience the effectiveness of the Hampton 700 Skylounge's digitally controlled Wesmar hydraulic stabiliser system. Indeed their effectiveness became all too apparent immediately we turned them off – just to see what would happen…
Up to that point we'd enjoyed a twenty something degree environment controlled by the air conditioning system, with the boat moving gently underfoot in complete defiance of the blurry monsters mounding up level with the helm station's panoramic windows. A fine state of affairs easily restored by the simple expediency of reactivating the stabilizers. And once our course was back on an even keel we resumed a stately loop back towards the Seaway.
I note with interest that other reviewers have questioned the need for stabilisers on a boat from a builder with a reputation for producing vessels finished and fitted out to standards more often seen in boats destined as entertainers rather than serious passage makers, but are more than capable of lengthy bluewater voyages nevertheless. It seems our little exercise off the Gold Coast shows exactly why Hampton fit stabilisers, while this boat might not NEED them, they certainly make it measurably more comfortable in rough weather, a style with which we'd all like to become accustomed!
Luxurious 21 metre cruising motor yachts should of course be able to handle a bit of a sea. Although, in my experience, few of them would have handled what in fact is more than a "bit of a sea" with similar grace was. It was an impressive display from a boat that went on to cement itself amongst its peers as unbendingly, well, impressive.
This particular boat is a revised model released to the world at last year's Sanctuary Cove International Boat Show. 2013 was a particularly glamorous year at SCIBS, and this probably explains how the new Hampton 700 Skylounge flew somewhat under the radar and escaped the attention it probably deserved. In hindsight though, the way it managed to be quietly unpretentious in pretty ostentatious company, quite defines its style.
Light cherry wood panelling softened with a careful choice of fabrics and textile panelling in our review boat replaces the previous predominance of timber in the interior. This apparently is the work of Bev Schutt at Identity Interiors, a neighbour of Australia and New Zealand distributors Leigh-Smith Cruiser Sales in the Gold Coast City Marina.
Outside the hull and superstructure moulding is impeccable and the stainless steel fittings massively solid. For example, check the hinges and fastenings on exterior access doors each side of the galley deck.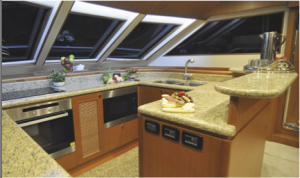 Previous Hampton models had two helm stations. There was one on the galley deck and of course an upper station on the 'bridge, but in the revision the lower station donated floor space to the galley and dining room. There's now a single helm station upstairs on what would be the flybridge if it did not incorporate a roomy upstairs lounge and bar. 
Yes, this is the "Skylounge" giving this particular Hampton model its name. The result is a VERY spacious galley featuring expansive granite benchtops and a granite floor. Galley "mod cons" are all top line. The ceramic cooktop, oven and dishwasher are Miele. Under bench refrigeration is Leibherr, and a nearby wine fridge is Vintec, as is the second one up in the Skylounge.
Perhaps the galley's most remarkable feature though is a fan forced extractor and filtration system, you cannot have the seascapes scrolling past the galley/dining deck obscured by steamed up windows can you!
There's seating for six in the dining room at a beautifully inlaid timber table that could accommodate a couple more at a pinch. Each dining room chair slots into retainers incorporated into the table's lower timberwork to hold them in place in bad weather. A timber buffet separates the dining room from the salon aft.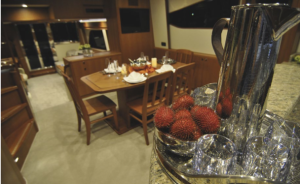 Curving stairwells each side of the dining room bar lead downstairs to the forward bedrooms crew quarters, engine room and up to the Skylounge.
You have to step down three steps from the dining room to the salon lounge where the entire port side is taken up with a large "C" shaped lounge sited opposite an entertainment unit set between pairs of single lounge chairs that can be moved about to suit. Onboard entertainment features Samsung LED widescreen TV's and a Fusion sound system driving Polk speakers.
Views from the galley/dining and salon lounge levels are expansive to the point of panoramic through large windows surrounding them. Alternately, privacy is simply assured by closing the blinds. That's 35 odd grand's worth of Hunter Douglas' best apparently; a sure indication of Hampton's dedication to absolute quality with no expense spared that's evident throughout this boat.
At the aft end of the salon lounge, large bi fold doors face the cockpit lounge outside. Beside these port side, most of the rest of the aft bulkhead is occupied by a big hopper style window. The salon's aft bulkhead does not open fully in the currently popular style, but in effect, with both salon doors and the hopper window all open, both living areas are pretty well integrated.
A Corian topped table over two metres long sits across the stern end of the cockpit lounge accompanied by a matching seat. There's a wet bar against the cabin bulkhead underneath the hopper window. From the cockpit lounge, more steps take you onto a swim and dock access deck secured across the stern proper with hefty rails. A third industrial grade watertight door in the transom accesses crew quarters and the engine room from there.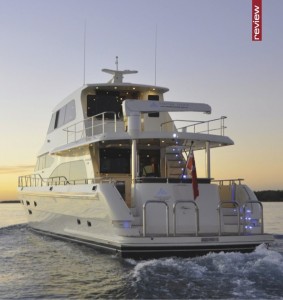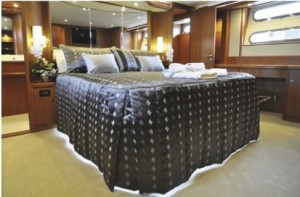 Guest sleeping quarters take up all of the forward area downstairs. A master stateroom amidships uses all of the available beam to fit a king size bed with plenty of space each side for vanity units and personal stowage lockers. If understated, the master suite will no doubt be a major selling point.
It's situated centrally where the hull moves the least with a dedicated ensuite hidden away behind the wall panelling beside the bed head to one side and an enormous walk in wardrobe to the other. Bev Schutt's magic is particu- larly evident here too.
Also very clever is the VIP suite in the bows where the double bed is set high with a step each side for easy access. As you'd expect in a boat of this quality, the clothes hanging space in all three staterooms is cedar lined.
A second bathroom finished in easy to keep clean Corian is shared between the VIP suite and a supplementary twin single bed stateroom on the starboard side. There's direct access to the bathroom from the bow stateroom through an internal door with another door in the central companionway for use from upstairs or the single bed (two of) stateroom.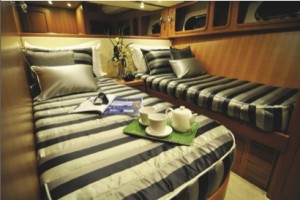 From the bedroom level, you need to ascend two flights of stairs up to the Skylounge. This is yet another selling point sure to seal the deal with discerning potential owners. The higher viewpoint in the skylounge only improves the excellent views available from the salon and dining areas. Once again there's a roomy lounge to port upstairs with that all important wine fridge set up in the bar opposite, along with another head.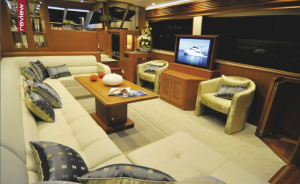 At the forward of the bridge, the helm area features a pair of Pompanette armchairs. The boat reviewed had a Raymarine electronics package comprising a VHF radio, EV200 autopilot, closed scan digital radar, and an integrated E165 sounder/ GPS displaying on a pair of 15 inch screens. These were sup- plemented by a pair of Caterpillar monitor screens for the engines.
At the aft end what amounts to a patio deck outdoors from the Skylounge might at times be (mostly) occupied by a tender dinghy sitting on a cradle vacant the day we were aboard. This is serviced by a Brower davit with 1600 kg capacity. Without the tender this deck becomes a secondary outside living/ entertaining area, a function enhanced by the barbecue set against the Skylounge's aft bulkhead.
From the "patio" a solitary external staircase allows direct access down to the cockpit level without going inside – or access to the helm upstairs and their quarters downstairs for crew. These stairs combined with that doorway through the transom outside on the swim deck mean crew can function without intruding in any way on life aboard. The crew cabin has two single beds, and they have their own bathroom and toilet downstairs along with refrigeration and cooking facilities. Engine room access is through the crew area; as is a laundry and utilities room.
Some owners will prefer to run their own boat while others employ a professional crew. In either case, the Hampton 700 is well set up for easy docking. It has a 25 hp hydraulic thrusters bow and stern and extra control stations hidden away in each side of the cabin superstructure. The 700 Skylounge reviewed was powered by a pair of 930hp C-18 'Acert' Caterpillar engines. Hampton claims a top speed of 23 knots and we backed that up by recording 23.5 knots on calm water inside the Seaway. Nevertheless I imagine cruising Hampton 700 Skylounges will spend much of their time travelling in a considerably more relaxed fashion at displace- ment speeds around 10-11 knots where fuel consumption varies between 45 and 75 litres per hour.
Displacement speed cruising translates via the 7600 litres of fuel available to a cruising range of around 1500 nautical miles. Water tankage holds 1500 litres. Two Onan gens sets of 27 and 13.5 kW capacity and a Victron 5000W inverter take care of power aboard.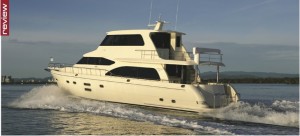 Hampton hulls are constructed of hand laid GRP, fibreglass if you prefer, with vinylester resins to discourage osmosis reinforced with two Kevlar laminates laid chine to chine in the hull bottom with a third Kevlar laminate in the forward collision zone. Given weather conditions during our time off the Gold Coast and due to a complete lack of any sounds indicating movement in the hull it seems formidable structural integrity is yet another Hampton feature.
In summary the Hampton 700 Skylounge continues the Hampton tradition of uncompromising quality and contemporary style overlying a boat designed for serious use, notably including engineering equally at home on long distance bluewater voyages and social use closer to home.