Sir Malcolm Campbell drove his aero-engined speedboat Bluebird K3 to a literally death-defying 130. 91 mph record on Lake Hallwil in Switzerland.
Having in 1935 become the first man to exceed 300 mph on land with the fifth iteration of his Bluebird record car, which had reached the limit of its development, Campbell had looked for a new outlet for his need for speed.
The world water speed record, then held by the American speedboat ace Gar Wood, offered possibilities, and gave the intensely patriotic Campbell the opportunity to collar a new record for Britain. "I'm fed up with this idleness," he declared. "Do you know those Americans collared the water speed record over three years ago – and they've still got it? Over 124 mph. I think we should be able to beat that all right, don't you?"
Mark you, record breaking on water was not quite as simple as record breaking on land, where only the time counted and even a minuscule increase in speed constituted a new record; on water a speed had to be multiplied by a factor of 1.0075 before a record could be claimed. So to beat the existing record of 124.86 mph set by the American Gar Wood in 1932, Campbell would have to reach a speed of at least 125.80 mph.

The Bluebird k3 37-Litre V12 Rolls-Royce
Wood's Miss America X had been powered by four supercharged 40.8-litre V12 Packard aeroengines each developing 1600 hp; Campbell decided to trust to a single power unit, the 37-litre V12 Rolls-Royce R-Type originally developed for the Supermarine S6 seaplanes that had won the Schneider Trophy outright for Britain in 1931 and which had propelled his Bluebird V past the 300 mph mark.
Working in secret, Campbell commissioned naval architect Fred Cooper, the designer of Sir Henry Segrave's Miss England boats, to design a single-step 23ft hydroplane which would be powered by the 2500 bhp R-Type engine No 37 from Bluebird V, whose designer Reid Railton would take care of the mechanical side, with the engine being fitted by Campbell's trusted mechanic Leo Villa. The hull was constructed at Cowes on the Isle of Wight by Saunders-Roe, using a double- skinned mahogany hull, a similar form of construction to that used on their flying boats. Aeronautical practice was also followed in the upperworks, with a stressed deck covered in doped aircraft fabric; a conical tail like the end of a miniature airship was fitted. Drive from the R-Type engine was taken forward through a dog clutch to a V drive gearbox near the bows with a step-up ratio of 1 engine revolution to 3 propellor revolutions. The high-speed propellor was water tank tested by Professor R.W.L. Gawn, superintendent of the Admiralty Experimental Works at Haslar, Southampton.
The first trials took place on Loch Lomond in June 1937: it seems that, now in his mid-50s, Campbell was suffering from failing eyesight, and strips of linen were hung from rocks at the end of his run to guide him. Scottish wind and weather carried driftwood into the loch, which could have ripped the bottom out of the boat, while the R-Type engine overheated. Campbell could go no faster than 90 mph, but that was enough to convince him that Bluebird – to which Lloyd's of London had assigned the international unlimited racing number "Z/K30", later shortened to "K3" – was capable of beating the record. But where to make the attempt?
Mechanic Leo Villa, though born in Soho of a Scottish mother, was of Swiss-Italian stock; his father had been born in Lugano in the Italian-speaking Ticino region of Switzerland, and his grandfather had captained the paddle steamer Ceresio on Lake Lugano. Drawing on his family background, Leo volunteered that the lakes on the Italo-Swiss frontier were particularly calm as they were sheltered from crosswinds by the surrounding mountains, and Campbell despatched him to the area to reconnoitre. The report came back that Lake Maggiore was ideal for the record, and trials began there in August. A 130 mph run had to be aborted when engine R37 overheated so badly that it had to be sent back to Rolls- Royce at Derby for a rebuild, but Campbell also had a spare, but less powerful, R-Type – no 39 – with him. With this installed, the water-cooling system modified and the "airship tail" which had acted like a water scoop removed, Campbell managed to lift the record to 126.33 mph on 1 September, though he found the boat tricky to handle. Not satisfied with that, he tried again the following day and set another new record of 129.5 mph. Happy with the achievement, but determined to widen the margin over Gar Wood's previous record, the team returned home to plan for the following year.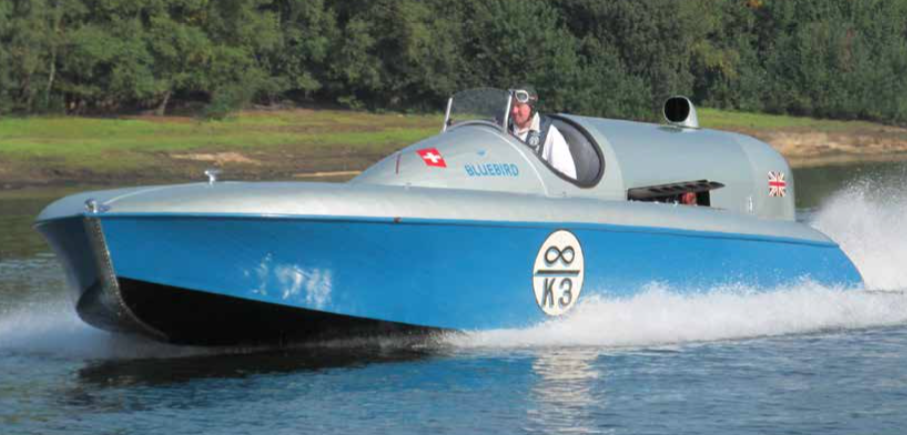 Chief among the modifications was a new stern, curiously like the tail of the Napier Railton Brooklands Outer Circuit racer; a new venue was chosen at Lake Hallwil in the Aargau canton in northern Switzerland, and here Campbell prepared to break his own record. Accompanying the team was Campbell's friend Commander Peter Du Cane, technical director of Vosper & Co, who had recently designed the new triple Ford V8-engined high-speed launch for the Royal yacht Victoria & Albert; worried by Bluebird's handling at speed, Campbell asked Du Cane to try the boat to advise whether there was any way of curing the snaking that arose around 130 mph. After a high-speed run, Du Cane warned Campbell that the problem was insoluble and that exceeding that speed was dangerous. 130.91 MPH, after Nevertheless, Campbell bravely managed to raise the record to 130. 91 mph, after which he retired Bluebird K3. which he described as "a proper bitch to hold, and very unpredictable", and commissioned a new record hydroplane, Bluebird K4, which employed the new three-pointed Ventnor- type hull design for improved stability at speed. The initial design work was carried out by Fred Cooper, but he and the equally short- tempered Campbell fell out, and the job was completed by Peter Du Cane and the boat was built by Vospers. Still powered by a Rolls- Royce R-Type, K4 set a new record of 141.74 mph on Coniston Water in the Lake District on 19 August 1939, three weeks before the outbreak of war.
Postwar, Campbell had K4 drastically modified to take a De Havilland Goblin turbojet, but it proved directionally unstable, and the problems had not been ironed out when Campbell died after a stroke on New Year's Eve 1948; his son Donald took up the challenge, and refitted the R-Type engine. The boat was rebuilt as a prop-rider, but hit a floating fence post at 170 mph on Coniston Water in 1951 and sank; it was raised, stripped out and the damaged hull burnt.
Restoration Time for the Bluebird k3
Meanwhile the outmoded K3 festered quietly, in the 1940s serving as a "gate guardian" to a used car business on the Great North Road and later stored under a tarpaulin in the yard of Ford's Lincoln Cars subsidiary on the Great West Road. By the 1980s it was at the nadir of its fortunes, serving as an open air "attraction" in the children's play area at the Thorpe Park theme park in Surrey.
And that's where my small part in the K3 saga comes in; in 1988 I was manager of Ford's European Corporate History Office, and inevitably any unusual enquiry with a historical angle came my way. Learning that Thorpe Park was trying without success to sell Bluebird K3 (the link being that Malcolm Campbell had been a Ford director), I passed on the information to my friend Paul Foulkes- Halbard, who ran the Filching Manor Motor Museum in Sussex and had accumulated a considerable amount of Campbell memorabilia through his friendship with Leo Villa, who had died in January 1979. Paul was down at Thorpe Park like a shot and bought Bluebird K3 along with its – non- running but oh-so-historic – R37 engine and a Metrovick Beryl jet engine from Donald Campbell's postwar (and fatal) Bluebird K7 for his museum.
The following year, Paul – who had already rescued an antique metal-hulled speedboat that was being used as a bottle bank – began work to restore Bluebird K3 to running order. Though K3 looked externally sound, the years Sir Malcolm Campbell took the land speed record on nine occasions between 1924 and 1935 and then broke the water speed record four times. of exposure to the elements had seriously damaged the interior of the hull as rainwater lay in the bilges. Said Ken Pope, who restored the hull, "The main strength of the boat is the two walls right down from stern to the bow. They're about two foot high, inch and a half timbers, with two layers of ply on each side, about 800 screws holding it all on." Sadly, the work was only part completed when Paul died following a stroke in 2003, but his son Karl and his team continued the rebuild with the aim of getting K3 back in the water and running. Using the R-Type engine was not an option for many reasons, so the decision had been taken to power Bluebird with a 27-litre Rolls-Royce Meteor engine – basically an unsupercharged 750-hp version of the Merlin aeroengine – taken from a Cromwell tank. It was fitted in the hull on reinforced timber stringers by crew members Ken Pope and Andy Taylor and the vee drive transmission reinstated.
With the hull restoration finally completed and the first flotation test successfully passed early in 2011, with 150 airtight buoyancy tubes replacing the bags of ping pong balls used by Sir Malcolm in the 1930s, work on recommissioning the Meteor engine, which hadn't run for fourteen years, began. The work was completed at the end of November 2011, and with its 30-gallon cooling system plumbed into an old Jacuzzi that served as a water reservoir, the Meteor roared into life in the Filching yard. It was the beginning of a winter of rigorous bench testing of all Bluebird's systems.
The old boat made a spectacular public debut outside the Theatre Royal Haymarket on 12 June 2012 as part of the celebrations of the 100th anniversary of Malcolm Campbell's adoption of the name "Blue Bird" for his racing cars after watching the fantasy play of the same name by Belgian motoring pioneer Maurice Maeterlinck at the theatre. When it was periodically fired up, the raucous sound of its open exhausts echoed round the West End and sent flocks of pigeons into the air like a remake of Hitchcock's The Birds!
Exactly a fortnight later the first water trials of K3 took place on Bewl Water in Sussex, with three runs being successfully made on progressively greater throttle settings until Bluebird rose on its plane at three-quarter throttle and Karl decided that it was time to back off as the shore was approaching rapidly! I was present at the second test run at Bewl Water on 15 October, but after a successful first pass the torque of the Meteor sheared the propellor shaft and Bluebird had to be towed back to the jetty.
It was eleven months before Bewl was again available for water trials. I went out to watch on the inflatable chase boat and this time Bluebird K3 behaved perfectly, making a number of rapid passes; crossing its wake at speed felt like riding downstairs on a teatray! As Karl explains, the aim is not to break any records – K3 has nothing to prove – but to make fast demonstration runs to keep the Campbell legend alive and pay tribute to a remarkable man who in the course of his career took the land speed record on nine occasions between 1924 and 1935 and then broke the water speed record four times.
You can check out the Bluebird and more in the latest Pacific Power Boat Magazine.