It had been some years since we'd last tested a Bluewater, a brand in the New Zealand marine industry that is a quiet achiever. We sent Freddy Foote out to test a new Bluewater 7.7m powered by a Lombardini Marine diesel.
Bluewater Boats produces a wide range of custom alloy boats, allowing customers to specify exactly what they require in their vessel. Over the last few years, Bluewater found itself a bit of a niche in producing the hulls for a number of New Zealand Coastguard boats, as well as its own range of custom vessels.
Run by father and son team Gary and Paul Colcord, Bluewater produces around a dozen boats a year out of its small Henderson factory, each one different and each one specific to its owner's requirements.
The company produces a range of leisure boats from 5.4m and 5.8m cabin models, with hardtop models starting at around 5.9m, right through to large 10m+ vessels where the sky really does become the limit.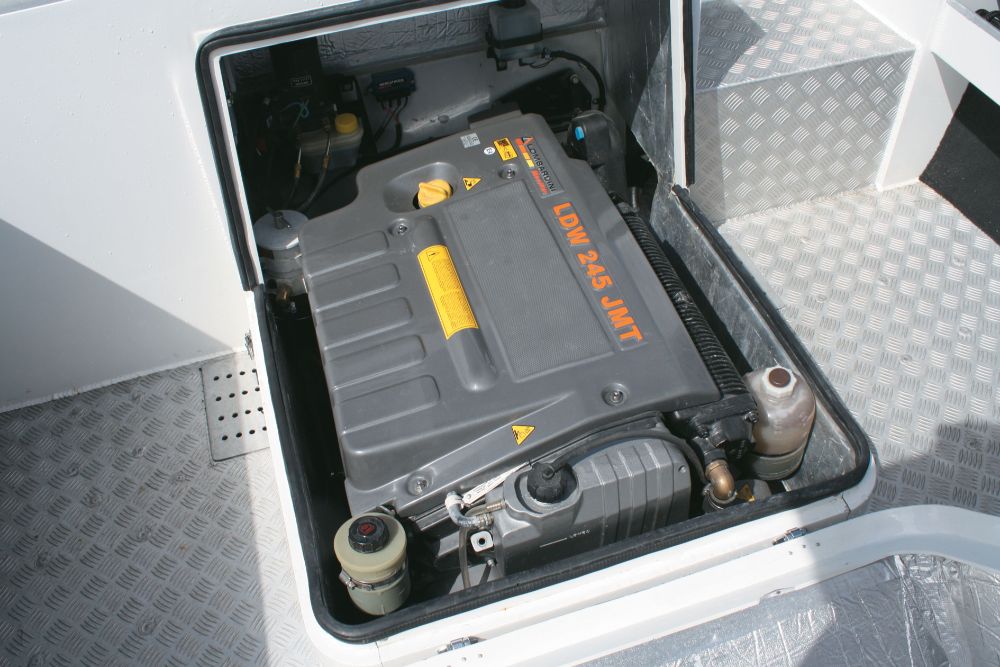 Whilst a large percentage of Bluewaters launched are powered with modern-day four-stroke outboards, this particular Bluewater 7.7m is powered by a 220hp Lombardini 245 JMT five-cylinder diesel and owned as a demonstrator by TransDiesel, the New Zealand distributor for Lombardini Marine.
It's common knowledge that the modern day diesel is becoming not only more economical, but they are starting to close the gap in performance as well. Pleasingly enough, they are also getting quieter too, which is great as I have certainly encountered some noisy four-stroke outboards recently.
This boat is currently being used as a demonstrator for TransDiesel to showcase its 220hp five cylinder diesel, and is now up for sale, and though it's a custom vessel, it still provides a few opportunities for a new owner to make it his own.
If you're lucky enough to have a well-funded chequebook, then being able to go to an expert like Bluewater Boats is a fantastic way of specifying your perfect boat.
Paul Colcord is a very knowledgeable boatbuilder and is one of the best to advise on what will be the best solution for you.
Forward in the well-protected cabin, a large V-berth offers a 2m-long berth on either side. A toilet is tucked away under the aft side of the port berth with good access all round for use and cleaning. On the opposite side, house batteries are located in their own compartment.
Under the hardtop at the helm, the driver's position would suit a variety of people, though should you wish you may opt for something to suit your own requirements such as a pedestal seat.
While there is a large array of options available, this boat has been fitted with a king/queen style seat on the starboard side for the skipper and passenger behind, which is mirrored over to port. Both sets of seating have large storage areas underneath and this ensures that the cockpit area remains uncluttered and tidy.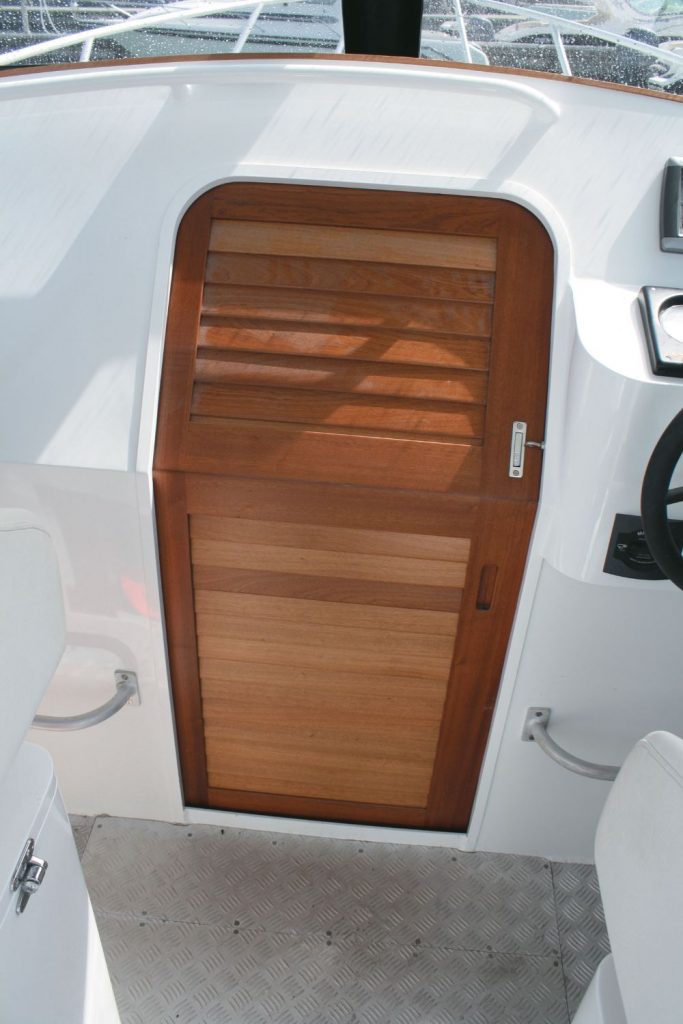 Lift the passenger seat to port and you'll find a small sink and cooker.
The aft facing passenger seat to the port side can be completely removed should you want to free up further cockpit space for a day's fishing.
The dashboard is spacious and has plenty of room for controls and electronics. On this particular 7.7 was a Garmin multifunction display with various Lombardini Marine engine instruments below.
Passenger comfort all round is superb, with handrails situated both in front along the top of the of the cabin entrance and also fixed to the sidewalls of the hardtop.
In the cockpit area itself, there is plenty of workspace, and port and starboard sides both feature large, deep side pockets for rod or gaff storage.
Like most Bluewaters, the 7.7 is designed with fishing in mind and has all the features you would need to adequately pursue any form of fishing you wish. Three rod holders are set into the wide gunwales on either side of the cockpit, while above, there is a rocket launcher.
As far as fishability goes, this is a big cockpit so the amount of space available is exceptional and would easily accommodate 4-5 anglers with relative comfort.
Deep side coamings will provide plenty of confidence when bringing that big fish over the side, and again, should you wish, at the time of build you could elect to add some thigh padding here.
While there is an option for under-floor storage space, this is usually restricted to the outboard versions of the hull, and for this boat, a 330-litre fuel tank is fitted.
Aft, the stern has an excellent full-sized boarding platform which divers will absolutely love. A walk-through transom has been built into the port corner, with a drop in door. Plenty of handrails are fitted around the stern to assist access in and out of the boat. A large live bait tank is built into the transom in the starboard corner.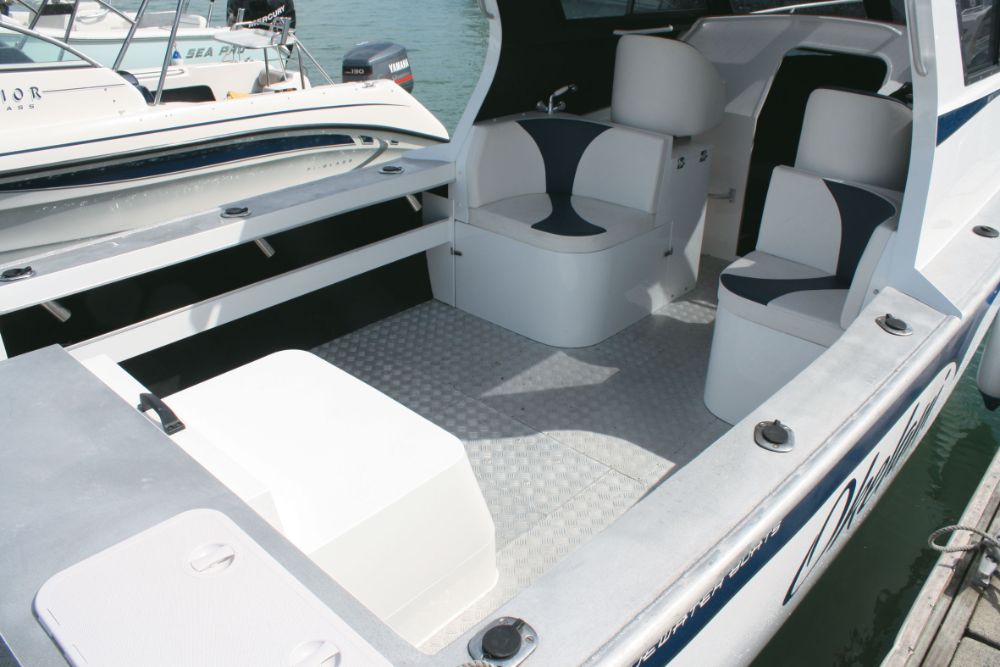 The 220hp, inline 5-cylinder Lombardini Marine diesel and MerCruiser Bravo III duo prop sterndrive gave the boat quite impressive punch out of the hole – so much so that one had to be ultra careful applying the throttle and ensuring that the passengers were holding on.
Harbour conditions were blustery and combined with an incoming tide produced a slightly lumpy and choppy sea. I was quite surprised at the performance the Lombardini Marine diesel provided, as it easily pushed the boat up to 32.7 knots.
I was actually very surprised at how unobtrusive the noise from the 220hp Lombardini diesel was. Two of us were able to converse normally as we cruised at around 20 knots, and as I've mentioned before, I've tested boats with modern six-cylinder four-stroke outboards which were noisier.
During our test, we had two adult passengers aboard, a full load of fuel, and very little gear. As far as the fuel economy of the Lombardini Marine 220 goes, we gathered the following figures: 2750rpm – 9.9L/h, 3250 rpm – 18.0L/h, 3750 rpm – 26.7L/h & 4000 rpm – 38.3L/h.
I found the best driving position was to stand and lean back against the seat base, but you can also sit down on the seat and use the handy footrest. The seated position was elevated and gave an excellent view forward.
The boat handled the conditions exactly how I would have guessed, the medium V hull ensuring a reasonably soft, quiet and stable ride. Water conditions meant we did get an amount of spray taken onto the windscreen. No wipers were fitted to this boat but they are available as an option, and I would suggest having them fitted.
This boat also didn't have the luxury of trim tabs. For a boat of this size and the amount of windage it presents, in my view trim tabs are a must.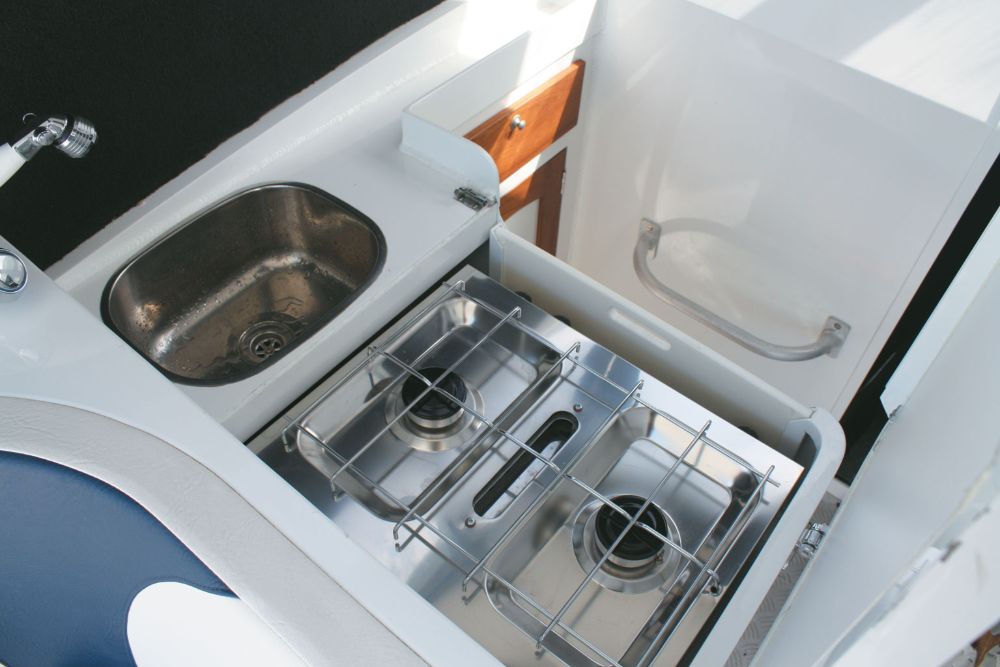 I've often talked to people who are looking to get a custom alloy hardtop built, and of the small amount of builders in New Zealand who specialize in these types of vessels, Bluewater Boats is always one of the top three companies mentioned.
I've always found the workmanship and design hard to fault, and it's often the little things that make the biggest impact for me.
Such things as plentiful handholds around a boat, lots of open and practical space combined with innovative storage will tick the boxes for not only me, but also for lots of other boaters.
Gary and Paul Colcord, quiet achievers in the industry, have again demonstrated why their Bluewater boats are always in such great demand.
Model: Bluewater 7.7 Weekender
Priced from: $165,000
Price as tested: $182,000
Type:   Alloy Hardtop
Construction:   Alloy
LOA: 8.0m
LOH: 7.2m
Beam: 2.5m
Deadrise: 18 degrees
Height on trailer: 3.2m
Trailerable Weight: 2700kg
Engine capacity: 225hp +
Power options: Sterndrive or outboard
Fuel capacity: 330L (standard)
Water capacity: 100L (standard)
   RPM                Knots
 1000 rpm         3.7
  1500 rpm         6.5
  2000 rpm         8.0
  2500 rpm         14.0
RPM                Knots
3000 rpm         21.0
 3500 rpm         25.0
 4000 rpm         32.7
Standard Features on Test Boat
Lock up front cabin, live bait tank, back-to-back seats, walk through transom.                                   
Notable Options on Test Boat
Electronics windlass anchor winch, water system, kitchen unit, 2 burner cooker and grill.
Make:  Lombardini Marine
Power: 220hp
Model: LDW245JMT
Cylinder config.: In-line 5
Displacement: 2.4L
Max rpm: 4000
Propeller: Twin counter-rotating MerCruiser Bravo III
Retail Price:  $NZ43,185
Make:  Hosking
Braked: Sensabrake
Rollers: Multi roller
Retail price: $NZ12,500