Always on the search for a value-for-money boating package, Freddy Foote ventures off to Tauranga, swings by Sportcraft Boats and discovers yet another cost effective boating option.
I get down to Tauranga a few times a year to do some boat tests and I'm rarely disappointed with the experience. The weather is usually fantastic and I even manage to catch the odd fish.
On a recent trip down there, where I also tested the Scorpion 620 HT, I also managed to take a look at our camera boat for the day, the Bluefin 600 Fisho.
The Bluefin and the Scorpion are two different boat brands, but they share a lot of the same DNA. It's a bit like buying a Ford Ranger versus a Mazda BT50, sure they look slightly different, but underneath they're exactly the same.
I've written a fair amount about both the Bluefin and Scorpion models available from Sportcraft Boats, and time and time again, the selling point that I try to get across is the value for money component that the brand manages to boast.
"We're in a unique position compared to other dealers in the fact that we are a manufacturer/dealer so we can afford to skip some of those margins and pass that value back to the consumer," says Jamie Black of Sportcraft Boats Mt Maunganui.
Our test boat Bluefin 600 Fisho shares a lot of similarities to another boat I'd tested from the same family, the Scorpion 610, essentially you're getting just as much boat, but at a cheaper price and without a few of the bells and whistles.
The 600 Fisho is really a bit of an all-rounder, but more targeted at those who want a bare and robust fishing tinnie. This is the type of boat that you can easily take a few blokes out to your favourite fishing spot. Throw in some dive gear and a couple of bottles, and you can dive, too. Add some extra seating aft, and you've also got a good family boat, with plenty of storage for'ard in the cuddy cabin.
The open layout has an adequately sized boarding platform on either side of the outboard pod, with the port corner featuring an aluminium boarding ladder. A grab rail has also been welded onto the rear of the transom to aid in re-entering the boat from the water.
Our test boat came with two tote tanks, which rest on the floor, a small piece of aluminium extrusion on either side stops them sliding forward into the cockpit. While you can't have an underfloor fuel tank as that area is used for positive buoyancy, a stern tank can be fitted as an option.
The transom  also has a shelf built into it, ideal for storing any miscellaneous items such as tackle boxes, etc. The battery sits below, but housed up off the floor in its own compartment. Below that is the bilge pump.
The cockpit is fairly sizeable, with long side shelves running right up to the forward seating area. Two rod holders each side are situated along the coamings.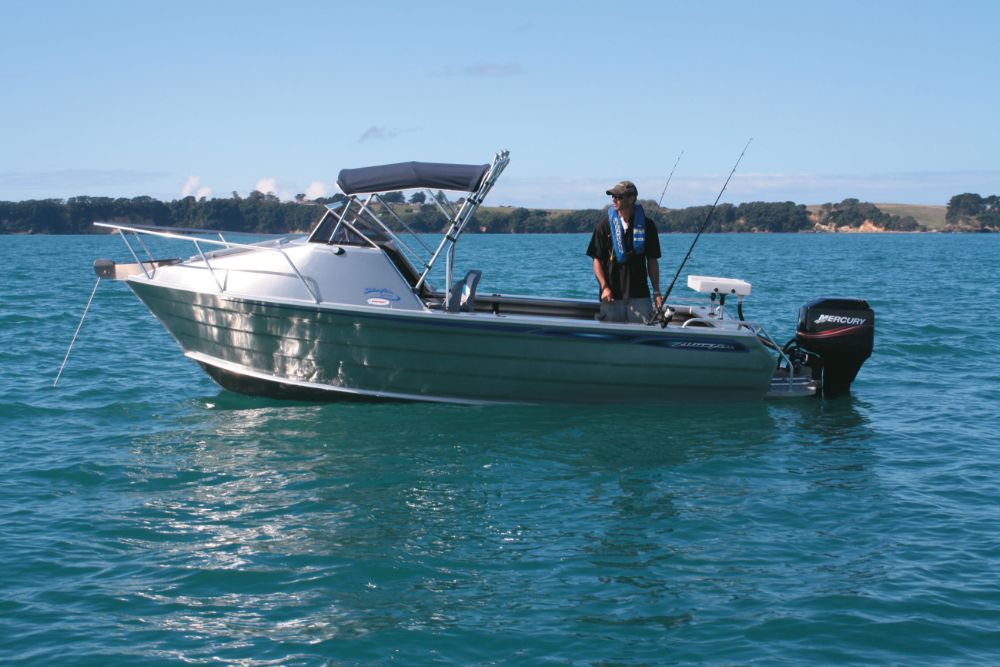 Seating consists of two basic single seats, with storage space underneath. Should you want a different seating configuration, a king/queen style arrangement can also be fitted – a better option if you're looking at a more child-friendly layout.
Additional small storage shelves are on either side of the helm – a great place for keys and cellphones. A handrail runs right along the edge of the forward dash area, and is great for passengers to grab onto – especially if things get rough.
Forward in the well-protected cuddy cabin, there is plentiful storage space available in the cabin sides, in the form of two large side shelves. No bunks here, as the primary design focus of the 600 Fisho is to maximise the cockpit space at the compromise of some cabin area.
Above, a large aluminium deck hatch provides good access to the anchor locker, which can be done by hand.
At the helm, the skipper is protected by a three-piece acrylic windshield and a bimini top provides protection from above. The skipper can choose to drive either standing or seated.
Additional rod storage is provided by the rocket launcher built into the bimini cover.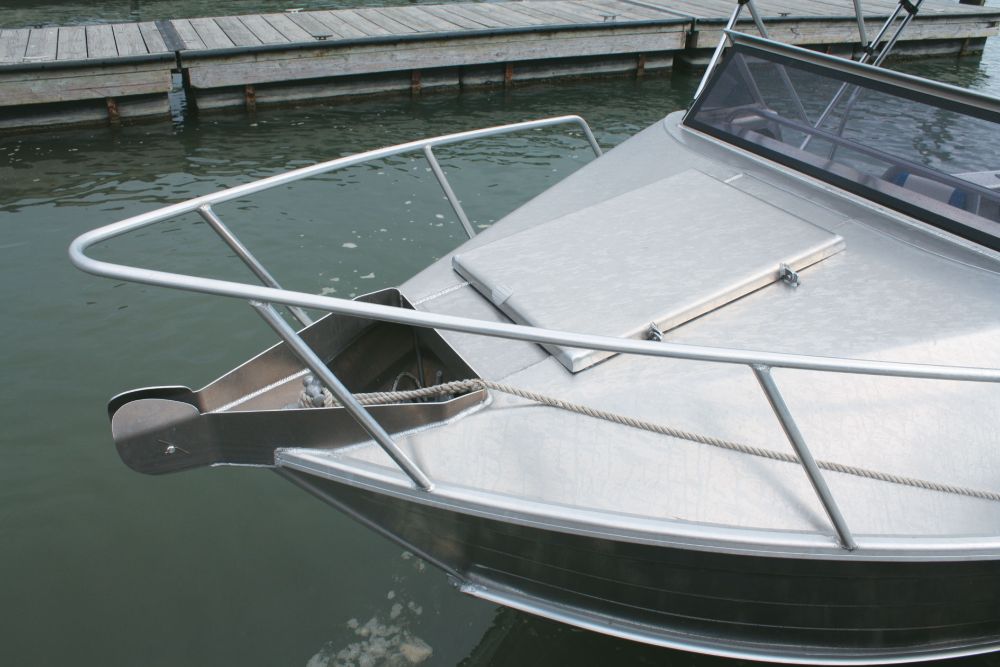 The dash is made up from raw aluminium (remember we're budget boating here) but none the less it's still tidy. Our test boat had the engine instruments already mounted, but upon ordering you could specify to have your fishfinder mounted here, with the engine instruments alongside.
The 600 Fisho is easily powered, and a Mercury 90hp two-stroke outboard as seen on our test boat is an ideal match. The 90hp will push the boat along to just under 40mph with a light load onboard. Should you be wanting to load up the boat with more gear and people, then a 115hp outboard would be the logical option while the hull is rated through to 125hp.
On our test day with the Bluefin 620 Sterndrive, we ventured out to Motiti Island; the weather conditions were clear and calm, and perfect for when we anchored for a quick fish. On the return trip the sea conditions had roughed up a bit, and whilst I was onboard the 620 for the return trip back to the ramp, the 600 Fisho seemed more than capable and kept up with the larger boat.
Back at the ramp, the 600 Fisho is easily handled back onto its single axle trailer, and given the size and light weight of the boat; beach launching is a possibility as well.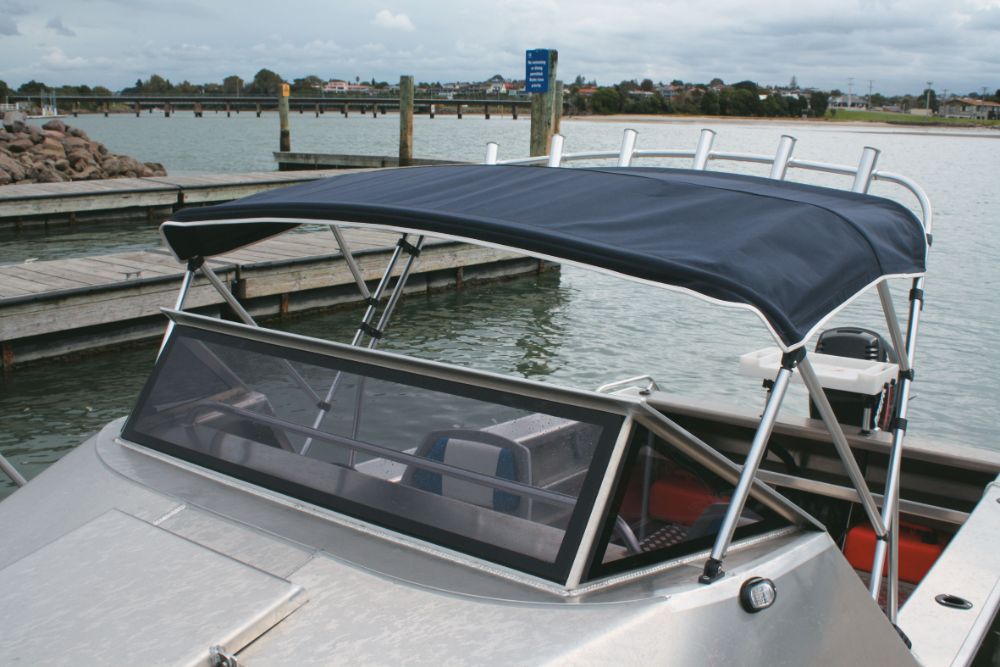 Overall a great package to get you out on the water
The Scorpion and Bluefin brands from Sportcraft Boats have truly cemented themselves as the true kiwi tinnie. Where other brands have ventured off to expand into other market segments, these two I believe have captured the attention of the local boat buying market.
Sportcraft Boats featured this boat at the boat show, from as little as $33,500. This one was priced as tested at $34,195. Add to that a fishfinder and a VHF and you're ready to hit the water. Given that you're getting a 6m alloy boat on the water for under $35,000 it's a package that's pretty hard to beat.
Model: Bluefin 600 Fisho
Priced From: $NZ33,500
Price as Tested: $NZ34,195
Type: Cabin
Construction:   Aluminium
LOA: 6.1m
Beam: 2.35m
Deadrise: 16 degrees
Height on Trailer: 2.4m
Trailerable Weight: 920kg
Engine Capacity: 90hp-125hp
Power Options: Outboard only
Fuel Capacity: Tote tanks
Notable Standard Features:
Acrylic windscreen, anchor locker, battery box and switch, bilge pump, boarding ladder and platforms, bow roller and bollard, cockpit side shelves, grab rails and foot rest, fully welded treadplate floor, navigation lights, access hatch, rod holders (4), twin pedestal seats with swivel.
800 rpm           3.0mph
1000 rpm         4.0mph
1500 rpm         5.0mph
2000 rpm         6.0mph
2500 rpm         8.0mph
3000 rpm         13.0mph
3500 rpm         18.0mph
4000 rpm         23.0mph
4500 rpm         28.0mph
5000 rpm         33.0mph
5500 rpm       38.7mph
Notable Options on Test Boat
Make:  Mercury
Power: 90hp
Model: Two-stroke
Cylinder Config.: In-line 3-cylinder
Displacement: 1386cc
Max rpm: 5500
Propeller: 20" Laser
Retail Price:  $NZ12016
Make:  Sportline
Braked: Unbraked
Suspension: Leaf springs
Rollers: Multi-roller
Std Equipment: Jockey wheel, submersible lights
Retail Price:  $NZ3995