One of the biggest sectors of the trailer boat market is unquestionably in the small alloy boats. Over the years, the market has developed from very basic pressed 'tinnies' to well appointed plate boats and pontoons. The styles, finish and presentation of the boats have changed a lot and also the numbers available.
There is a basic difference between models of any brand and nowhere is it more so than with aluminium trailer boats. Both New Zealand and Australia have been breeding grounds for alloy boats and when you consider just how many boats of this style have been built over the years, it's really quite staggering.
In Australia, companies such as Quintrex have built tens of thousands of trailerable alloy boats and in New Zealand there are brands such as Fyran and Ramco that seem to have been around forever.
Twenty years ago there were a lot less to choose from and some of those brands have gone. In New Zealand brands such as Alli-Craft, Blue Marlin, Ledacraft, Predator and Marlin Commodore have all closed up shop. Some have survived, such as Fyran, Ramco, Kiwi Kraft, Marco, McLay and Stabicraft, who all contribute a boat into the 5.3m-5.6m category still today.
If there is one boat that has taken this market by storm and has reached cult status, it is the Surtees 5.5 Workmate. Since the very first 5.5m Workmate was released in 1996, the brand and that particular model has continued to be built in vast numbers. Today over 2000 have been built and Surtees doesn't look like slowing down on production anytime soon.
Phil Sheaff, managing director of Surtees Boats says that production is running at around 100, 5.5 Surtees Workmates a year, which accounts for around 1/3rd of their total production. What is it that has made the 5.5 Workmate such a success? Sheaff explains, "It is an easy boat to use and look after and is generally a great all-rounder, albeit with an accent towards fishing, that our owners feel safe in, even when the sea conditions are bad. People comment on the stability of the boat especially at rest, which is a lot to do with the ballast system we use. We build them tough and we build them strong".
Interestingly the same underwater sections designed by Neil Surtees have been retained since boat #1, although there have been a few tweaks over the years. The 5.5 Workmate also had a facelift a couple of years ago with a new Portofino transom added and a new hardtop version was released. "We designed the hardtop so it could be retrofitted to any existing 5.5 Workmates and that is something that has certainly proved popular", says Sheaff.
Martin Wylie, manager of Fyran Boats, New Zealand's longest established alloy trailer boat manufacturer, has seen many changes over the years, but also says that the 5.5m cabin boat market remains as one of the strongest. "Fyran has always been a strong player in that sector and our boats reflect the type of boating we feel our customers are using them for," says Wylie. He adds that while sales of the bigger models in the company's extensive range have not been strong in recent years, its 500, 530 and 560 models have remained reasonably strong.
"Our boats are all really designed to be used by Kiwis who fish one day and have family BBQ outing the next and want a boat that they can run economically, tow easily and stow in a garage. It's all about giving the best value for money", remarked Wylie. One of New Zealand's biggest areas for alloy trailer boat construction has always been in the deep south of the South Island, where companies such as McLay, Kiwi Kraft, Southern Lazer, Stabicraft, and Image have been building boats for years for both the local and export markets.
Paul Adams, managing Director of the world's southernmost boat builder, Stabicraft Marine, has been in the business for over 25 years and while his range has expanded to include models from 4.3m to 8.7m, he hasn't let the 5.5m market slip away. "Around 30% of our production are boats in the 5.3m-5.6m category, so it is quite a significant part of our business and one that has a lot of competitors, so we have to continually be looking at ways of improving our boats", says Adams.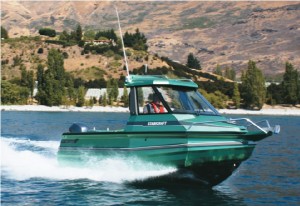 He adds that what he has seen over the years is that people want more in their boats and they want to know that what they are buying includes all the latest and safest construction and design. Stabicraft recently introduced new reshaped 'arrow pontoons' which has reshaped the style of the bow and shoulder so they are not as proud and soften the look of the forward hull sections. Coupled to the new 'game chaser' transom, Adams says these are the sorts of innovations that customers are asking for in the new boats. He adds that while the majority of people do use their boats for fishing, it is still important to be able to offer a boat with a 'cross-over' style to cater for the family style boating.
Adams adds, "We recently released the all new 1650, which is our most significant new development since we introduced the Generation One pontoon to our models some years ago and it looks like being a real winner in this size category".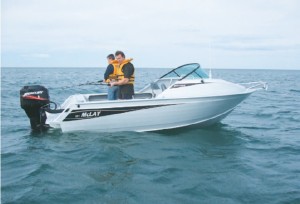 McLay Boats Ltd is another South Island manufacturer and has always been at the forefront of aluminium boat construction. In the 5.5m category it offers two models, the 571 Fisherman and 571 Sportsman which were derived from the original B1700 Fisherman, released in the early 1990s.
Today's 571 is the recently rebadged 560, which was released in 2000 and is still one of McLay's biggest selling boats. "While we are definitely seeing a trend towards larger hardtop models, the 560/571 remains a steady seller right throughout the country. 
In my opinion the buyers of these boats are not looking for too much in the way of extras, but want a good solid boat that they can go fishing in, that's easy to clean, requires only moderate outboard power and doesn't need a big car to tow it", says McLay.
A 5.5m alloy cabin boat on a trailer weighs in the vicinity of 1150kg with a couple of tote tanks and the usual fishing and safety gear aboard. The trailers are normally always single axle with no brakes, so the costs are a lot less than when you move up into a 6m boat. "It's a market that is also price driven and we find that our 571 Sportsman which we sell as a key start package, including a 90hp 2 stroke Merc, single axle trailer and a fish finder for under $NZ38,160, is right on target", says McLay.
Construction hasn't really changed much, with a choice of plate or pressed, although if anything there has been a tendency (accept in Australia) to go for heavier plate. While Quintrex continues to build its hulls in lighter 3mm alloy, which it says is all that is required due to its special construction technique, Kiwi boat builders seem to favour 4mm to 5mm bottom thickness and even one manufacturer goes as far as offering its 5.5m model with 6mm. Side thickness for most 5-6m boats by Kiwi manufacturers is usually 4mm, with a few at 3mm.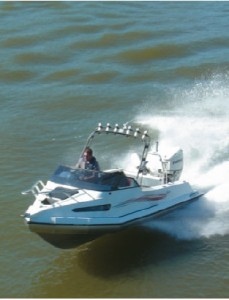 What plate builders offer is diversity of choice, with changes made very easily to a design. If you want a little more length, a slightly
higher coaming or a bulkhead in a different position, it's all possible. Gone are the days of riveted hulls – today they're all welded. The boats, either pressed or plate, are stronger and tougher than they ever were and with the high quality materials now available, they have a long life. Of the more than 40 boats listed there is a mix of plate and pressed boats, although the trend with more recent builders is to go the plate way. Plate boats also tend to be a bit heavier, which is not all bad in a small boat around 5.5m and can do a lot to improve the ride and handling in choppy and rougher water.
Hull bottom shapes in the main are very similar as there is only so much you can do in 5.5m. However there is quite a difference in the deadrise at the transom of the boats listed. The deepest is 20 degrees from some models by brands such as Kiwi Kraft/Aqualine, DNA and McLay and goes as low as 15 degrees from Marco, Everyman and some of the Aussie brands. The average is around 17 degrees.
Rarely will you see a 5.5m alloy boat powered by anything other than an outboard, although small 4cyl stern drives and jet units have been used. Generally you will only need 70-90hp, but something either side is also acceptable. There are plenty of outboards now to pick
from as the major manufacturers are now being threatened by the growing number of Chinese brands. Depending on your boating requirements and just how often you are going to use the boat, you have the choice of carburetted 2-stroke, 2-stroke direct injection or 4-strokes. The latter two are more expensive, but generally offer better economy. However, considering just little fuel you would use each year, you need to weigh up the benefits over the cost. If you are slanted some way to the 'greenie' side then direct injection 2-strokes or 4-strokes are the right choice.
The first thing you need, after the mandatory lifejackets and safety gear, is a good fishfinder. In a 5.5m boat that usually means a small bracket 6"to 8" unit coupled to a transom mounted transducer. If you have the space on the dash then a flush mounted screen is a good choice and if you fit a thru-hull transducer you don't have to worry about knocking or damaging the exposed transducer on the transom. Most units these days will give you a bigger depth range than you'd require in a small cabin tinnie and with a plotter/GPS/sounder combo you have everything you need for navigation and fishing.
Rocket launchers and rod holders are a must, but if you are going to add extras to your boat after you get it home, take care to check out what the units are made of. Bolting stainless steel fittings in contact with aluminium alloy is a sure sign of 'instant corrosion' as the different metals do not go well together. A simple solution is to have a plastic or composite spacer between the two surfaces, or in the case of rod holders, you could use plastic ones.
However, even the contact between the stainless steel fastenings and the aluminium alloy is a source of corrosion, so consider using bolts rather than self-tapping screws, and not only using plastic spacers, and plastic washers against the alloy, but also drilling oversize holes and fitting a short plastic sleeve, of total length the sum of the alloy thickness and the spacer thickness. If you are serious about preventing corrosion of the alloy, it is absolutely imperative to prevent different metals contacting the alloy – anywhere! Drink holders, dive bottle racks etc. are best added using products from the likes of Tallon or Railblaza, which have fittings that are compatible with alloy.
The sort of boats were have described in this article are designed in the main for inshore sheltered water boating, be it fishing or family outings. While on a calm day you could venture a lot further offshore, always be conscious of what the weather may throw at you later in the day.
While some carry the all-important CPC flotation certification, most don't and being caught out in rough seas in a small lowfreeboard boat sometimes has disastrous consequences. Far too often we see reports in the local newspapers about people losing their lives at sea in small trailer boats that they have pushed beyond their limits.
Nothing is 100% safe, but if you are aware of your surroundings, carry the necessary safety gear aboard and don't overstretch what your boat has been designed to do, then you should have happy boating.