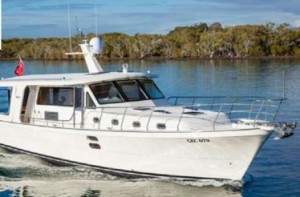 The Alaska 47 sedan is the latest version of the Alaska Range with an extended hull which includes a 40% bigger integral swim platform. This sedan cruiser provides all of the living and entertaining on the one level with only three steps in the whole boat. The stainless saloon doors open wide along with dual flip-up rear windows to bring the outside in. Dual side doors in conjunction with two stainless steel sunroofs have increased natural ventilation and the new cockpit control station makes the tasks of docking a breeze. 
The Atlantis 34 features a sharp, fast-looking bow, a swept-back rakish windscreen and superstructure, oblique cabin and cockpit windows and a stylishly-simple black-on-white exterior. The Atlantis 34's cockpit is obviously one for those who enjoy al fresco relaxing. A large lounger, ending in an aft-facing sloping backrest, occupies the entire port side, as well as running three-quarters of the way across the transom. Perhaps the Atlantis 34's most prominent feature is its full-width canvas sunroof.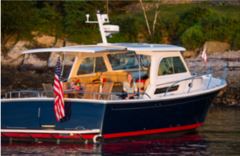 USA While the Downeast 37 may look like a sedate gentleman's cruiser, it is really a bit of a hot rod. Like all Back Cove models, a single propeller shaft runs in a shallow pocket which helps reduce the draft and running angle. The Back Cove Downeast 37 breathes a quiet elegance in an understated way. The Downeast 37 answers a lot of your needs for a large cockpit day boat, with the occasional overnight, but with a focus on entertaining a large group of friends.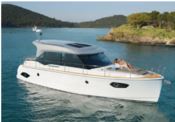 Released at the recent boot 2016 Düsseldorf boat show, Bavaria's all new E40 is being marketed as an economic, ecologic, exploring, efficient and emotional. Vessel… hence the E name. The E40 will be available in both a sedan and fly and alternatively in a 2- or 3-cabin layout. The spacious salon has a central helm, a well-furnished galley with cooker, stove and a big fridge and all encased with 360-degree views of the sea. 
Built in Taiwan for Australian company Belize Motor Yachts, this outstanding vessel is based on the principle of quality first. The bespoke Belize Motoryacht line is inspired by classic, timeless style, incorporating traditionalism with Australian practicality. While initially the only power option was twin Cummins Zeus, they are now available with the more powerful Volvo Penta IPS600s. The boat feels incredibly substantial in scale: the handrails are big and ship-like, the bulwarks and the wide side decks make moving around the exterior of the yacht very easy and comfortable. 
The Gran Turisimo 40 is one of four models in the Gran Turisimo range, the others being the GT 34, GT 44 and GT 49. The latest creation by designers Nuvolari and Lenard, the GT40 features Beneteau's latest Air Step technology, the GT40's planing hull gives you speeds of up to 35 knots. Both protective and open – thanks to its sliding side windows, hardtop and fully opening glazed door, the spacious cockpit happily accommodates plenty of people. The extra large bathing platform, equipment and accessories are well suited to water sports, be it swimming, diving or fishing.
Within her sleek lines and flawless profile, the C37 Coupe has an unmatched level of comfort that will make her your true home-away-from- home. Aboard this two-deck yacht, you'll find a thoughtfully designed galley, an airy salon filled with natural light, two spacious staterooms with impressive amenities and abundant seating, and a remarkable 2m of headroom. Once you open the saloon's dual doors, the helm, saloon, and galley become part of one, single-level, indoor/outdoor living space for entertaining, relaxing, and simply enjoying life on the water.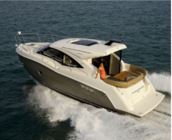 Clipper's Hudson Bay range of traditional 'downeast' style sedan cruisers are reminiscent of a lobster boat, but hidden within that ageless exterior is a style and layout that is modern and practical. All seven of the Hudson Bay sedan range provide a natural layout that effortlessly blends outdoor and indoor living spaces making them ideally suited for day cruising, weekending or extended cruising. The accommodation is well suited for two couples or a couple and two kids in two separate cabin areas.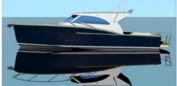 Dickey Boats have a reputation for producing high-quality alloy boats from both stock and custom designs. Currently still in design stages, the Semifly 40 is typical of the classic sports fisher boat design, that Dickey Boats portray. Designed to fit into a 12m marina berth, the Semifly 40 is available with single shaft drive or twin IPS.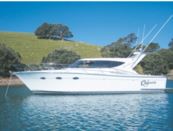 Elite Marine, are one of the two custom boat builders we have included in our listing. For over 30 years they have been producing bespoke boat designs in all forms and sedans are no exception. Recent examples include the two 13m sporty styled sedans, Odysseia and the latest launching, Vantage. Both feature open plan layouts in the saloon and cockpit with accommodation for a family of 5 in comfort. 
Elandra Yachts is unquestionably one of the most exciting new sports sedans to come out of Australia in recent years. Australian made, the Elandra 53 incorporates an incredibly broad beam that provides immense cockpit deck space with aft lounge. Even the garage has more space, opening to reveal a large tender with a roomy lazarette on both sides.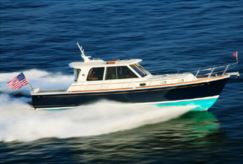 One of the hot new models for 2016 is the 44 Eastbay. Combining gorgeous yet contemporary Downeast styling with legendary Eastbay performance, the new 44 Eastbay will blend the best of all worlds. While capable of 30 knots, like all Eastbays before her, she is also a sturdy and comfortable cruising yacht. The 44 will feature light and bright interiors, a huge aft deck configured for ample seating, and onboard storage and accommodation options that will amaze. 
The Greenline 33 is engineered and built in northern Slovenia and comes packed with modern technology. It is available in both standard diesel shaft drive or hybrid green' mode. The Greenline Hybrid Solar is capable of collecting, storing and using power from the sun. For cruising, the main propulsion is the diesel, just like in a hybrid car the engine does most of the driving. Top speed with the standard 75-hp diesel is 10 knots, with a range of 700 nautical miles at 7 knots.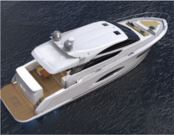 The E56 is designed to take advantage of the innovative drive technology offered
by dual Volvo IPS drives for improved fuel economy, better performance, reduced draft, and increased interior volume. The dynamic exterior features a refined and streamlined profile with continuous style lines and unbroken profile. The oversized windshield provides for improved visibility from the lower helm and also creates a spectacular overhead skylight for the on deck dining area.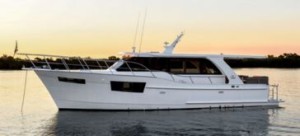 The Integrity 460 Grand Sedan is the first semi-displacement boat from Integrity Motor Yachts. There is a certain refinement about the 460 Grand Sedan that sets it apart from the rest of the Integrity fleet. Starting with the 460 and 490 models, the Grand Sedan range offers a variation on the traditional layout and extra sophistication in the finishes from the existing Integrity range.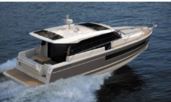 Jeanneau offers three models in the NC range and three other sedan style boats that are sold under the Leader name. The NC14 is the largest of the NC range and come with an interesting design by Camillo and Vittorio Garroni. The NC 14 offers large daytime living spaces, including a dining area and a very attractive galley. These are arranged around a very spacious deck saloon and feature a floor plan designed on a single level.
Designed by Scott Robson, the ICON 416, Eva Anne, is an alloy custom build that is a seriously cool sports fisher, incorporating plenty of luxury appointments. It is very typical of the custom boats built by ICON Custom Boats, who also build powercats and flybridge cruisers. The emphasis on the layout and appointments is primarily for day tripping but overnighting or extended cruising would be most comfortable in Eva Anne.
There are four models in the Maritimo sports sedan range, starting with the S43 and extending through to the all-new S58. The S58 is all about space, with a bright, breezy open plan layout. Wide opening bi-fold saloon doors, easy cockpit/saloon access and ample sea breezes to the saloon and cabins will ensure your family a relaxed lifestyle in their home on the water.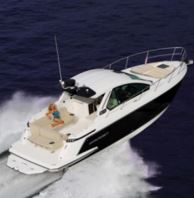 Adorned with cleverly designed seating, unlimited amenities and superior entertainment arrangements, both above and below deck, the 360SC is truly a superbly equipped sedan. The new 360SC Coupe features a masterfully designed helm station with dual electric sliding helm/companion seats, dual wet bars, located both port and starboard, and an open seating area with L-lounge and cockpit table. Below deck a luxuriously appointed cabin awaits you with generous accommodations, featuring a spacious v-berth which converts from a comfortable bed to a dinette and seating area with solid wood table, and fully equipped galley.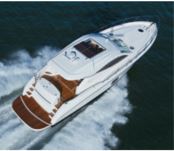 Released in 2011, the Mustang 50 is based on the same hull and superstructure as the Maritimo 50, but with a very different interior. The Mustang 50 is a three-cabin, two-bathroom vessel with a large aft deck and fully enclosed saloon. Power is a pair of Volvo Penta IPS 600s. With its single-level layout, the Mustang 50 has its saloon opening out completely to the aft cockpit as one space with bi-fold aluminium framed glass doors.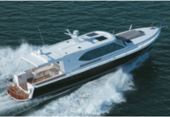 Based on the ever-popular style of the Euro 49, the Euro 53 is derived from a totally new hull with more overall length and almost 1m more beam. From the luxurious saloon with all-round visibility to the unique cockpit design, the high-quality Salthouse finish is evident throughout. Entertaining flows easily from inside to out. This superb design includes an alfresco dining area, boarding platform with live bait tanks, optional day heads and plenty of storage space.
They don't come much better than this and with numerous awards for excellence, the builders Palm Beach Motor Yachts have established an enviable international reputation for quality and craftsmanship to the highest standards.
Riviera Australia has announced a new model for its Sport Yacht collection. The Riviera team has adopted a totally fresh-thinking approach with this new model. Stepping on to the wide hydraulic boarding platform you'll immediately notice the tender garage, the door of which opens at the touch of a button. 
The largest and most luxurious Sabre motor yacht to date, the Sabre 66 Dirigo is the first American built, downeast-style motor yacht of this size to be introduced to the market. She is, as designer Kevin Burns states "the highest expression of Sabre yet." From her functional foredeck to her spacious and comfortable cockpit, she is every bit a Sabre.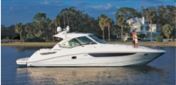 Long, lean lines and perfect craftsmanship define the exquisite features of Sea Ray Sport Yachts. Ranging from 12.65m to 16.70m, they provide a combination of luxury and performance.The integrated windshield and hardtop make an unbroken line from deck to the roof, while the electric windshield vent system and extra-large sunroof hatches still allow for natural air.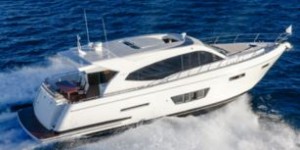 Ideal for those looking for a single level, stylish appearance and superb performance, the Whitehaven Coupe series delivers Whitehaven's customary internal elegance with a performance you would expect from a European marque. Few motor yachts in this category can boast the immaculate finish, architecturally inspired open plan layouts and powerhouse long or short range cruising performance delivered by the 5700 or 6000 Coupes.