Four years ago we ran a feature on 15-16m sedans and the list we compiled then covered eleven models from six countries. We also published a listing of all available production sedans at the time, with 21 brands offering 88 models from 9.6m through to 26.5m. Today the range of production sedan models available in New Zealand and Australia stands at around 130 from 29 brands. It is only fair that we should also add a couple of very active custom designs, the Elite Marine sedan series and the Scott Robson design sedan monohulls built by ICON Custom Boats. Both have seen a number of boats built in recent years and represent an important part of the sedan market. This is not the sort of boat that suits everyone, but as the numbers show, it is growing fast and while the USA started the trend, many other countries have followed. Today Australia, the UK and France, especially Italy offers a vast number of models. A sport sedan differs from a traditional flybridge cruiser, be it open or enclosed, as it only has one main helm station, which is situated forward of the saloon. Opposite is usually the large U shape dinette, although sometimes you might find the galley here. Otherwise, the galley is aft in the smaller boats and when you are looking over 20m, it is often down below and forward. There is a big emphasis placed on one level living with an open flow from saloon to the cockpit. The trend today is for full glass sliding doors with hopper windows and an uninterrupted mix of interior and exterior. Here it's usual to find transom loungers and barbeques, al-fresco dining and big wide boarding platforms.
With no upper level, the cockpit isn't intruded with a ladder or staircase, so there is more space for fridges and freezers or extra seating. What are now becoming very popular are big sliding sunroofs that open the saloon, yet can be shut off when the weather isn't conducive to open living. Accommodation is very much as you would find in a flybridge cruiser with two or three cabins forward, with one or two bathrooms or en suites. In the larger sport sedans, they are now offering full-width master staterooms, thanks in some way to the advent of pod drives. Pod drives allow for a lot more space below and let designers extend the accommodation areas well beyond what was normally possible with conventional shaft driven boats. As for power, sport sedans are seen as being go fast machines and speeds in excess of 30 knots are almost the norm. We thought we should have a brief look at some of the more popular sport sedans around in a variety of sizes. If you like the look of a particular model, but it's not quite the size you want, then check out the Buyers Guide in the article to see what other models the builders offer in their sedan range. Each has its particular style and traits, but essentially they all offer much the same layout, albeit in different variants. We look at boats built in Taiwan, UK, Italy, USA, France, Croatia, Australia and New Zealand. All are finished to a very high standard for this very dedicated niche market. No flybridges, no sport fishermen, just seriously cool sport cruisers.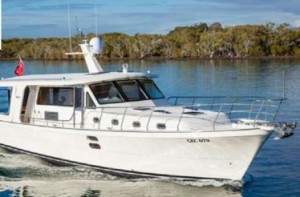 The Alaska 47 sedan is the latest version of the Alaska Range with an extended hull which includes a 40% bigger integral swim platform. This sedan cruiser provides all of the living and entertaining on the one level with only three steps in the whole boat. The stainless saloon doors open wide along with dual flip-up rear windows to bring the outside in. Dual side doors in conjunction with two stainless steel sunroofs have increased natural ventilation and the new cockpit control station makes the tasks of docking a breeze. 
Accommodation now boasts a master stateroom with island queen-size berth amidships with its own ensuite offering less movement and water noise than conventional forward cabin boats. The second cabin forward has two large single bunks and loads of storage with a guest bathroom to port. The 47 Sedan is a renowned sea keeping vessel, powered by a pair of Cummins QSB-6.7L- 480hp engines giving a WOT speed of 27 knots and cruise at 18 Knots. Leigh-Smith Yachts, Ph +61 (07) 5577 9200, sales@lsyachts.com.au, www.lsyachts.com.au
AZIMUT ATLANTIS 34 / ITALY
The Atlantis 34 features a sharp, fast-looking bow, a swept-back rakish windscreen and superstructure, oblique cabin and cockpit windows and a stylishly-simple black-on-white exterior. The Atlantis 34's cockpit is obviously one for those who enjoy al fresco relaxing. A large lounger, ending in an aft-facing sloping backrest, occupies the entire port side, as well as running three-quarters of the way across the transom. Perhaps the Atlantis 34's most prominent feature is its full-width canvas sunroof.
As is the case with many vessels of this size, the Atlantis 34's cabin serves a dual purpose: as a saloon during the day and, for those who like to overnight, as a main or secondary cabin. There is also a separate cabin down under the cockpit sole. The separate cabin features a low-to-the-ground double berth, a mirrored hanging locker, stalk reading lights and handy stowage behind the headboard and to the side. With a pair of Volvo 220s, you can expect a top speed of 33 knots. Grant Saunders, Vining Marine (09) 377-6602/021 0265-1470, azimutyachts.co.nz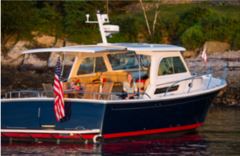 USA While the Downeast 37 may look like a sedate gentleman's cruiser, it is really a bit of a hot rod. Like all Back Cove models, a single propeller shaft runs in a shallow pocket which helps reduce the draft and running angle. The Back Cove Downeast 37 breathes a quiet elegance in an understated way. The Downeast 37 answers a lot of your needs for a large cockpit day boat, with the occasional overnight, but with a focus on entertaining a large group of friends. 
The wheelhouse area is split between a starboard side helm, port side dinette and extra lounge seating. The inlaid dining table can be lowered to transform into a second sleeping area and the aft facing L-settee can convert to a double 'mates' lounger, which can seat two people facing forward while underway. Accommodation is down to one forward cabin with an island berth with multiple above and below storage. E Marine Australia, Ph+61 2 9969 3757, info@emarine.com.au, www.emarine.com.au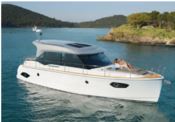 Released at the recent boot 2016 Düsseldorf boat show, Bavaria's all new E40 is being marketed as an economic, ecologic, exploring, efficient and emotional. Vessel… hence the E name. The E40 will be available in both a sedan and fly and alternatively in a 2- or 3-cabin layout. The spacious salon has a central helm, a well-furnished galley with cooker, stove and a big fridge and all encased with 360-degree views of the sea. 
The owner's suite is in the forepeak, with large windows and big hatches in the deck to create a bright ambience in the owner´s cabin. Besides a king-size bed, the owner will also have an own bathroom. As a semi-displacement motor yacht, the Bavaria E40 is designed not for speed, but more for economical cruising. The E40 is available with 3 engine options (75hp, 150hp or 300hp). Busfield Marine Brokers, Ph +64 9 376 4006, Christine@busfieldmarine. co.nz, www. bavariayachts.com
Built in Taiwan for Australian company Belize Motor Yachts, this outstanding vessel is based on the principle of quality first. The bespoke Belize Motoryacht line is inspired by classic, timeless style, incorporating traditionalism with Australian practicality. While initially the only power option was twin Cummins Zeus, they are now available with the more powerful Volvo Penta IPS600s. The boat feels incredibly substantial in scale: the handrails are big and ship-like, the bulwarks and the wide side decks make moving around the exterior of the yacht very easy and comfortable. 
Everything is well proportioned and feels substantial. The saloon is easily described as being social and with its teak flooring throughout is ready made tough and durable. High windows and plenty of glass mean you have great all-round visibility. The Belize 52 is offered in either a two- or three-cabin layout, but to date, all have been three-cabin, two-bathroom. Riviera Australia, Ph +61 7 5502 5555, info@riviera.com.au, www.rivieraaustralia.com
BENETEAU GRAN TURISIMO 40 / FRANCE
The Gran Turisimo 40 is one of four models in the Gran Turisimo range, the others being the GT 34, GT 44 and GT 49. The latest creation by designers Nuvolari and Lenard, the GT40 features Beneteau's latest Air Step technology, the GT40's planing hull gives you speeds of up to 35 knots. Both protective and open – thanks to its sliding side windows, hardtop and fully opening glazed door, the spacious cockpit happily accommodates plenty of people. The extra large bathing platform, equipment and accessories are well suited to water sports, be it swimming, diving or fishing.
The layout of the lower deck provides an unusual feeling of space on a boat of this size. There are two cabins, one forward with a large double berth and a separate aft cabin with twin singles. There is also a fully equipped galley, dining area and a spacious bathroom, that encourage extended cruises with family and friends. Family Boats, Ph +64 09-274 0511, sales@familyboats.co.nz, familyboats.co.nz
Within her sleek lines and flawless profile, the C37 Coupe has an unmatched level of comfort that will make her your true home-away-from- home. Aboard this two-deck yacht, you'll find a thoughtfully designed galley, an airy salon filled with natural light, two spacious staterooms with impressive amenities and abundant seating, and a remarkable 2m of headroom. Once you open the saloon's dual doors, the helm, saloon, and galley become part of one, single-level, indoor/outdoor living space for entertaining, relaxing, and simply enjoying life on the water. 
The C37 is more than a cruising yacht, she's also a performer. Her standard twin MerCruiser 377 Magnum Bravo Three, SeaCore stern-drive engines ensure an exhilarating top speed, while her planing hull with its 3.96m beam delivers a stable, smooth, and dry ride for all aboard. Sports Marine, Auck Ph +64 09 274 9918, Chch +64 03 379 9208, scottw@sportsmarine.co.nz, www.sportsmarine.co.nz
CLIPPER HUDSON BAY 39 / CHINA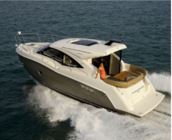 Clipper's Hudson Bay range of traditional 'downeast' style sedan cruisers are reminiscent of a lobster boat, but hidden within that ageless exterior is a style and layout that is modern and practical. All seven of the Hudson Bay sedan range provide a natural layout that effortlessly blends outdoor and indoor living spaces making them ideally suited for day cruising, weekending or extended cruising. The accommodation is well suited for two couples or a couple and two kids in two separate cabin areas.
The Hudson Bay 39 comes standard with a new generation 8V 370 HP Yanmar shaft drive electronic diesel power and returns a top speed just shy of 21 knots with a comfortable cruise around 16 knots. Clipper Motor Yachts Australia, Ph +61 7 5519 4019, brett@clippermotoryachts.com.au, www.clippermotoryachts.com.au
DICKEY SEMIFLY 40 / NEW ZEALAND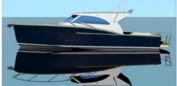 Dickey Boats have a reputation for producing high-quality alloy boats from both stock and custom designs. Currently still in design stages, the Semifly 40 is typical of the classic sports fisher boat design, that Dickey Boats portray. Designed to fit into a 12m marina berth, the Semifly 40 is available with single shaft drive or twin IPS.
Like all Semifly models the interior and layout will be flexible but, as you would expect, this vessel will also have an impressive interior volume for its size. Envisaged as a twin cabin layout for family or friends it could also be configured as an open layout for a couple. Dickey Boats, Ph +64 6 834 1310, info@dickeyboats.com, www.dickeyboats.com
ELITE 13M SPORT SEDAN / NEW ZEALAND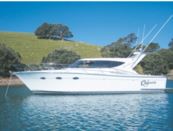 Elite Marine, are one of the two custom boat builders we have included in our listing. For over 30 years they have been producing bespoke boat designs in all forms and sedans are no exception. Recent examples include the two 13m sporty styled sedans, Odysseia and the latest launching, Vantage. Both feature open plan layouts in the saloon and cockpit with accommodation for a family of 5 in comfort. 
Being a custom build, the layout arrangement is very much owner's choice and the same goes for décor, fittings and equipment. Using some of New Zealand's best boat builders, quality is assured in every new build. Power options are single or twin diesel, with the warped plane, fine entry hull form proving extremely efficient. With New Zealand well and truly out of the big boat production game, it is great to see there is still a place for inventive and flexible designers such as Bill Upfold. Elite Marine Design, Ph +64 9 530 8501, info@elitemarine.co.nz, www.elitemarine.co.nz
Elandra Yachts is unquestionably one of the most exciting new sports sedans to come out of Australia in recent years. Australian made, the Elandra 53 incorporates an incredibly broad beam that provides immense cockpit deck space with aft lounge. Even the garage has more space, opening to reveal a large tender with a roomy lazarette on both sides.
The design embraces a single-level entertainment concept around an impressive 5.25m beam, from the spacious cockpit through glass bi-fold doors to a convertible saloon lounge/dinette and galley. The 53 is configured with a three-cabin, two bathroom accommodation plan including a full beam master suite and lavish ensuite with private WC and shower. Natural light pours into lavishly appointed living quarters through panoramic hull windows. The full-beam master stateroom features a queen-sized bed, day lounge, and private ensuite. Power is provided by a pair of MAN R6-800 six-cylinder turbo diesel engines, giving a top speed of 35 knots. Elandra Yachts, Ph +61 414 276 765, luke@elandrayachts.com, www.elandrayachts.com
GRAND BANKS 44 EASTBAY / MALAYSIA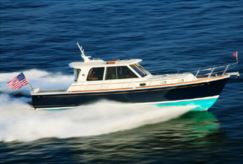 One of the hot new models for 2016 is the 44 Eastbay. Combining gorgeous yet contemporary Downeast styling with legendary Eastbay performance, the new 44 Eastbay will blend the best of all worlds. While capable of 30 knots, like all Eastbays before her, she is also a sturdy and comfortable cruising yacht. The 44 will feature light and bright interiors, a huge aft deck configured for ample seating, and onboard storage and accommodation options that will amaze. 
Configured with the galley up, the 44 Eastbay can fit three great cabins or two queen-sized cabins. An expansive utility room looks after your cruising extras such as a washer & dryer. Grand Banks Yachts, Ph: +60 7251-7488, gbmy@grandbanks.com, www.grandbanks.com
The Greenline 33 is engineered and built in northern Slovenia and comes packed with modern technology. It is available in both standard diesel shaft drive or hybrid green' mode. The Greenline Hybrid Solar is capable of collecting, storing and using power from the sun. For cruising, the main propulsion is the diesel, just like in a hybrid car the engine does most of the driving. Top speed with the standard 75-hp diesel is 10 knots, with a range of 700 nautical miles at 7 knots. 
A 165-hp diesel is optional and boosts top speed to 15 knots. The single level living space protects you from the elements while you gaze at the panoramic views. And luxuries like a huge fridge and freezer and full-size beds make this cruiser home from home. Putting the small galley way aft means it can serve the cockpit as well. The aft door opens wide to integrate indoors and out. Hybrid Boats, Ph +64 9 4242997, richard@hybridboats.co.nz, www.hybridboats.co.nz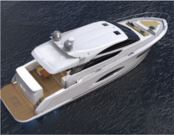 The E56 is designed to take advantage of the innovative drive technology offered
by dual Volvo IPS drives for improved fuel economy, better performance, reduced draft, and increased interior volume. The dynamic exterior features a refined and streamlined profile with continuous style lines and unbroken profile. The oversized windshield provides for improved visibility from the lower helm and also creates a spectacular overhead skylight for the on deck dining area.
The large main deck side windows flow into a uniquely streamlined effect that maximises the natural lighting and compliments the custom interior LED lights for optimal lighting day or night. Horizon Motor Yachts Australia, Ph: +61 7 5577 9009, sales@hmya.com.au, www.hmya.com.au
INTEGRITY 460 GRAND SEDAN / CHINA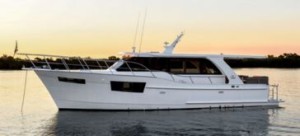 The Integrity 460 Grand Sedan is the first semi-displacement boat from Integrity Motor Yachts. There is a certain refinement about the 460 Grand Sedan that sets it apart from the rest of the Integrity fleet. Starting with the 460 and 490 models, the Grand Sedan range offers a variation on the traditional layout and extra sophistication in the finishes from the existing Integrity range.
The rearranged saloon, galley and helm areas still feature the open plan entertaining style layout, but with a few design enhancements to create an inviting, comfortable living space. The Integrity 460 is a two cabin, one bathroom layout, whereas the 490 Grand Sedan is a three cabin two bathroom, with a separate en-suite for the owner's cabin. The 460 Grand Sedan achieves 17 knots, with a 480hp Cummins QSB 5.9 480. This is a boat that lends itself to casual, unpretentious cruising, with all the necessary comforts. Integrity Motor Yachts (Australia), Ph: 1300 798 735, brett@integrityboats.com.au, www.integrityboats.com.au Laurie Collins Marine (New Zealand), Ph +64 09 376 6331, wayne@lcw.co.nz, www.lauriecollins.co.nz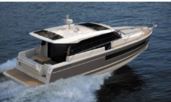 Jeanneau offers three models in the NC range and three other sedan style boats that are sold under the Leader name. The NC14 is the largest of the NC range and come with an interesting design by Camillo and Vittorio Garroni. The NC 14 offers large daytime living spaces, including a dining area and a very attractive galley. These are arranged around a very spacious deck saloon and feature a floor plan designed on a single level.
Accessible by a comfortable corridor, the evening living spaces offer surprising volume in the cabins, the head and shower compartments, and a true walk-in closet. With a pair of 370-hp IPS500 Volvo Penta engines, the NC 14 will reach a top speed of close to 32 knots. Orakei Marine, Ph +64 9 524 8444, sales@orakeimarine.co.nz, www.orakeimarine.co.nz
Designed by Scott Robson, the ICON 416, Eva Anne, is an alloy custom build that is a seriously cool sports fisher, incorporating plenty of luxury appointments. It is very typical of the custom boats built by ICON Custom Boats, who also build powercats and flybridge cruisers. The emphasis on the layout and appointments is primarily for day tripping but overnighting or extended cruising would be most comfortable in Eva Anne.
The equipment list certainly helps towards taking away a lot of the hardships of being at sea for some time, such as the watermaker, genset, dive compressor and even the Webasto diesel heater for those cold winter evenings in the Sounds or a planned trip to Fiordland. Construction is all-alloy, with 8mm plate on the bottom, and 5mm on the topsides. Icon Custom Boats Ltd, Ph +64 03 3133560, gary@iconbrands.co.nz, www.iconcustomboats.co.nz
There are four models in the Maritimo sports sedan range, starting with the S43 and extending through to the all-new S58. The S58 is all about space, with a bright, breezy open plan layout. Wide opening bi-fold saloon doors, easy cockpit/saloon access and ample sea breezes to the saloon and cabins will ensure your family a relaxed lifestyle in their home on the water. 
The full beam master stateroom is complete with a luxurious king size bed, ensuite, chaise lounge and makeup vanity/study. With the helm and saloon all on the same level, the S58 is ideal for those who live in waterways with low bridges. Opening sunroof, side windows and bi-fold doors ensure this entertainer's dream is perfect for those lazy days cruising the waterways. The aft galley is of generous proportions with ample storage and bi-fold doors opening out to the spacious cockpit entertaining area. Maritimo Offshore, Ph: +61 7 5588 6000, ghaines@maritimo.com.au, www.maritimo.com.au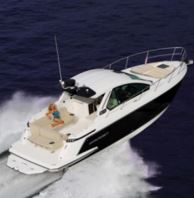 Adorned with cleverly designed seating, unlimited amenities and superior entertainment arrangements, both above and below deck, the 360SC is truly a superbly equipped sedan. The new 360SC Coupe features a masterfully designed helm station with dual electric sliding helm/companion seats, dual wet bars, located both port and starboard, and an open seating area with L-lounge and cockpit table. Below deck a luxuriously appointed cabin awaits you with generous accommodations, featuring a spacious v-berth which converts from a comfortable bed to a dinette and seating area with solid wood table, and fully equipped galley. 
Beautiful full windows adorn the interior of the cabin allowing you to never miss a moment while underway. Pinnacle Marine, Ph 09 3776002, info@pinnaclemarine.co.nz, www.montereyboats.com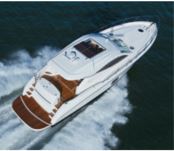 Released in 2011, the Mustang 50 is based on the same hull and superstructure as the Maritimo 50, but with a very different interior. The Mustang 50 is a three-cabin, two-bathroom vessel with a large aft deck and fully enclosed saloon. Power is a pair of Volvo Penta IPS 600s. With its single-level layout, the Mustang 50 has its saloon opening out completely to the aft cockpit as one space with bi-fold aluminium framed glass doors.
A fully-equipped L-shaped aft galley serves guests both outside and in and the saloon, forward of the galley, demonstrates the design team's focus, with shining gloss teak highlights, muted fabric wallpapers and contrasting French-stitched pelmets on either side. The Mustang 50's saloon also has an optional electrically-operated sunroof overhead, allowing guests and skipper to take full advantage of the fresh air and sunshine. Maritimo Offshore, Ph: +61 7 5588 6000, ghaines@maritimo.com.au, www.maritimo.com.au
NEXT GENERATION EURO 53 / NEW ZEALAND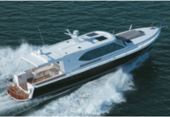 Based on the ever-popular style of the Euro 49, the Euro 53 is derived from a totally new hull with more overall length and almost 1m more beam. From the luxurious saloon with all-round visibility to the unique cockpit design, the high-quality Salthouse finish is evident throughout. Entertaining flows easily from inside to out. This superb design includes an alfresco dining area, boarding platform with live bait tanks, optional day heads and plenty of storage space.
The Euro 53 boasts a generous cockpit, with ample seating space and an extended duckboard suitable for great fishing. The boat can comfortably sleep 7 to 8 (depending on berth configuration) with custom layouts also available. Salthouse Next Generation Boats, Ph: 09 888 8118, dean@salthousecorsair.co.nz, www.salthousecorsair.co.nz
PALM BEACH PB50 / AUSTRALIA
They don't come much better than this and with numerous awards for excellence, the builders Palm Beach Motor Yachts have established an enviable international reputation for quality and craftsmanship to the highest standards.
The PB50 is one of six boats in the Palm Beach sedan cruise range, the others being the PB45, PB55 and the superb PB65. Since its introduction in 2001, close to 30 PB 50s have been built. The interior décor of the PB50 accented by an expanse of Burmese teak is complemented by fine leather upholstery, solid Caesar Stone counter tops and custom carpet, all created to the highest standards. Large powered windows on both sides retract to provide fresh air and every available space is utilised for storage. The PB50 is available in single or twin cabin single ensuite layout. Palm Beach Motor Yachts, Ph + 61 2 4389 1244, mr@pbmy.com.au, www.pbmotoryachts.com
RIVIERA 5400 SPORT / AUSTRALIA
Riviera Australia has announced a new model for its Sport Yacht collection. The Riviera team has adopted a totally fresh-thinking approach with this new model. Stepping on to the wide hydraulic boarding platform you'll immediately notice the tender garage, the door of which opens at the touch of a button. 
The cockpit features a large forward-facing transom lounge and an electric sliding sunroof to bring extra sunlight and fresh air into the alfresco area when desired. The 5400's galley features the very latest in premium appliances and conveniences. The 5400 offers three cabins with a full-beam master amidships with a king-sized walk-around bed. The 5400 Sport Yacht is powered by Volvo Penta's (IPS). Riviera Australia, Ph +61 7 5502 5555, info@riviera.com.au, www.rivieraaustralia.com
The largest and most luxurious Sabre motor yacht to date, the Sabre 66 Dirigo is the first American built, downeast-style motor yacht of this size to be introduced to the market. She is, as designer Kevin Burns states "the highest expression of Sabre yet." From her functional foredeck to her spacious and comfortable cockpit, she is every bit a Sabre.
The best deck hardware, on-deck walking surfaces that are safe and secure, hand holds wherever they are needed, all speak to Sabre's 45-year history of building boats for people who know boats, and know how they should be equipped. Her interior is crafted by boat builders with decades of experience. Her systems are modern and functional and her performance as invigorating as boaters have come to expect from Sabre Yachts. E Marine Australia, Ph+61 2 9969 3757, info@emarine.com.au, Emarine.com.au
SEA RAY 510 SUNDANCER / USA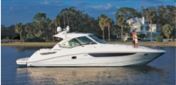 Long, lean lines and perfect craftsmanship define the exquisite features of Sea Ray Sport Yachts. Ranging from 12.65m to 16.70m, they provide a combination of luxury and performance.The integrated windshield and hardtop make an unbroken line from deck to the roof, while the electric windshield vent system and extra-large sunroof hatches still allow for natural air. 
Sea Ray cockpit layouts are second-to-none. The view from the 510's adjustable helm seat is excellent, and the cleverly designed companion seating can be rotated 90 degrees and converted into a lounge facing the cockpit. The bridge has a stylish, moulded fibreglass hardtop that can be fitted with clear curtains. An owners' cabin with an island berth is forward and has a private head with a separate shower. The guest cabin has upper-and-lower berths. www.searay.com
WHITEHAVEN 6000 COUPE – AUSTRALIA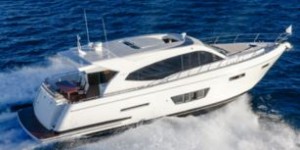 Ideal for those looking for a single level, stylish appearance and superb performance, the Whitehaven Coupe series delivers Whitehaven's customary internal elegance with a performance you would expect from a European marque. Few motor yachts in this category can boast the immaculate finish, architecturally inspired open plan layouts and powerhouse long or short range cruising performance delivered by the 5700 or 6000 Coupes.
Superyacht construction and precision engineering ensure smooth performance in all conditions. Multiple accommodation layouts are available, along with a unique contemporary galley saloon flowing out to a Euro-style cockpit. A consistent feature of the range is the impressive full-beam master stateroom offering a luxury, space and stability in all conditions. Full gloss or satin timber finish are options, complemented by a broad selection of premium Ultra Leathers in the headliners and seating.  Whitehaven Motor Yachts  (Australia), Ph 1300 758 896, keith@wmy.com.au, www.whitehavenmotoryachts.com.au Laurie Collins Marine (New Zealand),  +64 09 376 6331, wayne@lcw.co.nz, www.lauriecollins.co.nz