The debate has raged for years over what is the best power configuration for your boat; inboard, outboard or – petrol or diesel sterndrive. If you aren't sure, just like the people who you vote for, invariably your choice will then be dictated either by innuendo, past experiences of other pseudo-experts, or indeed, what your daddy ran in his boat.
Your decision therefore is invariably infallible; right or wrong, pride alone will not let you admit there might be something on the market that might be better. Broaden your horizon then, and while we are at it lets get one thing straight here and now; your choices in the first instance are influenced totally by the designer of your particular boat.
We are talking here of designers of boats sensibly in the 5.5m – 14m range, for arguably anything smaller or larger than that will either be outboard powered for the smaller boats or conventional shaft or pod drives for the larger boats. These designers will invariably stipulate precisely what the boat is designed for. Some designers will specify sterndrive-only configuration, others have designed their boats solely for outboard power, and still others have designed it so the boat runs happily with either option.
For the purposes of this article, we will assume then that sterndrives are your choice of power configuration, or indeed you have a mind open enough that you will investigate the concept further. Sterndrives of course aren't new (see the 'sterndrive history' section within this article) technology by any means and certainly when one looks back over the many years that sterndrives have been available, Mercury Marine's MerCruiser has outsold everything else, due firstly to the huge size of the American market compared with the rest of the world, and secondly in no small measure to Mercury Marine's strategy of also manufacturing many US boat brands, giving it the ability to determine which engines are used. Another point that few boaters in Australasia ever stop to consider is the fact that around 90% of US boating is done on fresh water, whereas here it is more like 90% salt water. Thus the average American boater came to have a dogged affinity with sterndrives, oblivious to their serious shortcomings in terms of saltwater corrosion, the number one killer of boating machinery and bank balances. On the USA's coasts, and in the rest of the world, Volvo Penta sterndrives earned a reputation for superior saltwater corrosion resistance.
Any wonder then that sterndrives became somewhat of a sore point with boaters outside the freshwater river and lake systems of the USA, to the point where, with the rest of the world fast catching up with the Americans in terms of numbers of boats sold, those markets gained sufficient clout that their boaters' demands for a better standard of saltwater corrosion protection were listened to and acted upon.
Such began a quiet revolution, with Mercury Marine introducing corrosion-inhibiting measures aimed at ensuring the brand became competitive in the saltwater markets of the world. At around the same time, roughly 15 years ago, other engine manufacturers who were appreciating the size of the market and the potential to sell their engines to another audience, began producing their own versions of sterndrives to marry up to their engine packages.
But there have been others also; a number of engine manufacturers have done deals with MerCruiser, the Cummins corporation one noticeable example. As time progressed, so too did the number of engine manufacturers such as Yanmar, FNM, Lombardini, Marine Diesel, Yamaha and of late, dedicated automobile engine manufacturers such as Volkswagen (through a partnership with MerCruiser) and Hyundai. All these, interestingly, use MerCruiser stern-legs.
There are of course petrol and diesel powered sterndrives and while in the last few years there has been little movement in new brands of petrol-engined sterndrives, thanks in part to the drastic melt-down of sales in the USA attributed directly to the GFC, it is an entirely different story with the diesel alternatives. This sector is certainly where the growth has occurred, as manufacturers with predominantly diesel engines in their stable, look for their share of the market.
MerCruiser and Volvo Penta are virtually the only petrol sterndrive options, with models ranging from 135hp right through to 430hp. Amongst the 15 models of petrol sterndrives available within these two brands you have the opportunity to select from 4-, 6- or 8-cylinder engines with single- or twin-prop drives. In the diesel market, once virtually the sole domain of Volvo Penta, you now have upwards of nine different engine manufacturers with engines ranging in horsepower from 120hp through to 360hp. There are rumours of something even bigger from Volvo Penta to be released at the Sydney International Boat Show in late July. And whereas there used to be huge variations between outboards, inboards and sterndrives, today emissions, power to weight, pricing and fuel efficiency are as near as damn it, on a par – when you consider the whole equation.
To gain an advantage in fuel costs, a diesel sterndrive is certainly better though, but the down-side is diesel sterndrive assemblies cost more than petrol engines – remember the adage – there are no free lunches! Servicing of a diesel is probably a little more expensive too, and if you are looking at the equation from a repower perspective an outboard is cheaper to fit than a sterndrive, because less time is involved.
The other downside of a sterndrive and arguably this would be the number one reason more small boats don't run sterndrives, is the perception that an inboard takes up more cockpit space, which if you are into serious fishing is valuable working real estate. Conversely there is the advantage of having extra seating or table area and in some boats the engine box has been well utilised as a bait station. Additionally, sterndrive boats can have a full-width boarding platform, which if used while playing a fish can make it much easier to get a line across from one side to the other at the transom.
It's a case of six of one and half a dozen of the other for in the end really, it all gets down to what your boat can handle, and what deep down your real preferences are as to the particular configuration.
So how big is the list of choices for boaters in our Oceania region? The reality is there are a surprisingly healthy number of manufacturers. Some are well established, while others are established big-name players venturing into the marine sector for the first time. In alphabetical order then, so as to purposely remove any hint of bias, the following is firstly a list of the 'petrol' engine and sterndrive combinations which is narrowed down to realistically just two players, MerCruiser and Volvo Penta. There are of course another two after-market manufacturers in the form of Konrad Marine, which produces its own stand-alone sterndrive range, and an 'impersonator' if you like, in the form of American after-market manufacturer SEII which to all intents and purposes manufactures a direct copy of the MerCruiser version.
In the case of diesel-powered sterndrive packages available, the market is a little wider, with the above three joined by combinations from Cummins/MerCruiser, FNM, Hyundai, Iveco, Lombardini, Marinediesel, MTU/Konrad, Steyr and Yanmar.
In the first of this two-part feature we look at the petrol options.
MERCRUISER – American Muscle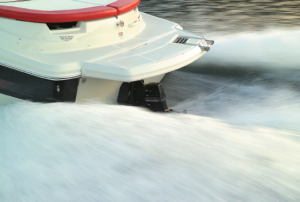 The MerCruiser sterndrive petrol range incorporates nine engine packages from the new 135hp 3.0LTKS engine through to the powerful 430hp, 8.2-litre 8.2 MAG HO.
The engines increase incrementally from the 3-litre inline 4 cylinder TKS and MPI engines, to the 4.3-litre V6 range which includes the 190hp TKS and 220 MPI engine options; then on into the V8 range which commences with the 5-litre 260hp MPI engine then progresses up through the range to the 5.7-litre 300hp 350 MAG, the 6.2-litre 320hp 377 MAG, the 8.2-litre 380hp 8.2 MAG and finally the flagship 8.2-litre 430hp 8.2 MAG HO.
The TKS engines are carburetted, whereas the rest of the range is multi-port electronic fuel injected (MPI). The carburetted engines also offer the TKS system, with fuel-injection-style characteristics to aid cold starts. At the helm, TKS engines also provide responsive control thanks to standard anti-feed-back power steering.
Depending on the engine package, you have the choice of Alpha or Bravo legs. Most models provide a 65A alternator and the MPI engines with SmartCraft have the added attraction of a sophisticated boat/engine data management system, monitoring up to 64 internal and external functions. The 555 control module, fitted to some models, is a high speed microprocessor at the heart of the SmartCraft Controller Area Network (CAN).
All fuel systems on fuel injected models are insulated and water-cooled to help keep temperatures down and reduce the potential for vapour lock. Engines are also designed to run on regular octane fuel instead of premium. Other features include a dry-joint exhaust on all MerCruiser V6 and V8 models, which virtually eliminates the risk of water – either from condensation or seawater – finding its way into critical engine components.
MerCruiser sterndrives also feature SmartCraft, giving access to information which allows you to better gauge and understand every facet of your vessel's operational performance. Stringently adhering to emission control regulations with their Emissions Control (EC) three-way catalytic converter that significantly reduces hydrocarbons, nitrogen oxides and carbon monoxide, MerCruiser sterndrives have a two year factory limited warranty, as well as the industry's only three-year limited corrosion warranty.
Three years ago the MerCruiser range was enhanced by the addition of the Vazer sterndrive, essentially a compact new system designed for some boats traditionally powered by outboards. This 100hp package allows it to fit under seats, platforms and decks typically in craft such as pontoon boats, fishing boats and runabouts.
Based on the proven GM Vortec 1600 4-cylinder single overhead cam engine mated to an all-new compact sterndrive, the engine also features a scrolled, low-profile composite intake manifold that maintains a long intake runner design for excellent torque and horsepower.
The other key feature of this package is a composite- shell heat exchanger and heater connection ports that allows the addition of cockpit or cabin heat. A closed loop cooling system, which includes the engine block, aluminium exhaust header and cylinder head, ensures the Vazer is ideal for both freshwater and saltwater use.
Speaking of fresh and saltwater use, the other major MerCruiser initiative was the introduction of the SeaCore system of corrosion protection, which MerCruiser claims is as close as a marine propulsion system can come to being corrosionproof.
This feature is offered on the 4.3MPI and 5.0MPI models, the 350 MAG, the 377 MAG, and the 496 MAG & MAG HO models MerCruiser models.
Purpose-designed for large runabouts, cruisers and performance boats that live in harsh saltwater environments, rather than just enclosing the drive components in a plastic shell, Mercury has protected them all the way to the core with industrialhard-coatanodizing, aclosed-cooling system and widespread use of stainless steel components. A unique six-step coating and painting process and the hard-coat anodizing of Mercury's exclusive XK 360 low-copper aluminium parts, changes the molecular structure of the surface, thereby making it extremely durable and corrosion resistant. If scratched, the surface inhibits continued corrosion.
MerCruiser offers one of the largest range of stern-legs with Alpha One, Bravo One Two and Three and if you are ally serious about your boating, the high-performance 'Mercury Racing' range from the 535EFI model through to the 1350 EFI use either the Bravo Three XR, or the dry-sumped #SIX or M8 drives. They are definitely not for the faint-hearted though, both from a performance as well as cost perspective.
The 'Alpha One' stern-leg, arguably the world's most popular sterndrive, is MerCruiser's 'compact' package, for single or twin installations with petrol engines up to 300hp. With a low-drag gearcase, optional counter-rotation, spiral-cut steel gears and through-prop exhaust which maximises power and reduces noise, this drive is traditionally found in vessels up to 7m.
The more robust and durable 'Bravo One' stern-leg is designed for single, twin or triple installations that potentially will deliver a top speed in excess of 100mph. Specifically for petrol engines up to 600hp, special features include precision-shimmed forged steel gears, Power Trim XD, an easy-grease drive coupler and a hydrodynamic gearcase torpedo which maximises speed while at the same time offering excellent handling characteristics.
The more robust again, the 'Bravo Two' stern-leg is specifically designed for a 20" diameter propeller, to maximise thrust for your cruiser or houseboat. Bravo Two sterndrives in either single or twin installations cater for petrol engines up to 450hp. This leg is more about economy, general pushing capability and controlled power in mooring situations, than outright speed. The maintenance-free hinge points and the Engine Guardian which prevents damage caused by low-lubricant levels, offer some hint as to its robustness and longevity potential.
The 'Bravo Three' stern-leg while efficient, easy to manoeuvre and an exciting performer, it is the leg MerCruiser describes as its 'complete package'. Designed for single or twin installation for engines up to 525hp, its number one feature is the two counter-rotating propellers which provide better out-of-the-hole performance, more agile handling and turning capabilities, and excellent 'reversing' characteristics.
VOLVO-PENTA – The Originators
The Aquamatic story began in the early 1950s, was unveiled to the world at the New York Boat Show in January 1959, and received the crowning glory when the brand was further developed and refined, with the introduction in 1982 of the Duoprop system. 2009 saw the launch of the joystick – yet another milestone in the history of Volvo Penta's Aquamatic sterndrive system.
Developed, manufactured and serviced by one company, the key to Volvo Penta's success story is the perfect 'marriage' – from controls to engine, drive and propellers. The Aquamatic range has a 7″ colour display with a full colour interface and intuitive menus, joystick or single-lever control, low-speed manoeuvrability, cruise control, Powertrim Assist, and beach and shallow water tilt.
Now with a decidedly broader range of petrol sterndrive models which ensures they are more than competitive with the MerCruiser range of engines on offer, boaters have a viable and well proven choice of engines and drives with the Volvo Penta range. Available with catalytic converters that reduce emissions so as to comply with California's CARB 4 Star and US EPA emission requirements, there are eleven petrol sterndrive models available in our region, based on 4-cyl., V6 and V8 engines from 135hp through to 420hp. Each V6 and V8 model is available with the Duoprop DP or single-prop SX sterndrives.
The in-line four-cylinder 3.0GL is a compact and reliable gasoline engine for sport boats, walkarounds, leisure fishing boats and many other smaller 5.5-6m models. Its breakerless ignition system and hydraulic valve lifters give excellent reliability and low maintenance. With its 3.0-litre displacement giving quite a flat torque curve, this carburetted engine is a perfect combination for the SX single-propeller drive. The drive can easily be adapted for right- (standard) or left-handed propellers.
Again the perfect power option for the smaller 6-7m hulls, the 4.3GL/GXi is a V6 engine with a balance shaft located in the centre of the engine, which offers quiet and low-vibration operation. Available with carburettors (GL) or an advanced fuel injection system (GXi) the engine is a perfect match for the Duoprop twin-propeller drive. The 4.3GXiE model is available with SX or DPS drive, along with power steering and EVC (Electronic Vessel Control) 'Plug and Go' technology for electronic shift and throttle, twin engine and power trim synchronization, trip computer and power trim assistant – all fitted as standard.
The 5-litre V8 is available in two fuel injected versions, the 5.0 GXiE and the 5.0 GXiCE. The 5.0GXiE model, a V8 package for performance motorboats, features advanced fuel-injection and is available with the SX single-propeller drive or the Duoprop twin-propeller drive. The drive can easily be adapted for right- (standard) or left-handed propellers. Power steering is fitted as standard and of course the package also utilises the electronic EVC-EC 'Plug and go' engine management system. Its sister 5.0GXiCE package offers the same features plus the latest in gasoline exhaust after-treatment technology, where three-way catalytic converters based on stainless steel metallic substrates, drastically reduce the emissions of hydrocarbons, nitrogen oxides and carbon monoxide.
The 5.7-litre 5.7 DP/SX offers three levels of specification on this range, the 5.7GiE-300, the 5.7GiCE-300 and the 5.7GXiE. All are fuel injected, all feature the electronic EVC-EC 'Plug and go' engine management system and power steering is fitted as standard, on all three. Ideal coupled to either the SX single-propeller or the Duoprop twin-propeller Aquamaster drive, the 5.7GiCE-300 model also features Volvo Penta's catalytic exhaust after-treatment technology which drastically reduces emissions.
If it is out and out grunt you require then nothing quite beats the roar and power of a big block V8. The 8.1-litre 8.1/DP is a modern engine with electronic fuel injection and electronic control for faster engine response and safe starting in all weather. A robust design and an advanced monitoring system ensure high reliability. The 8.1 litre big-block engine has horsepower output ranges from 375hp to 420hp in all three models available in our region, the 8.1GiE, the 8.1GiCE and the 8.1GXiE.
As in the previous capacity range, all three models feature Volvo Penta's EVC-EC – 'Plug and go Electronic Vessel Control' technology, all will marry up to the Duoprop drive with twin counter-rotating propellers, all offer power steering and power trim as standard and in the case of the 8.1GiCE and 8.1GXiE models the three-way catalytic converters significantly reduce hydrocarbon, nitrogen oxide and carbon monoxide emissions.
In the Sept/Oct issue of Pacific PowerBoat, Barry Tyler looks at the various diesel sterndrive packages available.