BUYERS GUIDE TO 18-20M PRODUCTION TRAWLERS OR TRAWLER STYLE CRUISERS
WHEN IS A TRAWLER NOT A TRAWLER? WHEN IT DOESN'T, HAVE SUNKEN WALK AROUND DECKS!
There are roughly 12 International builders actively promoting their pleasure craft range as trawlers in Australia and NZ. In this article, Barry Thompson details those between 18-20m, which seems to be the 'go-to' size range at present. To fairly compare apples with apples, it is necessary to confirm which design best fits your plans for trawler boating.
In simple terms, the modern recreational trawler has evolved from fishing boats of old. Back in the days when fish were plentiful, these small ships were heavily built with deep draft, and considerable weight carrying capacity. The welldeck Scottish trawler had high bows and its wheelhouse aft, to reduce pitching moment for the skipper, and the welldeck and fish holds amidships to concentrate the catchweight. These craft had fine bows and narrow sterns and did not like the weight in the ends. Bigger nets and haul gear meant wider sterns and the wheelhouse being moved forward to facilitate bigger deck and cargo space. From this base profile, the bulk of the trawler style pleasure craft we see today developed. Interestingly for the armchair experts, on 'Deadliest Catch', the series about crabbing in the Bering Sea on one of the messiest bits of water on the planet, the bulk of the fleet still predominantly have aft wheelhouse styles. It's way comfier in the back 1/3rd of the boat when seas are up.
The next production boat evolution was the change from full displacement like the Nordhavn, or Selene, which are recognised long-range ocean-going craft, into the semi-displacement hard chine hull form. Grand Banks was a pioneer and retains much of its reputation from its early craft. Fleming fine-tuned the styling with a beautiful sheer and forward wheelhouse profile on its renowned 55. In reality, most manufacturers, until recent times, have followed and developed that base styling.
Ask most mature (aged) male launch masters to describe a trawler, and typically you will hear 'nuggetty, long-range, ocean-going, sunken walk-around decks (often covered), 8-10 knots cruiser'. Ask their partner, and you will probably just hear 'covered walk-around decks'! 
Ask the more modern boatie and walk-around decks, 10 knot displacement speed or 15 knot cruise on the plane, and 20+ knots top end is the expectation. The need for speed means reductions in weight and draft are needed, and the easiest way to do this is less fuel and water capacity, and more horsepower (KW). Consequently, the first thing that drops off the cliff is range. If you are buying intending to take your new 18-20m trawler offshore or long-range coastal cruising, you will find that most of these crafts only carry 2500-4000 litres of fuel, which at 8-10 knots cruise will give between 700 and 1000nm range. Always plan on having @ 20% fuel reserve for those unforeseen moments. Fleming promotes their new 58 as carrying 5500 litres, giving a range of 1500nm at 10 knots. With 20% reserve, this is @ 1200nm range in standard trim, just enough to get you from Auckland to Fiji or Tonga, Hobart from Brisbane or 2/3rds of the way from Brisbane to Darwin.
 It seems for the modern trawler style boat owner, the range is not so important now. Of the contemporary style craft marketed as trawlers, the Azimut Magellano 66 carries 4500 litres with a stated range of @ 900nm at 9 knots. That boat is also capable of cruising at 18 knots. The Absolute Navetta 64 has only 2400 litres capacity and a range of 430nm at 10 knots. 240nm range at 18 knots is quoted for the top-end cruise.
In reality, few of these crafts will ever venture offshore or make extended coastal voyages, and bladder tanks are relatively easy to carry on those rare occasions. With today's slightly more accurate weather forecasting, and higher cruise speeds, most trawler skippers can pick a window to minimise risk and discomfort, should they actually make a voyage.
The bulk of their cruising will be short coastal and island hopping trips, and the ability to get to a destination in a timely manner when needed, and forget the fuel costs has much merit. Walk around decks are no use to anybody when bouncing along at 15 knots, and the associated spray this hull form typically creates when on the plane can dampen the experience. Idling along at 9-10 knots however, and these same decks become a comfortable footpath for dog, cat and crew alike. The libation to the sea gods one carries does not spill or fill with sea spray as you meander forward to look at the happy dolphins riding your pressure wave. That's when a trawler is at its' best.
The adage KISS has never been more perfectly suited to a boat than for Alaska 54 Sedan. It represents the perfect balance of luxury, quality, and practicality without the complexity that we often find in a vessel of this size. The 54 Sedan has its roots in the Alaska 57 Aft-cabin but without the flybridge and aft cabin. 
The difference is that the Alaska 54 Sedan has been designed for the more mature boat owner who doesn't want to walk up ladders or staircases to the helm or drop down to the galley. All that is on one level with the saloon, galley, helm and cockpit all very interactive. Plus, the accommodation areas are spacious, and the head height throughout the boat is overly generous. It's also a boat that will be easily maintained, essential when you are getting on in your boating years.
Leigh Smith Cruiser Sales, Queensland, Australia | Ph +61 7 5502 5866 | [email protected] |  www.lscruisersales.com.au
The Absolute Navetta 64 is a modern approach to the trawler style. It features opening of the side in the cockpit which not only increases the floor area but also gives anyone sitting in the cockpit a beautiful, unobstructed view of the ocean.
The transom also has a fascinating option. The standard Navetta 64 has a central door with two windows leading into the large storage area. As an option, though, the transom area can have two full-window doors that open to a large living space complete with a convertible sofa/bed. It can be an additional VIP cabin that's right at the edge of the water. Unique to this new model on the flybridge is a "perimeter guide", an optional transparent cover that allows you to close off the flybridge's forward part during inclement weather. This is an excellent option for boaters who spend time in cooler areas. Additionally on the flybridge is a sunroof in the hardtop that can be opened.
The owner's suite is placed in the bow for multiple reasons, including additional size, huge windows for great views, privacy, and quietness. The owner's suite stretches the entire beam of the yacht and offers excellent storage opportunities. The VIP cabin is placed midship and provides a large double bed, and the third guest cabin in the lower deck provides two twin beds. 
Owners have the option of selecting either 1200HP or 1350HP engines, both within the Volvo Penta IPS 30 range. 
Yachtfinders Global | Ph +64 9 377 3328 | [email protected] | www.yachtfindersglobal.com
The first Magellano 66 was delivered in 2015 and has become one of Azimut's most popular vessels ever since. It has been described as a megayacht in just 20m, that offers the freedom of long-range cruises with the comfort and elegance of home. 
This Magellano features dual-mode hulls, large interiors for extended stays, and a chic and timeless style. Also available in the Navetta Version, with a saloon and dining area separated from the galley and pilot station when desired for absolute privacy. The entire main deck is on one level with enormous windows facing out over the water. There is plenty of exterior and interior storage to keep everything perfectly organised, all in a sophisticated and timeless atmosphere.   
The 66 features what Azimut calls a "dual-mode hull," with double chines, a wave-cutting vertical bow, and substantial forward volume for smoother and more efficient operation. With two Volvo Penta D13 800hp engines, Magellano's performance is entirely in line with a modern long-range yacht philosophy. Travelling at 9 knots in full displacement mode, it has a range of over 900 miles (including a 10% reserve).
Pinnacle Marine, Auckland, Ph +64 9 377 6602 | [email protected] | www.pinnaclemarine.co.nz
BENETEAU GARND TRAWLER 62
The Grand Trawler 62 results from Beneteau's collaboration with Massimo Gino (Nauta Design) and Amedeo Migali (MICAD) and capitalise on the highly successful Swift Trawler range of practical, spacious boats, with a considerable cruising range. The Grand Trawler 62 have a distinctive displacement hull to improve their cruising range (upwards of 900nm ) and efficiency. Fitted with two MAN i6 730 hp engines, the Grand Trawler 62 has reserve power to reach 20 knots when required.
The interior spaces are spacious and well-appointed. The galley can be completely enclosed. The VIP guest cabin in the bow has a considerable amount of headroom so that you feel like you are in a hotel suite. Strikingly spacious inside, with volumes similar to much bigger yachts, and ingeniously designed, these large passagemakers also have enough space to house a crew comfortably. A satin wax finished wood, leather and elegant textiles make for a stylish interior and exterior, carefully designed by the Nauta Design experts. The midship owner suite makes creative use of the maximum beam to feel like you are staying in a hotel suite.
36 Degrees Brokers | Ph +64 9 903 1001 | [email protected] | www.36degrees.nz
The Clipper Explorer 60 features a spacious galley on the saloon level, separate dinette, and a large, well-appointed salon that affords clear views from the helm to aft deck. There are three comfortable cabins, walk around decks and an enormous cockpit for entertaining.
The flybridge sets an equally impressive stage for entertaining, with abundant seating and a large wet-bar with electric grill, sink and refrigeration. Immaculate varnished teak, crafted furnishings, and attention to detail throughout.
The Explorer 60 is designed to provide extra speed when needed while also offering greater fuel economy and comfortable cruising when fuel economy is the priority. The semi-displacement hull design delivers exceptional stability and fuel economy, allowing cruising speeds from 10 to 18 knots, dependant on engine size.
Unmistakable as a Fleming, the 58 offers everything you would expect from this brand and more. The 58 bridges the gap between the 55 and the 65. Fleming is unquestionably one of the world's most popular long-range cruising motor yachts, and ever since the first Fleming 55 was launched in 1986, the classic lines have graced every corner of the cruising world. 
The Fleming 58 retains the same fundamental features that have made Fleming so successful over the past 25 years, such as the dedicated pilothouse, low profile and seakindly semi-displacement hull. The 58 is offered with a variety of options, including a full-beam master cabin. 
As a semi-displacement cruising boat, the outright speed is not as important as the cruise speed. While twin MAN R800s will give the Fleming 58 a top speed of 22 knots, at around 8-10 knots, the range with 5488 litres is extensive.
Furnishings and fittings are elegant in the accommodation areas, as they are throughout the Fleming 58, with Teak woodwork imparting the appropriate traditional seagoing look.
Fleming Yachts Ltd, 
NZ: Orakei Management | Ph +64 9 280 1050 | [email protected]  |Aust: Fleming Yachts Australia | Ph +61 2 8920 1444 | [email protected] | www.flemingyachts.com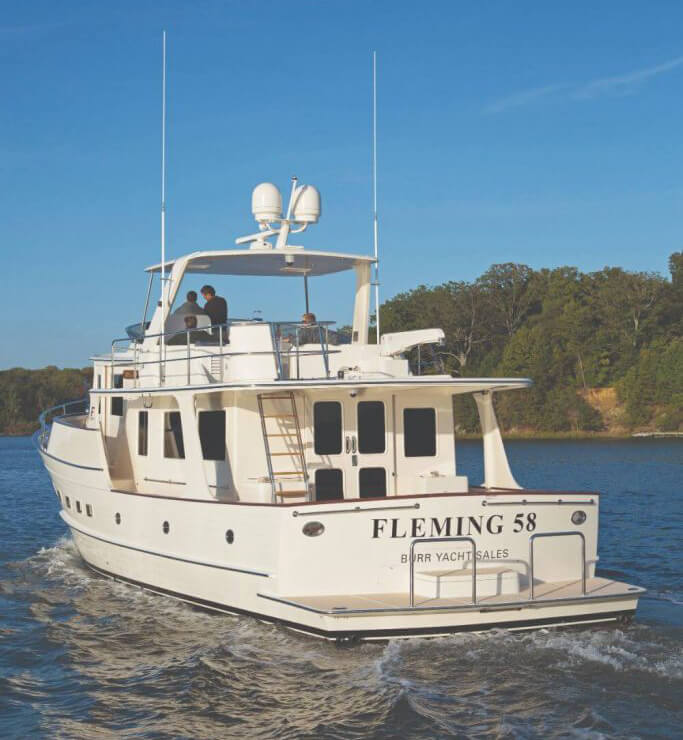 The Endurance 590 is a cruising yacht that is designed to be easily operated by a couple. It is the smallest in the Endurance series and comes with a wide beam and spacious interior. The Hampton 590 is a perfect vessel for the owner and operator who wants a manageable, offshore cruising yacht constructed to tame rough seas. 
The Hampton 590 Endurance also appeals to those looking to cruise in luxurious accommodations, enjoy sunbathing on the bow sunpads, dining al fresco on the aft cockpit, or taking in the panoramic views from the spacious flybridge. The layout features either two or three large staterooms with a full-beam master aft. You also have the option of single or twin helm stations.
Powered by twin 850hp Caterpillar engines, the Hampton 590 carries 5670 litres of fuel and 1514 litres of freshwater. 
Leigh-Smith Yachts, Gold Coast, Australia | Ph +61 7 5577 9200 | [email protected] | www.LSYachts.com.au  
A high-quality, unusually spacious, long-range cruising boat, the Hampton Endurance 658 is designed to be run by a couple. It is essentially a three-stateroom, two-head cruiser, but it also has a crew cabin, which you reach via stairs from the saloon's aft port side. 
The saloon is bright with windows all around, two lounge chairs and a TV area on the port side, across from a sofa that's also a pull-out queen berth. The fit, finish and craftsmanship are excellent, as well as throughout the boat. A large U-shaped dining table offers guests great views forward and on either side. Two ship's doors lead to the side decks, while on the port side interior stairs lead up to the flybridge for safety underway.
Up top, the fully enclosed and air-conditioned flybridge is massive, with three helm chairs, an L-shaped lounge and teak table. On the accommodation deck, the midships, full-beam master has a king-sized be. The 658 has a hybrid, semi-displacement hull, with a range of 1,300 nm at 8.5 knots, and tops out at about 20 knots. 
Leigh-Smith Yachts, Gold Coast, Australia | Ph +61 7 5577 9200 | [email protected] | www.LSYachts.com.au  
The stunning new Grand Banks 60 was recently completely redesigned and paid homage to classic Grand Banks styling, focusing on performance and fuel consumption. Featuring wide-open entertaining areas, supremely comfortable furnishings and three staterooms, this true ocean-going long-range cruiser is ideal for passage making. 
The Grand Banks 60 can reach speeds up to 36 knots, has a range of more than 2,500 nautical miles at 10 knots, and uses an unbelievably efficient 29 gal/hr of fuel 20 knots. 
The Grand Banks 60 is the brand's first foray into a new standard of fully infused carbon fibre construction, which results in a low centre of gravity, inherent form stability at all speeds, and multiple advantages in strength, rigidity, weight and performance. 
There is a sense of balance and ease from the wide-open aft deck with a wet bar to the sumptuous saloon with power windows. An impressive 5.80m beam allows for three spacious staterooms and two heads, so overnighting comes naturally. You have the choice of multiple layouts to suit your cruising preferences.
Grand Banks Yachts, Australia | Ph +61 414 479700 | [email protected] | www.grandbanks.com
The Outer Reef 610 Motoryacht is an ideal motor yacht for owner-operators looking for ease of manoeuvrability, fuel efficiency, storage capacity, and incredible interior volume. Interior accommodation space is enlarged allowing for a full-beam master cabin with a centerline king berth, large L-shaped walk-in closet and abundant cabinetry and storage. Also spacious are the queen VIP cabin forward, and port guest cabin with side by side twin berths. 
The open main deck layout provides nearly unlimited sightlines from her pilothouse, an adjoining galley with full-size appliances with large pantries, and a comfortable salon with covered aft deck for alfresco dining. The hull's added length under the extended swim platform will increase hull speed, raising efficiency and top-end speed. The large swim platform is the perfect launching point for all water recreation types, including diving and fishing adventures. 
Outer Reef Yachts Australia | +61 2 9979 2443 | [email protected] |www.outerreefyachts.com
The Marlow ME58 is a three-stateroom yacht that allows for a larger port side guest stateroom with private head. The additional crew quarters, larger lazerette and increased engine room size all add to cruising comforts. The lazarette is significantly larger due to the radiused transom with a centre stair access to the aft deck. This yacht is fully capable of extended ocean cruising but is easily managed by a couple. 
With a beam of 5.70m, it provides the wonderfully spacious stand-up engine room and commodious interior spaces from the saloon to the staterooms. There are three staterooms below, master, VIP, and port guest stateroom, all with full heads. The u-shaped galley is in the aft part of the raised pilothouse and features every convenience and appliance to make your galley duties a pleasure. The dinette is in the forward area of the pilothouse, with plenty of seating even with the lower helm if in a flybridge model. 
There is no need for the lower helm in Command Bridge models, so the dinette is especially comfortable and roomy and presents a lovely view through the pilothouse windows. 
Explorer Marine Australia | Ph+61 2 9999 6616 | [email protected] | www.explorermarine.com.au
The N60 boasts the same roomy interior as the N55. Still, it gives owners an additional 1.5m of space in the cockpit and lazarette, allowing more room for activities like diving, fishing and dockside parties with family and friends. The longer cockpit also allows the boat deck to be extended for a larger tender and more room for sea kayaks, jet skis and other toys. An additional benefit is a speed gain of about a third of a knot and an improvement in range thanks to the longer waterline of the N60.
Like the popular N55, the N60 is available in single or twin-engine configurations and an optional additional fuel tank for an increased range. Inside you can expect the craftsmanship and attention to detail to be flawless – a cornerstone of Nordhavn's promise of comfort and luxury afloat.
The extra length of the N60 extends her lines to give the yacht a sleeker big-boat look. The new N60 is all about more – more room, more luxury and more long-distance cruising enjoyment.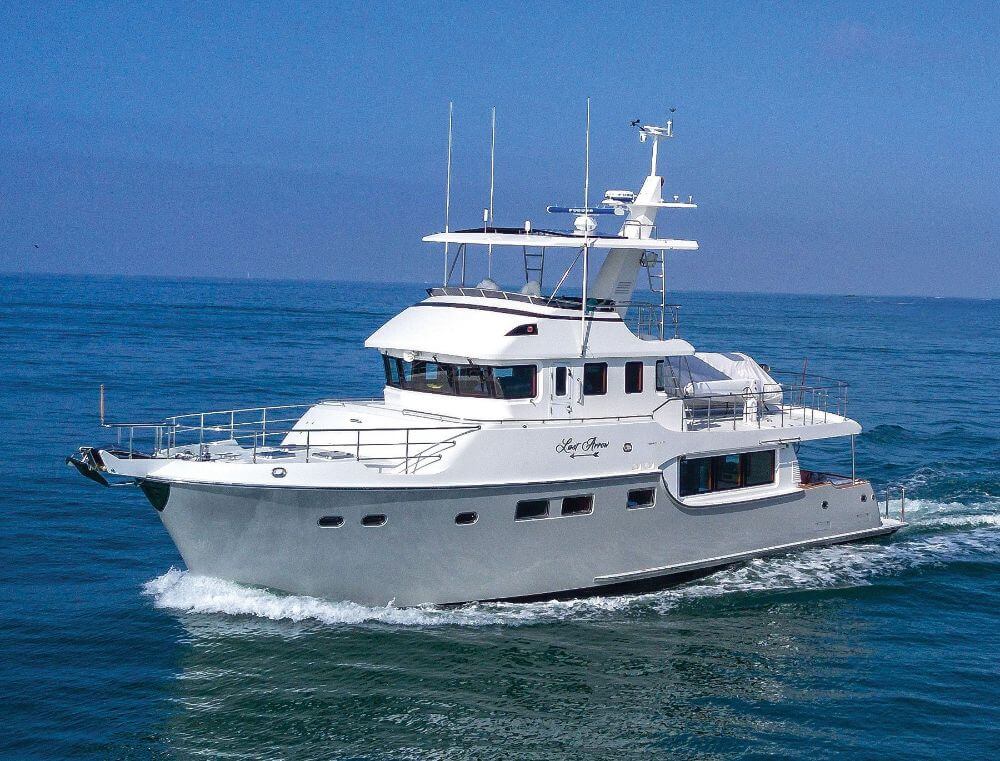 The Nordhavn 63 is yet another iteration of Nordhavn's most proven hull forms, the Nordhavn 55. The 63 is an aft wheelhouse version of the N60 and its extended cockpit and boat deck. Looks-wise, however, the new model retains the same salty feel that popularised the Nordhavn 62. For those who love the N62 but have a width restriction at their slip, the N63 may be the perfect choice with its 5.5m beam. 
While the 63 shares the same hull as the N55/60 designs, an entirely new deck and engine room mould have been created for it, providing increased interior volume and added amenities. For instance, just forward of the engine room door on the 55/60 sits the utility room with washer/dryer and freezer. On the 63, this area has been expanded to also include crew quarters to port with fixed berth and pipe berth at the forward end. Another layout change is the centreline guest stateroom and four large opening portlights, both of which come standard. A single John Deere 6090AFM 325 HP is standard power.
www.nordhavn.com
Pacific Asian Enterprises (PAE) continues to strengthen its leadership position in long-range, full-displacement passage makers with the Nordhavn 64. The design incorporates the company's newest styling and showcases its innovative approach to creating extra-spacious interior accommodations.
The 64 offers a remarkable amount of interior room, and she can cross any ocean. The generous interior volume is made possible by the relatively high bow and extra freeboard. 
As with all Nordhavns, the main saloon opens directly to the aft cockpit, effectively expanding the outside's living area. The asymmetrical cabin allows for a more expansive main saloon and features a wide side deck on the starboard side. The galley rivals today's finest gourmet kitchens with its full-sized home-style appliances, abundant storage cabinets and generous counter space. The owner's stateroom is located amidships, where the motion is minimal during passages and at anchor. The two guest staterooms forward, one with a double berth and one with twins, share a large head.
The Nordhavn 64 has a high cruise speed of 10.5 knots under full load conditions. At this speed, she has a range of 1600 nautical miles, and at 9 knots, her range increases to nearly 3,000 nautical miles. Her hull form, a refinement of Nordhavn's MFD (Modified Full Displacement) design, features fuller aft sections that reduce "squatting" and pitching motion while increasing static stability.
The Selene 60 is a new design from an entirely new mould with the Selene Deep Hull structure resulting in a raised sheer and a significantly higher deck which generates increased headroom in the cabins and the engine room. The Selene 60 is a perfect transitional yacht between the successful Selene 53/54 and Selene 62/66 series. 
She features a full-height engine room, a separate crew's quarters aft with a transom door. An expansive and functional flybridge layout incorporates a 10-person U-shaped sofa with a built-in BBQ, sink and refrigerator. One of the unique selling points of the Selene 60 is its full-height commissary or utility room, that is placed between the owner's cabin and the engine room for storage, freezer, washer/dryer and access to the electrical compartment.
Yachtfinders Global | Ph +64 9 377 3328 | [email protected] | www.yachtfindersglobal.com
| | | | | | |
| --- | --- | --- | --- | --- | --- |
|   | LOA | LOH | Beam | DISPLACEMENT | HULL |
| Alaska 59 | 18.00m | 17.0m | 5.20m | 26000 kg | Semi Displacement |
| Absolute Navetta 64 | 19.63m | 19.50m | 5.52m | 29000 kg | Planning |
| Azimut Magellano 66 | 20.15m | 17.95m | 5.40m | 45800 kg | Semi Planning |
| Beneteau Grand Trawler 62  | 18.95m | 16.47m | 5.41m | 28500 kg | Semi Planning |
| Clipper Explorer 60 | 18.44m | 18.24m | 5.20m | 30200 kg | Semi Displacement |
| Hampton Endurance 590 | 18.95m | 18.24m | 5.49m | 43100 kg | Semi Displacement |
| Hampton Endurance 658 | 20.98m | 20.02m | 5.84m | 46590 kg | Semi Displacement |
| Fleming 58 | 19.90m | 19.10m | 5.33m | 39916 kg | Semi Displacement |
| Grand Banks 60 | 19.90m | 18.13m | 5.85m | 28000 kg | Semi Displacement |
| Outer Reef 610 | 19.22m | 18.60m | 5.23m | 42000 kg | Semi Displacement |
| Marlow  ME58 | 20.62m | 18.01m | 5.64m | 31298 kg | Semi Displacement |
| Nordhavn N60 | 19.05m | 17.45m | 5.49m | 62600 kg | Displacement |
| Nordhavn N63 | 19.05m | 17.45m | 5.49m | 64860 kg | Displacement |
| Nordhavn N64 | 19.50m | 18.03m | 6.20m | 83910 kg | Displacement |
| Selene 60 | 21.60m | 20.48m | 5.44m | 57500 kg | Displacement |