New Assault RIB knows exactly what it is and makes no apologies for that.
While they are unlikely to ever become truly mainstream, there is a definite and, it appears, growing demand for large, go-anywhere, cabin RIBs.
One who recognised this trend early, and chose to do something about it, is Peter Carlson. Peter, in modern parlance, is what one would call a serial marine entrepreneur. And a very successful one.
He owns one of the country's largest marine dealerships (Family Boats in Auckland's East Tamaki); a South Island based aluminium boat builder (Southern Boats) and, using local company K2 Marine, takes South African-made Gemini RIB hulls, gets them to add GRP cabin tops, then fits them out with engines, electronics, upholstery and the like and sells them as the Assault range.
Peter and his crew have successfully been doing this since 2008, initially with a forward cabin configuration and, more recently, following a change in hull shape from Gemini, as a walkaround.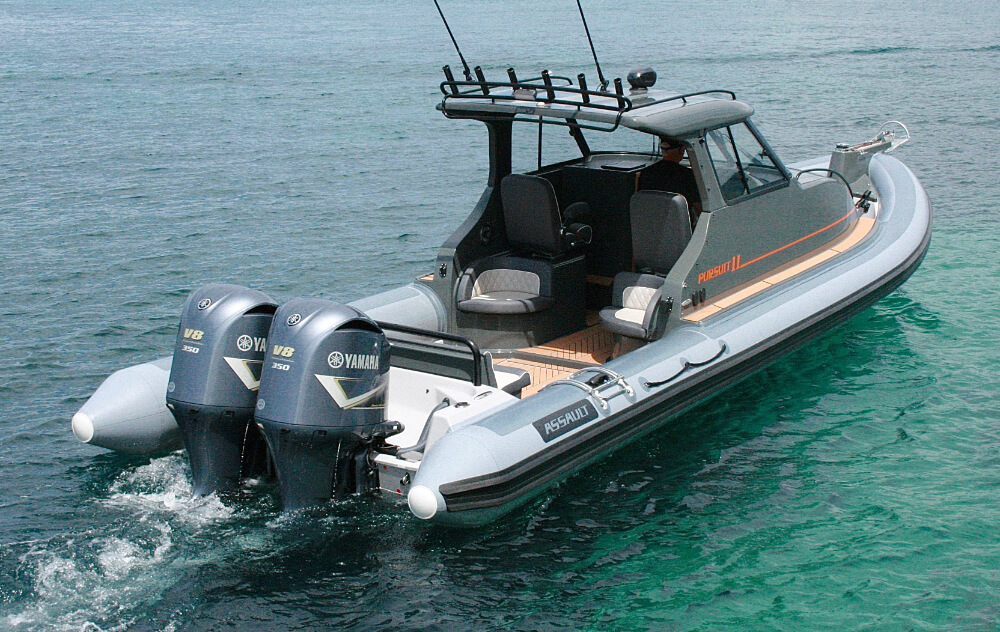 The Pursuit 11 is the largest model in the Assault range and, considering it comes with a price tag ranging from just under $NZ300,000 to almost $NZ400,000, surprisingly popular.
This one, Peter's own, is the third and, as one would expect, rather well equipped. Like the preceding pair, it is powered by twin Yamaha 4-stroke outboards. In this case, 350hp V8s. The previous two were 425hp V8s and 300hp V6s. Although there is obviously a reasonably noticeable difference between the three in both outright speed and fuel consumption at the top end, Peter notes that, at cruising speeds, the difference in economy is almost non-existant.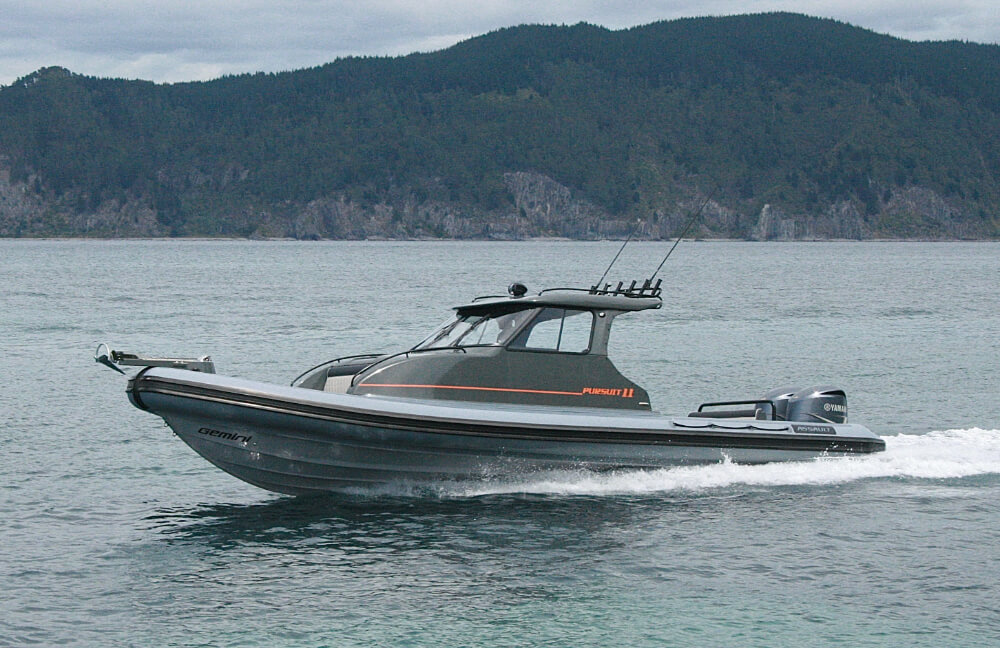 Despite its size and the fact the Pursuit 11 has a full sized cabin, with 2-metre long berths and an electric toilet, these boats are not typically used for overnighting. They are primarily day boats, used to transport reasonably large numbers of people from one home to another, from a beach house to an island beach or to a larger size vessel. They have proven particularly popular in places were people have holiday homes on offshore islands or in remote settings; places such as Auckland, the Bay of Islands and the Marlborough Sounds in New Zealand and Perth in Western Australia (think Rottnest and their other offshore islands).
Peter says the boats are also good for transporting groups of divers and fishers and he and four or five diving mates regularly use his to get to their favourite spots.
While we didn't haven't large numbers on boat (there was just Peter and I), the Assault's performance leaves no doubt about it's load-carrying abilities. For a start, it pops onto the plane easily, at just 2000rpm, and there is absolutely no noticeable bow lift as it does so. This boat doesn't so much get over the hump as completely ignore it.
Acceleration is impressive, really impressive, right throughout the rev range and so the handling. There is clearly no need for trim tabs (which is a good thing as they would be awkward to install). Despite the relatively high cabin top, there is no tendency to lean into the wind and the outboard trim is more than enough to keep the bow where it needs to be.
During our morning on the water, the seas off Tairua were still pretty messy, a result of a week or more of easterly quarter winds. With an LOA of 10.8m, this was of no concern whatever to the Pursuit. Using its long waterline, it went upwind without crashing or banging and driving it downhill was a sheer joy. Even after purposely seeking the gnarliest pieces of water to navigate, and doing so at high speed, it was impossible to upset (or even moderately worry) this RIB.
While a top speed of 53 knots and immaculate high-speed lock to lock turns are definitely fun, the thing that most impresses is how easily driven the boat is. As a trailer powerboatie, I am used to cruising at 4000-4500rpm pretty well regardless of what boat I am in. Cruising at these revs on this boat feels more like needlessly speeding. At 4000rpm we were doing 33 knots and at 4500rpm, 38. In comparison, 3000rpm gives 25.5 knots and 3500rpm a more than respectable 30 knots. Unless one is in a definite rush, either is surely enough to get from A to B and, as the accompanying table shows, the fuel consumption is a lot kinder, too.
The most obvious disadvantage of a RIB is the amount of internal space one loses to the tubes. To counter this requires good design and the very effective use of the remaining on-board area.
Peter and his team have done this well. They have used the full width of the cockpit for their removable transom seat, installed king and queen seating on both sides of the hardtop and nestled a comfortable bow seat into the limited space at the front of the walkaround. In the process they have left enough room for two or three people to fish from the stern and another to cast from the bow.
Derived of traditional coamings and side decks, they have installed Railblaza rod and drink holders in strategic places throughout. These are easily exchangeable at a moment's notice meaning the boat can be quickly adapted to focus on entertaining or fishing, depending upon whom is on board.
When fishing, there is a live bait tank in the port side of the transom, a washdown hose and, in the unlikely event of a substantial amount of water being taken on board, scuppers on each side. A dive ladder on the starboard tube provides easy access on and off the boat at sea or at the beach.
The upholstery is worthy of mention, too. For the driver's and main passenger's seats, Peter has used Hi Tech Plastics bases and then covered them with his own stylish and very comfortable upholstery and matched that on the queen, transom and bow seats as well.
The house battery lives under the driver's seats (the twin engine batteries are aft behind the transom seat) and there is provision for a fridge or cooker under the port side if required.
A super-experienced boatie, Peter has ensured the Assault has all the electronics and "fruit" required, without making it seem as if one is on the flight deck of 747. The dash is a compact affair with a single Garmin 16in MFD displaying whatever combination of chartplotting, fishfinding, engine information and audio from the Fusion sound system is wanted at that particular time. There is also a Garmin VHF and controls for the Roca wipers, the Marinco spotlight on the hardtop and Maxwell RC8 windlass. This latter sits on top of its own plinth rather than, as is often the case, coming through the stem under the tubes. While some may argue that this is not as aesthetically pleasing, it does have the great advantage that the whole process is clearly visible to the operator at the helm.
The Assault Pursuit 11 is a surprisingly good-looking RIB. Its raked cabin design looks like it belongs rather than being slotted in as an afterthought. Its Neptune grey tubes and the charcoal grey of its superstructure are complemented by the black hand rails and rocket launcher, with the solid teak trim and the custom pattern U-Deck lightening the look.
It is also an extremely comfortable and practical day boat that, without a lot of effort could easily be a more than adequate overnighter or weekender.
Having spent a few hours on board, it is no surprise that there are already numerous Assault RIBs prowling around Kiwi waters, a further 4 or 5 in Fiji and several more in Perth. Nor that with a new 9-metre version due in late March, two are already sold, before one has even hit the water.
Oh, and did I mention it was fast, very fast…
Boat Design Name: Assault Pursuit 11
Builder:  Gemini – K2 Marine
LOA: 10.8m
Beam: 3.25m           
Deadrise: 20 deg
Construction: GRP/Composite     
Weight: 3500kg
Fuel Capacity: 660L 
Engine Range: 2 x 200-425hp         
Test Power: 2 x Yamaha F350 V8
Max Speed: 53 knots
MFD: Garmin
Windlass: Maxxwell RC8
Flooring: U-Deck
Priced From: $NZ 295,000.00
Price as Tested: $NZ $379,000.00
| | | | | |
| --- | --- | --- | --- | --- |
| RPM | Knots | L/h | L/NM | Range  (NM) |
| 1000 | 6.0 | 11 | 1.900 | 310 |
| 1500 | 8.4 | 21 | 2.500 | 230 |
| 2000 | 14.0 | 33.3 | 2.400 | 240 |
| 2500 | 19.5 | 42.5 | 2.200 | 270 |
| 3000 | 25.5 | 60.1 | 2.400 | 240 |
| 3500 | 30.0 | 80.1 | 2.700 | 220 |
| 4000 | 35.0 | 95.2 | 2.800 | 210 |
| 4500 | 38.0 | 128 | 3.400 | 170 |
| 5000 | 46.0 | 168 | 3.700 | 160 |
| 5500 | 48.0 | 220 | 4.600 | 120 |
| 6000 | 53.0 | 250 | 4.800 | 120 |
| 6300 | 42.5 | 205.5 | 4.900 | 120 |
| 4000 | 40.1 | 180.1 | 4.500 | 130 |