Author : Barry Thompson
Launched in 2007 as a sedan bridge, Bewitched has undergone a total transformation with its recent conversion to a flybridge cruiser.Designed by Max Carter of Marine Design Ltd, Bewitched is a continuation of the original 52 Saloon, built by Johnson Yachts International as an in-house semi production boat.
Right from the start, the design was always cantered around the ability to move both in size and layout to suit a particular owner.
"We didn't want a boat with regimented dimensions and layout that couldn't be changed and with the 52 there was always going to be the option of customisation", said Carter.
When the first boat was unveiled at the Auckland International Boat Show in 2008, it received extremely positive comments, especially for its style and overall voluminous layout. People loved the openness of the interior, high ceiling heights and the superb craftsmanship of the timber joinery. At the time, it was the first timber boat in New Zealand to be designed around and fitted with Volvo Penta IPS pod drives. Others have followed since.
While the saloon style boat with its one main living level design suits some people, especially those who don't want to have to climb up to a flybridge, it is not for everyone. When Johnson Yachts International started negotiations with the current owner, his choice was a more gamefishing orientated boat. He also owns the world renowned and iconic 1950s gamefishing boat "Lady Doreen".
He loved the interior and didn't request any alterations inside, but externally there were things that he wished to have changed. As a result of his requests, the cockpit was extended for fishing and an open flybridge was added. Fortunately all of these requests were easily meet by the builders and the result is an extension of 1.2m added to the transom with 800mm added to the hull to get the full fishing platform in and a large open fly bridge. There was also the addition of a spiral staircase from the port side of the cockpit for fly bridge access. Such was the initial construction of the saloon roof that nothing needed to be altered structurally when it was transformed into the fly bridge sole.
"It was always built with the long term intention of being able to take the load of people aboard and the addition of a wooden flybridge superstructure", added Carter.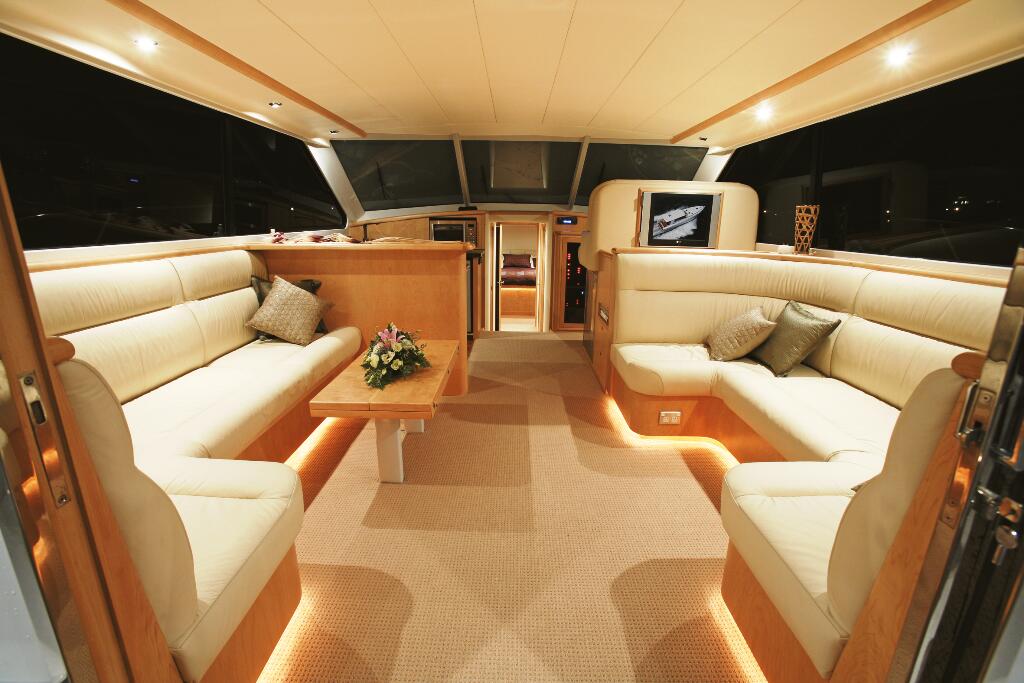 Interestingly, the performance of the boat hardly altered with the addition to the hull. The hull concept carries on with the successful soft-riding deep V-hull of Excitor II, a well known Carter 60ft thrill seeker fast tourist boat, also built by Johnson Yachts International, in 2002.
Carter's theory of a 20-degree deadrise being optimum for a monohull of this size is clearly evidenced and therefore this vessel has outstanding seaworthiness.
The hull was originally designed and engineered to take a pair of Volvo Penta IPS 500s and these return a top speed of 30 knots with full tanks. The new owner requested Volvo latest option of a docking joystick in the new upper helm station and in the process opted to upgrade to the latest Volvo Penta IPS 600s. This added feature can only be described as "sensational" as now manoeuvring and docking in tight spaces is a breeze. While the boat was specifically designed for IPS, it is also available in a shaft drive configuration. The hull construction is Wayang brand high strength marine plywood and treated New Zealand timber, with heavy glass fibre sheathing, complete with a laid teak cockpit sole.
The plywood construction allows the boat to be somewhat lighter than a similar sized fibreglass boat. Bewitched falls into the 'medium' category of bottom loading, at approximately 340kg/sqm at full-ships displacement at cruising speed, so accordingly the performance and fuel economy is better than for most production boats. With a 2200-litre fuel capacity, Bewitched has a cruising range of 500NM @ 22 knots. In trolling mode, around 6 knots, fuel consumption drops to 7.5L/h and the range increases to 2000NM.
[Tech. Ed. comment: As I have written in my 'Transom Notes' column before, wood is such a wonderful material for boatbuilding that if it were to be called ACF, which is the acronym for what it actually is – anisotropic cellulose fibre – there would be a lot more of it used!]
The concept behind the design was a vessel to take you to your destination and back in comfort and speed, and it definitely does that.
The addition of the flybridge has certainly enhanced the useable external areas of Bewitched and given the boat a timeless look. The Sports Fisher Convertible features a sun deck with the addition of the upper helm station and pedestal. This creates more visual awareness for the skipper while being able to enjoy the company of others on board. Spacious seating, bimini top and drinks cooler add to the comfort and enjoyment of being outside.
The extra space created by the addition of the boarding platform has allowed for the addition of a gamefishing chair and bait tanks. This is now a very workable cockpit for fishing, whilst also having a lot of space for entertaining. Access to the engines is either through the cockpit sole or through an access hatch just inside the saloon. There are ample storage lockers for fishing and docking equipment.
Unlike boats with a dark timber interior, Bewitched is resplendent in soft, lightly toned Australian curly maple timber and panelling, with an accent on lots of light and lots of space. There are no cramped areas aboard and the headroom is exceptional. Even the berths are oversized and hanging lockers and drawers are designed to hold plenty of gear.
The boat has generous volume, underlined by the 5.2 metre beam. There is a perception of tremendous spaciousness from the moment you step into the main saloon.
Accommodation is all forward, with three cabins and two ensuites. The large forward owners' stateroom includes an island berth with storage drawers beneath and extra drawer units and hanging lockers aft. Side ports and an overhead hatch provide extra light and ventilation.
The twin ensuites are exceptionally large, with full walk-in showers, generous vanities and Lavac electric heads.
There are twin guest cabins, one with a lower double and upper single, and the other with a double. Both guest cabins share the second bathroom facilities with a virtually identical layout to the owners'.
The saloon has a lower helm forward with mid-galley and ample seating for social occasions. The interior is furnished with the highest quality fabrics, finest of fittings and the spacious galley features a dark solid granite top with features found only in the most luxurious of home kitchens. The upholstery is cream leather with a modern tan carpet throughout that is tastefully highlighted at night with hidden strip lighting at floor level.
The saloon's central feature is a unique push button lifting coffee table that folds out to dining as an option.
The 56ft Sportfisher Convertible is a kiwi powerboat that exudes heritage, with impeccable finish inside and out by master craftsmen, offering immeasurable appeal for those seeking a high quality boat with performance to match.
The timber construction is engineered to provide a lightweight structure of exceptional strength and combined with epoxy resin, excellent durability with no chance of osmosis.
The Carter 56 has fulfilled all the designer's and builder's expectations and certainly that of its new owner.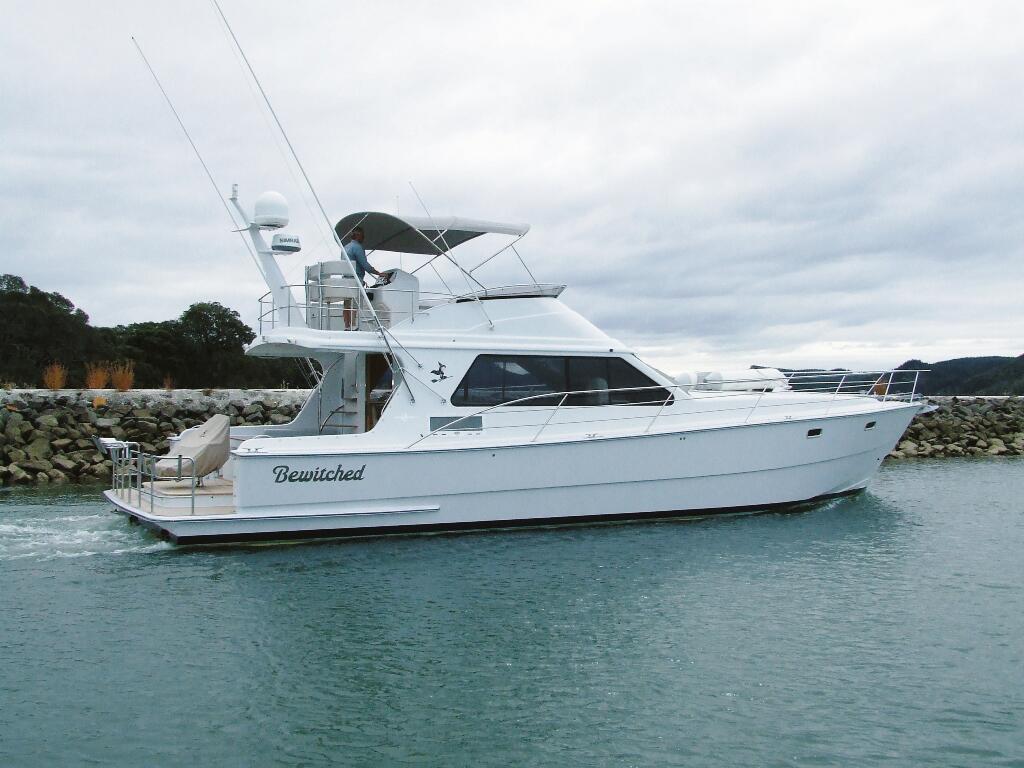 Design Name: Carter/Johnson 56 Sportfisher Convertible
Builder: Johnson Yachts International Limited
Designer: Marine Design Limited (Max Carter)
Interior Designer: Marine Design Limited / Johnson Yachts International
Year Launched: 2009
LOA: 17.2 m
LWL: 15.1 m
Beam: 5.2 m
Draft: 0.960 m
Displacement: 14,756 kg (light-ships) 18,236 kg (full-ships)
Max Speed: 30 knots (full ship)
Cruise Speed: 22 knots
Fuel Cap: 2200 Litres
Water Cap: 1600 Litres
Construction: Timber and epoxy glass
Classification: New Zealand Marine Survey Standard
Engines: Twin Volvo Penta 425 mhp