Deciding to change an old 2 stroke outboard for a new generation 4 stroke engine was a no-brainer for Thomas Ansorg and the results certainly prove it.
When Thomas Ansorg went looking for a second-hand boat he could use as a 'workhorse' out on Great Barrier Island, he knew he needed something tough and rugged. But he also wanted reliability, so an engine change was called for.
"I went around the boatyards in Auckland and looked at Trade Me and while I wasn't looking for anything new or flashy, I did want a boat that would be able to stand up to the sort of work I was going to put it through", says Thomas.
With a new house to build over time in an area of Great Barrier Island where there is boat access only transport, the boat would be used to transport materials by sea from Port Fitzroy Harbour and on some occasions the mainland. Thomas's budget was such that building something new was out of the question, so finding the right boat at the right price was important.
After looking at dozens of boats he found one at a yard in Clearwater Marina, which looked like it would do the job and had a very attractive price tag. After some negotiations, he brought the boat and then set about making some small alterations, and fixing up areas that had been neglected for some time.
Built by Holten Enterprises around 20 years ago, the all-alloy Cherry Time was part of their Oceanwave series, although very few were ever built. Production stopped in 2000.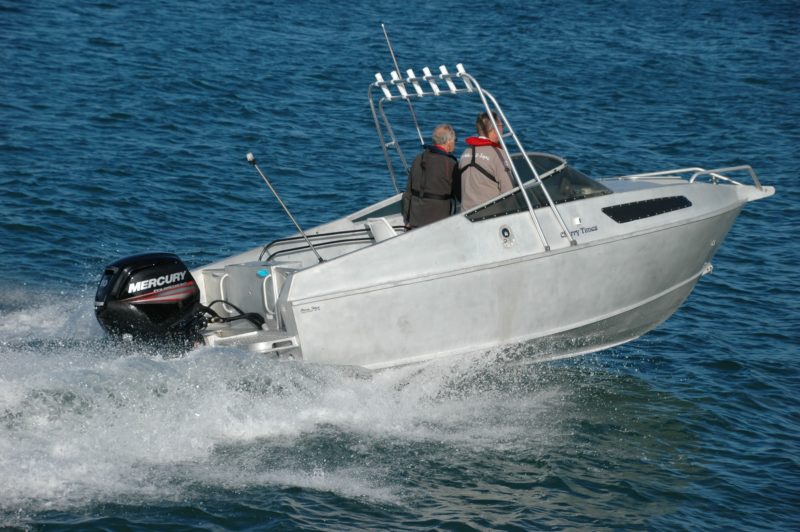 Thomas needed a boat that would offer reasonable comfort on frequent trips back from Great Barrier Island to Auckland, and the Oceanwave looked like it would do the job. At 5.3m, with a beam of 2.15m, the hull is built on 6mm running surfaces and 3mm topsides. Although the unpainted hull is showing its age, Thomas is not concerned about that. "It's going to be a workboat and so I don't have any need for a pristine appearance".
However, one thing Thomas was not prepared to compromise on was the outboard. While the 18-year-old Mariner 90 two-stroke was running perfectly and even after 300 hours it passed all the compression checks when tested, Thomas said he wanted the peace of mind of a new engine.
He was adamant that it needed to be a new generation four stroke and after looking at all the suitable engines choose the Mercury 90 EFI four stroke. The benefits of a four-stroke EFI engine over a two-stroke carburetted engine are well documented. Mainly there is no smoke, they are a lot quieter, easier to start and above all have better fuel economy.
After a discussion with Graig Archer at Gulfland Marine, he chose the Mercury 90 CT (Command Thrust) and the changes were carried out, but not until fuel and performance tests were done on the old Mariner 90 2S.
The larger Command Thrust gearcase creates a bigger footprint in the water, which provides more leverage to control your boat. The larger torpedo, combined with a bigger-diameter prop, can lift a heavy boat onto plane more easily and hold it there at lower speeds without impacting top speed. As Thomas plans to load the boat to the maximum, the Command Thrust option should prove ideal. The fact that the Mercury 90 CT is almost twice the capacity of the Mariner 90 2S also means it is plenty of torque and not have to work as hard especially when under load.
As expected they were quite significant in all areas. While the Mariner 90 2S required some serious choking and throttle play to start and then sat at idle with a distinct wisp of smoke emanating from the exhaust, the Mercury 90 CT 4S, started instantly, with no smoke and was super quiet at idle. At speed, there was also a very obvious difference in noise levels, with the Mercury 90 4S a whole lot quieter than the Mariner 90 2S across the entire rpm range. While the Mariner 90 2S would only pull 5000 rpm with a 20" High Five propeller, the Mercury 90 CT ran out to 5800 rpm with a 17" Vengeance.
When it came to fuel usage, the changes were obvious as would be expected. At 5000 rpm the Mariner recorded 34 knots with a fuel burn of 31.5 lph / 0.93 lpnm and a range estimated at 87 nm based on 90% of the available 90 litres. At the same rpm, the Mercury's figures were 33.5 knots, 26.5 lph, 0.80 lpnm and a range of 100nm.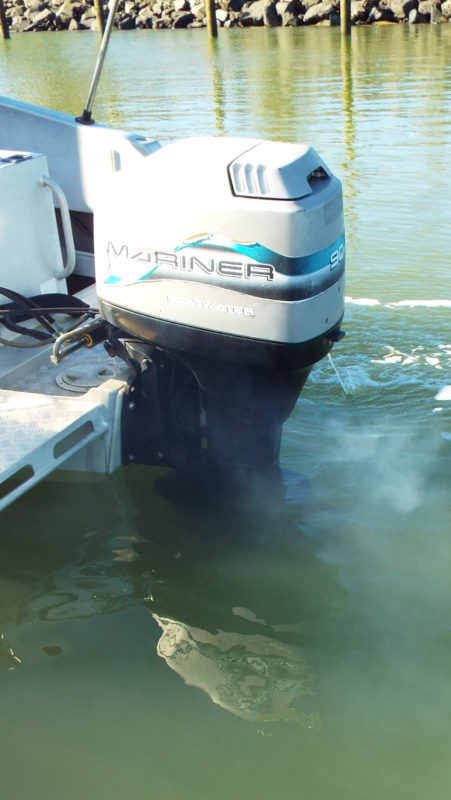 Maximum burn for the Mercury 90CT was 33.5 lph @ 5800 and a top speed of 41.5 knots. The Mariner 90 2S maxed out at 5000 rpm. Obviously, Thomas isn't going to be running the boat at maximum rpm very often, so it was the cruise range that was of particular interest to him.
At 4000 rpm, the Mariner 90 2S runs at 24.5 knots, using 20.5 lph, with a range of 96nm, compared to the Mercury 90 CT being a little faster at 25.5 knots burning less fuel at 18 lph and with an increased range of 110 nm. That's good enough for a return trip from Auckland to Great Barrier island without refuelling.
With the Mariner pulling only 5000 rpm and the Mercury 5800 rpm, the respective ideal cruise speeds and fuel usage are quite different. At 4500 rpm, the Mariner is only 500 rpm of maximum so being pushed hard @ 29 knots/26.5 lph. The Mercury at the same rpm is 1800 rpm off maximum so is not being stressed as much and returns a slightly faster speed of 31 knots/23.0 lph and a more conservative 0.75 lpnm.
Overall the results of the engine change have proven worthwhile and Thomas is happy with his decision. Before going to Great Barrier Island, Gulfland Marine carried out a full service and final check of the engine as well as fixing a few items on the boat. Thomas says he expected trouble free operation from his new boat and was keen to get it to work.
The 2001 Mariner 90 carburetted 2-stroke we took off the boat has the well-proven 1386cc three-cylinder block that has been around for many years, although 2017 will see its final demise. Still sold as the Mercury 90, it is due to be discontinued by the end of 2017. Carburetted 2 stroke outboards are not part of the Mercury plan going forward, so after many years, this great engine is being retired.
Available in 20" and 25" transom heights, the Mariner 90 is loop charged, with a built-in oil tank with top cowl access. A dipstick attached to the oil tank cap allows for easy checking of the oil level.
Features of the engine include single-point, variable-ratio oil injection, 18-amp alternator, CDI electronic ignition and a pressurised fuel enrichment system allows for easier starting in any troll position. At 137kg it is the heaviest of all the carburetted 2-strokes. The gear ratio is 2.33:1 and one thing the 90 is renowned for is its low-end thrust.
This 2017 Mercury 90hp CT (Command Thrust) 4-stroke EFI features the same valve train architecture as Verado and is also available as a 75hp and 115hp. The basis of the engine is a four-in-line, 2.1-litre powerhead, – the largest displacement engine in the 90hp 4-stroke class – dual overhead cam engine that provides excellent low-end power. It is also one of the heaviest of all the four-stroke 90hp engines at 165kg.
Features include a 35-amp alternator that can power all your accessories – electronics, lights, live wells and audio equipment – throughout your trip. The 90 CT comes standard with troll control – which allows you to set your engine speed as low as 650 rpm for trolling or running through extended no-wake zones – plus all of the other standard SmartCraft features.
A special feature of new Mercury 90 is Command Thrust, hence the 90CT model designation. Mercury Command Thrust gear case delivers greater control and power for heavier boats or boats that tend to run "wet" (more hull surface remaining in contact with the water after its planned). The Command Thrust models use the same bigger gear case housing as the Mercury 150 Four Stroke, but with an all-new 2.38:1 ratio it's the first true oversized gear case in the industry for outboards in this horsepower range. With Command Thrust you not only experience the benefit of a larger, heavy-duty gear case, but also the larger-diameter class of V6 propellers that go with it.
Both engines have the same anti-corrosion protection and maintenance requirements, although with the new Mercury CT it's a lot less complex. These new outboards are so easy to maintain, with a no-mess oil-change system, no-tools-required fuel filter, colour-coded maintenance locators and an up-front fresh water valve flush system. Not to mention a maintenance label under the cowl that provides all the information necessary to perform 100-hour and 300-hour checks. 
There is also a handy QR code that links the user via smartphone to a dedicated Mercury mobile site that provides a series of "how to" maintenance videos, troubleshooting tips, a dealer locator and a hotline to Mercury Marine. Could come in very handy when stuck out on Great Barrier Island.
The engine also has Mercury's latest anti-corrosion protection that includes XK360 low-copper alloy, liberal use of stainless steel components and the MercFusion paint process, which is engineered specifically for the harshest marine environments. Mercury backs up their corrosion protection with a three-year factory-backed limited warranty.