Chris-Craft has expertly melded 1920s marine styling with modern day functionality and the result is the Launch 20 BR. If you appreciate elegant styling, plush upholstery, a nice turn of speed, a provocative twist in the transom and a bowrider then check this out.
The Launch 20 is one of three models this size from Chris- Craft. The other two, are the Lancer 20 and limited-edition Silver Bullet 20, which are both more traditional runabouts. Standard power is a 220hp MerCruiser 4.3L MPI, but you'll probably want something stronger such as a MerCruiser 5.0L MPI (260hp) with a Bravo drive or in this case the 350 Magnum (300hp). 
I loved the option of silent running when close to shore or breaking out the open exhausts when blasting across the lake, and all done with the flick of a switch. You have to see the Chris Craft Launch 20 to appreciate the sheer beauty and design sophistication of this boat. My words and images do not do the boat justice. It is unashamed as nothing produced by local builders and while the market segment the boat is aimed at is extremely small, there are willing buyers. 
Since taking on the Chris Craft franchise last year, Sports Marine has sold three boats. Now while that may not sound a lot, considering the Launch 20 complete with engine and trailer has a retail price around $NZ110,000, it's not going to be a boat for the masses! Expensive for a 20-footer? Yes, but it's a very special boat, one that will make people sit up and notice you. These boats are a collector's item almost from the moment they leave the dealer's showroom floor.
When I asked the owner of the boat, Phillip Mills why he brought it, he simply said because he had always admired them and it suited his boating needs from his holiday home at Lake Dunstan. In fact he brought it from the brochure and it wasn't until the boat arrived in the country that he saw what he had purchased.
"It's like a Rolex, there are better watches around, but then there's nothing quite like a Rolex and the same goes for a Chris Craft", he added. It seems quite appropriate that Phillip has brought a Chris
Craft, as his name has always been associated with buying and selling luxury cars and his current company Christchurch European is one of the countries leading purveyors of luxury used cars.
Chris-Craft is arguably the world's most famous boatbuilder, or at least the one with the most famous name. But that's all today's company shares with the one founded by Christopher Columbus Smith around the turn of the 20th century.
Chris Smith built his first boat, a skiff for duck hunting, in Algonac, Michigan, in 1874. By the early 1920's, racing legend Gar Wood had won a half-dozen Gold Cups in Smith's boats, called Chris-Crafts; the two men were famous enough that regular folks wanted to buy a Chris-Craft, too. To meet the demand, Smith developed "standardised" models, built en masse at the factory and sold as complete vessels. Rather than waiting months after placing their order, customers now could lay down cash and drive away the same day. Was Chris-Craft the first production boatbuilder? If not, it was certainly one of the first, and definitely the most successful.
The boating public responded by buying millions of dollars worth of Chris-Crafts. By 1930, the line-up included boats from 6.5 to 14.6m; today refurbished 10.3m and 11.6m Commuters from this era are favorites with classic-boat aficionados. When Christopher Columbus Smith died in 1939, Chris-Craft was the world's most famous boatbuilder, with several factories and even its own railroad to haul finished hulls from the Algonac plant to Detroit for delivery worldwide. By 1959, when company chairman Harsen Smith appeared on the cover of Time magazine, illustrating an article on "The New Boom in Boating," the Chris-Craft line encompassed 72 models, from 5m to 16m, some built out of wood, others out of steel. Experiments with a newfangled material called fiberglass had not worked out, however.
In 1960, the Smith family decided to sell. A conglomerate bought the company and in the next decade added more boats, expanded manufacturing to more plants, continued building in wood and steel while adding aluminum and, finally, fiberglass. Yes, at one time the company was building boats in all four materials.
The first all-glass Chris-Craft was the 38 Commander in 1964, and the last wooden boat was a 1972 57 Constellation. In 1981 self-made West Virginia coal millionaire G. Dale Murray bought the company and renamed it Murray Chris- Craft. Lots of ink was dedicated to proclaiming a new era of Chris-Craft. But early success was short-lived, due to poor management and growing competition in the go-fast market.
In addition, widely publicised quality-control problems (that's a euphemism for "the boats were junk") made Chris-Crafts a hard sell. In December 1988 the company declared bankruptcy and was purchased by OMC – that was like leaving the Titanic to board the Lusitania.
In December 2000 when OMC filed for bankruptcy, Genmar Industries bought OMC's boat companies and subsequently sold Chris-Craft to Stephen Julius. He brought along his friend from Harvard Business School, Stephen Heese, as company president.
Stephen Julius wasn't a typical starry-eyed romantic hoping to make a killing in the boatbuilding business. Before buying Chris-Craft, he spent two years in Italy resurrecting Riva, at one time builders of the world's finest mahogany runabouts, bar none. The new owner's vision was to recapture the glory days of Chris-Craft and up-date those classic lines ever so slightly with the curves and sex appeal coming off design boards in Northern Italy's lake country.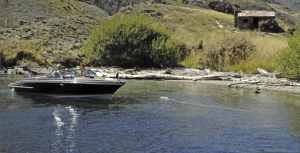 Like the Launch 20, the entire line of Julius' boats exhibits sleek Euro-influenced styling, take-no-prisoners details and an elegant attitude that would be equally at home in Nice, Bellagio or Nantucket. Today Chris Craft is back at the top and is again regarded as one of the market leaders in sophis- ticated, elegant and yet still very functional boats.
The Chris-Craft Launch 20 mixes French Riviera styling with American functionality. All that's missing is a starlet riding in the bow. Structurally wood-free, the Launch 20 looks stunning with a touch of teak here and there, as on the optional swim platform, and the side deck. The outdrive protrudes beyond the end of the platform, where styling has trumped functional- ity and safety.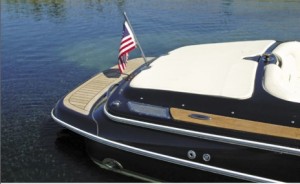 On the other hand, you probably won't swim from this boat, anyway; you'll sit on the platform at sunset,  sipping from flutes of champagne. However if you do there is a telescopic boarding ladder tucked neatly out of sight under the platform. At the other end of the Launch 20, the open bow is access through a centre walk through in the curved glass screen and was a cool place to be when cruising across Lake Dunstan. There are stereo speakers in the bow – no heavy metal, please – and a pair of elliptical grab rails, drink holders and plenty of storage under the seats. Folks shouldn't be riding up here when it's rough, however. It's a place for at anchor and calm water only. The stainless steel pop-up bow cleats are a first-class touch.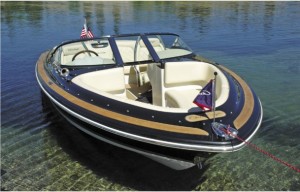 Sorry, no anchor locker, but there is space to stow the anchor tackle under one of the squabs. Yes, and also no rod holders, that would be a sacrilege in this boat. The extreme bow flare that goes well stylistically with the tumblehome transom also helps to keep the boat dry. The cockpit comprises twin forward semi- swivel seats and a full bench seat aft with extremely comfortable seating for five. 
The rear bench seat folds forward for access to the optional bimini, which is stored out of sight when not required. A large sun pad covers the engine bay, where there's also further storage options either side of the engine. The ski- and wakeboard-stowage locker between the seats is also handy for fenders and dock lines. There are grab handles for the passengers on the bench seat, and the stainless rails along the top of the swivel helm and companion seats. Both forward bucket seats have flip-up bolsters. No expense has been spared.
Chris-Craft's custom roll pleated upholstery, is done by the same craftsmen who upholster Indian motorcycles. Superb craftsmanship in every respect. Custom Chris-Craft gauges and a mahogany-trimmed tilt wheel make this a helm to remember. I was intrigued by the Chris Craft logo in the centre of the steering wheel that stayed level no matter what angle the boat was on. The custom perforated dash is a nice touch, with a small LCD depth finder as standard. There's not much room for other electronics. And who cares? This is a day boat for nice weather. Carry a GPS in your pocket in case the fog sets in.
Bringing Back The Romance
The Launch 20 is a boat that I would probably want to keep away from the saltwater as it seems to be the perfect lake boat and is designed with all those normal functions – skiing, towing water toys, picnicking and having a social time – that you would associate with a place like Lake Dunstan. The Launch 20, like all Chris Craft models is available in a variety of basic gelcoat colours or non-metallic and metallic paints.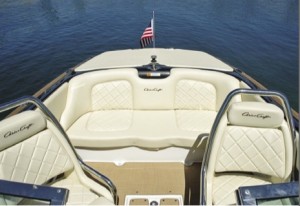 Our boat was finished in the very latest metallic graphite which blends well with the cream leather upholstery. The Launch 20 is a spry and nimble boat that delivers responsive performance and handling. The attention to detail is evident in every aspect of the boat, be it style or equipment and truly this is a boat that puts romance back into boating.