As we've come to expect from the Clipper range, the philosophy, the innovation, the fittings, the build quality, everything continues as it has done for the last 30-plus years. All that changes is the size; the company now launching into Australia the latest Clipper Cordova 48 Motor Yacht which its management team believes is the perfect all-rounder for discerning Australian luxury-cruising protagonists.
When times got tough during 2009, Clipper continued the R&D of its range, developing a further four models. This Cordova 48 model was one of them, slotting neatly between the 45- and 52-foot models in its range, but more importantly addressing a market that in Australia especially, is seen as the bread and butter top-of-the-line size both when it comes to handling, as well as pricing.
Under that magical $1-million dollar 'barrier' in other words, and it is this influence alone that has seen the Clipper brand reportedly eclipse all other semi-displacement brands in Australia over this last year – in terms of sales. "When you look over this Cordova 48 in particular," Clipper Australia sales and marketing director Brett Thurley insists, "I am sure you will find that the quality of build as well as appointments make this vessel exceptional value. Then you add the luxury component and you have a cruising boat that has it all."
One could surely dismiss that statement as manufacturer hype or marketing licence but from the very first step on board one is left with the warm feeling that nothing has indeed been left to chance with this particular example. The discerning 'cruising eye' will quickly appreciate the robustness, the user-friendliness and the generally accomplished manner in which each and every facet is addressed and/or presented. Long before, that is, you begin to appreciate the luxury aspect.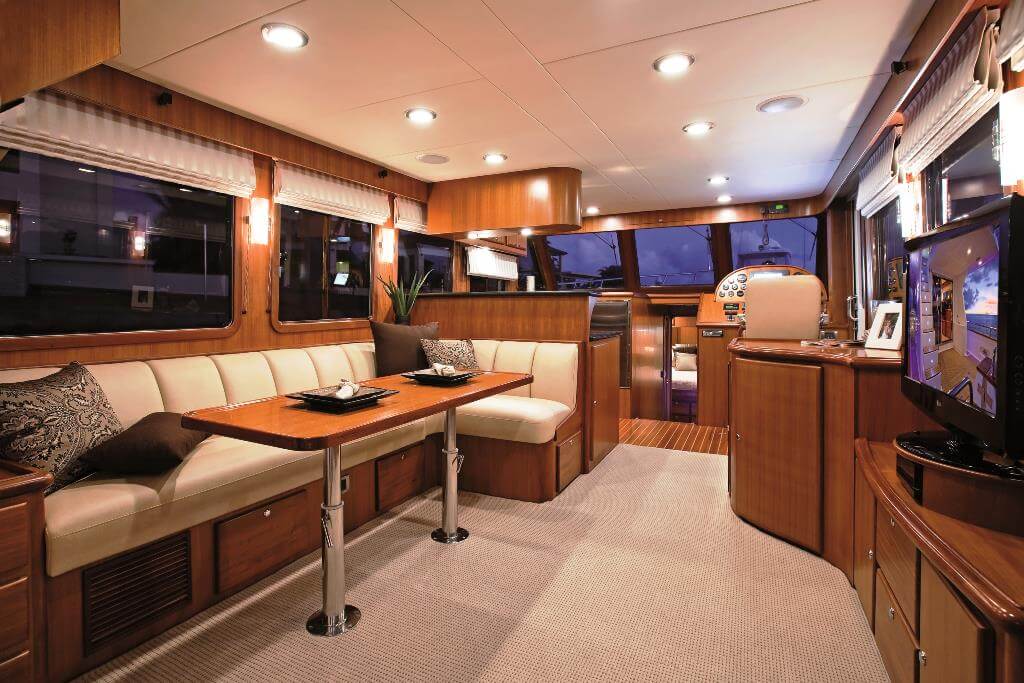 Aesthetically, from a profile perspective one could well be forgiven for concluding that this Cordova was just another example of your typical 'passagemaker' style of boat but as I say, step aboard and the more you peruse and poke around the bowels of this boat, the more (damned good) ideas you find that are just so practical in an extended-stay situation. First and foremost it must be 'capable' for as I've said before ad nauseam, a genuine cruising vessel must be 'competent' in the areas of refrigeration, galley, water, fuel, electrical supply – and storage!
It's the little extra things then that 'make' a boat and immediately noticeable was the boarding feature; teak-lined, at just the right height, and semi-encapsulated by substantial stainless steel drop-in pulpit hoops. Above it a portside transom door led you through onto what was a most generous-sized cockpit or outdoor living area. If it was a higher wharf situation then a side-entry door incorporated into the magnificent bulwarks complete with S/S grab-rails and a teak coaming on top of them – provided equally convenient access to the cockpit; or to the helm station via pilothouse-style side-entry door; or, to the impressive typically cruising-orientated anchoring features at the bow.
Clipper unashamedly described this hand-laid GRP Cordova 48 as a home away from home and certainly this claim was no more compelling than in the instance of the 'play areas'. The cockpit was larger than I expected and seemingly tailor-made for those who enjoy cruising in comfort and style. Teak lined, it was the perfect place to lay out the table and chair setting and simply relax. Features within the cockpit parameters included an upright freezer against the aft cabin bulkhead, chrome-plated solid brass hawse holes and cleats, the enveloping bulwarks, and, access to the lazaretto.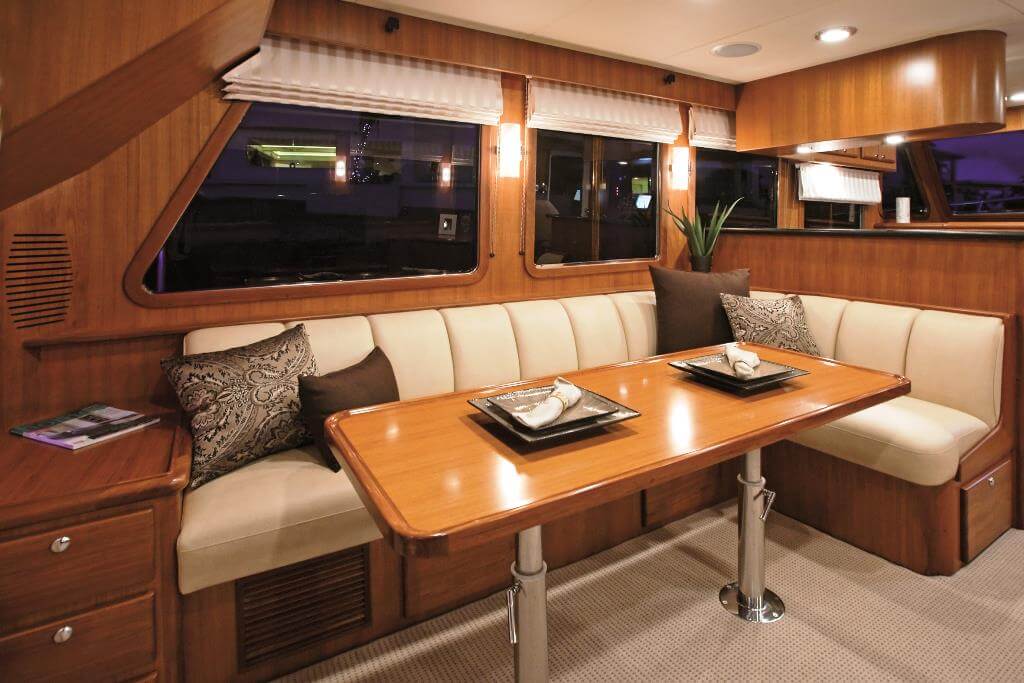 Illustrating the lengths Clipper goes to, a neat S/S and teak ladder led you down into this sizeable Lazaretto which housed the battery banks of three AGM Deep Cycle 200Ah 'house' and three AGM Deep Cycle150Ah engine and bowthruster batteries, the Xantrax 2.4kW inverter/80A charger, and a refrigeration unit for the 12/240V cockpit fridge.
While the cockpit area would perhaps be better suited to an idyllic interlude anchored in a secluded bay of an evening, when underway guests would invariably gravitate to the upstairs flybridge level. Accessed via a moulded GRP and teak stairway complete with sensibly-positioned hand-rails, this level was simply – huge. The duplicated upstairs helm, complete in this instance with two (one is standard) single high-quality Springfield skipper's chairs, featured the usual array of remotes and instrumentation including a Raymarine package of the ST8002 autopilot and integrated E120 GPS/plotter/sounder.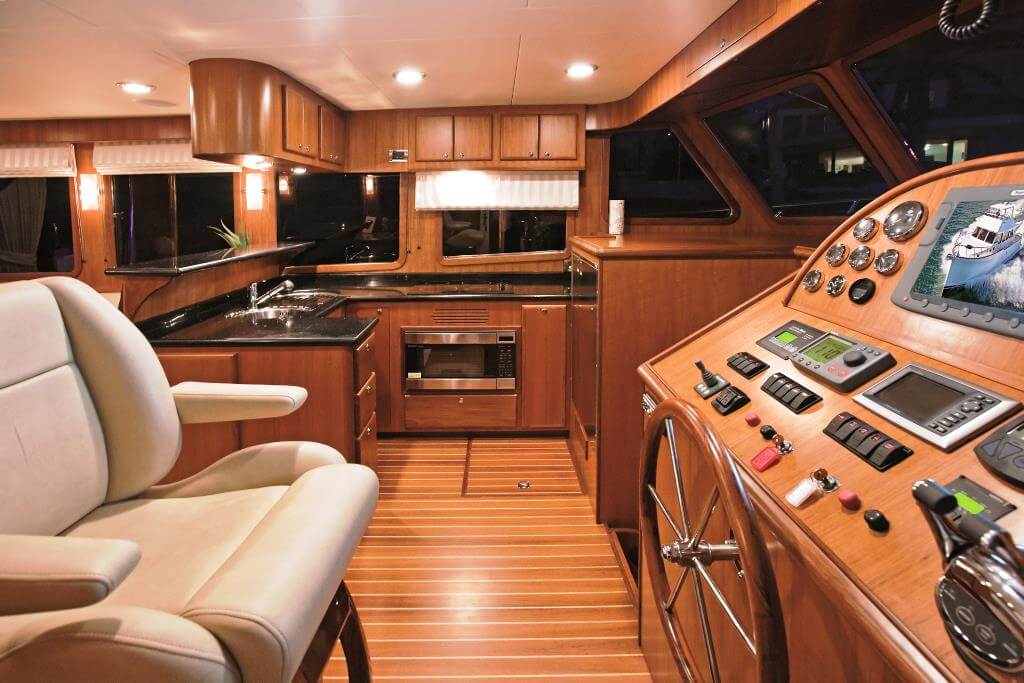 Resplendent seating was provided for seven guests (in addition to the helm chairs); three on the portside lounge and a further four on a starboard side L-shaped lounge which surrounded a teak triangular cockpit table. All were well protected from the elements by what would best be described as a typically cruising-orientated open hard-top; albeit a very substantial hardtop structure well supported by the targa-arch-style aft uprights and the solid S/S frontal supports.
Outside of the actual confines of the living area was a large aft deck perfect for the sun worshippers, for it came complete with entertainment module with electric BBQ, sink, servery and underneath it, a small refrigerator and ice-maker combo for the drinks! Offering some hint of the enormity of this upstairs flybridge level, at the aft end of this deck and outside the encapsulating S/S pulpit railing, there was still enough room left to house a tender mounted on what was a appreciably solid support cradle.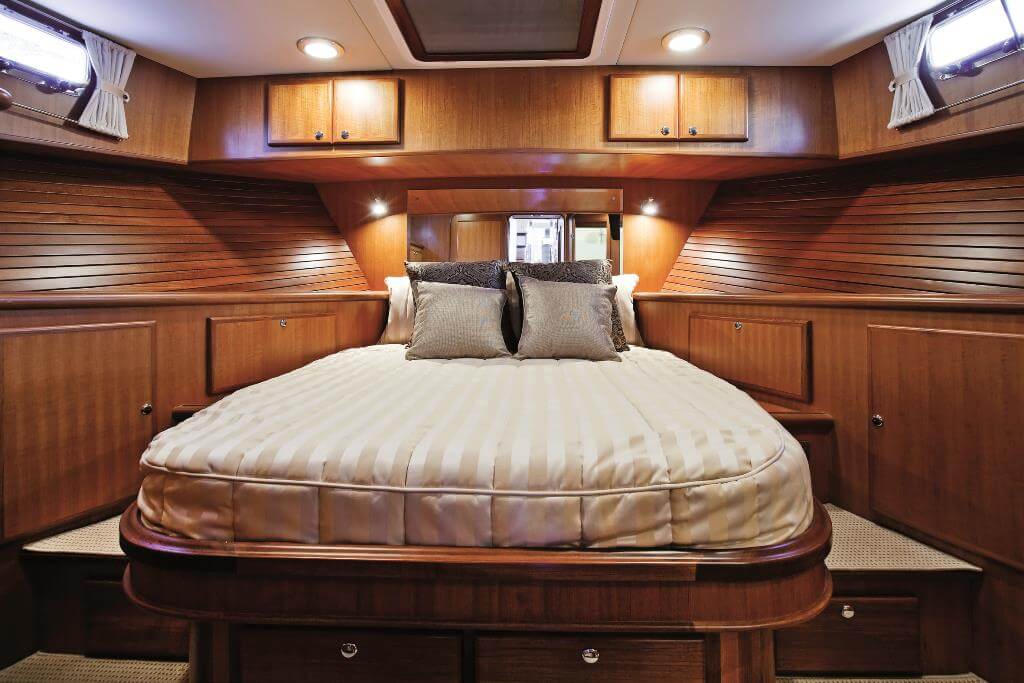 Magnificent Aritex (only the best Taiwanese craftsmanship) sliding stainless steel and glass doors lead you into the majestic saloon, the formal side of the Clipper Cordova 48. Awe-inspiring was another descriptive for while very traditional with the predominant wood décor, it still very much adhered to the luxury ideal with the high-quality fittings and layout. If you don't like timber then forget the Cordova 48 for it was virtually an all wood (matched golden Burmese teak) interior; but in saying that it was carefully and subtly 'balanced' with vinyl ceiling panels, drop-fold blinds, full-length curtains and lights – heaps of downlights! No Clipper boat could ever be accused of being dark and dingy!
The saloon layout was traditional with to the portside as you entered, a significant L-shaped leather lounge aside a four-person teak dining table. Opposite this was a low-profile storage cabinet for the free-standing 32-inch LCD TV, with forward of this again the twin-level entertainment and switch-panel module which included a lower level for the downstairs helm chair. More evidence of Clipper's attention to detail was found in the form of a skipper's chair which adjusted back and forth on recessed floor rails, so as to obtain the ultimate ergonomic driving position.
The helm position was unlike most 'passagemakers' in that it was on the same level as the saloon – there was no pilothouse as such. So, like the galley opposite, this helm feature had to be as much a fashion statement as a practical feature. And it was; the large traditional upright helm wheel the focal point of a comprehensive dash (a virtual duplication of the flybridge level) and facia module which had 'competent passagemaker' etched all over it.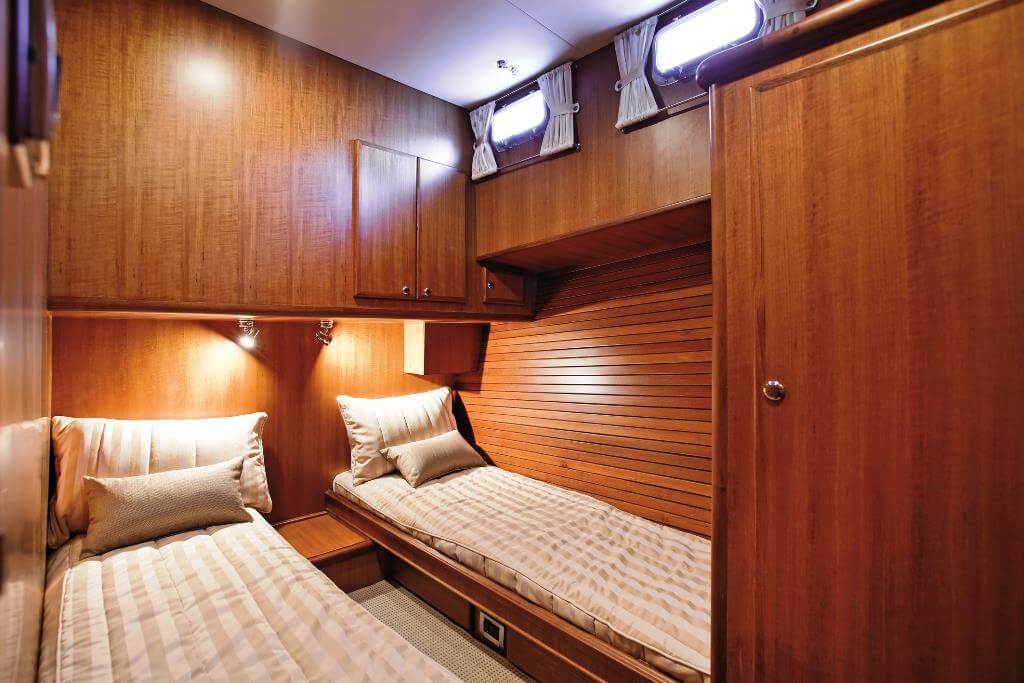 If the dash could be labelled traditional, opposite this the galley could equally eloquently be labelled as classy. Seemingly judiciously designed with long-range cruising in mind, and certainly comprehensive and accomplished in the area of appointments, features included side window ventilation, teak and holly floor, Staron bench-top, a four-burner hob, an exhaust fan, a large and deep S/S sink, a convection microwave oven, a large two-door upright refrigerator and freezer combo, and plenty of cupboard and drawer storage provision.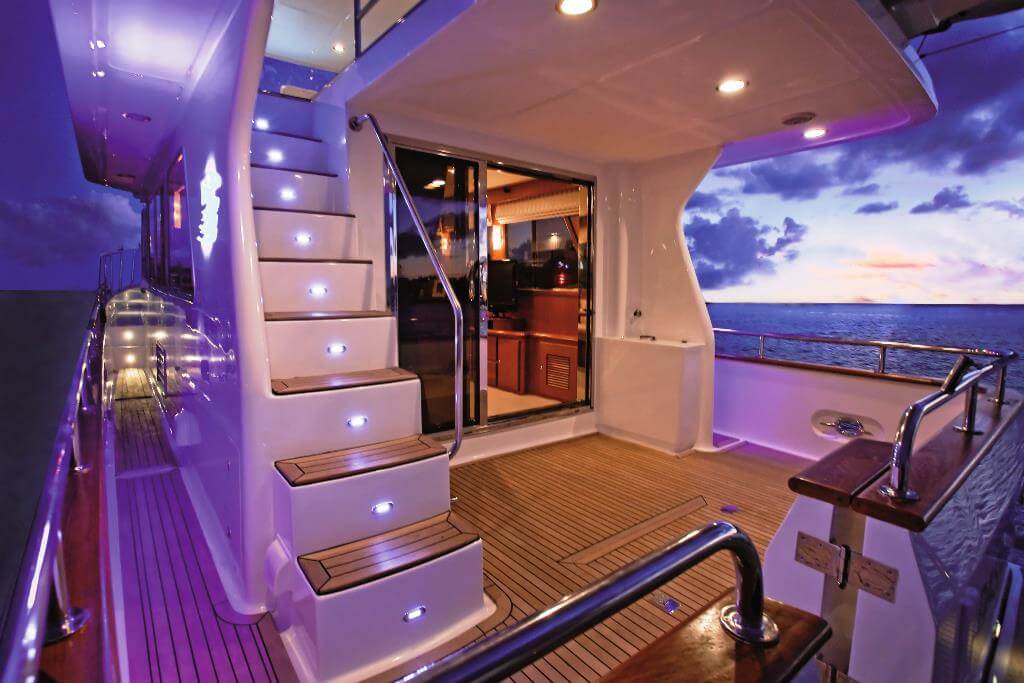 From the saloon, timber stairs led you down and for'ard onto an accommodation level which 'branched out' from a central companionway , the floor of which was a series of hatches that provided easy and convenient all-weather access to bilge pumps, shower sumps, the macerator, the toilet pump-out switch and the holding tank. Innovatively but not surprisingly, the companionway stairs lifted up to provide access to a foam and lead-insulated engine room which housed the main 2060-litre fuel and 1030-litre water tanks, the Onan 11kW generator, the stupendous 16.4kW of Cruisair air conditioning, and the Seafire fire extinguishing system.
Twin 425hp QSB, 5.9-425 GS Cummins MerCruiser Diesel engines ran through ZF 85A (2.0:1 ratio) gearboxes and conventional shaft drive, to the Hung Sheng 25"D x 22"P propellers. Interestingly, the standard engines for this model are twin 305hp QSB Cummins MerCruiser but this particular owner opted for the increased flexibility a pair of 425hp engines would offer – something incidentally Clipper Australia sales guru Brett Thurley appears keen to emulate with future models he brings into Australia. "The 425hp versions provided an acceptable top speed of 18 knots but more importantly a cruise speed of 14 knots," he explained. "Cummins is about to upgrade this 425 model to 440hp so this will certainly provide even greater performance and more importantly, even better economy."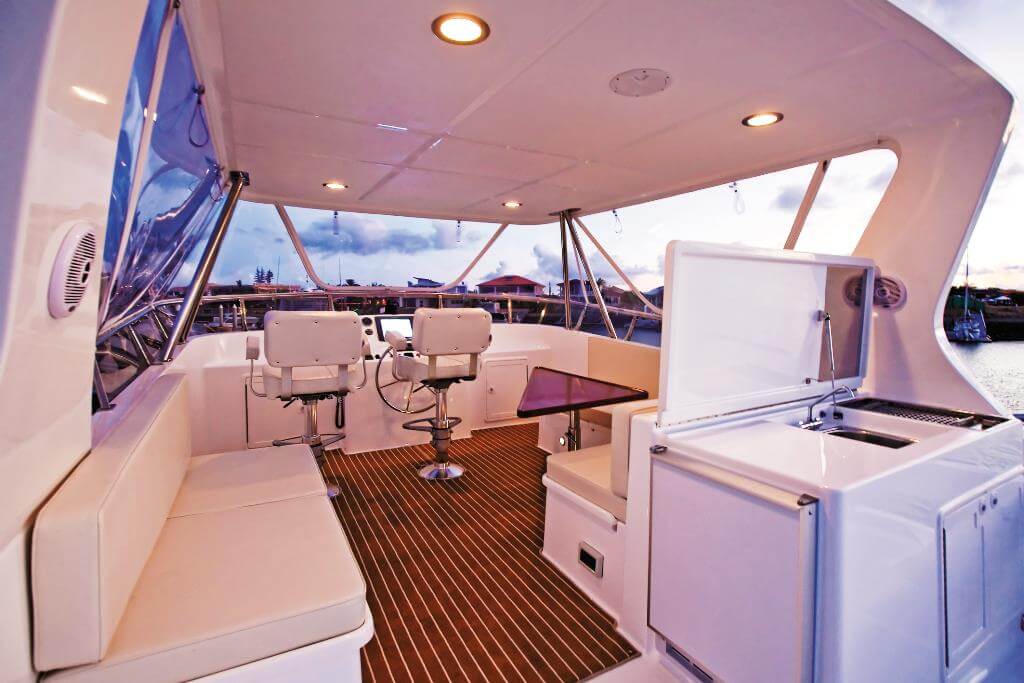 Clipper offers the Cordova 48 with two different accommodation variations below decks – you can have either a two-cabin or a three-cabin layout. In either guise, it is basically a two-family layout which to me is sensible in an extended-stay situation. In both instances the master stateroom is in the bow; a room yet again dominated by wood finish – superb wood finish – broken incidentally by the variations in the way the panelling is laid and presented.
A queen-size berth dominates a spacious enough room, with additional features such as 'his and hers' cedar-lined wardrobes (with auto light), plenty of lighting, Bomar overhead and opening port-holes, plenty of storage drawers, a 22-inch LCD TV with integral DVD/CD player, air conditioning, and even a 'custom' bedding package – adding the creature comfort and ambience. An ensuite bathroom complete with separate shower and head was off the starboard side of this room. Features here included moulded vanity with S/S sink, mirrored ceilings, exhaust fan, frosted glass doors, Tecma electric heads, storage cabinet, opening porthole and teak sump grate.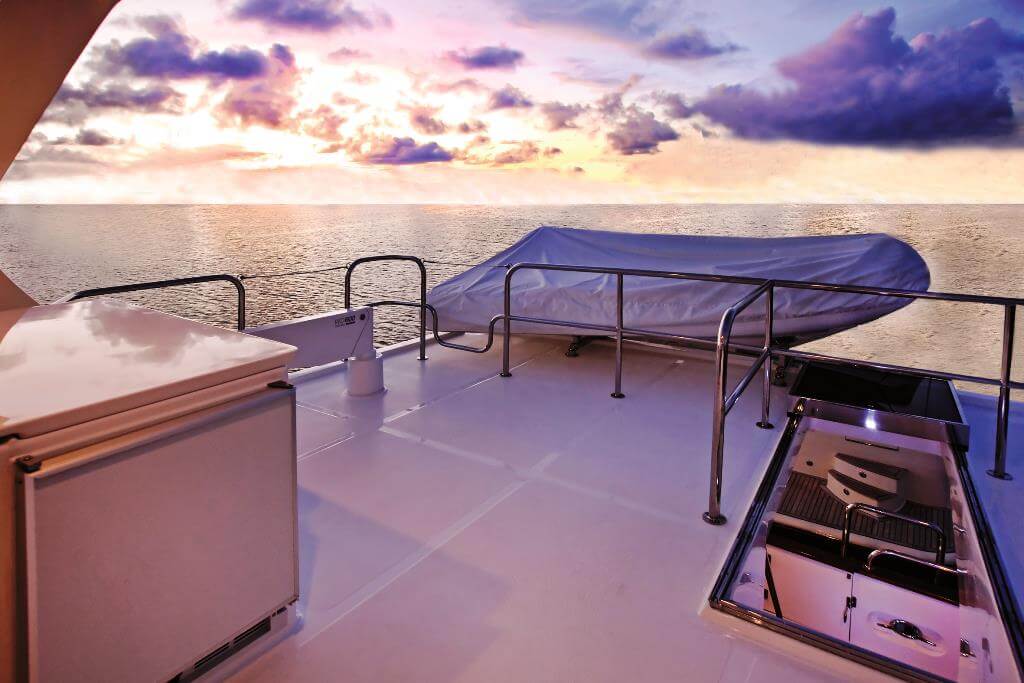 The guest accommodation is where the layout variation occurs for there you can opt for the twin-berth cabin with across the companionway a third single-berth room. Both of these 'tap' into the master stateroom's ensuite, which then of course reverts back to 'house bathroom' status. Or, you can opt for this owner's preferred option of the twin-berth room with across the companionway a second bathroom which replaced the single-berth room. In my humble opinion this owner made the right choice, especially when you consider the fact this twin-berth room can quickly transform into a second queen-berth cabin simply by installing the infill base and pads, between the two berths.
At 18 knots flat out the Clipper Cordova 48 could never be considered a high-speed cruiser. And neither is it meant to be for Clipper has purposefully designed this boat as a cruising vessel which gets along at a good clip yet is economical and as I found out during the course of my run, quiet, stable and a genuine pleasure to be aboard. On top of that you had sublime specification – Clipper had not compromised anywhere – top quality fittings and innovation were the epitome of genuine luxury. Nothing had been left to chance with this new model; the build was exceptional as was attention to detail, and the best part of all was you get all this for just a shade over $A1-million, as tested! 
Design Name: Clipper Cordova 48
Year Launched: 2009
Designer: Trevor Bolt
Interior Designer: Clipper Motor Yachts
Builder: Clipper Motor Yachts
LOA: 15.6m
LWL: 13.75m
Beam: 4.51m
Draft: 1.21m
Displacement: 20,700kg
Max Speed:  18 knots
Cruise Speed: 14 knots
Construction: FRP and foam composite
Fuel Cap: 2650 litres
Water Cap:   1135 litres
Engines Make: 2 x Cummins 425 hp
Gearboxes: ZF 85A – 2.0:1