Coastguard Mana has taken delivery of its new high-spec rescue boat
Thanks to a unique America's Cup partnership with Lotto NZ and Emirates Team NZ and a $9.8 million lottery grant made possible by the millions of Kiwis who play Lotto NZ games each year, Coastguard Mana will take delivery of its new high-spec rescue boat.  
The Rayglass Protector is not only equipped with top of the range technology and safety features to help the crew easily navigate the notorious northern entrance of Cook Strait, but it also features a pair of OXE300 diesel outboards.  
Named Te Awarua after the Taniwha of the Porirua Harbour, Mana's new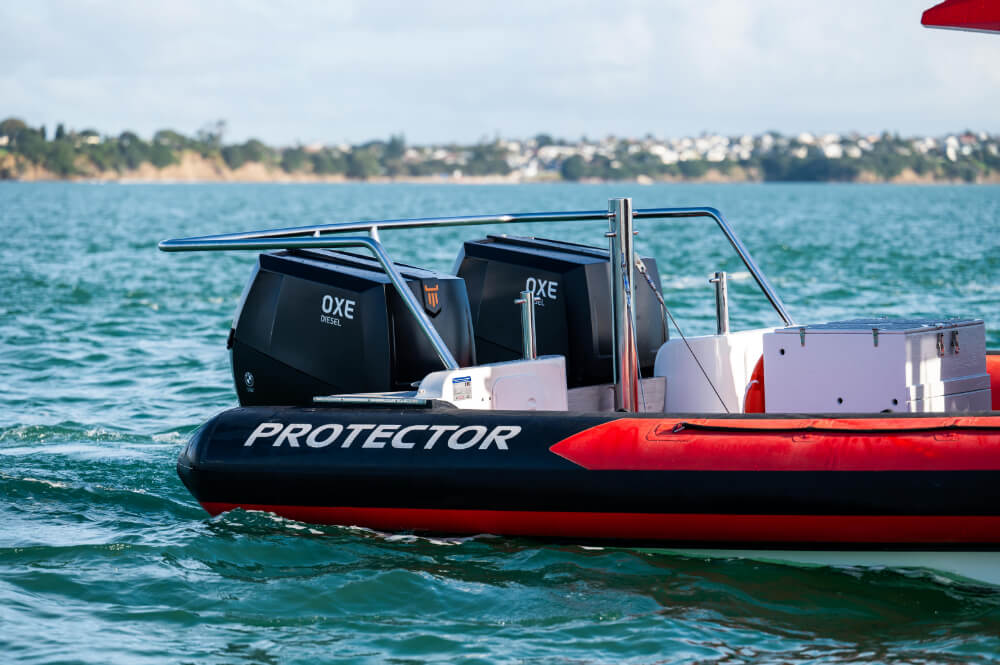 Coastguard Rescue Vessel is one of 26 high-spec craft that were first used as chase boats at last year's America's Cup.
Coastguard Mana President Tara Doak says the whole unit is grateful to be receiving the new boat that will improve the safety of the unit while dealing with their call outs in what can be a very rough body of water.  
"We service the northern entrance of the Cook Strait which provides constant challenges – not only dealing with the lee shore but once you're out there, there are no harbours or places of refuge so if you get into trouble out there, you're often in big trouble." 
"This new vessel we're receiving is really going to be a gamechanger for us. The outboards have been set up to give pulling power and a useful cruising speed giving us that extra advantage in the water when it's crucial, as well as all the technology that will help us in all other aspects like giving us stable communication to our people." 
It's also the first Coastguard vessel to use OXE300 diesel twin outboards which emit significantly lower CO2 than a gasoline outboard engine. 
Coastguard CEO Callum Gillespie says that the move to diesel outboards is something that Coastguard, which has the largest commercial fleet in New Zealand, has been considering for several years, with environmental protection and cost efficiencies just two of the key factors. 
The boats may have now lost their America's Cup branding, but Emirates Team New Zealand CEO, Grant Dalton, says their involvement in this unique partnership remains a source of pride for the whole team.
"Coastguard are the unsung heroes of our waters around the country and so it's great to see the fleet of vessels that supported us freshly refitted and taking to the water again to help them save lives."