Text by Barry Thompson 
CRUISE IN COMFORT 
This was the fourth Crownline I have reviewed and, to date the biggest. As part of a family of compact cruisers, the Crownline 294CR is the second largest model in the Crownline stable but the biggest to land in New Zealand.
When Napier based Euro City Marine committed to bringing the US-built Crownline boats into New Zealand, they didn't do it by halves. Dealer Principal Terry Elmsly gave this highly respected US builder an order for over a dozen boats, and they have been arriving steadily since mid last year.
I like about all the Crownline's that I have reviewed the diversity of models and that each is specific for a particular boating task. However, while in the US, a wakeboard boat is used for wakeboarding, and a cruiser is just used for cruising, in NZ, it's a lot different. Kiwi's like to make the most of their boating, so adding fishing rod holders, bait stations and rocket launchers to the Crownlines is relatively common. It certainly makes the boats more versatile.
The 294CR is designed for a family of four to cruise and enjoy mooring up in a quiet bay or alongside a dock or jetty in the case of the States. There is plenty of extras on the options list, but it doesn't include any fishing-specific products. If you want to add a touch of Kiwi, then you have to do that when the boat arrives. Euro City Marine are happy to oblige and will sort out any extras you need before taking delivery.
GOOD SEABOAT
When I meet the Euro City Marine guys at Gulf Harbour, the plan was to do a video simultaneously as the boat review. However, that all turned pear-shaped when the weather packed up and we had persistent rain most of the day. Despite this, we still managed to take the boat for a run between rain squalls. The sea off the Whangaparaoa Peninsula was reasonably choppy with a 20 knot Easterly.
I found a calm stretch close to the cliffs to give the 294CR a WOT test and recorded 45 knots @ 5500 rpm on the GPS.  Dropping that back to 4500 rpm, the fuel consumption went from 92 lp to 56 lph, and the range from 219nm to 292 nm (based on 10% reserve).
At 28 knots (42 lph), I found that the boat sat well and offered a comfortable ride, but it was even better back at 3500rpm @ 25.5 knots, which also delivered the best range of close to 350nm.
The 18 deg hull is almost 3m wide and loaded, the boat weighs in at around 5500 kgs. All that contributes in some way to the handling of the boat in choppy seas. It's not a boat to run flat out in rough seas, but it was never designed to be. This is a cruiser and is more at home at cruising speeds. With the power of twin 300hp MerCruisers, acceleration is quick to plane and reaching top speed. It's an easy boat to drive and when docking the joystick controls come into their own. No need for a bow thruster, plus Skyhook is great for positioning.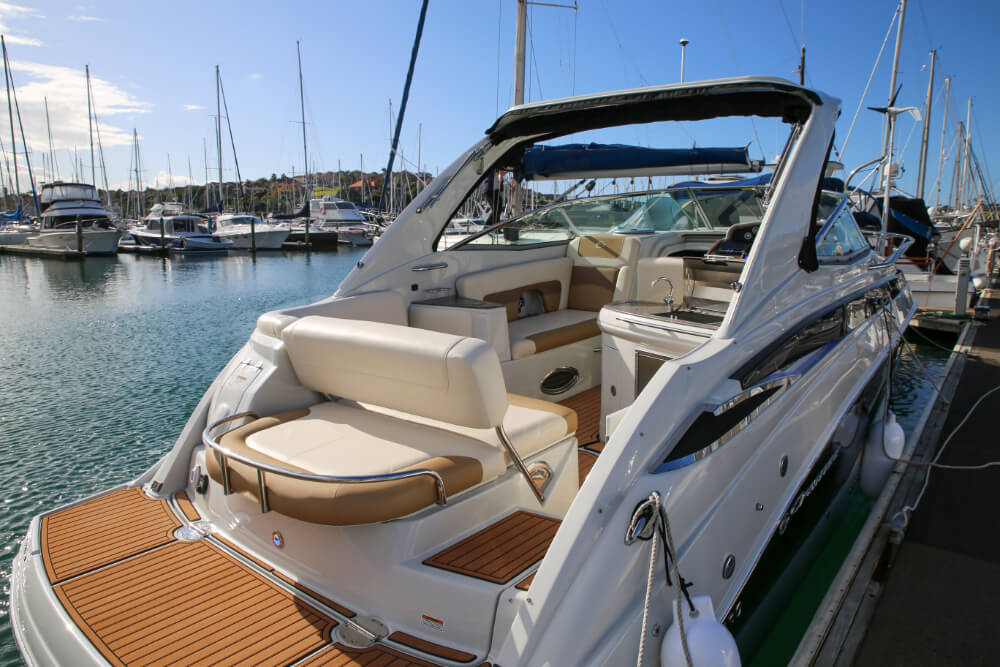 Crownline's are based on their FAST tab hull, designed to improving slow-speed stability, time-to-plane acceleration and fuel economy. The acronym stands for a fin-assisted safe turn. In practice, a F.A.S.T Tab hull's vented chines aerate the running surface to reduce drag, and the fin-like tabs keep those vents from producing handling quirks. Chop back the throttle, and you can feel the vents working as the boat glides along for quite some distance before settling off the plane.
BIG INTERIOR
American compact cruisers are bulky in appearance, and the Crownline 294CR is no exception. That high profile look is necessary to accommodate the cruiser style layout, which includes a full-height cabin, separate head/shower, galley, forward double berth and aft cabin under the cockpit sole. That's a lot to pack into a 9m boat.
The aft cabin is surprisingly spacious, although while having minimal sitting headroom, the berth is huge, and there is plenty of light and ventilation. If only two of you are away on the boat, then it's the perfect place to stow gear.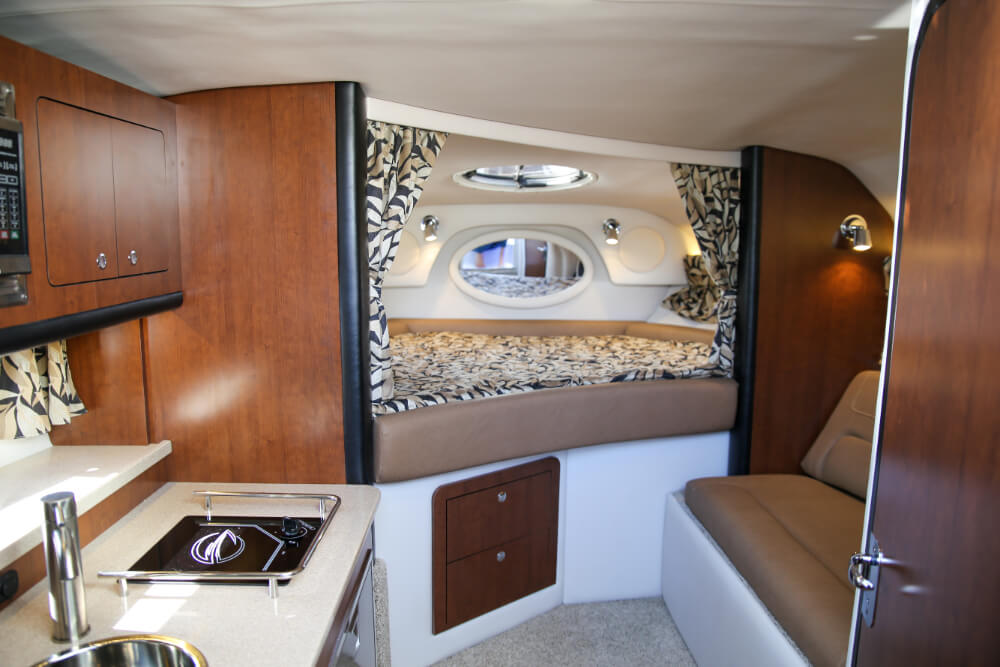 The forward berth is a little different. Where a V-berth and infill is common, the Crownline 294CR has a one-piece double berth that fills the entire void. There is some sitting headroom, but personally, I prefer the old V-style as it opens up the useable area when your downstairs with friends or family. Mind you, it's an excellent berth with storage under and, like the aft cabin, has ample light and ventilation.
To starboard is a double lounger, with a full-size head/shower cubicle aft. Opposite is the complete galley, with sink unit, electric hob, fridge, microwave and plenty of storage. All you need for 2-4 people, and then there is always the option of using the outside wet bar with sink unit, fridge and optional hob. Added to all that, the air conditioning/heater is standard, and you can choose various timber and fabric combinations. There are also eleven hull colour accent choices to give the boat again an individual touch.
LET'S PARTY
The cockpit is all about seating, something I have remarked on before with Crownline boats. They put a great emphasis on offering plenty of seating yet still allowing space to move. To port is a double lounger that also converts to a sunbed and opposite the helm with a double helm seat. In the centre of the transom, Crownline has built-in another sunpad, split by a reversible back cushion. Great spot to keep an eye on anyone behind on a water toy or facing forward, so you don't miss out on the evening cocktails. There is a drop-in table available, and it's close to the starboard side wet bar. A  port side opening allows easy access to the full-width boarding platform. Add some rails, and this becomes the perfect place to fish from or works just as well for tender storage.
I doubt you could get another thing on the helm facia. Standard includes all instrumentation, Raymarine or Garmin 9" MFD touch screen, Lenco trim tabs, Mercury DTS,  Mercury Vesselview 4 and Wet Sounds head deck.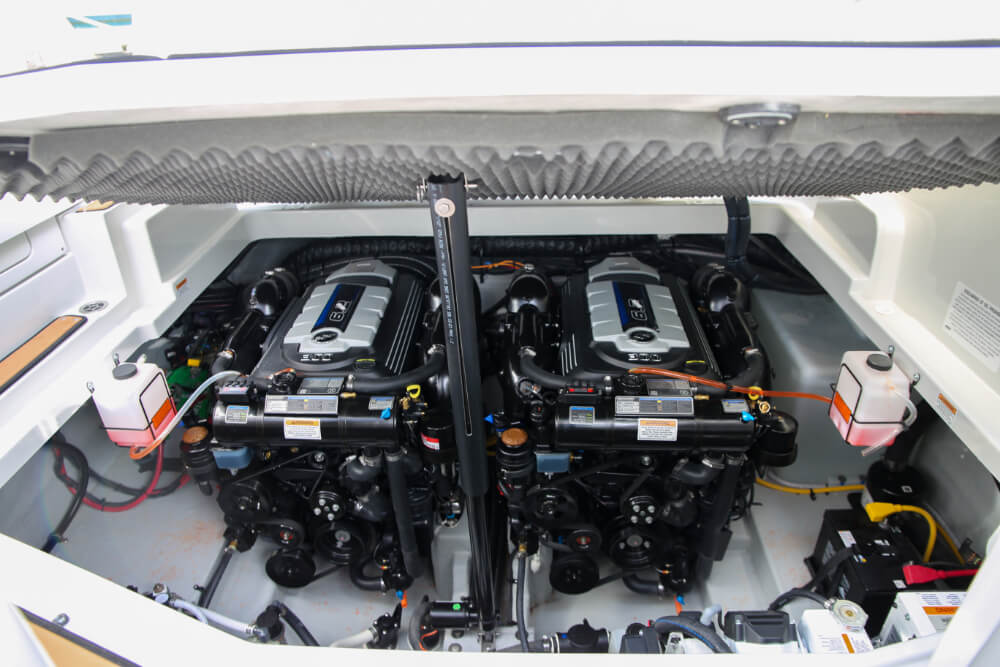 On that party theme its worth mentioning the forward sun pad on the bow accessible via the cabin sliding door and opening centre screen. With no side decks it's the only way forward.  The solid arch neatly stows the rear bimini when not required and then can be extended to provide full shade over the aft seating.  A canvas camper pack and cockpit covers are also featured on the standards list so that you can extend the all-weather use of the boat.
SUMMARY
At nearly 3m wide, this is more than a trailer boat, although it can be trailed with a permit. Crownline Boats are an exciting and progressive boat company with innovative design philosophies that are sporty, sophisticated, and classy. They promote their brand as all about combining luxury, convenience, functionality, quality and performance into one package and with the Crownline 294 CR, they have certainly achieved their goal.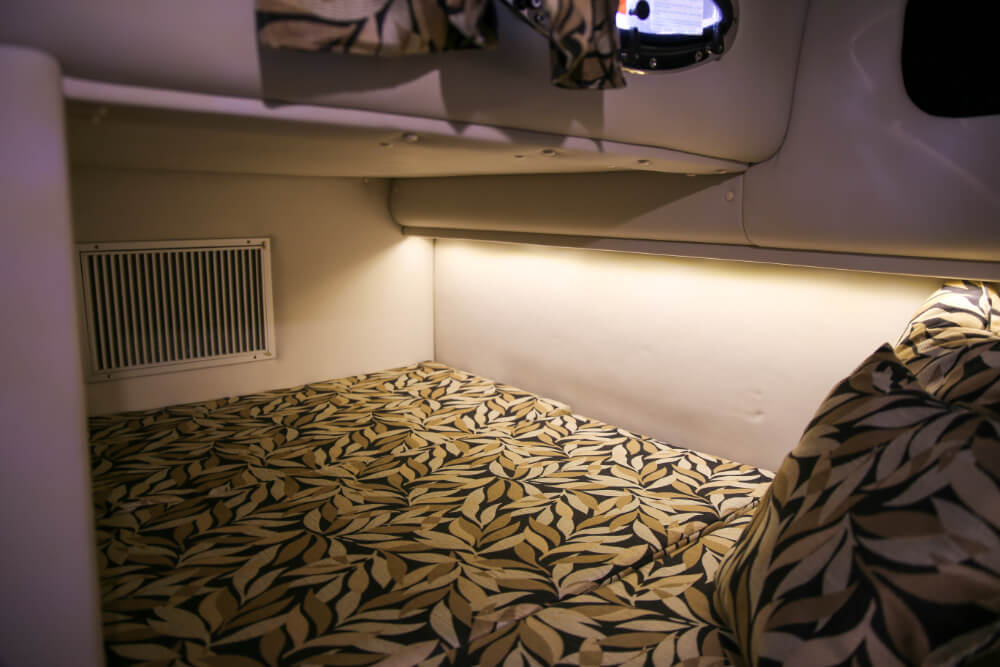 Brand/Model: CROWNLINE 294CR      
Price as Tested: $NZ590,995
Type: Compact Cruiser
Construction: GRP
LOA: 8.99m
Beam: 2.95m
Deadrise: 18 deg
Dry Weight: 4770 kgs
Bridge Clearance: 2.9m
Test Power: 2 x Mercruiser 6.2 @ 300hp
Drives: Bravo III
Max Speed: 45 knots
Power Options: Mercruiser 380-1400hp
Controls: Mercury DTS
GPS: Raymarine 9" Touch Screen
Stereo: Wet Sounds    
Generator: Kohler
Trim Tabs: Lenco              
Fuel capacity: 497 Litres
Boat Manufacturer: Crownline Boats
Fuel and Performance Data
| | | | | |
| --- | --- | --- | --- | --- |
| rpm | knots | L/h | L/NM | range (NM) |
| 600 | 2.8 | 4.4 | 1.6 | 285 |
| 1000 | 4.5 | 7 | 1.6 | 280 |
| 1500 | 6.7 | 11 | 1.6 | 277 |
| 2000 | 8.7 | 16 | 1.8 | 243 |
| 2500 | 11 | 25 | 2.3 | 197 |
| 3000 | 20 | 30 | 1.5 | 303 |
| 3500 | 25.5 | 33 | 1.3 | 346 |
| 4000 | 30.8 | 46 | 1.5 | 299 |
| 4500 | 35.3 | 56 | 1.6 | 282 |
| 5000 | 40.5 | 71 | 1.8 | 255 |
| 5500 | 45 | 92 | 2 | 219 |