We're in Corfu's Gouvia Marina with our friend Chris aboard berthed next to a sturdy 18 m British wooden ketch called Acco, built in 1938. Boats like these are always much more interesting than their modern counterparts and Dave and Gwen Nicholson have owned her since 1968, spending the past 20 years or so living an alternative lifestyle aboard, mostly in Corfu.
They'd just finished maintenance of the wooden masts and we're able to observe the interesting process of re-stepping them using blocks and tackles plus plenty of eager volunteers. Leaving Gouvia Marina we cruise to nearby Kalami Bay and have our first swim of the season in the coolish 18c sea, since then swimming most days. There's lots of interesting tavernas here where you can meet other cruisers, soak up some local atmosphere and enjoy an excellent cold draught Mythos (Greek beer) or three.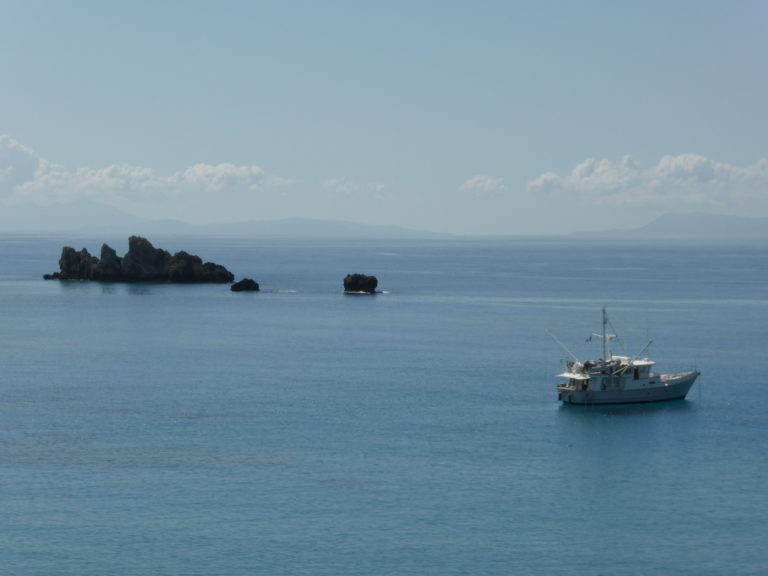 The taverna and restaurant staff make you feel very welcome and nearly always provide free bar snacks, desserts or a round of drinks. Our first night at anchor with Chris aboard, results in a rare unplanned departure very early the following morning as an onshore wind shift repositions Envoy dangerously close to some mooring buoys which could foul our propeller or rudder. Other cruisers had often described a great anchorage called Two Rock Bay south of Parga on the mainland coast, so we decide to check it out. Here we can see the anchor drop on the sandy bottom 4m below as Envoy is surrounded by small fish eagerly attacking pieces of bread we throw into the water. We're the only boat here and there are no buildings ashore so tranquility is complete – a far cry from the marina we've so recently left. 
There's a gentle swell rolling into the bay so we deploy our paravanes and flopper stoppers for the first time this season reducing Envoy's roll to a barely discernible level. This is a touch of paradise and we spend most of the following morning in our dinghy exploring the rocky shoreline and a sandy beach covered with flotsam – days like this are what cruising's all about. We're going to spend the next night anchored off Lefkas marina and time our arrival at the Lefkas Canal swing bridge perfectly for the on-the-hour opening at 1800hrs. Only problem is there's no one here to operate the bridge, so we carefully manoeuver in the shallow confined area for another hour when fortunately the operator shows up to let waiting vessels through. 
Cruising south to Argostoli, the port capital of Cephalonia, we anchor in the harbour seeing turtles pop their heads out of the water, take a look around and dive back to the depths. It's a quaint town that suffered considerable damage during an earthquake in 1953 and was then largely rebuilt in its original Venetian style. For the first time we visit the island of Zakynthos and anchor one night off a great beach at Alykanas before going into Zakynthos harbour so that Envoy will be safe while we hire a car to explore the island. The berth costs a reasonable 35 Euros (about NZ$58) per night including power and water. Here we have a rare bad dining experience with poor quality and over-priced food costing 100 Euros (about NZ$167) for the three of us. To be fair this is partially our fault for not checking the price of the off-menu specials so that we end up paying 50 Euros (about NZ$83) for a small snapper that we'd throw back in New Zealand. After we make our complaints known they offer free meals for the following night, although get off lightly as we are moving on and can't take up their offer.
There's a marine reserve on the south side of Zakynthos where turtles return to sandy beaches to nest and breed. Understandably boats are not allowed in most of this area but can anchor at nearby Ormos Keri where we spend two nights. Two miles off the anchorage the island of Marathonisi has numerous sea caves that we explore, taking our RHIB completely inside them as we wonder how many thousands of years it's taken the pounding waves to carve them out of the rocky cliffs. From here it's about 50 miles east to the Peloponnese coast where we 'll spend the next several weeks, so we break the journey about halfway at the remote and lonely Nisidhos Strofadhes Islands.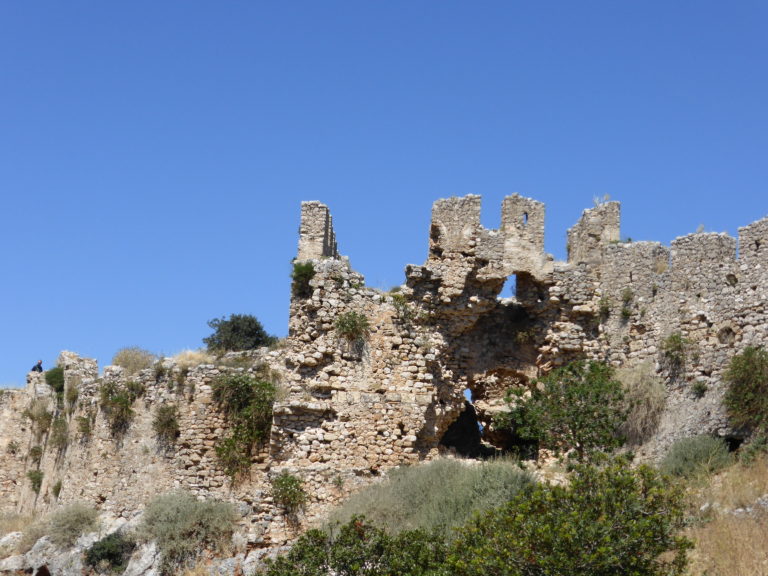 Envoy is the only vessel here and the cruising guide says gales from any direction make the seas like a giant washing machine swirling around. Fortunately there's no gale, but even the 15 knot wind makes an uncomfortable swell from the open sea, making our flopper-stoppers necessary. The islands are inhabited by a solitary monk who looks after the 13th century Ay Panayis Monastery, built like a fortress to withstand historic pirate attacks. We enjoy two days cruising to the mainland region of southern Greece known as the Peloponnisos (now there's a spelling challenge) with 15 knot winds and up to 2m following seas so that Envoy races along at nearly 7 knots with our trusty Lugger engine ticking over at under 1,500rpm.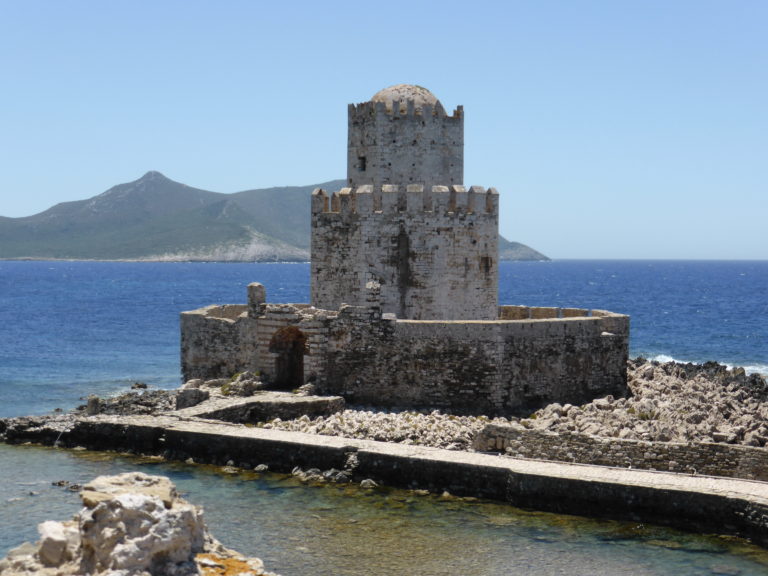 The Peloponnisos is the southernmost mainland area of Greece separated from the rest of Greece by the Corinth Canal. We cruised this area in 2012 but are happy to return to favorite spots and spend time at other places we missed. This area is quite sizeable being roughly 120 miles from the Ionian Sea in the west to the Aegean in the east while on the southern side are three peninsulas, each about 24 miles long, forming two large gulfs. The tips of these peninsulas are known as the "Cape Horns of the Med", due to strong katabatic winds often descending from the 2,400 m inland mountains and the consequent rough seas encountered here. 
We anchor in Ormos Navarinou, a large sheltered natural harbour overlooked by the ruins of castles at each end, and where a famous sea battle took place in 1827 between combined fleets of 26 British, French and Russian ships against 78 Turkish, Egyptian, Tunisian and Algerian ships. The Turkish-led fleet was quickly decimated by superior tactics and gunnery with all but eight ships sunk and a loss of about 3,000 lives compared with only 181 Allied lives and no ships lost. This was the last battle fought entirely by sailing ships and the beginning of the end of Turkish domination of large areas of Greece. We spend a great morning walking up to and exploring the spectacular ruins of the Palaiokastro Castle, one of a string of castles along this once strategic coastline. In ancient times oar-propelled galleys would usually be beached or anchored in very shallow water during night time and as we look down on an ideal galley stopover area we try to imagine that scene thousands of years ago. The only problem here was a huge invasion of mosquitoes after dusk and although our insect screens protect us there are hundreds of dead mosquitoes littering our deck the next morning. Our next stop Methoni, has another spectacular castle, this time right down at sea level formerly protecting the strategic harbour. This castle and the one at Monemvasia to the east were two of the most important Venetian fortress towns as they protected the trade route from the Ionian to the Aegean, and for that reason were called "the eyes of the Republic".
Kalamata and the hilltop fortress of Mystras
We move on to the village of Koroni, again dominated by a Venetian castle. It's a facinating village to wander around with plenty of friendly locals to talk to and not over-spoiled by tourism. The water is superbly clear and we can easily see our anchor and chain 7m below with a few small fish swimming  by. We enjoy exploring some historic churches and a monastery in the castle grounds built on the site of an ancient temple, its foundations and remnants of marble pillars still clearly visible. Spending one night anchored off the small village of Petalidhion we go ashore for dinner and notice ominous black clouds looming before dusk.
 Later we just get back to the boat in time before a 20 knot squall and heavy rain descends on us. This is no problem for Envoy but would have made a tough trip for the three of us in our smaller RHIB. From here it's a short cruise to the marina at Kalamata, a large town famous for olives from the region and where some 50,000 Greeks live and work. Here too is a hilltop castle but little remains and it's not worth a visit. In more recent times when castles fell into disuse local inhabitants would very often remove stone blocks from castles to use in house construction. Here we rent a car and visit the World Heritage fortress of Mystras, near the town of Sparta, named after the legendary, militaristic Spartans who dominated this entire region for hundreds of years from around 850BC, although little remains to be seen from their time. We pass through the rugged and spectacular Langada gorge, about 50km long and climbing to 1,524m, where the Spartans are reputed to have left any children too weak or unfit for military service to die. The Mystras fortress was built much later in 1249 by the Frankish Principate of the area, William 11, although the Byzantines took it over soon afterwards and ownership passed back and forth between them and the Turks. The castle looks impregnable built upon the steep, craggy, natural fortress hilltop of Myzithra and in times of hostilities the villagers living outside the castle and farmers tending the fertile valley would move inside. We visit many castles like this and on hot days it's exhausting enough walking up to them in shorts and t-shirts as we wonder how soldiers walked the same steep rocky paths laden with heavy weapons and armour while trying to avoid spears, arrows, stones and hot oil poured down on them by defenders. Like Koroni the site has churches dating from the 13th and 14th centuries still in use. Here Chris departs for further travels leaving us grateful for his excellent company and tremendous contribution to Envoy's maintenance.
We resolved to use our Yanmar 25hp auxiliary engine more this season as it's easily overlooked and last season only had about two hours total use. All diesel engines need to be used regularly under load and brought up to full operating temperature. With such low power the Yanmar only pushes Envoy along at a sedate three knots, but not being in any hurry we've now completed several short bay-to-bay trips under the the Yanmar alone with its alternator charging the battery banks and powering the inverter. One of our two engine room ventilation blowers had failed and while in Kalamata we remove it, dismantle the motor and determine that one of the brushes is badly worn.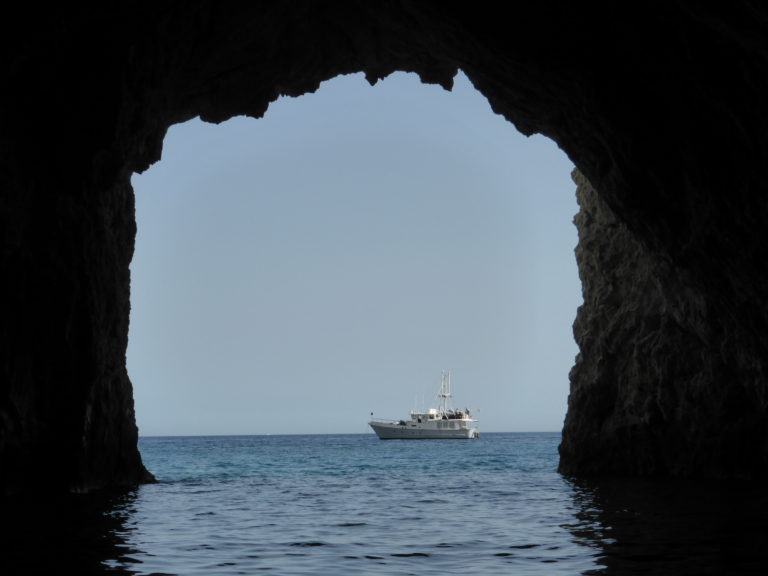 operating temperature. With such low power the Yanmar only pushes Envoy along at a sedate three knots, but not being in any hurry we've now completed several short bay-to-bay trips under the the Yanmar alone with its alternator charging the battery banks and powering the inverter. One of our two engine room ventilation blowers had failed and while in Kalamata we remove it, dismantle the motor and determine that one of the brushes is badly worn. Kalamata's only chandler doesn't have a replacement so I ask them to use their local knowledge to find an electrical shop to replace the faulty brush. "My friend you can't repair these," is the answer (in Greece conversations often start with the opening remark 'my friend'). I say very politely, "my friend let me tell you that virtually every town of this size in the world has electrical repair shops that can replace brushes on electric motors so please help me by finding someone who services automotive starter motors and alternators."A few days later the unit is repaired for 30 Euros (about NZ$50) and the chandler is delighted he now has someone to undertake electrical repairs. Our friend Chris is also known as MacGyver due to his technical skills and has been a huge help aboard Envoy during his visit undertaking both maintenance and improvement projects. He built a portable miniature bilge pump so we can more easily pump water out of the bilges below the water level that the main bilge pumps can not pump from. Although our bilges are mostly dry, some sea water and/or fresh water inevitably ends up there from spillages, rain and from the propeller shaft gland. He also built a system to pump fresh water from portable 25L water containers carried in our RHIB into Envoy's water tanks. Although we have a water maker it's very convenient to be able to get fresh water ashore in these containers and the pump saves lifting the heavy containers aboard for decanting.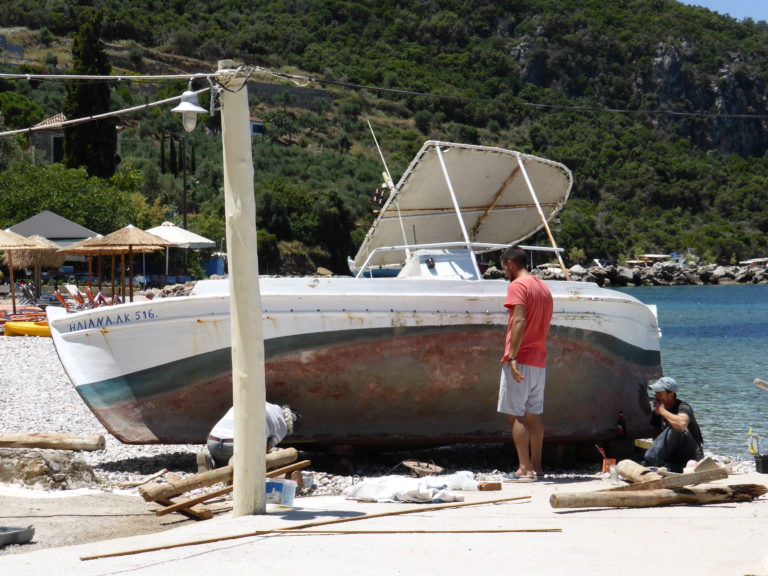 PMB's next issue sees Envoy heading into the Aegean Sea and the mysterious island of Santorini. More current detail can be accessed from Envoy's blog: www.envoyinthemed.blogspot.com