HANDLES THE JANDAL
The DNA 450C, released in late 2014, has proven to be one of the DNA Boats biggest sellers with sales from Invercargill to the Bay of Islands. Barry Thompson went to Nelson to check out this very cool looking pontoon cuddy.
The DNA 450C is designed as an entry level boat for those that are looking to step up from an open dinghy to something a little larger and a boat that offers more protection. The 450C does that perfectly with the cuddy design giving comfortable space for three adults, the necessary shelter from the elements and is still a reasonable compact package.
DNA's growing range covers just about every trailer boating style, from open dinghies to cuddys, hardtops, full cabins and centre consoles. Computer design enables the boats to be studied and tested in depth while still in the 3D model stage, also allowing the boats to be fully customised with the help of an owners input without the costly exercise of first building a boat and then having to change it as it's not how you pictured. However, DNA's existing production range is so extensive that many boats leave the factory as per the brochure.
In the previous issue of Alloy Boat we ran a review on the DNA 570 XHT, which I did in mirror smooth water off Nelson. Well as I tested the smaller DNA 450C at the same time, the conditions were of course identical. You could have barefoot skied across to Kaiteriteri, which was great if you were going out for a day's boating, but probably not the best water to learn about how a boat handles.
Needless to say in the calm water the DNA 450C was viceless. Powered by a Honda 60 (the boat is rated 40-60hp) the speedo topped out at 30 knots, which I reckon is plenty for a boat this size. If you do you boating with just a couple of people aboard and the appropriate fishing gear, then the lower horsepower engines are adequate and most in fact have been sold with 40-50hp outboards. If you are planning to load the boat with three divers and all their SCUBA gear, then I would go for the bigger horsepower to help carry the load.
We were not able to record fuel consumption, but I wouldn't expect you'de be using much more than a 25 litre tote tank an hour. Drop that back to a cruise of 5000 rpm @23.5 knots and the fuel use would probably be around 18-20 lph. Very economical boating.
The 4.40m, DNA 450C is based on a 16 deg hull, with a 1.71m beam, with a 4mm hull and transom. Beneath the floor is an integral hull framing system using CNC cut interlocking full depth full length frames creating a rigid system adopted throughout DNA's alloy boat range.
The 450C underwater sections are based on tapering down-turned chines to the hull, which means the pontoons could be stepped out further to increase the internal beam. This also meant the pontoons were slightly lifted so not to cause any drag in the water once planning as they are clear.
DNA pontoon designs are somewhat unique in that they taper towards the bow, however the tapered pontoons are still designed to retain sufficient reserve buoyancy. The pontoons are divided into individual air tight chambers as well as sealed tread plate floors, all of which are pressure tested to 5psi, creating a virtually unsinkable boat.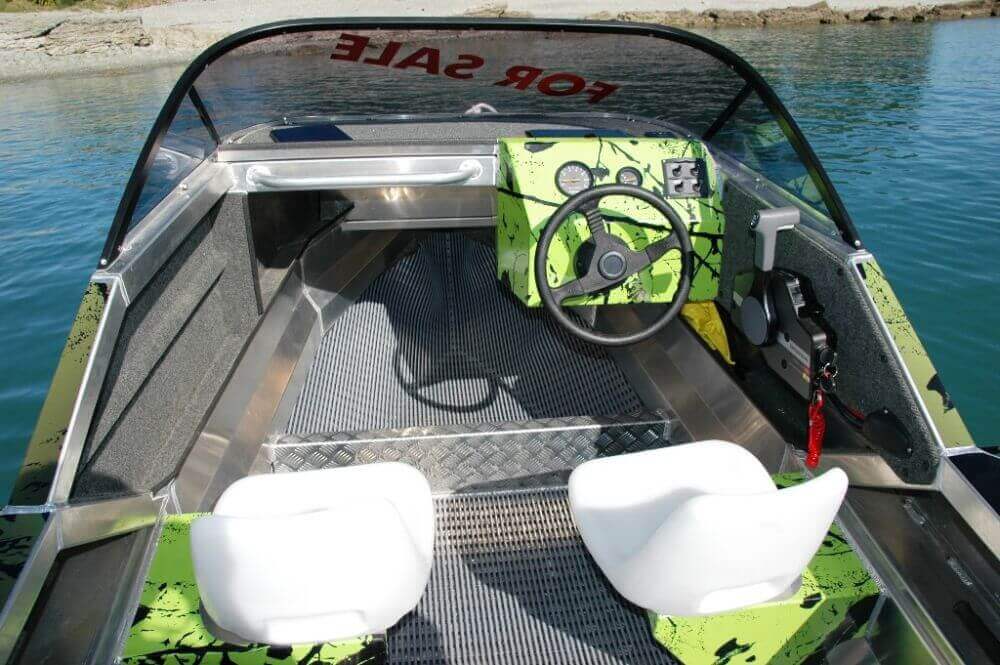 According the designer, Jason Elvines, the tapering chines are better able to deal with spray deflection as they are a nice flowing curve with a more aggressive downturn than what has been able to achieved by relying on pontoons alone for this task. Thus making a much drier ride as spray is thrown further from the boat and in a downward direction where the wind is less likely to pick it up and throw it at you.
There's no doubt that there is a benefit in the ride also, as the chines acts as a shock absorber, trapping a cushion of air under them as they land, and reducing the impact to the buoyant nature of the pontoon chambers. Something tI have found is a common  trait of most pontoon boats and RIBs.
Although I only got to run the boat in calm water, it felt like really stiff, which is something some smaller and lighter alloy boats I have tested don't have. There's nothing wrong with a bit of weight and it certainly shows in the ride and handling when the water's rough. Not so on my test day.
However, when you check out DNA's videos you'll see the DNA 450C being tested in some extreme conditions around Durville Island, by Josh James aka Kiwi Bushman and his comment "We handled the jandal" sort of sums up just how good the DNA 450C is. Jason says he has taken the DNA 450C out in some really bad seas and the boat excells in all respects. Can't say I have tried it, but watching the videos tells the story.
The DNA 450C was released in late 2014 and has proven the most popular size in the range ever since. While it is unquestionably a great boat for inshore fishing, is is also well suited to be used for family boating in sheltered waters. The cuddy offers excellent protection and a place to stow the dry gear. There are foot rest bulkheads to stop any gear coming back into the cockpit and a couple of storage pockets and storage shelves. There are optional cushions available for the cuddy, making it a comfortable space for small children.
It is a boat however, that has the right appeal for fishermen and has been designed with them in mind. I liked the flat floor from chine to chine, with no angular sections beyond the edge of the floor that can become annoying when your fishing. There is a generous toe space either side where you can actually hook your feet in underneath the pontoon.
The 1.3m wide cockpit is uncluttered, with the bare minimum of seating provided by twin cantilevered swivelling Hi-Tech bucket seats, with storage under. You can always add more with a removable padded fish bin or maybe an optional sliding bench seat.
Down aft, the DNA 450C has above floor shelves for the tote tank and battery and easy access to the sump and bilge. Our boat had the optional Railblaza bait board and alloy frame, that's also used for towing water toys. It's a low step across the flat transom to the full-width boarding platform, complete with drop down alloy ladder.
Cockpit storage options are limited to side storage recessed in the pontoons, as well as some under the seats, with space under the floor all for buoyancy.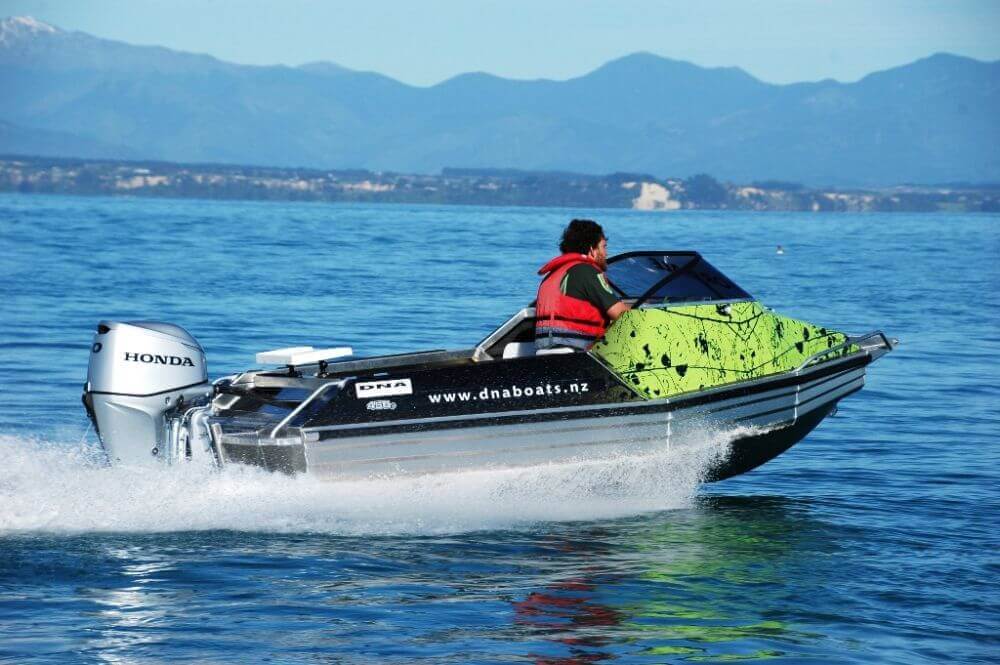 The DNA 450C is a great entry level pontoon boat, that doesn't require a lot of effort to launch, retrieve or tow. It's extremely well priced and can be put on the water for not much over $NZ25,000.  You have the choice of a raw alloy finish, painted or if you want to be a little different go for the wrapping.
Our DNA 450C looked very cool with its green and black splashed Bushmate wrapping around the cuddy. Certainly gives you a distinctive and personal look to your boat. If you are into hunting, then DNA are happy to wrap the boat in camo colours.
Model: DNA 450C                            
Priced from: $NZ25400
Price as tested: $NZ29950    
Type: Cuddy
Construction: Alloy 4mm/2.5mm
LOA: 4.50m
Beam: 1.71m
Deadrise: 16 deg (Transom)
Hull Weight: 255kgs (dry)
Height On Trailer: 1.75m
Towing Weight: 485 kgs         
Test Power: Honda 60
Power Range: 40-60hp
Power options: Outboard
Fuel capacity: Tote tanks       
Built by: DNA Boats