If there is ever a brand that represents the ultimate in alloy boat manufacturing, it's White Pointer. Freddy Foote steps aboard one of their 730 Sports Cruiser models and investigates what lies beneath.              
In my 15 years in the marine industry, White Pointer is one brand that I have never had the opportunity to get aboard…until now. No particular reason, it was just that our stars never aligned.
Everything I have heard about the brand was all positive; super-heavy-duty construction, ultimate customisation, and unreal sea keeping ability.
The brand has a cult following. Those who own one say it's the only brand they'll ever consider owning and many are into their third and fourth boats from the company. For others, it's a brand that they strive to own.
So when Barry Thompson phoned me and asked if I could go to Whitianga to test a 730 Sports Cruiser, I cancelled everything I was doing and headed South.
White Pointer recently announced that a new version of the 730 Sports Cruiser was to be released as a production model, targeted those who want all the attributes of the famous brand, but without the price tag of an elite custom vessel.
White Pointer Managing Director Rex Briant says the new production range has been designed to provide a high performing blue water boat for a range of activities but at a competitive price.
"The 730 Sports Cruiser brings all the key performance attributes White Pointer are renowned for, but now in a more cost effective package representing exceptional value for money," says Briant.
"For 25 years now we have been refining our product all based on a practical workhorse that enhances the advantages of aluminium.
"The 730 Sports Cruiser has been designed for boaties that demand a boat that can meet many needs. It can be set up for the families who want a safe, but versatile craft they can enjoy time on the water, or for the keen fisherman who requires a few more creature comforts, yet demands long range offshore blue water capability."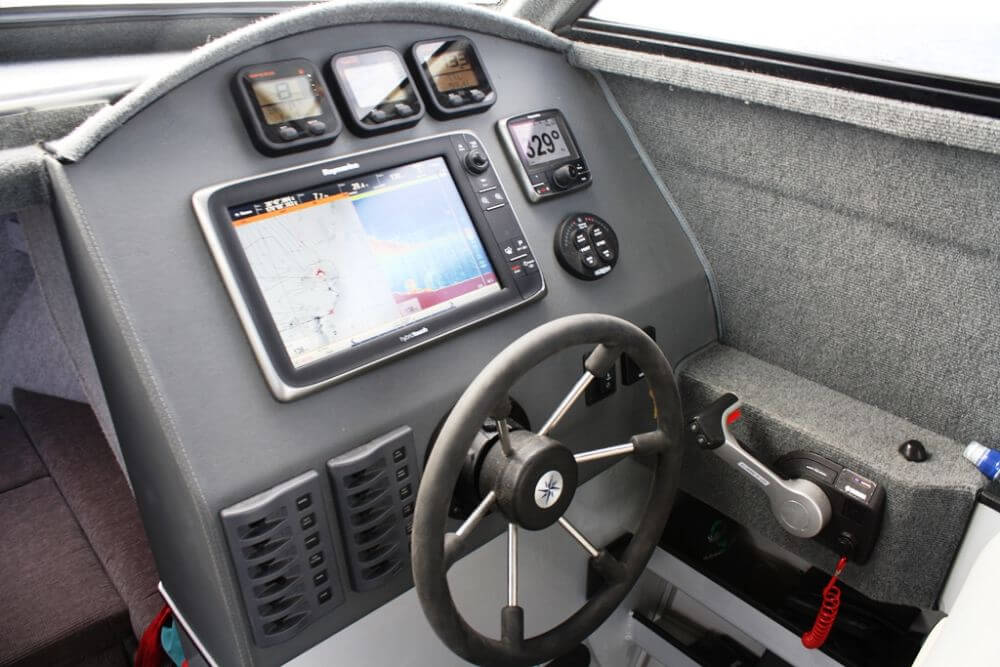 Like all White Pointers, the hull shape is a key factor in the brand. Briant continues his traditional method of shaping the hull skin over a predetermined interlocking frame and girder type structure. Combined with a welding sequence he can produce a rounded compound curve hull shape that squeezes the water out rather than slapping over the top.
"This process can only be achieved on a heavy steel jig as the force and technique to shape up to 8mm plate is so immense. This process is a more traditional method and not followed by the well-known production builders. This sets us clearly apart.
"There are other boats out there that behave like a 'cork' on the water. A White Pointer is and always will be a solid blue water performer", adds Briant.
Our test boat, 'Way Leggo' was launched in August 2014, and whilst it is based on the standard production model, it had a few extra custom features added by its owner at the time of build.
An extended boarding platform runs the entire width of the transom and features a walkthrough in the port corner with a slide in door also available.
Once aboard in the roomy cockpit, a live bait tank is located in the port corner in the lower section of the walk-through, two large storage lockers are built into the transom section aft, while in the starboard corner there are tuna tubes. Above is a sizeable bait board for lure preparation.
Storage and use of space is a prominent theme on the 730 Sports Cruiser and it seems everywhere you look, there is a lot of careful innovation to maximise space to the fullest.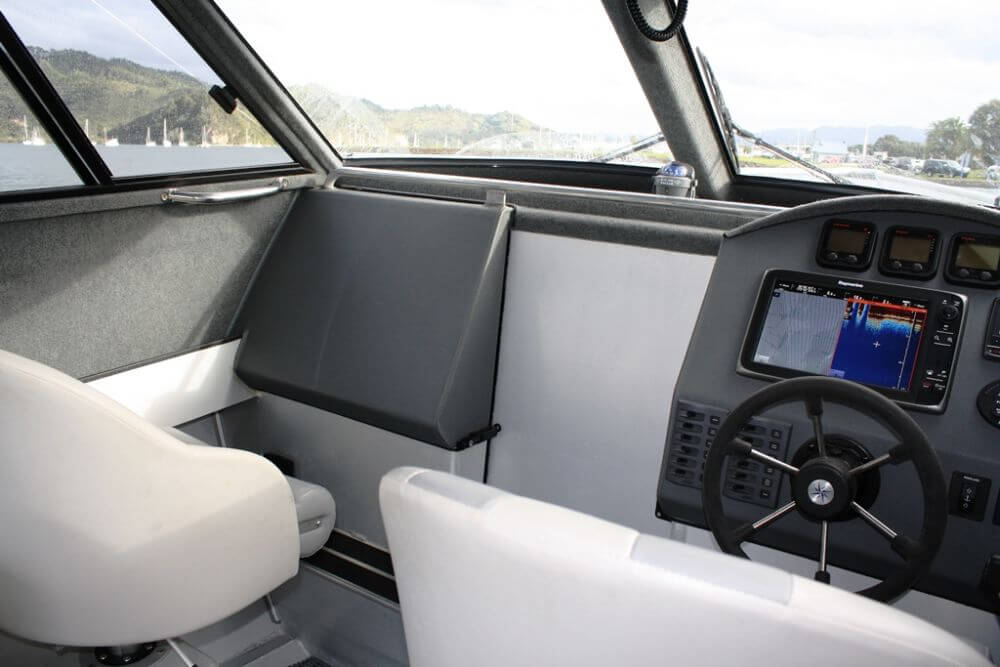 Carpeted side shelves run the full length of the cockpit, with additional hanging storage underneath for gaffs, boat hooks and rods if needed. Rod storage is plentiful, with four holders built into the bait board, while there are three along each of the coamings, with a further six located above in the rocket launcher.
Further recessed rod storage is located down in the forward cabin, which keeps the more expensive gear safe. The cabin can also be secured via the lockable cabin door.
There is plentiful underfloor storage via two cockpit storage lockers, one with a removable plastic bin, ideal for storing the days catch for the trip home. Additional tackle box storage has been built into the coamings alongside the aft-facing passenger seats.
Seating is made up with a King/Queen style arrangement with adjustable pedestal seats mounted on bases for the skipper and front passenger. The port and starboard aft facing seat bases were custom designed to fit the owners dive bottles, as too were the lockers across the transom.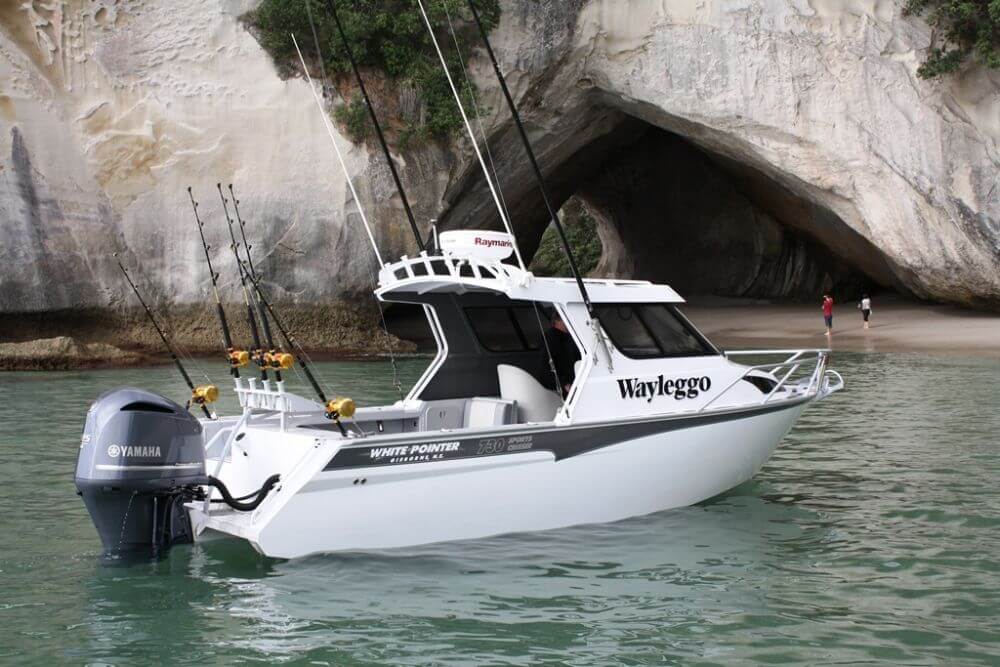 Storage space underneath can be accessed by lifting up the aft facing seat base, or by a separate hatch in the centre companionway between the seats.
The 730 Sports Cruiser range is available in two power configurations; an outboard powered version from 175hp through to 250hp (also available as a twin outboard), as well as a petrol/diesel stern drive from 170hp-250hp. Our test boat was powered by a single 225hp Yamaha Four-Stroke fed by a sizeable 300L fuel tank.
I thought the 225hp Yamaha was a good match and delivered some fantastic performance figures.  On our test day, we dragged a few lures for a couple of hours in the hope of hooking a Marlin late in the season. 8 knots @ 2000rpm the Yamaha was using 13.2 lph. At a cruise of 20 knots @ 3500 rpm fuel, the burn was 33 lph. Wide-open throttle delivered 38 knots @ 5500 rpm and using 85 lph. 
Our test day saw us depart from Whitianga, cruise past Cathedral Cove on our way out to the 60m mark to tackle some kingies. Though we were unlucky in what we caught, it was still a great experience in using the boat for exactly what it was designed to do.
When you are in the cockpit, battling a big kingie over the side, what was quite evident were the high cockpit sides – 750mm deck to gunwale, giving a very secure and safe feeling. One other attribute I noticed was how immensely stable the whole boat was. Three of us moving around the cockpit it felt rock solid at all times.
At the helm, you can elect to stand or sit , while in front, you are faced with a curved glass single pillar windscreen and a big dash that provides more than adequate provision for large MFDs over 12".
Test day conditions were fairly calm, with a lot of boats out on the water, competing in the Whitianga One Base Tournament.  However, conditions did worsen later in the afternoon, meaning we would be heading straight into a reasonable half metre chop all the way back to Whitianga. Aboard the 730, the boat feels incredibly strong and solid, with the 6mm hull tapering from 40 deg in the bow through to 18 deg aft.  So with conditions worsening, we all donned our life jackets and settled in for the hour-long trip back to shore.
Having been in conditions like this a number of times, it was hands down the best performing alloy hull I have experienced to date. No banging, no crashing, no jolting forces through your lower back. Even seated in one of the pedestal seats, the ride was incredibly forgiving and comfortable.
We cruised home at 18-20 knots, pushing through the chop as we went. We could have gone faster. The hull certainly would have handled it no problem.
Now having experienced a rough trip home in a White Pointer, I can fully understand why owners rate them so highly.
Though the 730 is a big boat, it's very easy to tow on the open road. Briant build's his own alloy trailers for every boat that leaves the factory.
"If we put the boat's onto alloy trailers, it's a huge weight saving. There is a lot of extra weight in the boats due to construction, so we can claim this back by saving around 300kg in the weight of the trailer," he adds.
Depending on the engine option, you're looking at a tow weight of between 1500-2700kg. White Pointer offers a broad range of engine, electronics and accessory options to its customers when selecting their vessel. Boat packages with a 175hp four-stroke outboard and an alloy trailer start from $106,800.
This package as tested was $185,000. As explained earlier, it is largely a production model but has had a few customisations from the factory to fit precisely the owner's requirements. Having now had some time aboard the boat, I can see the exacting detail that goes into every boat and where the dollars have gone. The overall finish is immaculate, with beautifully finished upholstery and carpeting, perfect welds and as I've said, the whole boat is highly functional.
Exceptional value for money? You bet.     
Model & Model: White Pointer 730 Sports Cruiser
Priced from: $106,815 (175hp Suzuki 4-stroke/Alloy Trailer)
Price as tested: $185,000
Type: Hardtop
Construction: Aluminium
LOA: 7.4m
Beam: 2.45m
Deadrise: 18 deg
Height on trailer: 6mm/4mm
Trailerable weight: 2700kg (est)
Test Power: Yamaha 225hp
Propeller: 17" Salt Water Series II
Power options: Single-Twin Outboard/Sterndrive
HP Range: 175-250hp
Fuel capacity: 300L
Trailer: White Pointer Alloy
FUEL & PERFORMANCE DATA

White Pointer 750 / Yamaha 225

Fuel capacity:

300

litres

 

RPM

Knots

L/h

L/NM

Range  (NM)

1000

5.0

5

1.000

270

1500

7.0

8.5

1.300

200

2000

8.0

13.5

1.700

150

2500

12.0

20

1.700

150

3000

15.0

24

1.600

160

3500

20.0

33

1.700

150

4000

27.0

44

1.700

150

4500

32.0

55

1.800

150

5000

36.0

72

2.000

130

5500

38.0

85

2.300

110