The Right DNA
Visitors to the recent Christchurch Boat Show who spotted two new alloy boats and hadn't heard of the DNA brand can be forgiven, as it is only a few months old and the show was the first time that DNA boats had really been shown to the public.
Built in Brightwater, a small town out of Nelson, by DNA Boats, a division of Ace Engineering NZ Ltd, the DNA range has only recently been released to market and with three boats built and a fourth in production, the company is off to a great start.
The DNA brand was born from the experience gained by boat builder/designer Jason Elvines who previously marketed his boats under the Silstar brand. "A new name and a more stylish and expansive range of boats",says Jason about DNA Boats.
The name DNA stemmed from Jason's passion for designing and building boats. It's in his blood or DNA.
I flew to Nelson to test the boats in their own 'backyard' to find out more about the centre console DNA 500 C X Series and the full cabin DNA 550 Sport. DNA Boats has already built a smaller dinghy and is currently nearing completion of an 8m hardtop. Plans are for a full centre console and cabin range of pontoon and mono hulls from 3m to 8.80m.
All the boats are built using CAD with designer Jason using a practical approach to achieving well-balanced soft riding boats. An integral hull framing system, incorporating full-depth full-length girders interlocking with transverse frames, all CNC cut, creates a rigid, dependable system adopted throughout DNA's range.
Computer design enables the boats to be studied and tested in depth while still in the 3D model stage and also allows the boats to be fully customised with the help of each client's input.
Construction of the DNA 550 Sport is 4mm alloy on the bottom, with 3mm used on the hull sides, deck, cabin and cockpit sole. The X series hulls are designed with a fully welded longitudinal flood plate above the keel line and parallel to the floor, this acts as a stiffener to the hull and offers a unique safety aspect if the keel is breeched in a collision as it would only allow approx 70L (70kg) of water to enter the hull allowing the boat to still float and function normally.
Dry weight is around 600kg. Hulls can be left plain, acid washed and treated with Nylac or fully painted. It's your choice. If you like your boats extra strong then there is also a 5mm hull upgrade. The DNA 550 Sport is the first of two boats planned for the Sport range, the other being a 605 Sport.
The sea state outside Port Nelson was a perfect test for the DNA 550 Sport, with a 1/2m swell with breaking crests and around 15 knots of breeze. Just the sort of water the locals are used to when they venture into Golden Bay fishing or diving for scallops.
However, prior to heading out of the harbour I took the opportunity to check the speed and calm water handling of the DNA 550 Sport. The boat was fitted with an Evinrude ETEC 115hp that performed and handled well, but given the performance of the engine package I would have been just as happy with 90hp. This isn't a boat that cries out to go fast. It's a nice all round kiwi family boat that is designed to be used to tow water toys one day and fish the next.
Flat out, pulling 5500 rpm with a 19" three blade stainless propeller, the DNA 550 Sport stopped the GPS at close to 44 mph. The 20-degree hull has two short aft strakes, a fine entry that cuts through the waves and wide chines that certainly keep the spray low. It is a very predictable hull in the calm, tracks well and is responsive to the helm. I felt totally relaxed driving the boat flat out and found I didn't need to offer much trim to get a balanced riding attitude.
The slowest trolling speed I could get was around 2.5 mph @ 600 rpm and for a comfortable and economical family cruise speed on calm water anywhere between 4000 rpm @ 30mph and 4500 rpm @ 34.5 mph is perfect. The hull is stable at rest and is not too susceptible to weight movement when underway or stationary. External beam is 2.27m and overall the DNA 550 measures 5.69m.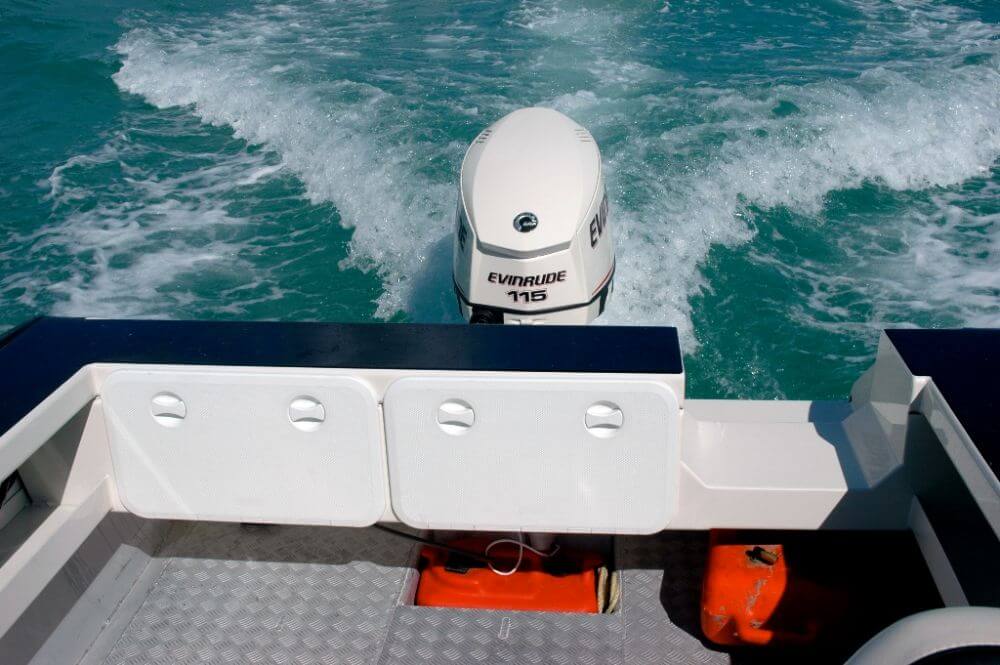 When I went out beyond the breakwater, things got very interesting and it took me a little while to come to grips with the DNA 550. In the following sea, with very little trim I started cautiously till I felt I had a feel of the boat's handling aspects and when I did it was game on! Still remembering it isn't a big boat, I leapt across the short chop in relative comfort, stayed totally dry and found myself giving the throttle a further nudge.
The DNA 550 Sport utilises a similar underwater running surface to the centre console pontoon boats, but obviously from the double chines up it is all different.
If I liked the ride downhill, the ride into the wind and waves was even better. The boat – and I – loved it. Before long I was running across the tops of the swells at over 40mph. The ride was exceptionally soft and we took no water anywhere near the deck. I notched the trim down a little and found I could go even harder in the sloppy seas. I wouldn't advise anyone with a family aboard to run that hard but it was comforting to know the boat would do it. At 30 knots you wouldn't even wake the baby!
The layout is certainly set up for family boating, with a good balance between cabin and cockpit space. Inside there are 1.5m twin berths with upper shelves for stowage and sitting headroom for a couple of adults. There is also storage under the squabs and the small recess in the sole is self draining. The cabin is fully lined with carpet that hides away all the alloy construction and a forward deck hatch allows you easy access to the anchoring area.
Standard seating in the cockpit is twin swivelling pedestals, but you can upgrade to any combination of back-to-backs and pedestals or twin back-to-backs. Our test boat had twin back-to-back king/queens on alloy bases with plenty of storage provided in both. Unfortunately there was no slider on the driver's seat, something that I feel should be a standard item on any boat! It is however an option. DNA Boats will also fit a rear hinged bench seat that folds out of the way when you want the cockpit space for fishing.
DNA boats have left plenty of space on the large flat dash panel for a single screen fishfinder/plotter, with a raised upper section for the now popular dual instruments. Our test boat was fitted with twin ETEC 'I Command gauges' that include everything from rpm and engine cooling water temperature to fuel management and a GPS speedo. They give you everything you need in nice, compact easy-to-read instruments.
There is good storage in side trays, under the aft deck and also in the centre section of the cockpit sole. A 130-litre underfloor tank is offered as an option or you can run a couple of tote tanks under the aft deck. Even when you opt for the 130-litre underfloor tank there is still a decent amount of underfloor storage, as there is so much volume available.
Access to the full-width boarding platform is helped with a walk-through in the port side of the aft deck, which is also offered with a drop-down gate. Extras available with the boat include a drop-down ladder, ski frame with rod holders, fabric covered dash and auxiliary outboard bracket.
Overall, it's an attractive, well built family cabin boat that performs exceptionally well in the light to moderate sea.
Make:  DNA                          
Model: 550 Sport                     
Price As Tested: $62,200                      
Packages from: $47,500                      
Designer: Jason Elvines 
Material: 4mm/3mm                  
Type: Cabin Mono               
LOA: 5.69m                         
Beam: 2.27m                         
Deadrise: 20 deg            
Hull Config: Deep V                       
Trailerable Weight: 1040kg                          
Height on Trailer: ??
Engine Capacity: 90-135hp                    
Power Options: Outboard Only           
Fuel Capacity: Tote Tanks
PERFORMANCE – Evinrude ETEC 115
Revs
Speed
600 rpm
2.5 mph
1000 rpm
4.5 mph
1500 rpm
6.5 mph
2000 rpm
8.0 mph
2500 rpm
13.5 mph
3000 rpm
18.0 mph
3500 rpm
23.5 mph
4000 rpm
30.0 mph
4500 rpm
34.5 mph
5000 rpm
38.0 mph
5500 rpm
44.0 mph