The Right DNA
 Nelson based builder, DNA Boats has not only established a strong regional market, they are now selling throughout the country. Barry Thompson checks out their new DNA 630 XHT.
When I was last in Nelson to run a couple of DNA Boats, it was a sunny day, with a gentle swell and a warm breeze. This time it was a lot different, with a dull overcast sky, 2m plus swell and rain. But hey you take what you get when you arrive from out of town for a boat review. In this case, it was again a pair of DNA boats, a DNA 630 XHT hardtop and a smaller DNA 480 XC open cuddy. Right from the start, I decided I would start with the hardtop as I could see myself getting rather wet in the smaller open boat. As it turned out by the time we launched the boats, the rain had turned to a drizzle and it looked like we would have a short weather window before a late afternoon Southerly blew in.
Jason Elvines has been building alloy boats since 2006, when he created a boat for himself, sold it, built another one and sold that. Seeing a future in boat building, he started DNA boats in 2008 and since then the brand has gone from a few sales into the local Nelson and Marlborough area to throughout the country.
Jason is a hunting, shooting, fishing type of guy, so he knows what he wants in a boat and what his customers want. Every boat is customised to suit an owner's specific needs and no matter what that is, the quality and build process never change.
The range covers both plate and pontoon boats, in open, cuddy, cabin and hardtop styles, from 4.2m through to 8m plus. The 630 XHT is one of five standard models in the pontoon hardtop range, which starts with the 570 XHT and extends through to the 680 XHT. The 570 XHT, 590 XHT and the 630 XHT are very similar in many respects to each other, apart from the overall lengths. The 590 XHT is 200mm longer in the cockpit than the 570 XHT but with the cabin and hardtop the same, while the 630 XHT is 600mm longer with the extra length spread between the cockpit and cabin/hardtop areas.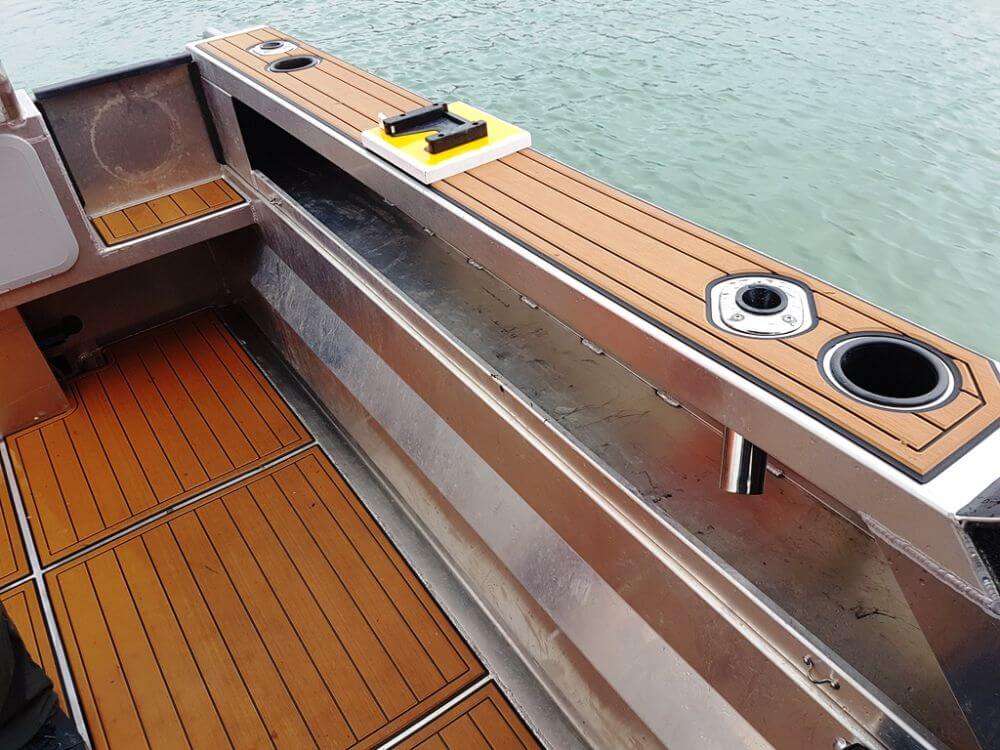 While the DNA 630 XHT is a conventional hardtop, there are some very cool features that help to make it different from its competition. If you are in the market for a 6m alloy hardtop then it's certainly not an easy choice with so many boats available, so if you are not brand driven, then you have to look at more than just the aesthetics.
For DNA that starts with the design. Jason uses CAD which ensures exact precision throughout the build process. For Jason it is not just the hours spent behind the computer, but also practical on water testing. "If I find something I feel could be better, then I can change it easily and produce a visual rendering to make sure I still have the look and practical aspects right".
" For me, there is no compromise when it comes to producing well balanced soft riding boats, which are the key to the DNA brand", added Jason.
Construction includes an integral hull framing system created by Jason using CNC cut interlocking full depth, full-length frames, creating a rigid dependable system that is adopted throughout all DNA's alloy boat range.
"CNC profile cut boats bring about fine tolerances and are perfectly symmetrical", adds Jason.
That desire for a perfect balance of stability, soft dry ride and space has led to what Jason refers to as his X-Series alloy pontoon design. He describes the X-Series hull as one of a maximum beam (2.27m) for the length and yet with an underwater profile that does not require extra horsepower to push it through the water.
Jason explains; "We did this by adding tapering downturned chines to the hull, allowing us to step the pontoon out further and have the benefit of increasing the internal beam. This also meant the pontoons were slightly lifted so not to cause any drag in the water once planning.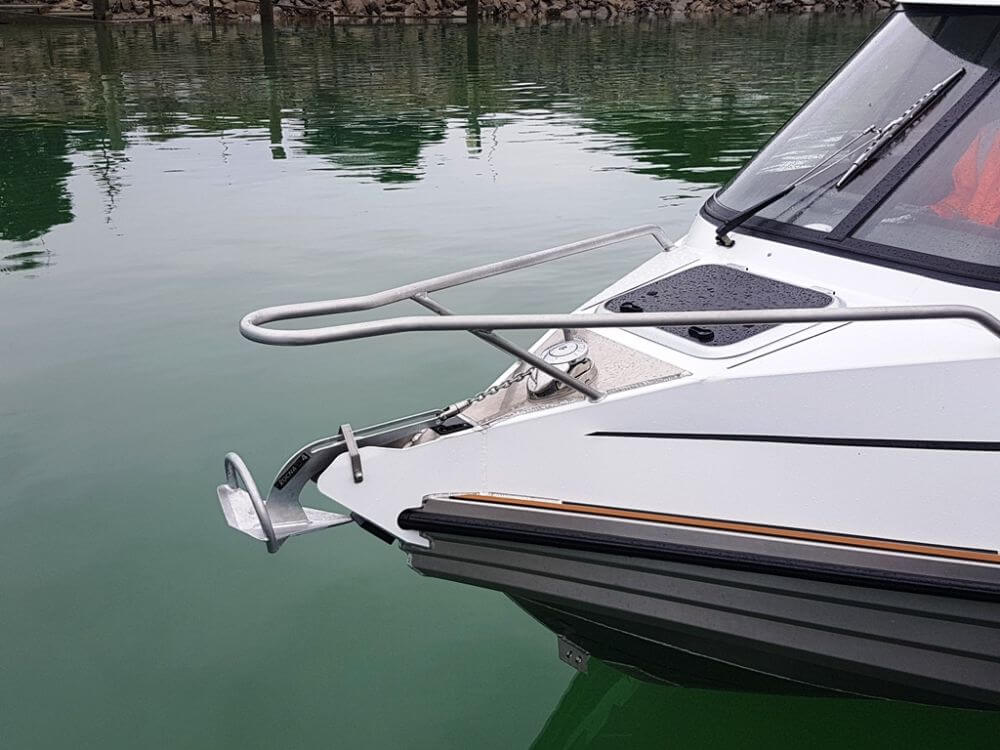 He adds, "The tapering chines are better able to deal with spray deflection as they are a nice flowing curve with a more aggressive downturn than just relying on the pontoons alone for this task. This provides a drier ride, as the spray is thrown further from the boat and in a downward direction. The benefits are in the ride also, as the chines act as a shock absorber, trapping a cushion of air under them as they land".
With the pontoons divided into individual airtight chambers as well as sealed areas under the tread plate floors, the DNA 630 XHT is virtually unsinkable.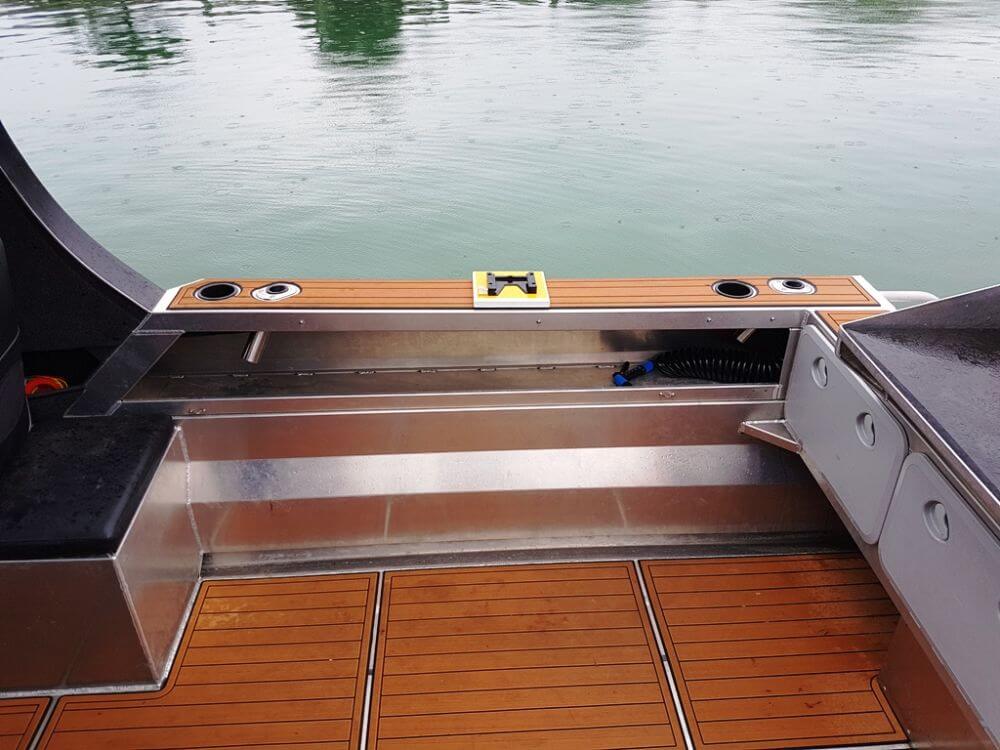 The 630 XHT is described as a serious fishing diving platform that when configured right can also be used for overnight excursions. It's big enough fish four comfortably without encroaching into another angler's space… unless you hook up a Trev or Kahawai. The X series pontoon hulls feature full-flat floors, meaning there are no angular sections of the hull beyond the edge of the floor and pontoon joint. This optimises the fishing space. There are also deep toe spaces where you can hook your feet in underneath the pontoon giving you more positive grip stance when stand-up fishing. Very fisherman friendly!
Kotare, the name of the boat we were using for the review had been fitted out with a load of extras, including plenty of Ultralon U-Deck on the cockpit sole and coamings. Certainly gives the boat a nice look, as well as being soft underfoot,  easy to clean and doesn't get too hot in the blazing sun.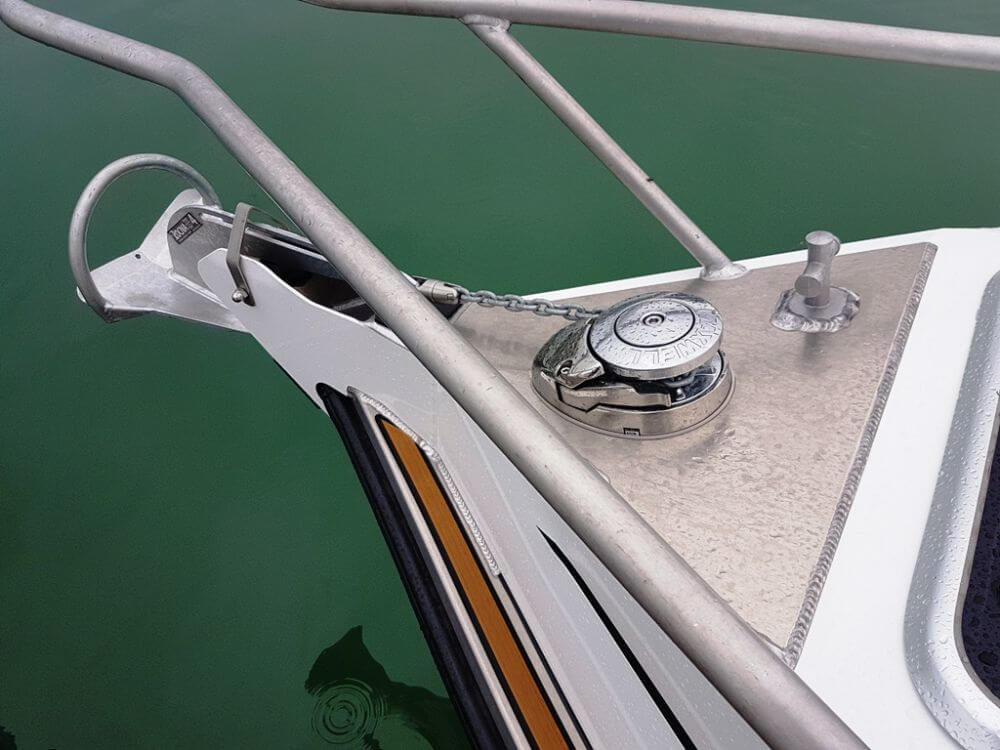 The owner, who is new to fishing, wanted a boat that provided everything he would need for serious fishing. While on the port side of the boarding platform there is a two-step fold down dive ladder, the starboard side has a live bait tank fitted. In the centre of the transom is a generous size DNA designed and built removable bait board complete with five-rod holders. It is around the transom area that Jason says most of the customisation is done.
The side coamings each have a pair of rod holders, drink bottle holders (which are also great for sinkers, hooks and lures) plus a downrigger mount. Sort of tells me that this owner is serious about his fishing when he adds downriggers to his fishing arsenal.
While there is no cockpit storage under the flat floor, there are wide side trays for rods and assorted gear, plus dry storage under the helm seat.  Kotare's seating was a pair of swivelling buckets with bench seats aft, with storage one side and space for a cooler bin under the other.  DNA offers a variety of seating options such as Softrider pedestals to back to backs.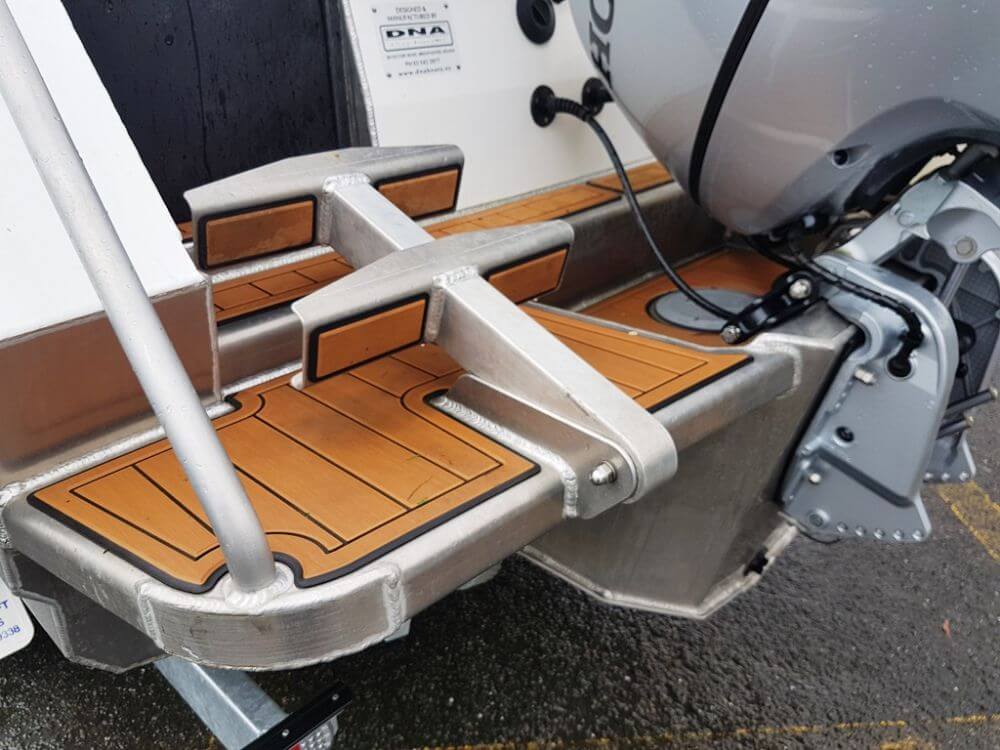 Electronics on board were a Simrad 12" MFD, Garmin engine management and a GME VHF. All anchoring can be carried out from the helm via the Maxwell RC6 winch.
Kotare's cabin is set up for day boating, with twin bunks with storage under. With a drop in insert that can be changed to one huge berth if you are looking at overnighting. There is also storage in side trays and the cabin, like the hardtop, is fully lined. 
Power options are single outboards, 150-200hp, with Kotare running a Honda 150. Maximum speed inside the harbour was 35.5 knots. I did manage to run across the big swells off the shoreline at around 19-20 knots quite comfortably. The 630 XHT was a pleasure to drive in the following sea and was incredibly soft and dry. I liked the way it tracked where I steered it, with no deviation. The bow shape and hull entry helps provide exceptionally positive control. And did I mention quiet and dry?
In the head sea, I had to slow down a bit, but that was to be expected in the swells. Once I sorted out the right trim (reasonably well in) it was a great ride, apart from the occasional large sets of rollers spaced unusually apart, which caught me and gave us a jolt. Overall, however, a super ride for the conditions.
Model & Model: DNA 630 XHT
Type: Hardtop          
Construction: Alumnium
LOA: 6.03m                         
Beam: 2.27m 
Deadrise: 20 deg
Height on trailer: 2.90m
Trailerable weight: 1850 kg
Test Power: Honda 150hp 
Power options: Outboard        
HP Range: 115-150hp                  
Fuel Capacity: 175L
FUEL & PERFORMANCE DATA

DNA 630 XHT

Fuel capacity:

175

litres

 

RPM

Knots

L/h

L/NM

Range  (NM)

1000

4.5

2.1

0.470

330

1500

6.2

3.6

0.590

260

2000

7.5

5.4

0.720

210

2500

9.0

8.7

0.970

160

3000

12.5

11.5

0.920

170

3500

15.5

14.1

0.910

170

4000

18.5

19.2

1.100

140

4500

23.0

24.5

1.100

140

5000

26.5

28.5

1.100

140

5500

30.5

36.5

1.200

130

6000

35.5

49.5

1.400

110