After small beginnings and building craft in the 3-4m range, DNA Boats has now established a custom division, and with no limits and an open chequebook you can create your dream vessel. Freddy Foote takes a look at a custom DNA 821HT built for a South Island client.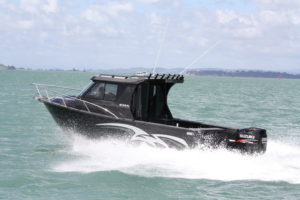 "A lot of people when they see this boat, they don't even realize it's aluminium says DNA Boats MD," Jason Elvines. I was one of those people, having to do a double take a number of times to confirm that what I was looking at was in fact made of aluminium. With a strong and growing reputation in the South Island's Nelson region, DNA has recently named Atomix Boats in Auckland and Wellington as North Island dealers for the DNA brand, while South Island customers deal with DNA Boats direct at the factory.
This particular DNA 821 HT was custom built for a South Island customer, and was designed as a personal water taxi to get to a Marlborough Sounds property accessible only by water.
However, during construction, the owner did forgo some of the traditional appointments you would expect on a vessel of this size and configuration. Apart from the rocket launcher above, there were no rod holders, nor was there a bait board or a boarding ladder – this is a custom vessel remember.
Starting aft, you step aboard through the starboard walk-through in the portofino transom. The transom itself is finished with teak, which is a feature that flows through the rest of the boat. Though there is no boarding ladder, one could easily be fitted and would complement the handrail to aid in climbing into the boat from the water.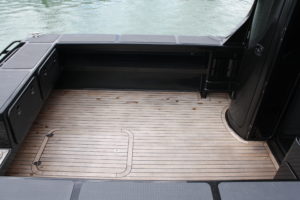 In the sizeable teak lined cockpit, a separate toilet is built into the forward port corner and is complete with a closing door. Though not specified on this vessel, this area can also be customized to include a shower and vertical rod rack.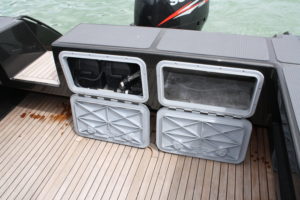 Just in front of the toilet unit, and built into the cockpit sides, is a fantastic example of what custom boat building is all about. He had a need for somewhere convenient to store docking buffers, allowing them to be accessed quickly. The DNA team were able to customize a very tidy locker for two buffers to be stored out of the way, but quickly accessed when needed. An underfloor bin towards the aft section of the cockpit provides an area to store the day's catch or perhaps a couple of dive bottles or any wet gear brought aboard after a day on the water.
As mentioned, the owner of this 821HT did not specify rod holders or bait board into the build of this craft and during the build of this boat, actually had DNA build a small cabin boat specifically designed for fishing.
On the 821HT however, there is more than enough room on the gunnels and transom to quickly enhance its fishing capabilities with some retrofitted fishing features.
Not totally against fishing, and perhaps aware of the spontaneous opportunities work-ups provide, there is provision for seven rods in the rocket launcher above, and large side shelves in the cockpit will easily accommodate a number of rods each. Leading into the cabin area, a bi-fold door is easily opened and secured into place when underway. In the cabin area itself, the colour scheme flows in with charcoal blacks and greys, broken up by more teak in the sole of the forward cabin. One important feature I noticed – there was plenty of headroom when moving around and plenty of handrails above for standing passengers to hold onto.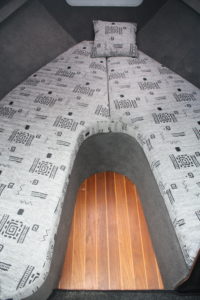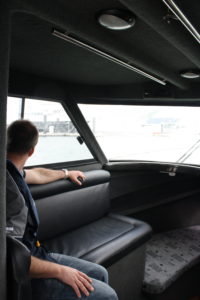 Again, the cabin layout has been customized to suit the owner, and is one I've seen on a number of vessels over the years, and has always worked well. Designed to be social and to provide plenty of passenger comfort when underway, an L-shaped bench seat is to port, whilst another bench seat is to starboard behind the helm seat. Though predominantly designed with passenger transportation in mind, design parameters did specify basic overnight capabilities, however realistically this boat is really only equipped to cater for two, possibly three, in any real comfort.
As you would expect, there is plenty of storage space throughout the boat. The port seating has storage space underneath the squabs, and to starboard, a gas hob is complemented with a small sink and fridge below.
Given the custom 821 HT has a social feel to it, the cabin area has been maximised at the expense ofside deck access around the sides. During the inter-vessel transfer from our photo boat onto the 821 HT, I found myself precariously clambering aboard over the bow rail onto the foredeck. A few steps around the sides and holding onto the roof rails, my camera gear and I were safely into the cockpit. A better way may have been to drop directly down into the cabin via the foredeck hatch! But I guess we have to test all options! The design and layout of the 821 HT lends itself to being a formidable game boat should the need arise.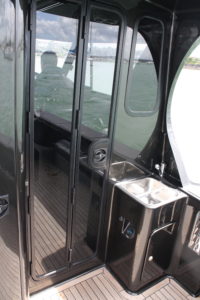 The large walk-through in the transom will mean there shouldn't be any problem in bringing aboard any large catch.
The well-appointed interior means crew can relax and recharge in comfort when not on deck. The large custom dash lends itself to large multifunction displays such as the Lowrance HDS-10 seen here.
The combination of the powerful Suzuki DF300 and the 821 HT's offshore hull will provide plenty of power and handling performance to get to your grounds and once there the Suzuki's exceptional fuel economy, combined with the 300L fuel tank, will give you plenty of time to stay on the fish. 6 knots at 1500rpm will see you using just 6.2L/h.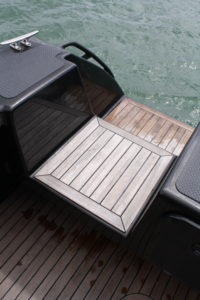 In the aft section of the cockpit, large transom hatches house twin batteries. A saltwater wash-down pump is also housed here – an odd addition seemingly given that the owner seems to have no intent on any real fishing? We hit the water in some blustery conditions in late September and were among a number of other boats doing water tests immediately following the Auckland On-the-Water Boat Show. With gusting 20-25 knot winds, heading into the inner harbour chop the DNA's ride was very good. With three of us aboard we were able to punch through the rough stuff very quickly, and even with the door open, the Suzuki was quiet and we could converse easily amongst ourselves.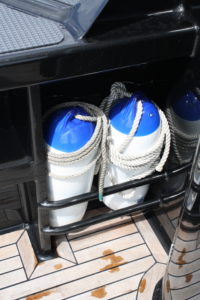 We were able to cruise at around 25 knots even in the mixed water conditions, at 3800rpm using around 33L/h. A quick squirt of the throttle and you'll see the 821HT hit around 40knots at 6000rpm. As you would expect with any hardtop that will be subject to windage, trim tabs and wipers were fitted and in the blustery conditions of our test day, they were quickly put to use. Despite the blustery and choppy conditions, however, the ride was superb. The helm seat was very comfortable, and I was quite surprised to find the seating position and proximity of the dash and throttle control was perfect for me, given that this was a custom vessel. 
"On these custom boats, we design these areas around the skipper. Let us know what will suit you and we'll make it happen," says Elvines.
Whilst I didn't see it, the 821HT comes delivered on a twin-axle trailer complete with brakes and will weigh in at around 3000kg including the trailer.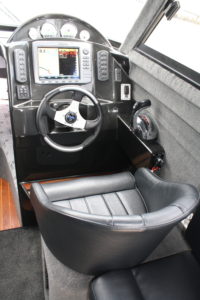 If you are in the fortunate position to be able to build your ultimate trailerboat, it's an experience you want to go into with not only an open mind, but also an open chequebook. There are an ever growing number of alloy manufacturers offering their customers the full custom package for their boat. Bear in mind, this usually comes with a healthy price tag as well. Whilst it is not the most expensive custom trailer boat I have tested, it is still right up there. With this boat coming in around the $250,000 mark, however, a lot of work was put into the alloy on the boat with faring and paintwork giving it that glass like finish.
For similar or less money you would probably be able to get a version of this 821HT without all the glitz and glamour, and more of the functional features that would give you all round capabilities on the water.