In the same way, electric cars and electric surfboards are starting to replace petrol-powered vehicles. Also, the electric jet-skis pop up with more and more prototypes. The electric PWC is currently still a concept as the battery technology still needs to improve. So far, the gasoline personal watercraft is still outperforming the e-jet in terms of range and speed. In addition, the charging is still time-consuming. However, as with other vehicles, we think this will be just a matter of time. We believe the future is about the electric Jetski.
So far, companies moving toward electric personal watercraft have stuck only a proverbial technological toe in the water. Still, with brands such as Sea-Doo announcing plans for an e-PWC, it may not be too long before we see the three mainstream PWC manufacturers offering e-PWCs in their lineups. 
We look at some of the latest innovators in the e-PWC market. Some have been discussed for a few years and are still very much in the development stage, but it will not be too long before electric PWCs are mainstream as the old fossil-fuelled skis are replaced.
The University of Western Australia's Renewable Energy Vehicle Project (REV) has teamed up with technology partner Electro.Aero, a Perth-based start-up company, and funding sponsor Galaxy Resources, an ASX-listed lithium producer, to develop the world's first electric hydrofoil personal watercraft, named WaveFlyer.
The WaveFlyer is the world's first electric hydrofoil personal watercraft. The WaveFlyer jet-ski appears similar to a conventional jet-ski when stationary, but when it accelerates, it cuts through the surface and levitates above the water.
Electro Nautic is a subsidiary of Electro Aero. These guys develop electric motors for small planes and paragliders. The WaveFlyer uses swappable and upgraded lithium battery packs and is controlled by a joystick and steering wheel. A touch screen display shows speed and battery charge and lets you make changes in the settings.
Although the release date is a few years away, Sea-Doo is the first of the big three PWC brands to announce it is playing in the e-PWC market. SeaDoo calls it the E-GTI concept PWC. Targeted for model year 2026, not much has been released on the new all-electric Sea-Doo, apart from some concept drawings showing a very stylish craft. 
BRP have some time now stated that electrification was not a question of if, but a question of when. They are leveraging their engineering know-how and innovation capabilities to define the best strategy for developing electric-powered products.
The first electric PWC to market was the strikingly angular, Hungarian-built Narke GT45 Electrojet, unveiled at the Cannes Yachting Festival in 2018. Longer than Yamaha's largest WaveRunner, with a weight of 375 kg and pushed by only a 60-hp motor, it has a stately top speed of just less than 30 knots. 
But the ElectroJet does occupy a niche. Because of its length, it's classified as a small pleasure boat rather than a PWC, giving it access to protected lakes and bays where PWC aren't allowed.
The Electrojet has a water-cooled, three-phase asynchronous eDrive motor powered by a 24-kW lithium-ion battery pack. Its triangular Petestep hull is designed to have low drag, superior wave penetration and excellent spray deflection.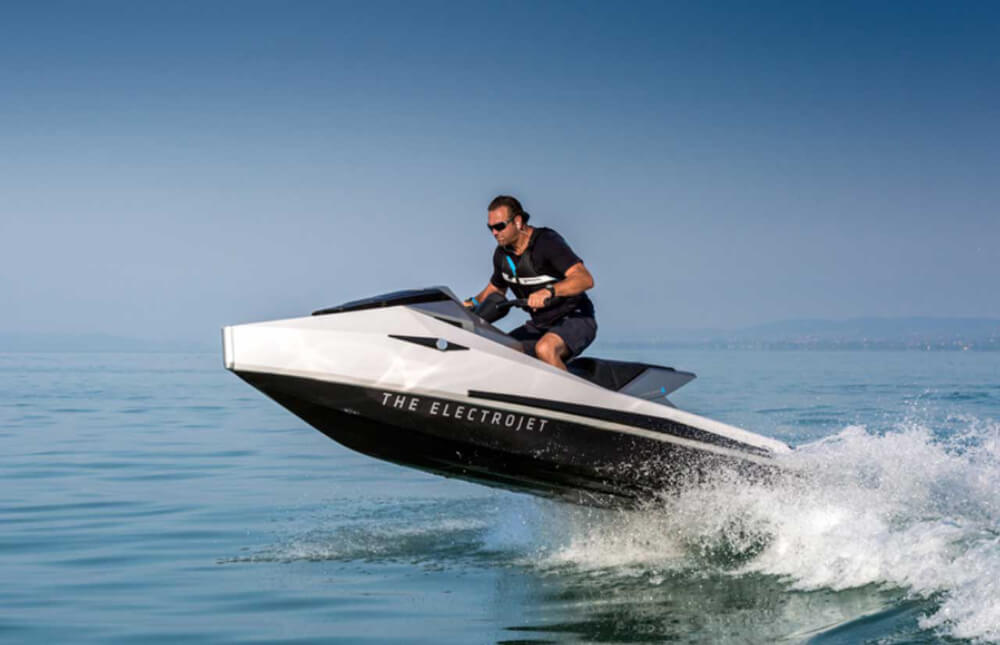 Narke is taking orders for its new GT95 model, which has more than twice the power (127 hp) and a top speed of 37 knots. It has the option of an onboard quick-charger that finishes its job in 90 minutes.
According to the manufacturer, it's the perfect water toy for anyone who appreciates design, high-tech solutions and luxury – and cares about the planet. The ambitious Narke team has been working tirelessly since 2014 to make the Electrojet the perfect alternative to traditional gasoline-powered jet skis.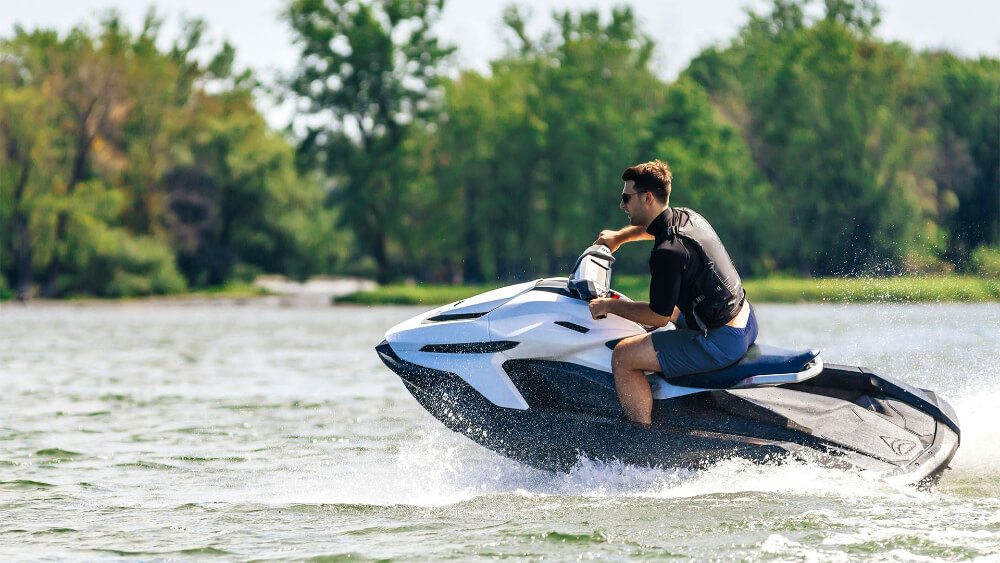 The second company to come to market with a production e-PWC is Québec-based Taiga Motors. It has had a functioning prototype since 2018, and it started selling the Founder's Edition Orca in 2020. This model has a 180-hp motor first used on a snowmobile the company produces. It has enough kick for a top speed of 56 knots, the maximum agreed to with the Coast Guard for PWC sold in the United States.
Taiga now sells three models of the Orca, and the hulls on each of them are small compared to most multiseat PWC. It's closest in size to the industry's most compact model, the Sea-Doo Spark 2-Up. 
The Performance model is Taiga's heaviest. It weighs 267kg compared with the Spark 3-Up's 192 kg, but the Orca Performance has 180 hp compared with the Spark's 60/90-hp ratings.
Taiga's Orca Sport produces 120 hp, weighs 23 kg less than its stablemate, and has a slightly slower top speed of 48 knots. The third Orca model is the Performance Carbon which has a carbon fibre deck and hull and offers 16 saddle fabrics.
Powering the Performance and Carbon model Orcas is a 24-kWh lithium-ion battery, while the Sport has a 20-kWh capacity battery. Taiga promises a three-hour charge time using a 6.6-kW charger and offers the option of a DC quick charge that will bring the battery to 80% in 20 minutes. Taiga claims a run time of two hours before needing to recharge, but with a listed range of only 31 or 37 miles, depending on the model, riders will have to cruise slowly to achieve that distance.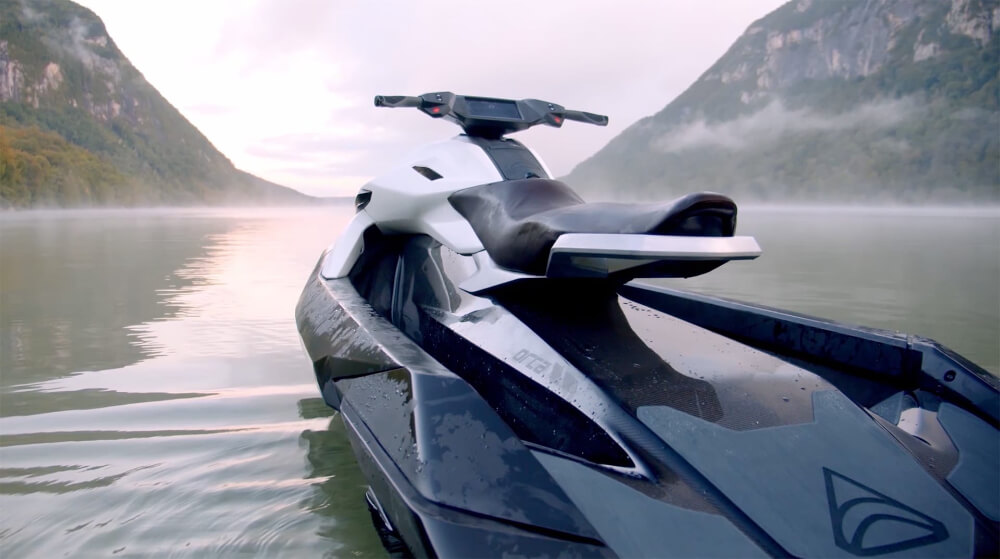 Taiga Motors says it's gone to great lengths to build a battery back that not only can withstand the punishment of riding at up to 65 miles per hour on open water but one that won't lose its overall capacity when stowed away for the winter. All Orcas will come with a five-year, 20,000 km (roughly 12,427 miles) warranty.
The Orca has a waterproof digital display between the handlebars, where riders can tap into what sounds like a fair bit of technology, like GPS maps, LTE, Wi-Fi, and Bluetooth radios, information from embedded water temperature sensors, and feeds from onboard cameras and a sonar unit. And it wouldn't be a modern mobility machine without a companion smartphone app and the ability to accept over-the-air updates, both of which Taiga Motors promises will accompany the Orca.
Taiga has entered the market slowly, producing a limited run of 100 Founder's Edition models, which sold out in 2020. The plan is to ramp up production dramatically with the capability of producing 80,000 PWC, snowmobiles and side-by-side off-road vehicles a year.
The Nikola Motor Company, a world leader in both pure electric and hydrogen-electric powertrains for semi-trucks, unveiled an all-electric personal watercraft – the WAV – in 2019. 
There have been rumours of something like this since Nikola purchased California watersport company Free Form Factory in 2017. In March of that year, Free Form had launched the Gratis X1, the world's first electric Jetski.
At purchase time, Nikola CEO Trevor Milton said they were working to have something that would "outperform the top internal combustion versions on the water and provide up to a five-hour ride time with zero emissions and far less noise."
The Nikola WAV (Water Adventure Vehicle) is 'inspired by the design of superbikes' and promises to showcase a new battery architecture Nikola has developed for watercraft.
The WAV sports a 12-inch, 4K video display in the dashboard, LED lights in the front and back, cruise control…with all electronics waterproofed and able to withstand being submerged to a depth of 1.5 meters for half an hour.
Yamaha has not announced plans to jump into the e-PWC market but rarely reveals its plans. Its engineers are developing electric motors for other purposes, so Yamaha may also use e-motors to power future WaveRunners.
In 2020, as part of its Transforming Mobility program, Yamaha began offering electric motors with power up to 268 hp to builders for implementation in various transportation platforms. Later this year, Yamaha is expected to unveil a compact e-motor that will crank out 469 hp.
Yamaha also has an electric propulsion platform called HARMO tested in Japan on a canal cruise vessel. And company executives have signed a letter of intent with Honda Motor Co., KTM AG and Piaggio & C to set up a swappable batteries consortium for motorcycles and light electric vehicles.