Author : Barry Thompson
Vanquish is designer Bill Upfold's 50th custom boat to be launched and arguably is his best yet.
In 1986 I had a call from a young Auckland boatbuilder who had designed his first boat, for his father as it happened, and was keen on getting a test done in our magazine, NZ Propeller. "Bill who?" I asked. "Upfold. I've just launched a mid pilothouse motor yacht called Samurai."
"A mid what?"
"Pilothouse. Best you come and have a look as it's a little different but I think you will be impressed", said Upfold.
I did and I was. Since then I have reviewed more than half of his boats and they just seem to get better and better. He has come a long way since that first boat and after giving up boatbuilding in the early 1990s to concentrate full time on designing he has never looked back. In fact today he is one of New Zealand's most prolific custom monohull designers. Right now he has five boats under construction at local yards and preliminaries for a further three.


"Our best year was nine boats in build and although there has been a bit of a downturn in past years, we are now as busy as we want to be and with a couple of bigger boats in the conceptual stage 2008-2009 looks like being very busy for us", said Upfold.
While he admits that 70% of his new builds are still mid pilothouse designs he has also designed and launched everything from trawlers and sedan cruisers to sportfishermen and gentleman cruisers. It is this versatility to be able to design such a variety of hull forms that sees him retain such a loyal and steady stream of clients.
Vanquish is the second Elite (Bill Upfold's brand) mid pilothouse to be owned by this client and is a close collaboration between the builder Scott Lane, Upfold and the owner. It was a boat that has, by mutual consent had a long build period. The owner's request to the builder was that he wanted a boat built to the highest possible quality, with the best equipment and fittings, with the furnishings and finish to match. This has certainly been achieved and of all the Elite boats I have had the pleasure of reviewing over the past two decades this is certainly the crème de la crème.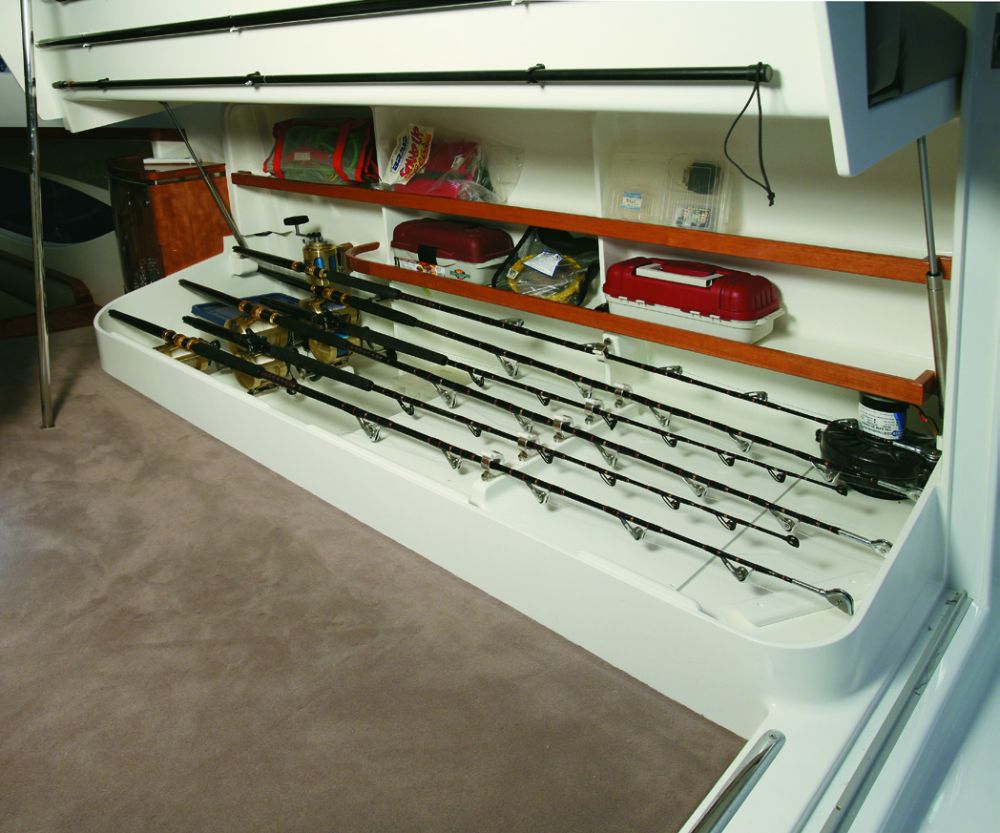 From the minute you take your first step aboard Vanquish, it is clearly evident everywhere you look that Scott Lane and his team at Scott Lane Boatbuilders are perfectionists. What really makes Vanquish special is the highly detailed custom interior and an inventory of interesting cabinetry and fittings that you don't see in many boats.
Simply put, Vanquish is a masterpiece! Don't ask me to find fault somewhere because there are none. From the first time the boat was trialled it performed beyond expectations. It is a credit to the designer, builder and the owner, who have between them shown just how good a Kiwi custom built boat can be.
Vanquish is based on the well proven 18m Elite hull design so it did start with some help and has an identical underwater shape as the 18m Elite, Coastal Cowboy, launched in early 2007. Upfold then made some very significant changes in the superstructure styling with a more softish Euro look and completely reversed some of the internal layouts. 
Compared to Coastal Cowboy it is also more gamefishing orientated and plans are to not only fish New Zealand waters but to also take Vanquish to Fiji. In anticipation of this, long range fuel tanks are already installed and ready for use when the big trip comes. Total fuel capacity is 6200 litres in integral epoxy fibreglass tanks, with the three primary tanks having a capacity of 4000 litres and the remaining two being kept just for use only when passage making.


Vanquish has a three-cabin layout with the master cabin forward, a double stateroom to port and a twin-berth aft cabin. Both the forward cabins share the same starboard side ensuite, with the guest cabin also providing access to the engine room. The master stateroom has a large queen size island berth, plenty of drawer and cupboard space and private entry to the ensuite. Here you'll find a solid surface vanity and large walk-in shower which includes access to the washer/dryer.
The master cabin door bi-folds into a recess to maintain the flush line of the bulkhead. The owner was looking for a clean uncluttered look to the cabins and thanks to help from interior designer Kim Lilley this has been achieved with a blend of soft toned fabrics and high gloss white painted surfaces. Like the rest of Vanquish, American cherry timber and panelling is used throughout the boat and is presented in a high gloss finish. A nice touch is the recessed stainless steel band that radiates throughout the boat's cabinetry and adds a new dimension to the overall finish. Radiused corners on all the timberwork and high square fiddles on the bench tops exemplify the detailing that has gone into the boat.
The striking centrepiece of Vanquish is the saloon which features twin L-shaped loungers forward, a servery, bookcase, bar and drinks locker to port, and the entertainment centre and switch panel, central. The large windows and subtle lighting complement the warm wood tones of the saloon. Daring to be different, Lilley added silver leaf pelmets and facings on the entertainment cabinet. Overall, the effect is pleasing and with the lack of a port side bulkhead there are uninterrupted sight lines through to the transom. Great care was taken to ensure that the interior design flowed, both in layout and décor.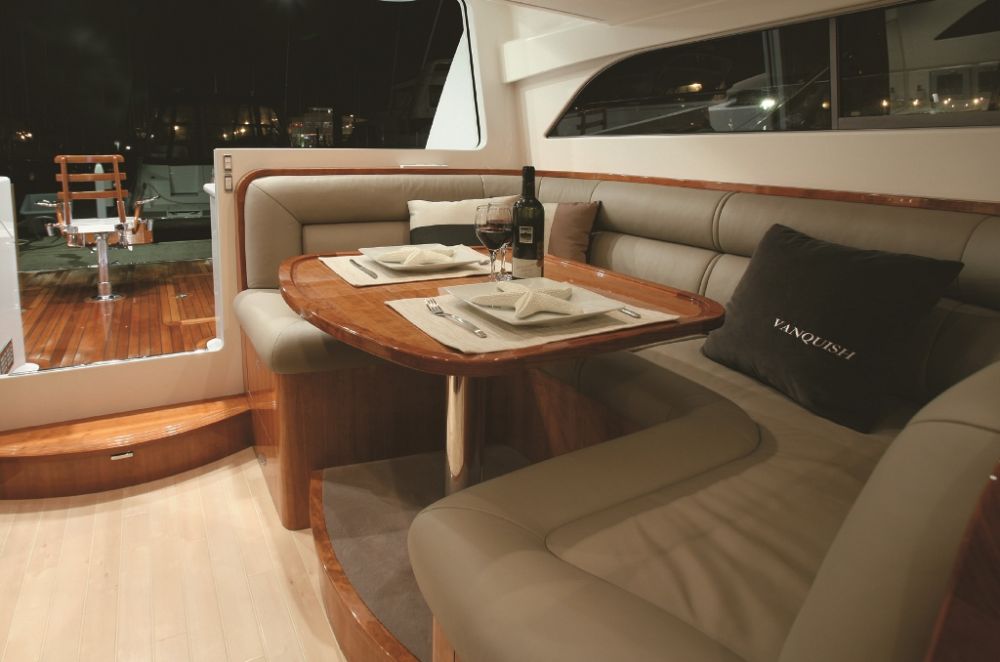 While Coastal Cowboy had the galley and dinette area to starboard, Vanquish's owner chose to flip it over to port. The forward galley is positioned to service both the saloon and the dining area, with large servery areas and bench space. There are the usual galley features such as a convection microwave, gas hob, dish drawer and fridge, a pantry opposite and large storage bin in the galley sole.
The U-shaped dinette is large enough for at least six guests and with the drop-down electric aft window you almost feel like you are sitting outside – great when the weather's right.
Vanquish has a rear head/shower compartment which is shared by the aft cabin guests and also used as the boat's day head. Twin access allows for cabin privacy when being used as the aft cabin ensuite.
The split level design of the mid-pilothouse allows you to either enter via stairs from the cockpit or from the saloon to the enclosed wheelhouse. While the saloon is certainly going to be enjoyed when entertaining, it is upstairs where a lot of the day time focus will be. Large Northstar 8000 monitors help the skipper keep track of all on-board and navigational systems. They are surrounded by all the necessary navigation and control equipment, but there is no wheel. Having had toggle steering in his last boat the owner chose to have this in his new boat too as it works so well.
The general layout is very similar to a lot of the latest Elite 18m designs, but in Vanquish twin lounge seats have taken the place of one helm bench seat, with the air conditioning unit under. Either side there are leather loungers that are certain to be well utilised by the owner's guests. A nice feature is the rod and game equipment locker under the starboard lounger which was custom built to accommodate a brace of Penn Internationals.
Overhead is a full sliding electric saloon hatch and bi-fold doors open up 2/3rds of the cabin aft. An L-shaped lounger on the aft deck is divided in the centre by the external controls. From here the skipper can see the rod tips and either corner of the transom, for use when docking or backing-up on a fish.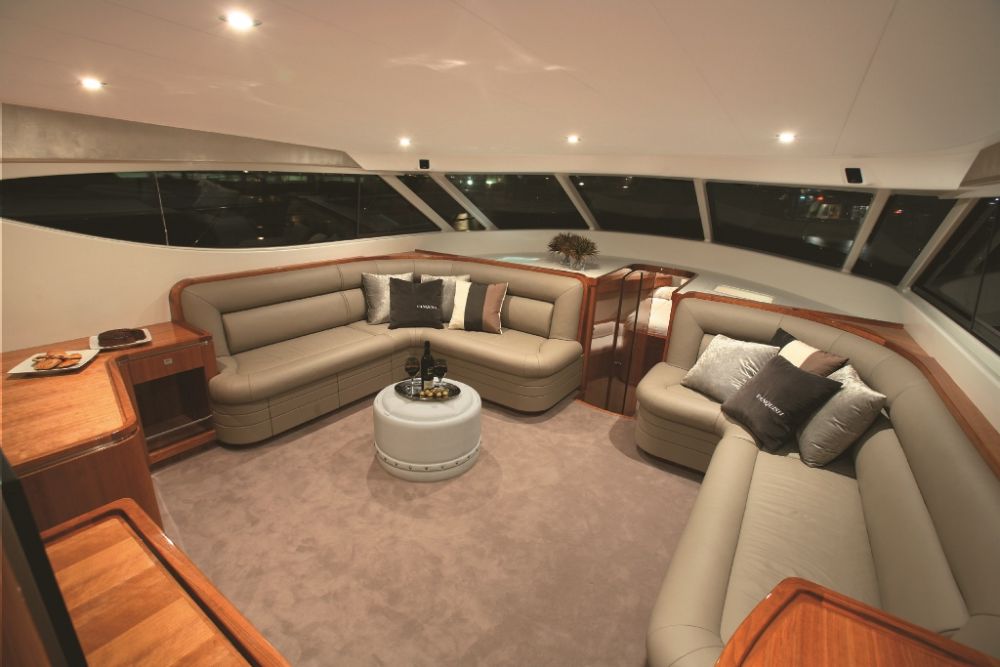 This has been designed with serious gamefishing in mind, with such fishing aspects as watertight lazarette hatches with pressure seals on the teak sole, scuppers in the double width sliding transom doors, twin tuna tubes and a live bait tank in the transom and an Elite game chair in the centre.
Forward to port is a large freezer and rubbish bin, with a rod storage locker, BBQ and icemaker to starboard. Seating both sides has ample storage under for fishing tackle gear, gas bottles, fenders etc.
Vanquish is powered by twin C12, 705hp Caterpillar engines which give a top speed of around 28 knots @2310 rpm. During our run on a calm Auckland Harbour we cruised at 19.5 knots @ 1750 rpm. With an upgrade to a couple of 1000hp engines the speed would increase to over 30 knots and according to Upfold the hull shape is certainly designed to handle the extra performance.
Based on the huge hours and sea miles clocked up by Coastal Cowboy, which includes a trans Tasman crossing and a recent trip to the Chatham Islands from Auckland, the ability of this 18m hull to handle adverse seas is well documented. While the owner of Vanquish had not yet experienced any harsh sea conditions in the boat when we met, he said that he had no qualms about long distance passage making, given the history of this hull already.
Vanquish is a fitting statement for Bill Upfold's 50th boat and is right up there when it comes to workmanship and detail. It's a boat that even Upfold admits he cannot fault anywhere. "Straight out of the box it has done everything it should do. I'm very pleased", said Upfold.
Design Name:  Elite 60 Mid Pilothouse
Builder: Scott Lane Boatbuilders
Designer: Bill Upfold
Interior Designer: Kim Lilley
Year Launched: 2008
LOA: 18m
LWL: 16m
Beam: 5.4m
Draft: 1.2m
Displacement: 26500kg
Max Speed: 28 knots
Cruise Speed: 21-25 knots
Fuel Cap: 6200 litres
Water Cap: 1000 litres
Construction: Wood & epoxy composites
Engines: 2 x Caterpillar C12 @ 705hp