Author : Barry Tyler
From the literature that Fairline Boats distributed prior to the recent Sanctuary Cove International Boat Show, it is easy to appreciate the fact that the company has prepared itself well both for the current global uncertainty, and for life in the aftermath – by acting before the worst of the downturn fully impacted on the marketplace. It has been re-structured, has more realistic budgets and with the latest Fairline Phantom 48 Series model – now has boats that appeal to a wider, more global market.
Today, influences such as practicality, innovation, user-friendliness and the biggie of them all, economy and efficiency are, perhaps more rapidly than manufacturers would like, changing the way the world goes boating. Regardless of whether it is the top or the bottom end of the market, people now demand value for money, arguably before the question of luxury even remotely enters the equation.
In the interests of the economic viability of a particular model, manufacturers must now come up with a game plan for a 'universal' model or configuration that will be all things to all people. The fine line, the sinister reality of adding the creature comforts though, is the obvious cost of these changes. How do manufacturers include all these expectations whilst still keeping the model competitively priced, viable, and most importantly, accomplishing this feat smack in the middle of a significant market downturn?
The secret to success in my mind lies with the particular company's ability to read the market, to see the signs and act accordingly. One typical example would undeniably be Fairline Boats, for the British company has continued to produce boats for the discerning for over 43 years – through not just this recession but several others along the way. They move with the times, re-structuring, changing models and improving as in the case of Australia, the point of sale aspect. Handling the brand now, on Australia's eastern seaboard, is worldwide marketing conglomerate The Cobra Group, through its Australian arm CRS Yachts. ('Fairline Sydney' and 'Fairline Queensland').
Little will change at this stage, for CRS will still offer the three Fairline model ranges (all with additional new models planned), the smaller sports Targa Grand Tourismo Series, the Phantom flybridge cruiser series up to 48ft, and the larger Squadron series with models above 48ft. Fairline is of course renowned for its standard of woodwork, innovation and of course attention to detail. But these new models now include more use of glass, a contemporary yet more comprehensive internal layout, and greater use of a wider variety of wood finishes, including cherrywood with eucalyptus accent, light American oak with Japanese Wenge accents, burl, American black walnut gloss, and of course teak trimmings.
Typically European Invitation
At first glance our Fairline 48 Phantom Series test boat offered the appearance of a virtual mini-superyacht. 'In your face' appointments certainly offered that impression anyway, for we were greeted by the usual impressive 'European' boarding feature of teak-covered swim platform followed by teak-covered steps which invitingly led you up through a portside glass and S/S gate, onto what was a most generously-sized entertainer's cockpit. There was no starboard entry, but in its place was a step alongside the transom beam, which lifted to reveal entry down into what Fairline described as "potential crews quarters". Tight in space and in reality a non-event in the instance of a 48-footer, what this full beam room did provide however was sublime wet and dry storage space, and room for a dive compressor or such-like equipment.
The aft cockpit was understandably awaiting a table of the new owner's choice, but still it was a very ambient area for late afternoon drinks. Access to the engines and peripherals such as genset, air-conditioning, batteries, filters and tankage was through a hatch in the cockpit floor; an engine bay may I add which was certainly a lot more spacious than I expected. Also nicely incorporated into the cockpit area were the steps each side, which offered good access up onto the nice wide walkways that took you for'ard to the bow area, and an equally impressive angled yet certainly not intrusive set of S/S and teak steps which guided you up onto the flybridge level.
There are a number of different configurations of 'tops' for this flybridge level, from bimini to hardtop and everything in between, but the whole point of this level was very much to retain the wind-in-your-face feel of a genuine European style sports cruiser. Wind-in-your-face is perhaps not entirely accurate though, for the wind dodger nicely protected skipper and guests from the elements, yet there were still unobstructed 360-degree views whilst seated at the opulent helm setting. Aft of the helm was the obligatory bar and entertainment module, and naturally a C-shaped lounge and table setting that would easily have seated eight guests in sublime comfort.
While the flybridge level had all the touches you'd expect from a boat of this stature, the level below was all about living comfortably and capably. Saloon entry was through a decidedly trendy sliding and secreting door that really set the scene for what was to follow. What a room; light, bright and spacious, with the first most noticeable aspect being the level of the wood presentation; light in colour and when combined with the contemporary square look of the furniture – very easy on the eye!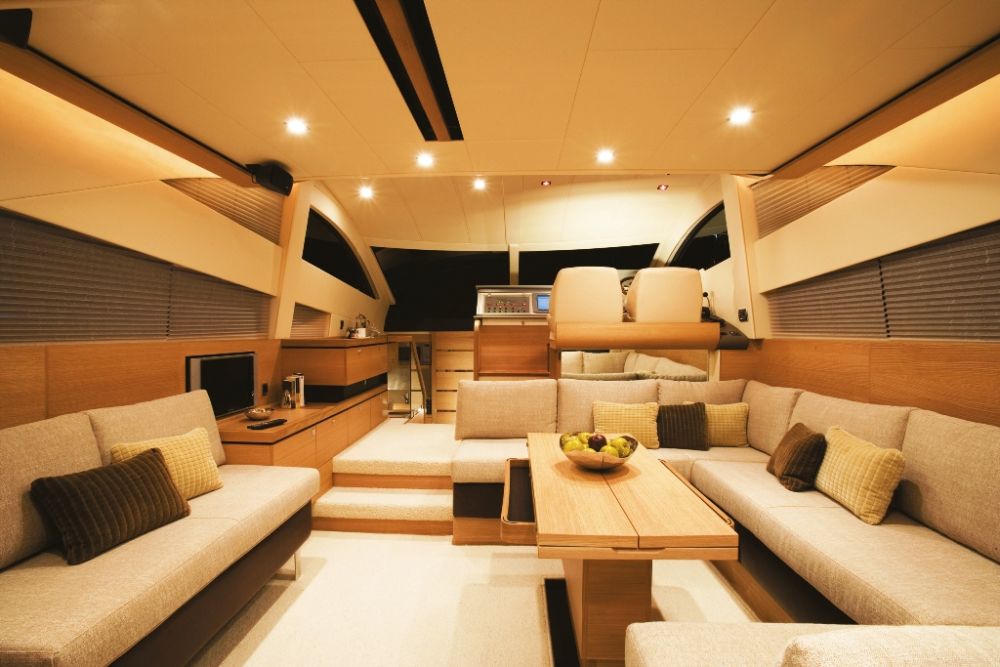 The second aspect that caught my eye was the innovation in layout; this was indeed a refreshing change from the 'norm'. This saloon had a lot of very different ideas, which I have to say didn't follow the traditional, stereotypical luxury layout. Anything but, for with a nice contrast of leather and wood the respective areas of formal dining, galley and helm all blended in very well whilst at the same time retaining their individual character.
The formal lounge and dining feature was a typical U-shaped setting with a leather lounge surrounding a rectangular table that would adequately cater for five adults. Opposite this was a portside two-seater lounge/coffee setting complete with eye-catching coffee stool, which was incorporated into the full-length wall feature which included bar, glass and bottle storage, icemaker and television and stereo/DVD entertainment module.
Forward of the dining setting was the helm that was everything I expected of a luxury sports cruiser. It was a visual masterpiece in fact and certainly painted a picture not only of opulence, but also of the sophistication expected of a genuine sports boat. Here was the typical sedan-style helm station complete with every conceivable operational aid (including opening side windows) but the endearing aspect was you still had the additional upstairs 'outdoor' version as well, up on the open flybridge level. Two magnificent Recaro helm chairs were laid out in perfect relation to the helm wheel, dash, controls and instrumentation – exactly as you would expect to find in a 'Grand Tourismo' automobile. Ergonomic was an apt descriptive that sprung to mind! Beside the helm station was a set of steps that led you down onto the accommodation level – and the galley. While aft saloon-level galleys are becoming increasingly more popular with boat owners, the layout, innovation and specification of this particular layout was such that even the most ardent of upstairs protagonists would find this particular example more than acceptable. For me it was awesome, spectacular and one of the real highlights of this vessel. Features included granite bench-tops, heaps of storage, dishwasher, 4-burner stove, beautifully deep twin sinks, compactor, fridge/freezer and microwave. Very capable in an extended-stay situation!
Despite the downstairs galley there was still plenty of accommodation space available below decks, thanks to the location of the master stateroom which was in effect amidships, in under the sole of the saloon. Athwartships in layout, this full-height room was everything I expected; ensuite bathroom, double wardrobes, make-up area for the ladies, impressive 'portrait' hull windows port and starboard, LCD television, mirror, reading lights, bedside tables and upholstered bed-head above the queen-size berth. The forward stateroom in the bow, décor-wise lacked nothing when compared to the master, but of course the berth was fore and aft and a semi-island version.
The third, smaller bedroom was understandably significantly smaller in every aspect, the smaller single Pullman bunks being more suited to accommodation for the children, or an arguing couple! Despite the accommodation and the galley being on this level, there was still space enough for two bathrooms, one a house version shared by the day guests plus the forward and single cabins, and the second a grandiose ensuited version adjoined to the master stateroom.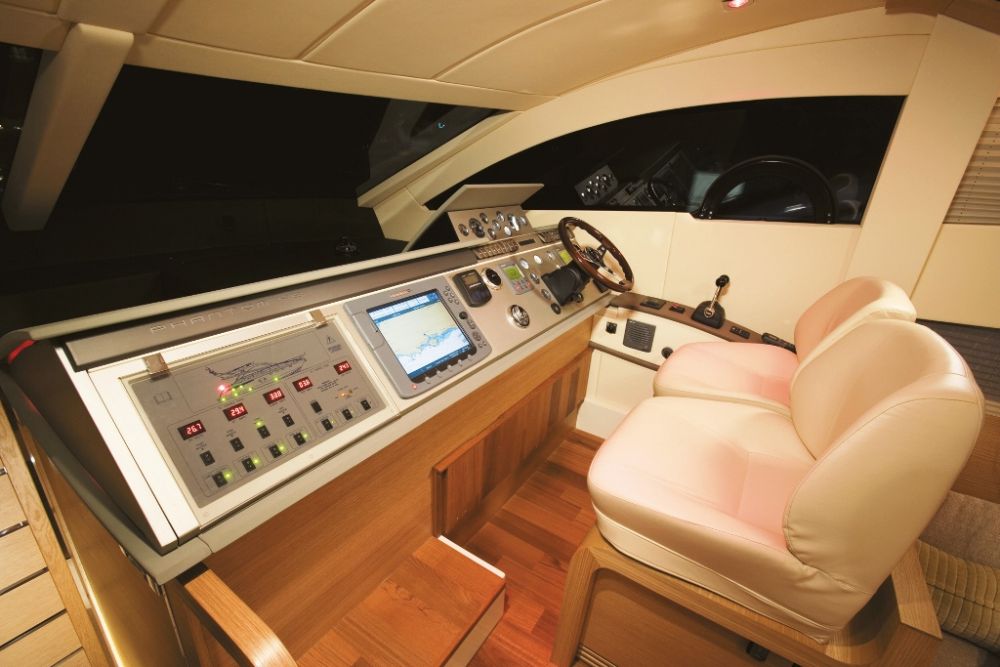 Fairlines are also renowned for their handling prowess at high speed, and their capability and durability in rough conditions. Part of the secret to that reputation is the hull construction methods which have been developed and refined over the 43 years the company has operated – to the point where the composite GRP hull is about as good as it gets. A big statement but even just a quick trip up the bay instantaneously confirms that claim. A very well balanced hull that was designed to go over the top of seas, rather than ploughing its way through, it was also a very tight ship.
Performance was impressive, full stop. Fairline primarily fits Cats (Caterpillar) and Volvos in the Targa and GT models, with MAN and Cats in the Squadron Series, so in this instance the rather modest mode of power was a pair of 423kW (575hp), 9.4 litre, inline 6-cylinder, Volvo D9-575 4-stroke diesel engines. I say modest for despite their relatively small horsepower (for a vessel that size) the 48 still managed a top speed of 32 knots at the maximum 2500rpm. More confirmation of the hull's ability came in the form of the cruise speed of 24 knots at just 1900rpm. Interestingly, its optimum efficient cruise speed was at 16 knots at 1750rpm, where it was burning a most acceptable 80L/h (total). The range, providing you were reasonably conservative in how you went about it, was around 400NM.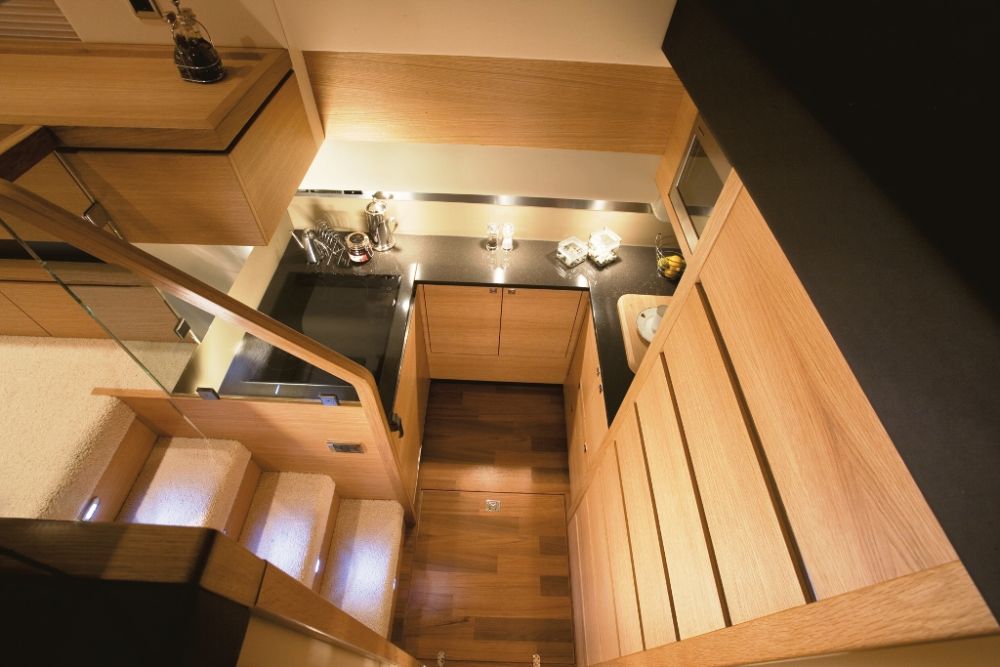 The mechanical peripherals were certainly in keeping with a vessel of this size, automatic engine bay fire extinguisher system, electric trim tabs, good engine room soundproofing, water-cooled through-hull exhausts, a fuel change-over system, high capacity water separators and fuel filters, and alloy fuel (2 x 880 litres) and water tankage (1 x 450 litre). The electrical system was  again more than capable; 240 volts AC and 24-Volt  and 12-Volt DC circuits, and a 7kVA genset in tandem with a Mastervolt 24/100 charger and 24/800 inverter, ensured the two 180Ah 'engine' and four 180Ah 'house' batteries were charged and ready to go at all times. Hot water supply was courtesy of a calorifier hot water system.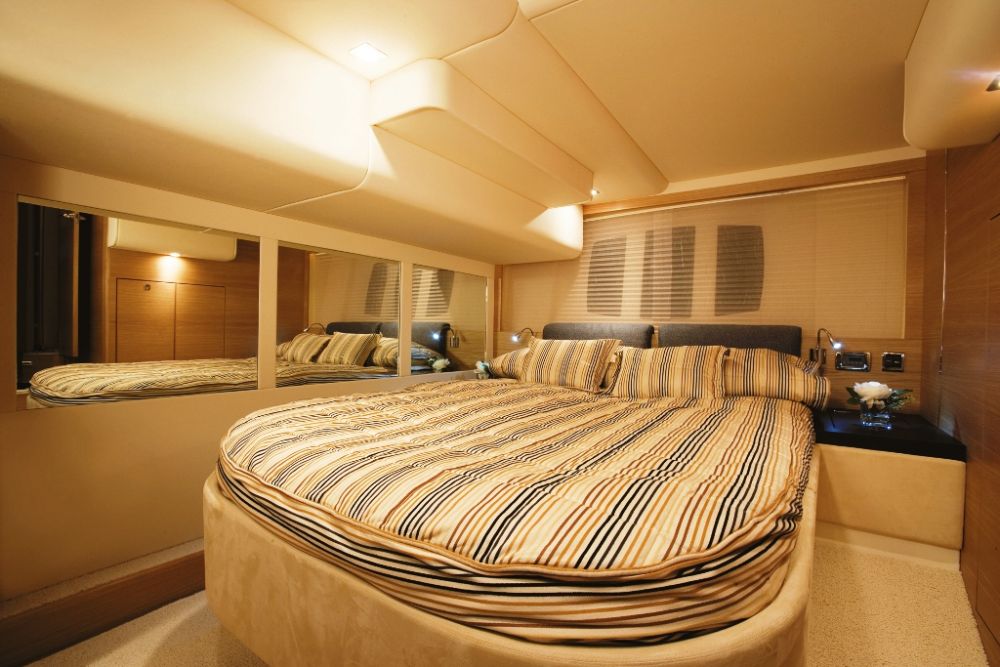 The Fairline 48 Phantom Series was very much a boat suited to Australian expectations. Notice I didn't patronise you by suggesting – suited to Australian conditions. It was a boat that is as much at home tootling around your local waterways as it is cruising to far off destinations or indeed speeding back to base to beat the impending change in weather. Whatever 'mother nature' serves up, this is a boat that will get you back home again, in one piece. It is not over the top to suggest it was a mini superyacht, such was the level of presentation as well as specification, yet it was very much a boat that you could relax on – it was not intimidating! Workmanship and attention to detail were exemplary, not just where you could see it, but also in those hidden places where lamentably so many boatbuilders and manufacturers come up short.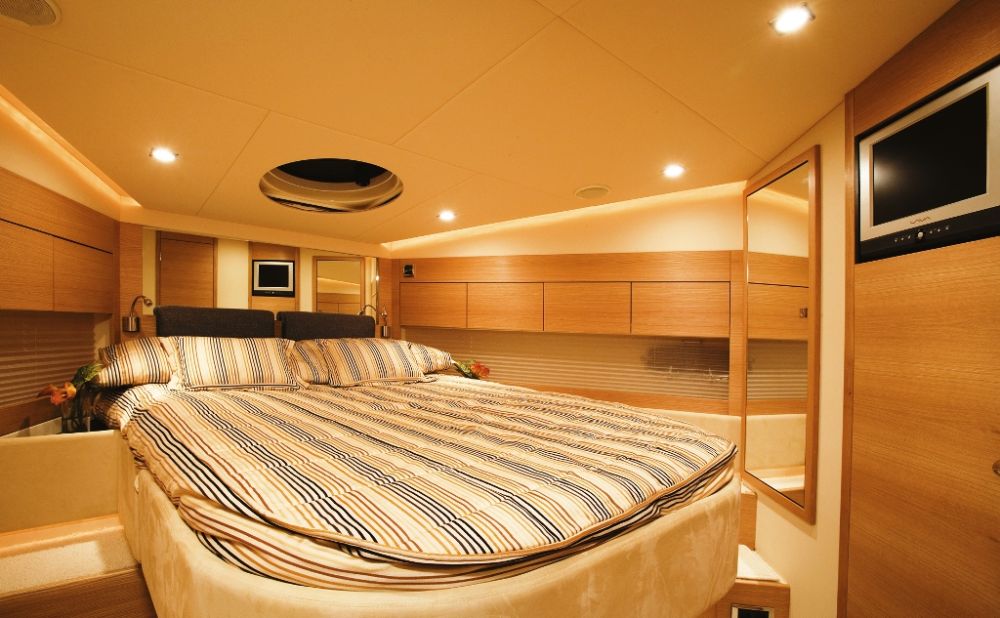 Design Name: Fairline Phantom Series 48
Year Launched: 2009
Designer: Fairline Boats / Bernard Olensinki
Interior Designer: Fairline Boats
Builder: Fairline Boats
LOH: 14.50m
LOA:  15.18m
Beam: 4.46m
Draft: 1.12m
Displacement: 15,600kg (dry)
Max Speed: 32 knots
Cruise Speed: 20-25 knots
Construction: GRP and foam core composite
Fuel Cap: 1,660 litres
Water Cap: 450 litres
Engines Make: 2 x 575hp Volvo Penta D9 EVC
Price As Tested: $1,572,000