Text & Images by Barry Thompson
Everyman 750 Diesel Gamefisher is the consumate all-rounder for those that want to tow lures or anchor up overnight in a secluded bay.
Each year it becomes increasingly obvious that the perfect boat isn't far away. It's not just how it performs, but also how it looks. It needs to look terrific from any angle while offering an incredibly good ride and ability to perform outstandingly in almost any water. It also needs a layout that is fit for purpose and its size and be presented with the highest build quality. The Everyman 750 Diesel Gamefisher certainly comes pretty close.
While Everyman is probably not one of the better know alloy boat brands, company owner Russell Spiers has build hundreds of boats in just seven years, both for the local market and overseas. Current production runs at around 50-60 boats annually. He admits that the biggest challenge for a new entrant is establishing brand awareness and recognition, something that he says has been done through good marketing and simply getting the product on the market and letting them sell themselves!
In eight short years, Everyman Boats has a production range that starts at 4.7m and extends to 9.5m. "Our intention is to continue to introduce new models to satisfy customer demands", says Russell.
Russell is passionate about his boats and through hands-on experience understands what makes them work. " I believe it is essential to get to know your product and from hours on the water I get to appreciate first hand what works, what doesn't and what could be improved".
The Everyman 750 Diesel Gamefisher is Russell's own boat and has been the basis of a lot of 'on water evaluation', with hundreds of hours logged. Russell loves his fishing and there is nothing he likes more than towing lures. So, when he decided to build his demonstrator he had no hesitation of going for diesel power. This is the first 750 Diesel Gamefisher, but interest is such that Russell is certain that it will not be the last.
"After running a diesel in this boat, I wouldn't have anything else, as the diesel has proven a winner on all fronts; economy, performance and reliability", says Russell.
Power for the test boat is a 3 litre, Tier 3, 260hp Mercruiser V6 TDI diesel, running a Bravo 3 drive and a set of  counter-rotating ??" propellers. Mercury's TDI engines run on clean and modern diesel technology that provides a quiet, smooth ride with virtually no smoke or odours, making them the ideal engine for long hours trolling Plus, the V6 TDI provides an impressive fuel economy.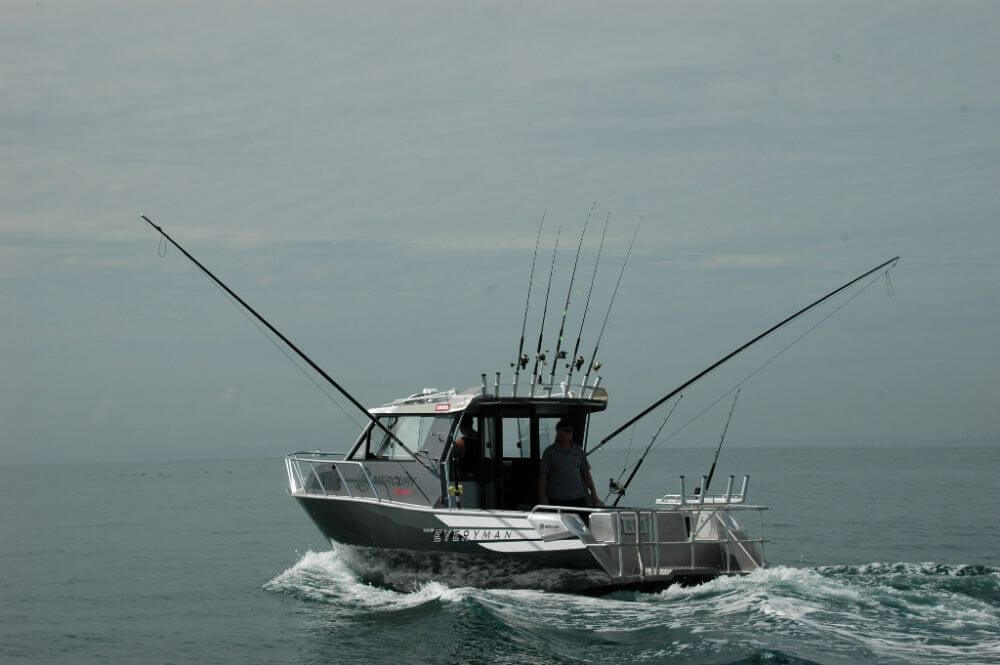 At trolling speeds around 7 knots (1200 rpm), the Smartcraft fuel management indicated 3 lph, which is less than a ½ litre per nautical mile. Based on the 295-litre fuel tank that gives Russell over a 600nm range. You would like to think he might have a marlin or two aboard in that time!
At cruising speeds around 27-29 knots, the TDi is still reasonably fuel miserly with a burn of 32-35 lph and still with a comfortable range of 220nm. Open the throttle to 4000 rpm and you get a top end speed of 35 knots and a fuel usage of 51lph. Russell told me that on a recent fishing trip to Great Barrier Island, (starting and finishing at Maraetai) over the four days he covered 290nm and used 300 litres. At around 1lpnm I would have thought that was very economical boating and something that would be hard to achieve with anything but diesel power.
It's somewhat ironic that the day I chose to test the boat you could have barefooted to Great Barrier. The Hauraki Gulf was mirror calm, no wind and it remained like that all day. We cruised out to the 42m mark behind Tiri Tiri Matangi Island, but the only ripples we got were from passing boats and spalshing dolphins. What I did learn from my few hours aboard was how easy and predictable the boat was to drive and what great stability it had at rest. The Mercury DTS (Digital Throttle & Shift) is a great feature and eliminates any clunking when you drop the engine into gear.
When Everyman Boats first approached designer Jarrod Hall (Hall Marine Design) they asked for a hull that was fuller in the bow, wider in the beam had a bigger volume than their competitors and was most importantly ultra strong. What they got was a 19 deg hull that tapers out to wide downturned chines that carry their width well forward and a beam on the waterline that is carried right out to the maximum width.
Russell says that he makes no excuses for the weight of the 750, 850 & 950 Series boats; they are heavier than most of the opposition, but then they are built stronger than most.
Everyman Boats builds tough boats and is more concerned about strength and rigidity rather than saving weight. The 750 Diesel Gamefisher has an all-up towing weight (full fuel & water) of 3500 kgs. The 6mm hull (8mm option) is built over four longitudinal stringers, with cross members every 900mm. Cabin tops and decks are all 4mm. Underfloor is all air tight chambers apart from the underfloor fuel tank and storage lockers.
Gamefisher or Overnighter
The 750 (7.65m) are available in two variants, the Gamefisher with the fully enclosed hardtop and lockable rear doors, or the open hardtop Sportfisher. Both are available with outboard or sterndrive power. The first 750, a Sportfisher, went in the water Christmas 2012 and has proven a popular model ever since. While this is the fourth 750 to be built, there has also been a number of larger 850s (8.65m), and 950s (9.47m) built off essentially the same design concept.
Russell points out that the Gamefisher is designed more like a true overnighter, while the Sportfisher is more a big day boat for the serious sports fisherman. Both have similar layouts and both are very customizable, which has proven a popular option.
"Not everyone wants the same things in a boat, so we are more than happy to spend time with a client and go through the layout of the boat and make the changes that they want to suit their requirements", added Russell.
With the inclusion of the rear bulkhead in the Gamefisher model, the forward cabin and aft cockpit spaces may remain the same, but it's the seating layout that present the biggest change between the two models.
The 'open' Sportfisher is usually set up with King/Queen back to backs either side while the Gamefisher is restricted to a pair of forward-facing buckets. Interestingly Russell has been fitting suspension tractor seats, rather than the regular marine style seats. However, you can have just about anything you like when it comes to the seating layout. It's all a matter of what's going to fit.
Russell's 750 Gamefisher, being a weekender, is appointed with a small galley, including fridge, two burner hob and fresh water system under the seat bases. There's also a fully plumbed head in the forward cabin under the pair of 2m long berths. Two infills turn this into a massive single berth. There's plenty of storage under the squabs and in side trays.
The wheelhouse is another area that offers plenty of storage spaces, both under the sole in two large lockers, in side trays and the seat bases. In a boat like this, the space on the helm is important and in the 750 there is plenty. Our boat was fitted with a 12" Simrad NSS Evo 2, Vesselview 7 engine monitoring, five analogue gauges and the operating switches for the Lenco tabs and Quick auto winch & capstan. Overhead is the Simrad RS12 VHF and Fusion RA205 entertainment module.
The 750 Gamefisher anchor locker is designed to take upwards of 200m of anchor tackle, although in our case we only had 120m or rope and 20m chain, all handled very efficiently by a Quick Aster 1000 complete with a separate capstan.
It's a great boat to spend a few nights away as it has all the necessary features without being too space restrictive inside and you still have a big open cockpit to use in summer. Toss in a few fold up chairs and a table into the cockpit, add a bimini and clears and you could extend the boat's all year weekender capabilities.
" While I love my fishing I also like cruising, especially around Great Barrier, so I like a few home comforts', says Russell.
Dividing the wheelhouse from the cockpit of the Gamefisher is Sandbrook custom made double doors, with drop down glass panels either side. Add these to the sliding side windows and a pair of overhead hatches and there is no shortage of fresh air available for the wheelhouse.
The cockpit is one for the fisherman and everywhere you look you seem to be confronted with rod holders. There are 18 in fact, in the side decks, overhead rocket launcher and around the bait station. Being an inboard powered boat the aft centre of the cockpit is taken up with a large cushioned engine box and the bait station is out on the boarding platform aft of the transom. In the outboard version, this is brought inboard ahead of the engine. Marinedeck 2000 is used on the cockpit sole.
We had an 85-litre ice bin that took care of the catch and the bait, plus there is a live bait tank option in one of the transom steps.
A tuna tube in either corner of the transom, proved ideal to stow our large Kahawai. We fished two of us from the full-width platform and another in the cockpit without getting in each other's way, and could easily have had a two or three more anglers without a problem. The high railing around the platform provides a good sense of security, plus there is a beefy drop down ladder for divers.
The Everyman 750 Diesel Gamefisher is an outstanding boat in all aspects and the only negative I have is that I did not get the chance to run it in moderate to rough water. It's a big volume, heavy boat, that I have no doubt will give an outstandingly good performance in the heavier seas.
In a few years, Hamilton based Everyman Boats Limited has come from entry level runabouts and mid-range cabin boats to some of the biggest and beaviest wheelhouse hardtop boats on the market. The 750 Gamefisher is certainly one of the 'biggest' boats in the 750 category The company philosophy is to offer exceptional boats at realistic prices with industry leading service. With the 750 Diesel Gamefisher, they have certainly achieved that.
Model & Model: Everyman 750 Diesel Gamefisher
Priced from: $
Price as tested: $
Type: Hardtop
Construction: 6mm/4mm alloy
LOA: 7.65m
Beam: 2.50m
Deadrise: 18 deg
Tow Weight: 3500 kgs (full fuel/water)
Test Power: Mercruiser V6 Tdi  Diesel @ 260hp
Drive: Bravo 3
Power options: Outboard | Sterndrive
HP Range: 225-300hp                   
Fuel capacity: 295 litres
FUEL & PERFORMANCE DATA

Everyman 750 Diesel / Mercruiser 260 Tdi

Fuel capacity:

295

litres

 

RPM

Knots

L/h

L/NM

Range  (NM)

650

4.5

1

0.230

1100

1000

6.5

1.95

0.300

880

1200

7.0

3

0.430

610

1400

7.5

6

0.800

330

1600

8.5

9

1.100

240

1800

9.0

12

1.400

180

2000

10.0

15.5

1.600

160

2200

14.5

18.5

1.300

200

2400

16.0

20.5

1.300

200

2600

20.5

23

1.200

220

2800

22.0

25.5

1.200

220

3000

25.0

30

1.200

220

3200

27.5

32.5

1.200

220

3400

29.0

37

1.300

200

3600

32.0

40.5

1.300

200

3800

33.5

47

1.500

170

4000

35.0

51

1.500

170