Improving With Years
The FC 535 CC has all the right characteristics of the original FC 500 but comes with a few new improvements that make it an even better boat. Barry Thompson spent a day fishing and diving recently and came away very impressed.
Three years ago when FC Boats released the FC500 centre console, they struck pay dirt. The boat was an immediate success and until it was replaced by the FC535, proved to be one of their top selling centre consoles.
The main difference between the FC500 and the new FC535 are a new transom with three storage lockers, a new outboard pod, increased hull side thickness from 3mm to 4mm and full longitudinal stringers for a more rigid hull.  The centre console has also been moved forward.
When Ross Christensen says his boats are designed by fishermen for fishermen, he is not kidding. It's not a loose sales slogan, it's a fact! Ross is a hard-out fisho and so when it comes to designing and fitting out his FC brand, he does it right. From years of experience, he knows what works and what doesn't.
When the time came to review the FC535, one of FC's latest centre console boats, I thought rather than just a quick run around the harbour, I needed to give it the full-monty fishing and diving test to do it justice.
I got hold of a good mate of mine, Barry Masefield, who is an amazingly skilled fisherman, plus my youngest son, Mitchell, who was home for Xmas from overseas, where he is First Officer on a superyacht, loaded the boat with two full sets of SCUBA gear, nine rods and everything else you need for a serious day on the water. Firstly what impressed me was how I was able to stow so much gear away and off the cockpit sole. The FC535 has a huge centre console pod that incorporates a forward seat, which when hinged up, reveals a cavernous dry storage space. We managed to stow both sets of dive gear, including the dive tanks, a couple of tackle boxes, a second tote tank, my camera bag, the lifejacket and safety bag, plus an assortment of jackets and other gear. Impressive and a real feature of the boat.
Then when you go forward, the extra large foredeck not only provides a great casting platform if you are soft baiting, it also encompasses a deep exposed anchor locker forward and split shelves aft with easy open access. On the shelves we stowed some more gear and by the time we had the rods clipped into the side racks and the fish bin secured, space left to walk around was still very generous. Storage is also provided in lockers across the transom.
There are rod racks under the wide coamings but no shelves as the upper space are all a foam filled buoyancy system, which along with the natural buoyancy under the sole makes the FC535 virtually unsinkable.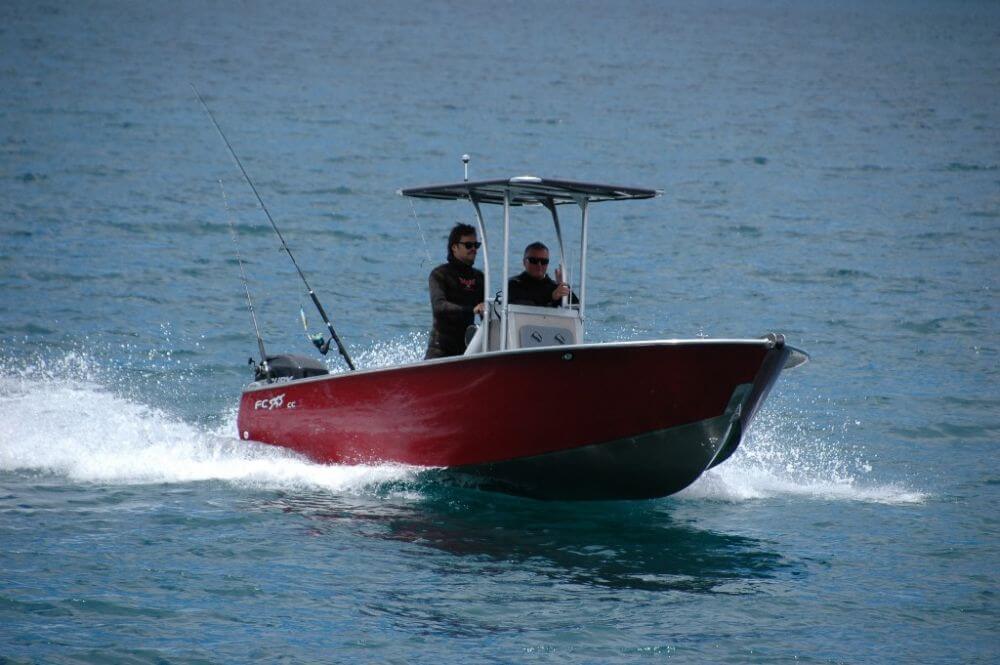 The FC535 has a very simple and efficient centre console layout, with practicality the key. It is also available in a side console version. Since the first FC535 was released at the 2015 Hutchwilco NZ Boat Show, a considerable number have been sold and each owner has given their particular boat their stamp. The options list is extensive, from engine options, (2 stroke or 4 stroke, 50hp through to 70hp), capstan or drum winch, deck tread, T-Top with rocket launcher and clears, through to a fully painted hull and a Minn Kota electric outboard.
While the base boat starts at $NZ29995 with a Mercury 2S and Voyager low ride trailer, our boat had a retail price of around $NZ40,000 with the Mercury 4S. How much you spend depends on how many boxes you tick on the options list.
The beauty of alloy is that you can change the layout around reasonably easily to suit your purpose. So when it comes to seating, the base boat comes with forward seating on the centre console and that's it. Options include a couple of transom fold-away seats and twin pedestal helm seats. While I would probably go for the fold-away seats, I wouldn't add the twin pedestals, as I would rather leave the increased space aft of the helm uncluttered. After all, this is a fishing boat and space is critical. A large Engel bin with a cushion would be a good option and you can then move this aside when fishing. Also gives you a perfect bait or catch bin.
With the console now slightly forward of the previous FC500, the workable fishing space is increased, so why fill it up with seats. I found the wide side decks and transom made great seating when underway, being dry and comfortable.
There is no underfloor storage with all spaces under the fully welded tread plate sole providing buoyancy, so fuel is carried in tote tanks. FC provides angled recess positions under the aft deck for your tote tanks and also gives you the option of mounting them inside the centre console. I like the console arrangement as this provides a good weight balance, with the extra 40 kgs of fuel in the middle of the boat.
If I am using a boat for the first time I like to make sure I have enough fuel aboard, so, in this case, I took 2 x 25 litre tote tanks and a 10 litre reserve tank just in case. Man, did that prove to be overkill. 
The day's trip was from Manly Beach on the Whangaparaoa Peninsula, Auckland, across to Bostaquet Bay at the SE end of Kawau to catch some livies, then to Flat Rock for kinghies and snapper, before heading back to Bostaquet Bay for a scallop dive.
What really impressed me was that we used almost exactly 25 litres for the 40nm trip and I say exactly as the engine started to splutter when we were 50m from the beach at Manly on our return. Considering we had travelled most of that distance at between 4800 – 5200 rpm, @ around 30mph, that's what I call economical boating at its best.
The Mercury 60 4S, running a 13" 4 blade Trophy Sport ran out to just shy of 6000 rpm, so the set up was practically perfect.
The sea state for the test was 10-15 knots from the SW so we had a following sea heading out and right on the bow coming home. Although the FC535 is only 13 deg deadrise at the transom, the ride was smooth and relatively bump free.  While I have not driven the previous FC500, I am told that the increase to 4mm sides has made quite a difference to the ride and stiffer feel of the boat. The extra wide chines (FC call it their Dry Riding Gunnel System), really work to keep the spray low and flat and add to the great stability at rest. This boat doesn't have the ballast tank system of some of the larger FC models, but it doesn't need it either. It is an easy boat to trim to perfection in whatever sea you are confronted with. Although the boat came with clears for the T-Top, we never needed them as the boat proved extremely dry at speed. The T-Top is two piece, with a 2.5m overall trailerable height, that reduces to 1.6m when the top section is removed.
I have been out in a number of FC boats but never used the built-in passive live bait tank before. It's a simple and very effective system that fills when you stop and empties (if you take the bung out) when you are underway. Our first stop at Bostaquet Bay proved successful with a few livies that we dropped into the tank. Over 40 minutes later when we stopped at Flat Rock, they still looked fresh and very active. I did find the water splashed up a little when we hit the rougher sea conditions, but there is an optional hinged tank lid to stop that.
When you have three guys fishing from the boat, you need to keep some assemblance of order when it comes to gear. In the FC535, there is enough space for 3-4 anglers (or divers) to work both ends of the boat. We caught a few Snapper, jigged a reasonable size Kingfish (although he eventually dropped off) and hooked an infuriated Mako that gave all around us a spectacular aerial display (it to lost the hook- fortunately).
Although we didn't have the optional rocket launcher on the T-Top or bait board, there is still eight coaming rod holders so keeping the rods off the cockpit sole wasn't a problem. I also liked the height of the coamings that is perfect for bottom fishing and Barry commented that it was ideal for jigging.
Back at Bostaquet Bay, we (well the other two anyway) dived for some scallops, which proved extremely successful in a very short time. Both divers commented on the space aboard to gear up and the wide flat side decks, which made entering the water easy. Coming back aboard, there is an optional dive ladder that can be accessed with flippers still on if necessary.
Back at the beach after our day out, the tide was very low, so I was keen to see the Voyager Low Rider trailer in action. In a word…. exceptional. With very little water under the boat, the FC535 slipped easily onto the trailer and required minimal use of the winch. An effortless boat to handle for two people. Once home and we had all the gear unloaded, I also found the boat very easy to clean, with no cavities to catch water or a forgotten pillie.
Centre console boats are certainly gaining popularity again and while the grp versions are restricted mostly to imports, the alloy boat manufacturers have not held back and today it's not uncommon to see 6-8m centre consoles. If you are seriously into fishing and diving and taking the wife and kids away for a family outing is not the criteria, then centre consoles are the answer.
The FC535 is one of four FC Boats centre console models, ranging from 4.3m to 6.4m, so there are other size options based on the same platform to suit. I have spent the past three seasons fishing from a tiller steer 4.8m open alloy boat, but after taking the FC535 out for a day, I now appreciate more why people like them. The FC535 is certainly a great example.
Model & Model: FC535 Centre Console
Priced from: $29,995 (60hp 2Stroke)
Price as tested: $40,000
Type: Centre Console
Construction: 4mm/4mm alloy
LOA: 5.35m
Beam: 2.05m
Deadrise: 13 deg
Trailerable Weight: 750 kg (est)
Test Power: Mercury 60hp 4S
Propeller: 13 Trophy Sport
Power options: Outboard Only
HP Range: 50-70hp
Fuel capacity: Tote Tanks
| | | |
| --- | --- | --- |
| rpm | knots | L/h |
| 1000 | 3.0 | 1.3 |
| 1500 | 4.5 | 1.9 |
| 2000 | 5.5 | 2.7 |
| 2500 | 6.0 | 4.3 |
| 3000 | 9.5 | 6.6 |
| 3500 | 16.5 | 7.4 |
| 4000 | 19.0 | 9.4 |
| 4500 | 22.5 | 11.5 |
| 5000 | 24.0 | 17.2 |
| 5500 | 28.5 | 19.0 |
| 5800 | 30.5 | 20.6 |