Auckland's largest trailer boat retailer plans to have an impressive line-up of alloy boats at next month's Hutchwilco NZ Boat Show.
Leading the line-up will be an extensive range of their brands, Lazercraft and Southern.
Lazercraft Boats, one of New Zealand's original alloy boat manufacturers, has been producing high-quality alloy boats since 1984, having pioneered many New Zealand boating firsts over its colourful history.
Today, Lazercraft continue to craft one of New Zealand's finest finished alloy boats, many of which include Aluglass technology featuring alloy hulls for durability and lightweight with fibreglass decks and internal mouldings for comfort, warmth, noise reduction and good looks.
. The range is ever-growing, now spanning the Ski, Divemaster, Centre Console, GT Limited (soft top), Sportfisher HT and Limited HT series.
Southern Boats, based in Mosgiel, Dunedin pride themselves on presenting you with some of the finest handcrafted alloy boats available today. Models range from 6.5m-11.00m across their XF and XP Series, with a recent addition of the impressive electric amphibious technology of Tectrax. With a heavy-duty alloy hull, composite hardtops and interior mouldings and sleek marine paint finish, the Southern line-up is unrivalled aesthetically, dynamically or practically.
Family Boats will also be exhibiting a range of the Australian built, Quintrex brand. The popularity of Quintrex Boats in NZ is growing rapidly, and one of their most sought-after models is the 420 Busta. Featuring the sleek and easy-planing Blade Hull, the 420 Busta is a great entry-level tinnie, ready to take you on a day of fishing adventures. With a forward casting platform, carpeted low floor and side pockets, there is enough room in this model to fit all the fishing gear as well as a few of your mates.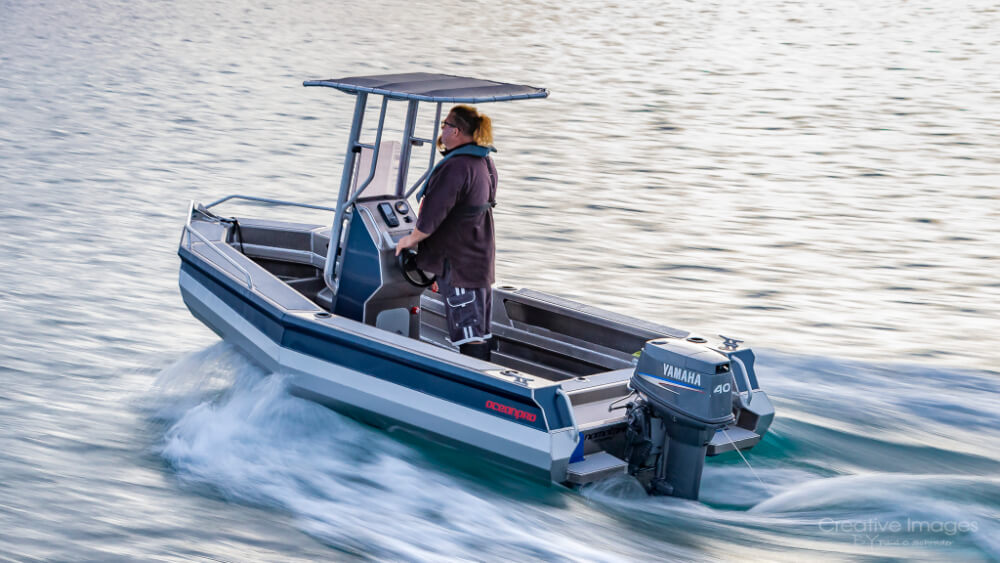 If you are looking for a pontoon boat, then Family Boats will have a number of the Kiwi built, Oceanpro range. Oceanpro builds their boats with a high bow and fine entry hull to provide sea-keeping abilities typically only found in a larger sized boat. With an expanding line-up that includes centre console and cuddy cabin models, these boats are the perfect option for fishing, diving and family fun.