If you like the classic look of teak on your decks and floor, but don't want to go to the expense of real teak, then maybe you should take a look at one of the many synthetic alternatives.
Teak and exotic timber has been used in the construction of boats for ever and a day and although proportionally very few timber boats are built these days the use of teak decks is still fairly common. However, this is not something that the average trailer boat owner would have on his 5-7m boat, but is more acceptable on larger cruisers over 10m.
There is a question not only of coast but also weight. Real teak decking weighs around 7kg a sqm, compared to Faux teak at around 4.5 kg per sqm. Convert that to the cockpit flooring, boarding platform and side decks, of around 20sqm and you would be looking at around another 50 kgs.
To lay real teak into that same boat is going to set you back around $2,700 m2 Including materials and labour and take an experienced boat builder about 500 hours to apply.
Compare that with faux teak, which can be pre-cut on a computer and glued into place in a few hours for a fraction of the cost. Materials and labour will set you back around $1100 m2 depending on size and just how technical the deck is.  Plus this gives you more time to enjoy your boat and catch a few fish.
You don't see many production trailer boats with teak decks, and since the advent of faux teak, the 'teak;' look has become very trendy.
Once upon a time a teak deck was the real thing and very much part of the construction of the boat. The teak was laid over deck beams and oakum or cotton caulking was hammered between the planks to make them watertight. Nowadays, with composite construction, a teak deck is purely cosmetic and a symbol of a good quality boat rather than a structural component.
The down side of using real teak is the environmental issue, which is worsening as time passes. Many countries also have bans and restrictions on the importation of teak. The limited amounts of quality teak available are protected or inaccessible, and rightly so, as the last thing our environment needs is for us to be cutting down trees unnecessarily. And this is where faux teak or imitation teak really comes in to its own.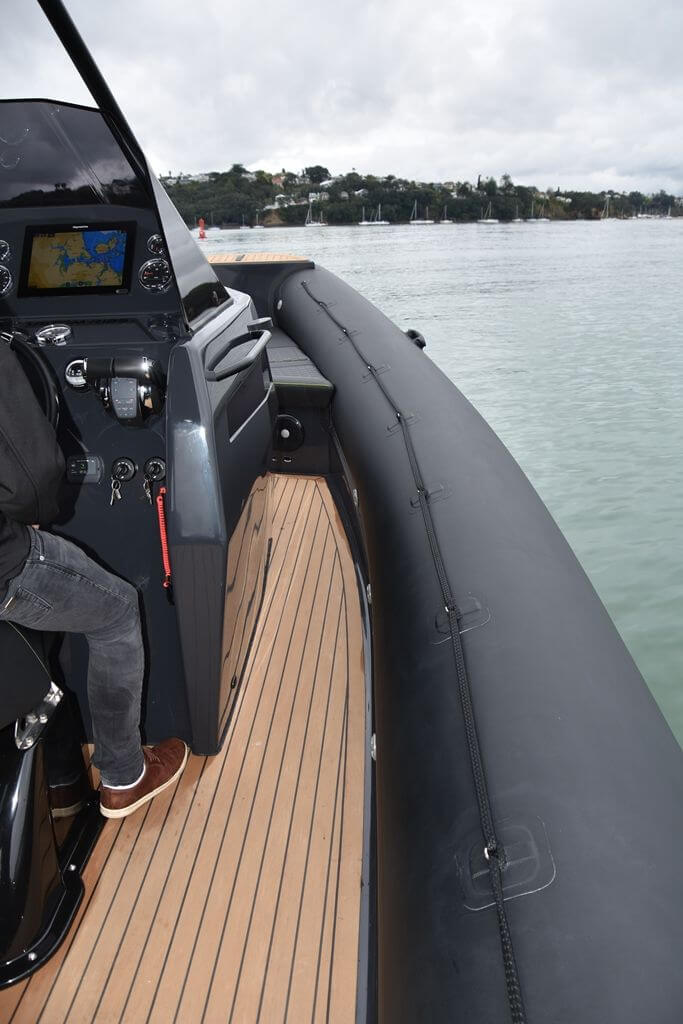 What are the alternatives?
If you enjoy the look and feel of a laid teak deck but would like to protect the environment whilst saving money and reducing your maintenance time, then you might light like to look at the alternatives. For example, cork and synthetic decks have been around for a long time and are becoming much more prevalent, now appearing on superyachts, cruise liners and production boats. Also, synthetic deck materials are increasingly being used by DIY owners. Each alternative has different properties, so you need to choose carefully.
PolyVinyl Chloride, or PVC for short is used by two of the world's leading sunthetic decking manufactuers. It looks and feels amazingly like natural teak, and has some distinct advantages over natural teak in terms of installation, cost, and maintenance.
Because synthetic teak decking measures just 5 mm it's flexible enough to conform to surfaces that aren't flat. You install it by gluing it down to a clean surface with a two-part adhesive. One considerable advantage of laying a synthetic deck as compared to a natural wood deck is that you don't have to drill any holes for screws, thus you don't compromise the structural integrity of the underlying deck. And the installation is much easier than with real wood because synthetic decking can be cut easily with a sharp utility knife, and most of the caulking required for teak decking is eliminated.
Synthetic teak decking requires little maintenance—occasional washing keeps it in good shape. For surface damage, the decking can be sanded, as both the colour and the grain extend through the entire thickness.
Ultralon Foam International Ltd is a NZ based company owned by Skellerup Holdings Ltd an iconic long established NZX listed company.
In 2015 Ultralon a global manufacture of PE and EVA foams developed the U-Dek marine deck product. U-Dek is made from lightweight closed cell foam, offering a high level of comfort underfoot and excellent traction in all conditions. Durable, low maintenance, U-Dek has been designed specifically for deck kits and is supplied in various colours and tread options to suit individual styles.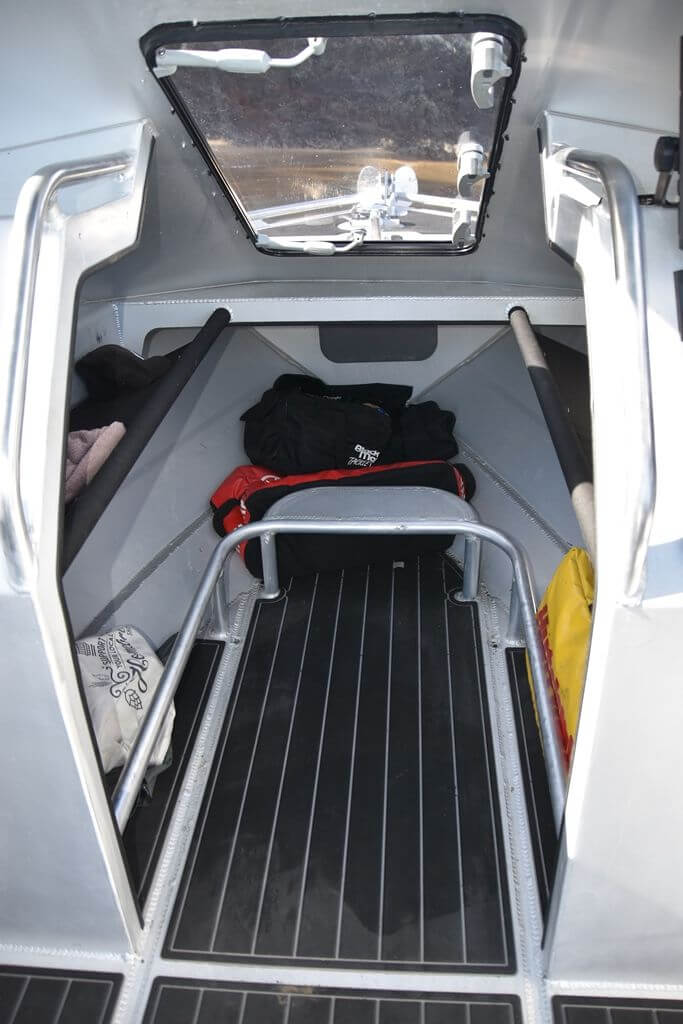 Small packs of U-Dek are available in a variety of sizes in different colour combinations, all with a 3M marine-grade Pressure Sensitive Adhesive (PSA) on the back, for easy peel n stick application.  These include fish rulers, gunwale step strips, non slip deck strips, and step pads.
U-Dek also offer a custom measure service for boats of almost any size. Simply select your colour and tread pattern combination then an experienced installer can assist you in accurately digitising the deck area after which a CNC machine will cut your U-Dek kit. With on-site installation of your deck, you'll be back on the water in no time, enjoying what you love most!
As a leading global manufacturer of PE and EVA foam, Ultralon Foam International designs and produces U-DEK using their own dedicated plant and IP. Tightly controlled manufacturing processes, careful selection of raw materials, high level technical expertise and the latest technology and equipment, enable U-Dek to offer customers quality, reliability and consistency of product. U Dek is exported to the USA, EU and APAC regions in significant volumes.
Their closed-cell chemically cross-linked foams are manufactured from polyethylene (PE), ethylene-vinyl acetate copolymers (EVA) or a high-tech blended copolymer. The fine cell structure gives minimal water absorption, a high buoyancy rating and excellent chemical resistance.
Ultralon foams are produced in moulded block form and can be trimmed to size and thickness. They are easily processed, using standard foam-processing machinery. No chlorofluorocarbon (CFC) product or derivatives are used, and no organic fillers are added to foams.
U-Dek is easy to clean to keep it looking fresh day after day. Custom routing is available to create unique designs of your preferred pattern, design or logo into the deck. U-Dek is a durable solution that is proven to last upwards of 8 years.
Flexiteek is the original synthetic marine decking. Made of composite materials, Flexiteek looks and feels like real teak, yet is more durable, environmentally friendly, offers lower maintenance, UV resistance, and provides superior anti-skid performance.
Flexiteek 2G cools 30% faster than traditional composite decking, allowing you to walk across barefoot. It is 35% lighter than other composite decking systems and is fully recyclable.
Decks can be built from single and double planks to make curved sprung decks or four planks to make larger straight decks quicker.
Flexiteek is not sold as a DIY system, each deck is custom made from a template to the exact shape and size and then supplied complete, ready to glue to the boat surface. Installation can be carried out by the boat owner or a trained installer. Distributors build the decks by heat welding each flexible plank to the next and then adding details such as margins and hatches.
This form of construction produces an extremely strong and waterproof decking system. This method does not involve glue and there is no seam caulking that can break down or fall out. Flexiteek can be laid over any structurally sound substrate that is smooth and fair regardless of size, shape and location.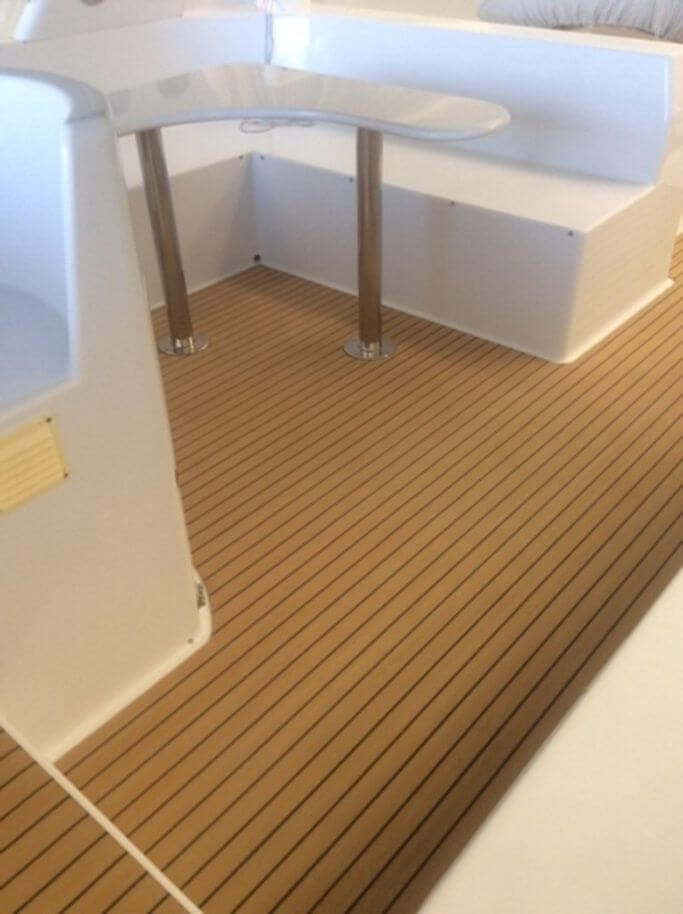 Flexiteek is sandable with individual graining – the result is natural looking and the feel is realistic. The deck is extremely stain proof and is easily cleaned even with a power wash. High grade UV stabilisers are used to ensure the decks stay looking like new.
Flexiteek decks are 5mm thick and available in a wide variety of colours, including Natural Teak, Weathered, Scrubbed which are the more common ones.
If you are looking for a true DIY marine deck matting then check out NZ Rubber & Foam, a Tauranga based company that provide pre-cut marine deck matting sheets ideal for the home handyman. Available in dark or light grey with a black u-groove, the marine deck matting is made from closed cell EVA foam, with a self-adhesive backing.
Soft under foot, the sheets are 1.1m x 2.1m and 6mm thick. The ribs are 47mm with an 8mm gap between the ribs.  They are ideal for any flat surface on your boat, paddle board, surf boards jet ski or in fact any wet surface.
Permateek's quality synthetic teak flooring is highly resilient against the elements, UV-stable and looks just like real wood. With a range of 15 colours and three different caulking lines, boat fitters can personalise decks with more than 45 unique options to suit any style.
In addition, there is a range of multi-colours that come in Bright, Dark and Weathered which give the natural multi-colour effect of real teak.
Permateek marine decking and flooring can be fitted to almost any surface including GRP, wood and steel. The boat decking's flexible nature allows it to be shaped or contoured with ease. It has a roughened surface that looks like natural grain and is an exceptional non slip boat marine flooring, even when wet. It also incorporates sound insulating benefits.
Permateek is highly resistant to sun, rain and seawater, and, when wet, its non-slip qualities remain equally effective. Flooring colour options can be ordered with either ivory, silver or black caulking lines, giving you even more choice over the look of your new boat flooring.
SeaDek non-skid is a closed cell EVA decking material. It is non-absorbent, stain resistant, easy to clean, UV resistant and durable in the marine environment. It also offers comfort and anti-fatigue properties over moulded-in or other traditional hard surface non-skid applications.
SeaDek non-skid offers a soft cushioned comfort on boat surfaces, excellent traction both wet and dry, plus offers chip and scratch protection for boats surfaces.
With an easy peel and stick installation, SeaDek is a completely customisable material that can be configured for nearly every boating and watercraft application where high quality, comfortable and safe non-skid decking or anti-fatigue footing is required or desired. SeaDek is available in many colours, thicknesses and combinations.
You have the choice of a DIY installation based on a template kit, where you can measure up your own templates and send them to Seadek to be CNC cut for accuracy in fabrication. These panels are then dispatched to you to install.
Not everyone has the time or is confident enough to install SeaDek themselves, so a network of certified installers can handle jobs from start to finish.
Nuteak synthetic decking is another alternative to teak decking that can be applied to almost any surface including fiberglass, steel and wood. Nuteak is impressively non-slip even when wet. Nuteak decking material comes with white or black caulking and three different plank sizes.
Colour fast pigmenting and "graining" give Nuteak an authentic look. Combine this with the fact that each strip actually includes its own caulking edge and tongue and groove ends, the end result will look like something laid by a traditional craftsman.
Since Nuteak flexible is non-porous water, oil, and dirt does not penetrate the material, it requires no oiling, varnishing, sanding or scraping. Cleaning is simple just use soap and water. Unlike teak it also can be pressure washed.
Since the material is UV stabilised and is coloured throughout its thickness it will retain its classic appearance for many years. The material comes in 45mm, 60mm, and 75mm wide planks. they also come in double plank profiles for easy and quick progress of your project. their flexibility make it very easy to work with.
NautikFlor is recommended for interior usage on marine vessels because of its maintenance free nature and the manufacturing process that nullifies the effects of water.
The planks perfectly recreate the look and textures of actual wood and teak flooring for a fraction of the price. NautikFlor planks will not rot, crack, rust or corrode because they are water and abrasion resistant. NautikFlor is stain resistant and can be polished or varnished to reclaim a pristine, freshly installed look.
The HD printing process flawlessly duplicates the look of synthetic teak. The technology also allows for logos and names to be positioned anywhere on the planks.
NautikFlor is emphasised as a DIY product because the angled click system is very simple to use. Glue simply needs to be placed under the planks before they are laid down to prevent shifting on boats. 
An Eco-Friendly Product featuring a 100% Waterproof Hydro Board Waterproofing is not only convenient, it is protective.  NautikFlor is a fraction of the price of its real teak counterparts all the while being more durable and is aesthetically pleasing. NautikFlor never needs to be sanded and the colour (six colour combinations available)of the planks stays true over time.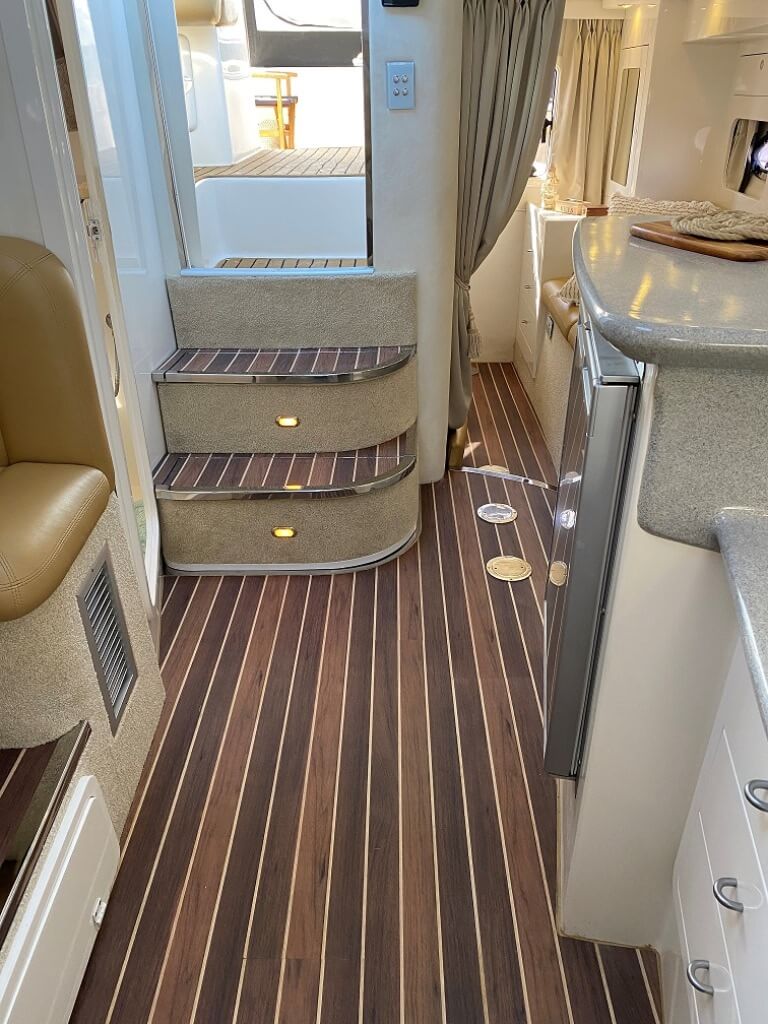 MarineDeck 2000 consists of highly compressed natural cork particles in a polyurethane binder. Cork, in this application, has excellent thermal and sound insulation properties, as well as being highly resistant to damage from UV light, salt water, and even chemicals. The pressed cork is cut into planks, that, once assembled, and seen from just a slight distance, look remarkably like real teak decks.
Installation is possible on any flat surface, in any marine environment, whether it is steel, aluminium, wood or glass/carbon fibre reinforced materials.
Marinedeck 2000 is made from finely granulated cork, which is mixed with a polyurethane elastomer as a binder. A UV inhibitor is also added, before the mixture is cured in 20-tonne presses.
Marinedeck 2000 is produced in 50mm & 75mm normal, 36mm narrow, margin and 125mm king plank widths. The planks are 1.88m long and sold as a DIY system. Planks are laid individually and then caulked and sanded like a teak deck. 400mm and 500mm wide sheets are also available for prefabrication by production builders.
Marinedeck 2000 can be coated with a finishing product, but it's best left bare. The bare surface is better for traction and grip as well as being cooler to the touch when exposed to harsh, direct sunlight. In fact, a natural teak in direct sunlight in the down-under summer soon feels too hot to walk on barefoot, but Marinedeck 2000 does not. When wet, the top layer of cork granules absorb a little moisture, and this further improves traction. Cork is renowned for its thermal and sound insulation properties.
If you would prefer a luxurious carpet alternative that is stain resistant, soft underfoot, then you cannot go past Infinity Luxury Woven Vinyl.
Made in the USA this product looks like teak and feels terrific. It can be used internally and externally and is backed by a 10-year warranty. It is flexible and can be glued down or loose laid and will not curl but will stay flat. You can bind the edges like a carpet mat or lay it wall to wall without the need for binding. There are currently 12 colours/patterns available in New Zealand.
Since 2008, Infinity Woven Products, LLC has offered boat designers and specifiers the premier floor fashion proven to withstand even the most demanding environments. Each product boasts UV-stable fade resistance and antimicrobial technology to prevent bacterial growth.
Founded on the principles of environmental sustainability, innovative design, and client education, Infinity continues to challenge the status quo. Infinity's Luxury Woven Vinyl face fabric is directly attached to a vinyl cushion backing.
Most spills and stains can be removed from Luxury Woven Vinyl with soap, water, and a clean towel. Luxury Woven Vinyl can also be vacuumed or mopped. Tougher stains can be cleaned with a solution of 1 cup bleach and ¼ cup mild detergent per 4 litres of water.
With the large cost savings involved and environmental issues, these deck alternatives are worth considering. Although each of the products gives a "teak deck look" there are differences. The advantages of a modern synthetic teak deck include the ease of installation due to flexibility of the 5mm strips, reduced material and labour costs and colour retention.