The Circa 950 is a big boat in every sense, with a price tag over $NZ500,000. So what do you get for half a million dollars plus? Barry Thompson went North to Tutukaka to find out.
When Jonathon Barlow first conceived the Circa 950, the underlying prerequisite was it had to be the best riding boat for its size on the water. There would be no compromise and this meant building a boat that was at the maximum towable weight and beam for a trailer boat. 
"This was always going to be a boat to compete at the high end of the trailer boat market, so not only was the ride and performance important but also the fit and finish of the boat had to be exemplary", says Jonathon.
I have reviewed quite many big trailer boats and when it comes to meeting the criteria for a blue water fishing machine, the Circa 950 ticks all the boxes. At 2.85m beam and weight of 3840 kg (no fluids), it is right up there when it comes to big trailer boats. Completing the package are a pair of 300hp Yamaha outboards, completed with Helm Master, a CAM alloy trailer and a boat that comes with over $60,000 worth of electronics.
Not only do you need a suitable tow vehicle, but you also need an appropriate trailer. Fortunately for Jonathon, he also makes trailers, with the Circa 950 sitting on a triple axle Custom Alloy Marine (CAM) trailer, complete with electric braking, a 12000lb winch and Boat Catch. Launching and retrieving from the ramp at Tutukaka was effortless, and I appreciated both the bow winch and the Boat Catch when hauling the boat out.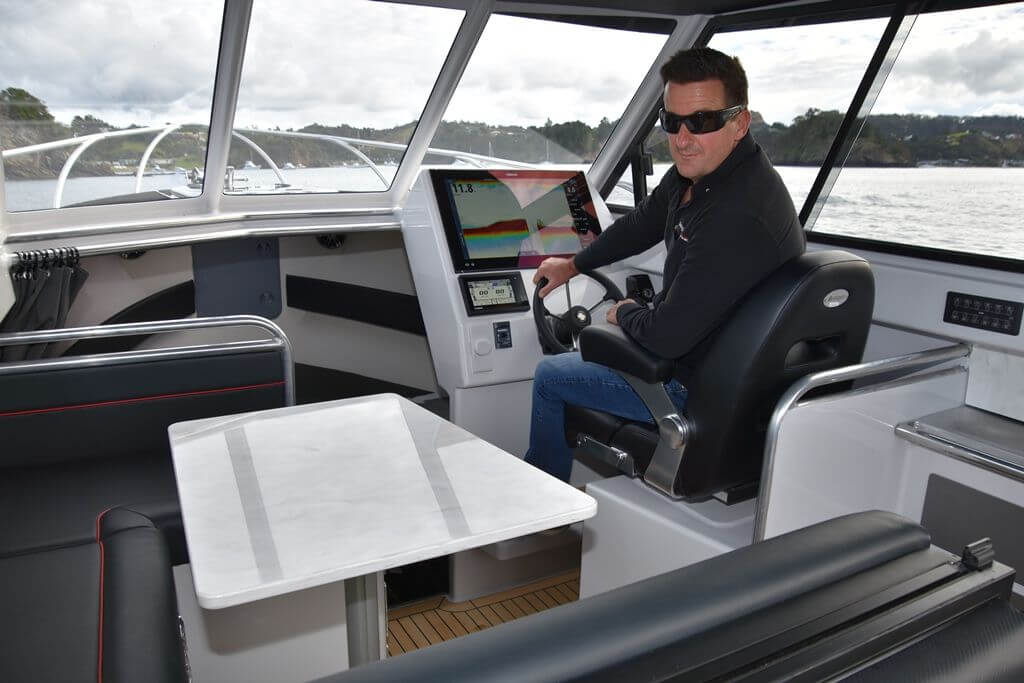 Although the Circa 950 was debuted at the 2019 Tauranga Boat Show, it wasn't until early 2020 that it actually made the water. Then along came Covid-19, lockdowns, no boat shows and travel restrictions, so it wasn't until mid-year that Jonathan and his team at Offshore Boats NZ could start showing customers.
While the Circa 950 was initially targeted at the game fishing market, it soon got the attention of boaties that were looking for a big weekend. Jonathon said that this was not a market he had initially considered, but the interest from people looking to use the boat in places like Lake Taupo and the Marlborough Sounds has been encouraging. While the Circa 950 will comfortably sleep four and provide the necessary overnight amenities, it is still a trailer boat. 
"We don't have a standard layout, and every boat is designed around what a client wants, so they get a boat that suits their requirements".
"We can do just about anything, such as changing the transom from a fishing focus to a family cruising style, move the rear bulkhead to increase or decrease the size of the cabin and power the boat with outboard or sterndrive.", said Jonathon.
It's not only Kiwis that are interested in the Circa 950, with the second boat being built for an owner in South Australia and like boat number one has been set-up 100% as a serious offshore fishing machine.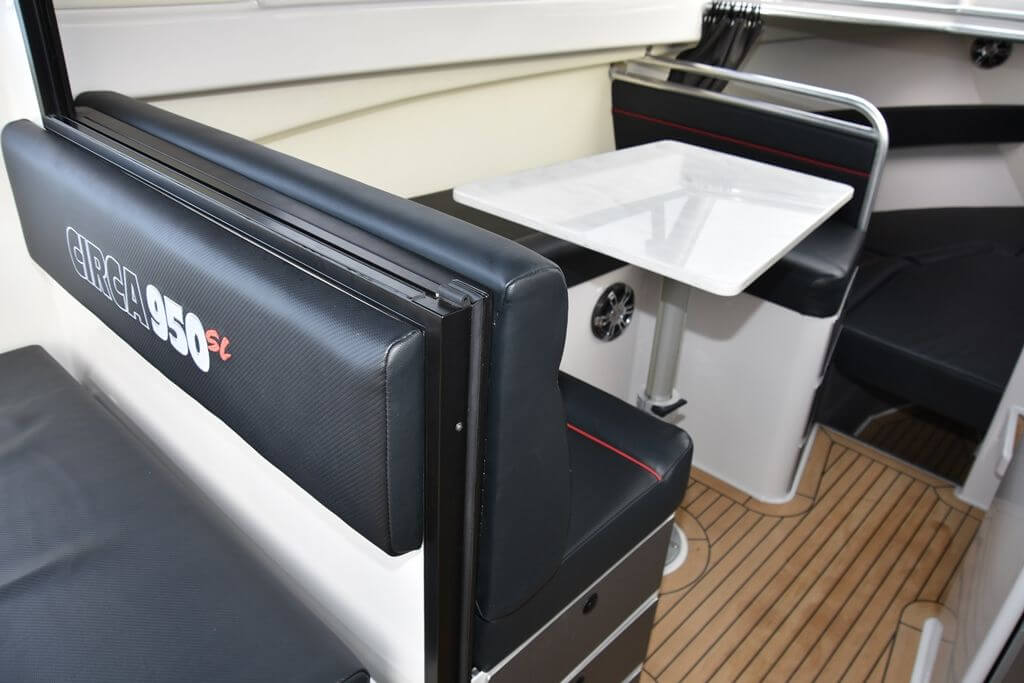 Construction of the Circa 950 is a two-fold process shared between Circa Marine and Offshore Boats NZ. The two companies have had a long collaboration, with Circa Marine building the hulls and superstructure and Offshore Boats NZ completing most of the finishing, fitout and sales. However, in the case of Circa 950 #1, all the fairing, filling and painting was done by Circa, before delivery to Offshore Boats NZ.  
"It's worked well for both of us over the years, and the combination of our respective skills has resulted in the new 950", says Jonathan.
Circa Marine's principal, Bruce Farrand, designed his first trailer boats over 30 years, and the new 950 is a derivative of those initial designs. Things have been tweaked and changed over the years, and with the 950, we see another step in both design and layout. Plus, Circa's superb fabrication has been equally complimented by Offshore Boats NZ, bespoke finish and attention to detail. Overall impression of the Circa 950 is a perfect balance of aesthetics and functional design. 
The Circa 950 is built with a 6mm (8mm option) plate hull and 4mm topsides on the superstructure. There are multiple longitudinal stringers intersected every 300mm by frames. This underfloor matrix makes the boat stiff and unyielding in the rough water. Silent and aggressive is how I would describe the ride of the Circa 950. This is a boat that eats rough water and leaves it in its wake. Jonathon's premise that he wanted the best riding boat in its class may well have been realised. 
Maximum speed with the pair of Yamaha 300s was 51 knots, with a sweet cruise at 3500 rpm @ 28 knots and a range of 300nm. Jonathon adds that the boat is more than capable of taking a pair of 425/450hp outboards or a single 450hp diesel sterndrive. Although it seems that the bulk of the enquires is for twin outboards.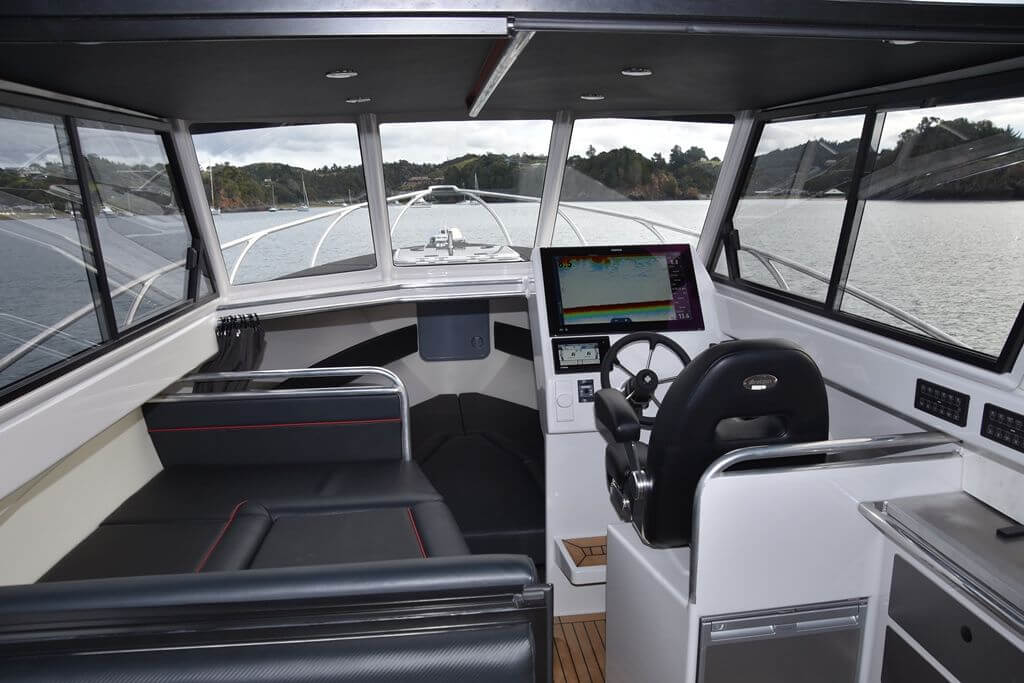 Flexiteak covers the huge clutter-free cockpit with a pair of 300-litre fuel tanks under the sole and all other spaces used for positive buoyancy. Due to the complex underfloor construction, in-floor wet lockers are not available on the Circa 950.
The transom area on the first 950 is fisherman savvy and features a central custom bait station with built-in live bait tank, tuna tubes and generous cutting board. There are twin walk-thru's to the transom which is surrounded by a cage complete with twin dive ladders.
Wide sides decks accommodate eight of the 21-rod holders and as the cockpit sole is finished with non-skid Flexiteak.
The side trays in the cockpit are wide enough for three dive bottle stowage either side, secured in place with 32mm pipe edging.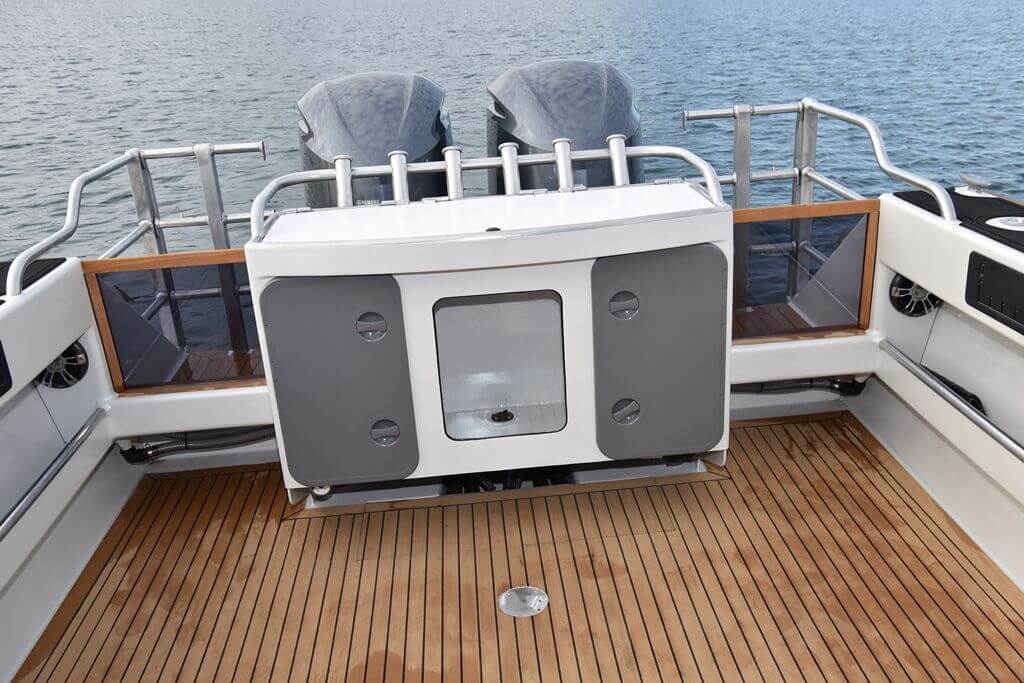 Jonathon pointed out that he starts with a clean sheet of paper when it comes to the transom design and works with each client to make sure they get just what they want. Not everyone it seems is into fishing, and there is even the option of a bbq area and bench lounger.
Starboard forward is a double bench seat, that is electrically raised to give access to a fridge/freezer as well as a cooktop/bbq and sink unit. A little different, and it works well.
You have the option of completely enclosing the area under the hardtop or leaving it open. We had a pair of Seamac bi-fold doors and a rear drop-down window, which means you can shut off the wheelhouse from the outside. Handy when the weather's not so pleasant and also makes the cabin space very quiet. Conversely when everything is open is transforms the whole main deck into one big space. 
To port is a dinette that converts to another 1.8m berth, with the helm and galley opposite. The sliding side windows are massive. The helm is fitted with a Reelax helm seat with fold-up arms for ease of access. A Simrad 24" touch screen MFD fills most of the facia, with controls for the Zipwakes, Maxwell RC8 anchor winch and Yamaha digital display below. The boat uses Czone digital switching, which can be operated from your phone. There is even a dimming mode for the Hella lights, and you can control your Fusion stereo with a touch of a button. 
Fishermen who go wide and deep in search of gamefish will appreciate the Yamaha Helm Master which through the simple use of a joystick gives you incredible ease and precision when manoeuvering the Circa 950 at low speeds. This includes the ability, through SetPoint modes to fine-tune your position such as staying over a deep canyon with the engines quietly doing the work automatically to hold you on a spot, regardless of any drift or wind.
Designed as an overnighter, the Circa 950 features a pair of 2m long berths, which has an infill to make one large double. Sitting headroom is excellent, and there are good storage areas, such as the wide side shelves. There is a head under the starboard squab and storage under the rest. A Cule overhead hatch with sun and bug screens lets in extra light and ventilation.
The Circa 950 is more than a trailer boat. It's a small cruiser. However, it has the benefit of being transportable to anywhere in the country. Taupo one weekend and the Bay Of Islands the next. The fact it can be customised to suit your imagination means the boat you get is going to be 100% what you want.
Along with the 660, 790 and 850, the addition of the 950 to the next generation of Circa boats, makes a bold statement, that the brand is back.
Boat Design Name: Circa 950  
Builder: Circa Marine/Offshore Boats NZ  
LOA: 9.50m  
Beam: 2.85m  
Deadrise: 21deg  
Construction: aluminium  
Towing Weight : 3480kg (no fluids)  
Fuel Capacity : 600 litres  
Engine Range: Up to 850hp  
Engine Options: Outboard/Sterndrive  
Test Power:  2x Yamaha F300  
Max Speed: 51 knots  
MFD: Simrad 24" 
Stereo: Fusion  
Flooring:  Flexiteak  
Price as Tested : $NZ540,000  
Trailer: Custom Alloy Marine (CAM) 
 
 
FUEL & PERFORMANCE DATA
RPM
Knots
L/h
L/NM
Range(NM)
1000
5.4
5
0.93
580
1500
7
10
1.5
360
2000
9
13
1.5
360
2500
14
30
2.2
240
3000
18
40
2.3
230
3500
28
50
1.8
300
4000
32
62
2
270
4500
36
80
2.3
230
5000
40
120
3
180
5500
43
154
3.6
150
6000
45
200
4.5
120
6000
42
200
4.8
110
WOT
51
204
4
130
Range is calculated on 90% of the fuel capacity.