Anything's Possible
Barry Thompson went to Invercargill to check out the Frewza F16 Fisher Sport Jet and found a boat that is destined for more than rivers.
I have not done a lot of jet boating and what I have has mostly been on rivers, so it was a new experience to try out the Frews Marine's multi-purpose jet boat. This is a boat that is not solely designed for river boating and has all the right attributes to make it a good little 'sea boat' as well.
I can remember quite a few years ago testing a Ramco jetboat and I wasn't impressed. An outboard boat that the builders had decided to drop a jet unit in, it just didn't work. It was noisey and rattly and didn't perform well. However, I can't say the same about the F16 Fisher Sport Jet. Quite simpny it's an awesome boat that is an amazing performer.
Designer Brendon Frews knew what his customers wanted when he built the first jet powered F16 and he made all the right changes to the bottom of the outboard F16 so it would work as intended. The shallow vee and thicker alloy plate on the running surface make it ideal for rivers and shallow estuary boating, while the cuddy cabin styling lends it be being a perfect inshore fishing boat.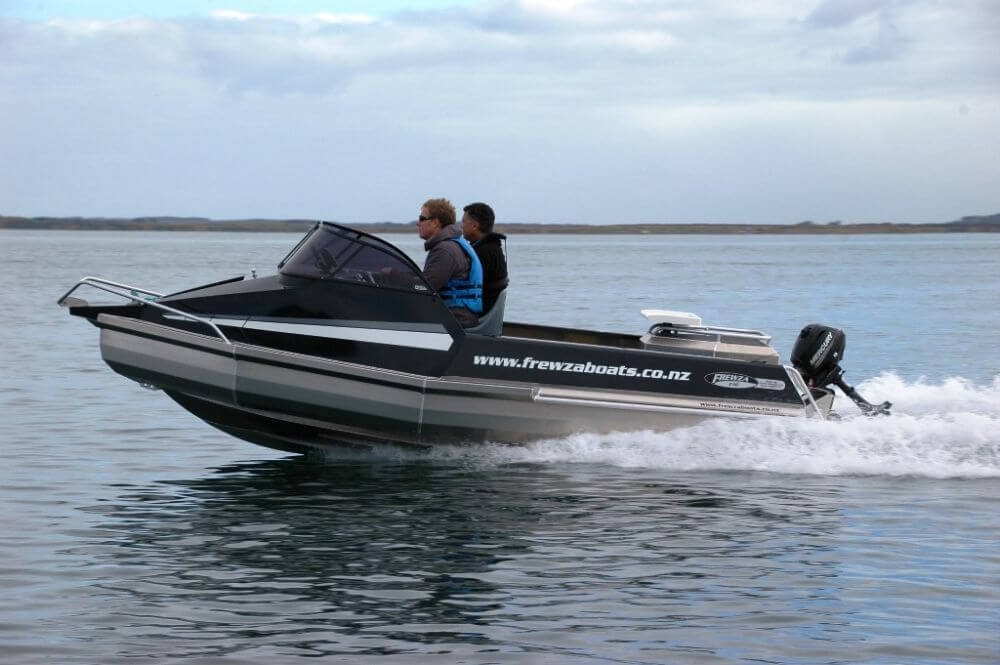 Bluff Harbour proved a great place to give the boat a run and as you can see from the pictures, it was far from calm. The boat did everything you would expect from a jetboat and yet performed as good as an outboard version. It is reasonably quiet and  there's no vibration noise through the hull.
While the F16 shares a lot of attributes and styling of the F16 Centre Console and the F16 Fisher, the hull is entirely different. Firstly the external beam of the F16 CC and Fisher are 2.00m, whereas the F16 jet is a slightly narrower at 1.98m. They all share the same 1.42mm internal beam. The LOA of the Fisher Sport Jet is also longer at 5.10m compared to 4.95m for the outboard models.
While the F16 Cuddy and Fisher are constructed with 16 deg, 4mm bottoms and 2.5mm sides, the Fisher Sport Jet has a 12 deg, 5mm hull running surfaces and 4mm pontoon sides. There is also a 5mm full-length keel protector, which provides a 10mm keel line. Enough to take on most river boulders.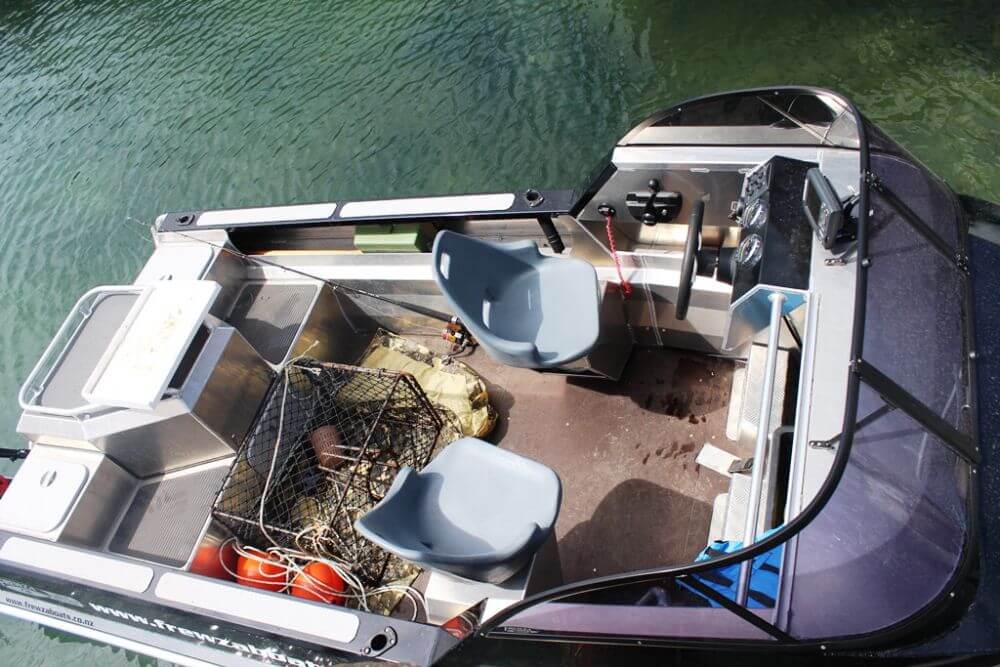 "We know that being a jetboat it's going to be used in more extreme river and shallow coastal conditions that most people would take an outboard so it's got to be tough and be able to handle plenty of gravel rash across the bottom", says Brendon.
Frews Marine Limited are based in Invercargill and manufacturer a wide range of aluminium pontoon boats ranging from 2.8m to 9m. Brendon Frew is the designer and manufacturer of Frewza Boats and has a reputation for producing rugged, yet stylish and most importantly an affordable range of aluminium pontoon dinghies and boats.
The F16 Fisher Jet we ran was powered by a 2.5 litre, V6, Mercury 200 Optimax Sport Jet, which proved very quick in this little boat. The whole package, including the jet unit weighs 166kg, compared to a 3 litre, V6, 200hp Mercury Optimax outboard at 229kg. A whole lot lighter with the same horsepower output.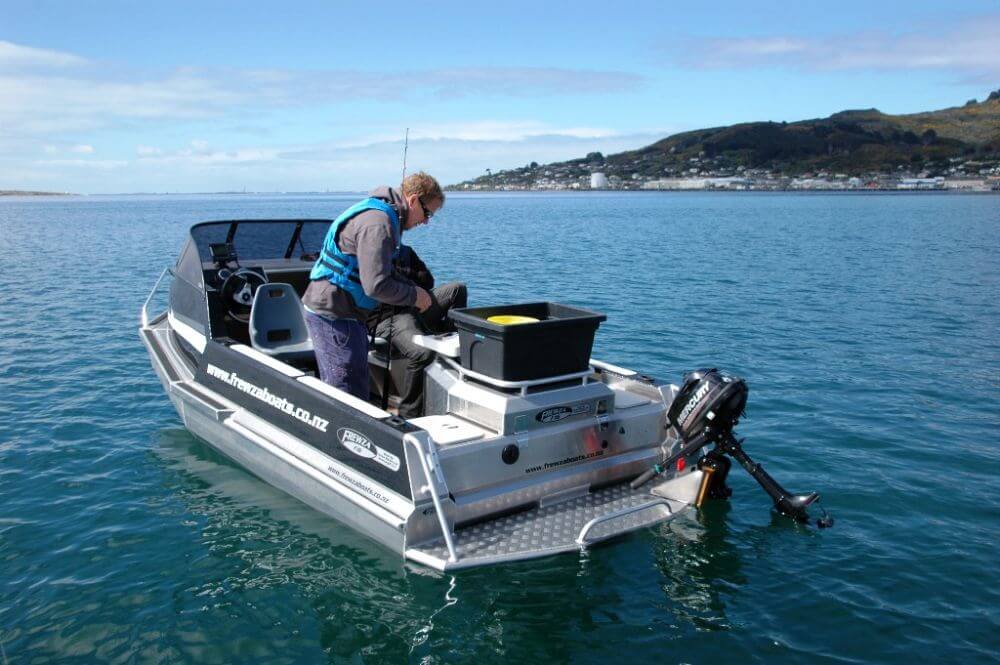 Top speed was 43.2 knots (49.7 mph) and the V6 engine was burning 64 lph @ 5600 rpm. Drop that back to 5000 rpm and 36 knots (41.3 mph) and the fuel gauge dropped to 45.0 lph.
In the conditions, I found 4000 rpm was most comfortable and at this, the fuel dropped to a very conservative 21 lph and the speedo was on 26 knots (30 mph).
The layout of the F16 Fisher Sport Jet incorporates a full-width boarding platform, which covers the jet unit and there was even an outboard auxiliary bracket on the starboard side. The helm is to port, which while uncommon for an outboard powered boat is very conventional in jetboats. Seating is twin cantilevered swivel bucket seats forward with jump seats either side of the central engine box. Storage trays run down either side and are recessed into the side pontoons, with more dry storage available in the cuddy. A 100-litre fuel tank is fitted under the cockpit floor.
The boat we ran is used for fishing and came with not only rod holders and a central bait board, but also a blue cod pot. We dropped this over the side early on during the test, but when we brought it back aboard it was still empty. We did try a spot of soft baiting for some cod in Bluff Harbour with some success, although nothing that was worth a photo!
Around the transom there are deck hatches for access to storage space and the raised alloy engine box lifts off when you need to get to the Mercury Optimax for servicing. At the other end of the boat, the F16 Fisher Sport Jet has a large open anchor locker. This could be adapted to fit a small drum winch which I reckon would be perfect for a boat like this. If you do need to go forward, then the Sport Jet comes with a walk through windscreen, plus there are also dedicated side steps provided.   
One thing I was impressed with was the overall finish of the boat. Not only does it look good, but it's also extremely well built, right down to the quality of the welds. There are three separate air compartments in the pontoons and a separate sealed underfloor compartment, which makes the boat vertically unsinkable!
Being an alloy boat, it is up for customisation and this is something that Frewza do very well. As Brendon says. " Anything's Possible".
Model & MAKE: Frewza F16 Fisher Sport Jet
Priced From: $NZ
Price as Tested: $NZ
Type: Cuddy
Construction: Alloy 5mm/4mm
LOA: 5.1m
Beam: 1.98m
Deadrise: 12 degrees
Height on Trailer: ??
Trailerable Weight: ??              
Test Power: Mercury 200 Optimax Sport Jet
Power Options: Jet only
HP Range: 200hp
Fuel Capacity: 100 Litres
Trailer: Mudgway
| | | |
| --- | --- | --- |
| rpm | knots | L/h |
| 1000 | 2.0 | 1.9 |
| 1500 | 3.0 | 3.2 |
| 2000 | 4.0 | 5.0 |
| 2500 | 5.5 | 8.0 |
| 3000 | 8.0 | 10.8 |
| 3500 | 19.0 | 15.1 |
| 4000 | 26.0 | 21.0 |
| 4500 | 32.0 | 36.0 |
| 5000 | 36.0 | 45.4 |
| 5500 | 42.0 | 54.0 |
| 5600 | 43.2 | 64.0 |