Ten Years On
While it may not be one of the more well-known alloy boat brands, especially in the North Island, Invercargill-based Frewza Boats is celebrating their 10th year in business and close to 1000 boats to their credit. 
Brendon Frews started his business building dinghies and over the years has seen his model range increase in size as the market dictates. In the early years, boats such as their 4.1 high sided dinghy saw sales more than 100 a year. "We went right through the GFC building dinghies, but as the economy has grown so too has our range and we are now offering boats right through to over 6m".
The current model line-up starts with the dinghy range (3.4m & 4.1m) and carries on to the F14, F16, F18, F21 and F22, available in a variety of runabout, cuddy, centre console and hardtop variants.
While the dinghies are still the most popular models for Frewza today, sales of the F16 and F18 have ramped up in recent years and there is also an increase in enquiries for the larger models. According to Brendon, his boats are sold throughout New Zealand and exports to Australia also have been quite good.
Frewza builds the F21 with a 5mm plate hull and 3mm used for the pontoons and superstructure. A 4mm floor with double bearings running the full length of the hull helps tie the whole structure together. The F21, like all the Frewza boats, has three separate air compartments in the pontoons and a separate sealed underfloor compartment, which makes it virtually unsinkable!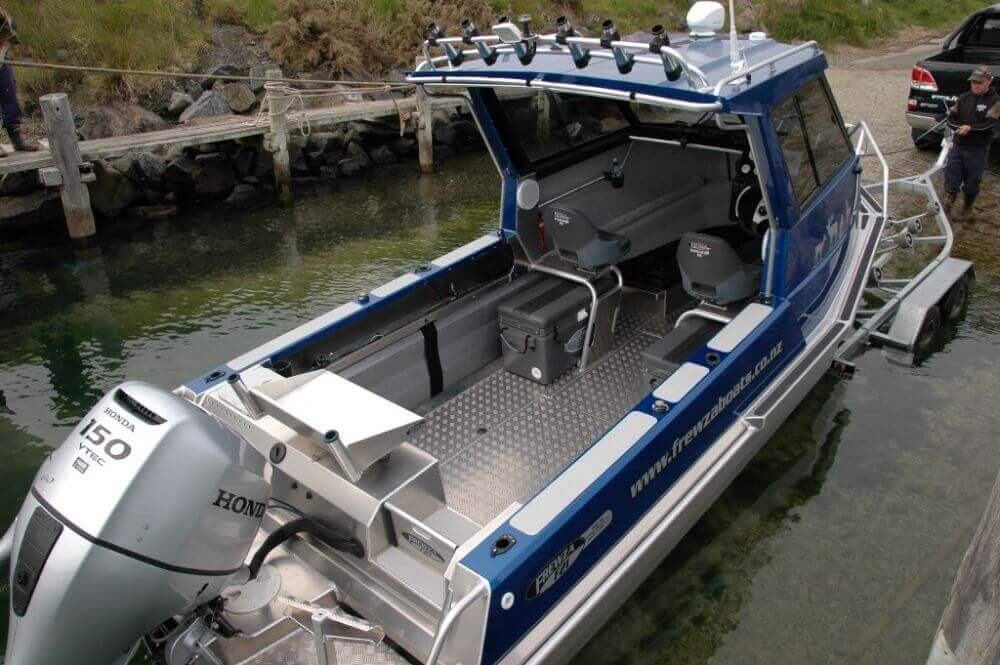 Stewart Island and Foveaux Strait are interesting places to go for a boat test. You can never rely on the weather and even making it out past the Bluff Harbour entrance and into open water is never guaranteed. It's all a bit of a crapshoot really, especially when you have travelled all the way from Auckland. What you see is what you get. I have on two occasions been thwarted from crossing to Stewart Island (25nm from Bluff) due to foul weather and headed inland to do boat tests on Lake Horoko and Lake Te Anau.
Although we never intended to cross over to Stewart Island this time, we did have ideas about going to Ruapuke Island, about 10nm off the Bluff entrance to catch a few blue cod and collect a few paua.
However, while the inner harbour was glassy calm, the same could not be said for the entrance, especially when the tide turned. Meter and a half standing waves less than 5m apart were enough of a test for both the F21 and me, and that was inside the harbour entrance. Outside there was a 3-4m swell from the SW that was throwing up some awesome breaking seas around Dog Island. As we also had a smaller Frewza F16 jet boat along as well, it didn't seem like the right course of action to carry on with the original plan.
Our F21 was powered by a Honda 150 and with a 150-litre underfloor fuel tank, there's no doubt you have plenty aboard for an average day's boating. Top speed was 38 knots @ 6500 rpm, swinging 17" Solas three blade stainless propeller. The F21 slipped up onto the plane at around 3000 rpm @ 12.5 knots and in the calm conditions of Bluff Harbour had a sweet cruise around 4500 rpm @ 25.5 knots.
After running our performance trials in the flat calm water, we then decided to have a play in the big fast flowing convergence near the entrance. The first impression of the F21 was its surefootedness and comforting feel in even the harshest conditions. The hull is a conventional pontoon monohull with a fine entry that tapers back to 20 deg at the transom. The fine bow sections help keep the boat on track and what really impressed me was the lack of hull noise and no pounding in the big swells. Even when I drove a little overzealously into the steep vertical waves at the entrance and had the F21 completely out of the water, the landing was still very acceptable. I was impressed not only with the ride but also the stability, both at rest and underway.
The F21 is one of three hardtop models offered by Frewza  Boats and slots in between the F18 and F22. It started as the 605 Frewza in 2007 and was given a facelift in early 2015. The changes are quite significant, with the new boat not only being a 150mm longer, but it also has larger pontoons, that are more in keeping with the size of the boat. Both the F21 and F22 share the same hull, with the only difference being that the F22 is 500 mm longer.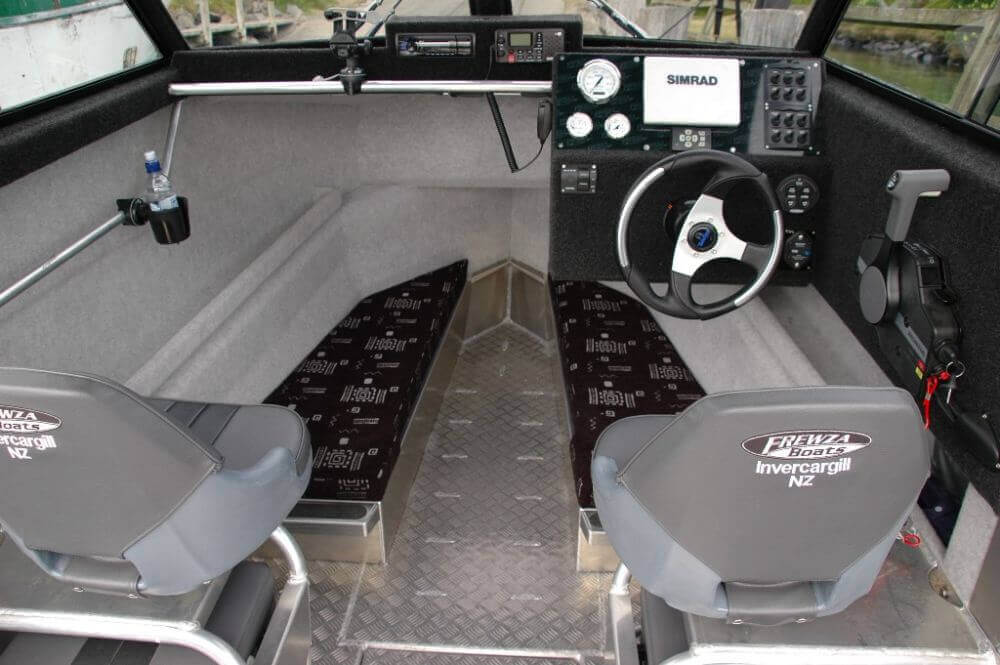 When you order an F21, you get a very basic boat with minimal seating and then you tick the boxes for what you want from there. The cabin, for example, starts as a big open void and then you can add the squabs, infill to turn them into a large berth and any cabin lining. With that you also get extra storage, as well as in the side trays. A deck hatch allows you access to the anchoring area, although an auto anchoring system is the best option. In our boat, we had a Lonestar GX2 drum winch and Sarca anchor that was very easy to operate from the helm.
Moving aft to the helm area, the dash is large enough to handle large flush mounted screens, plus all the necessary switches and instruments. Our dash was fitted with a Simrad Go7, Simrad VHF and Sony stereo. The dash size and layout is totally customisable. The fully lined hardtop affords good protection, is at a good height and with sliding side windows there is a cooling air-flow available.
The seating arrangement that is very customised had twin pipe frames with upholstered High Tech moulded seats and provision for a pair of upholstered 56 litre Icey Tek chilly bins underneath. These also double as extra seats and can also be repositioned at the rear of the cockpit to form a full-width bench seat when you are not fishing. Seating options include twin singles on pedestals or cantilevered and back to back king/queens.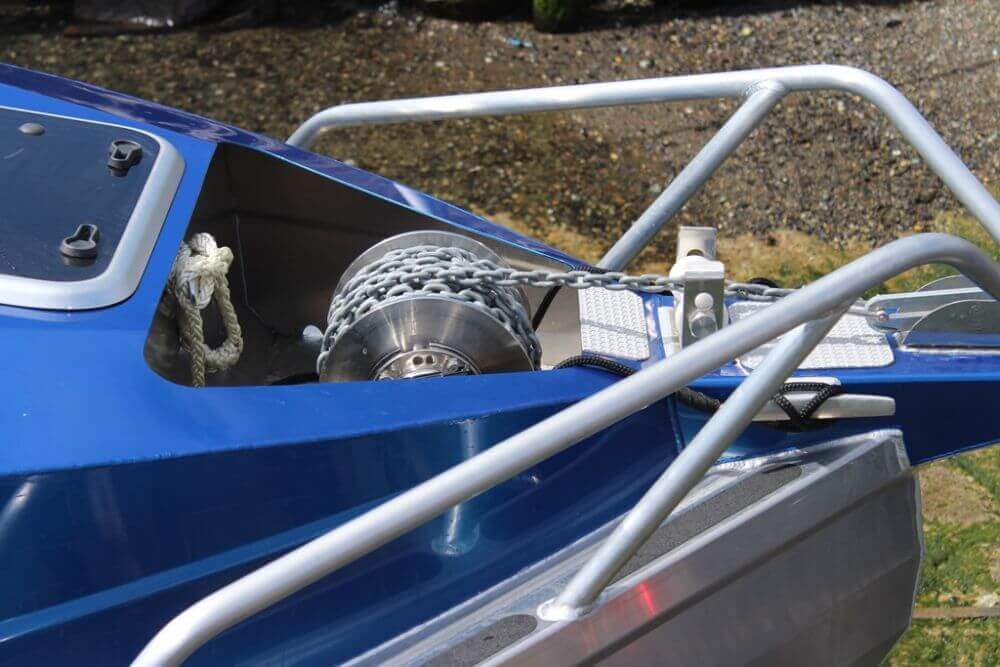 Across the transom, the F21 has a walk through to starboard with a drop-in splash guard and a live bait tank or bait locker to port. Batteries are kept in a rear central locker and off the floor. Space under the transom is all open and presents extra storage or if you need to carry more fuel in a couple of tote tanks.
I got the opportunity to use the central bait board that is set well back so it doesn't protrude too far into the cockpit fishing space and is at a good height. Although we didn't have long to fish, I did manage to land a couple of Blue Cod, so yes, the boat works well for fishing. Plenty of room for four anglers.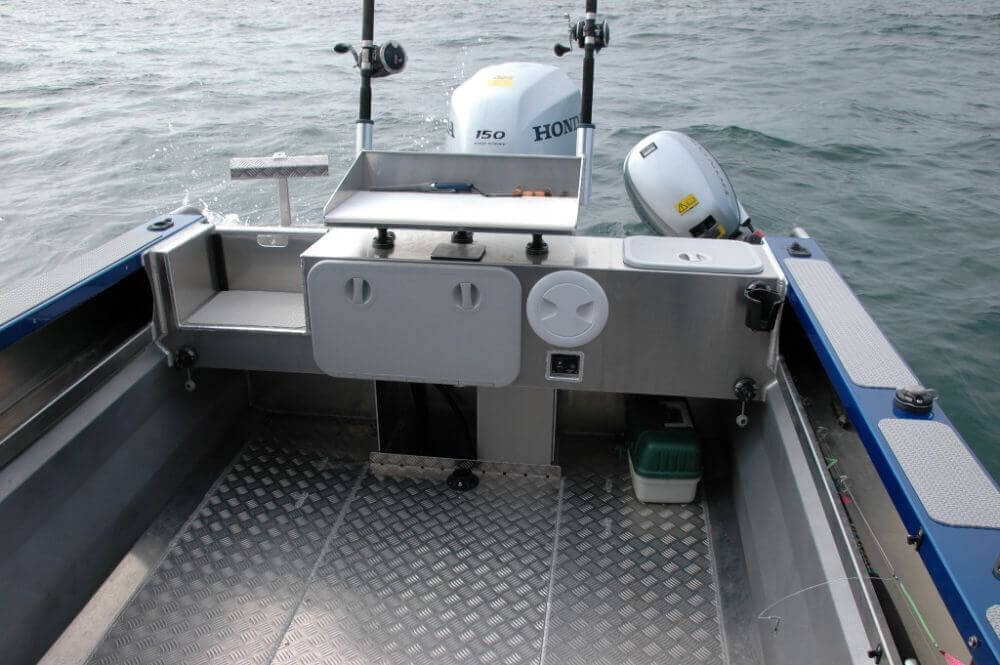 The F21 is a good all round boat for a family who are looking for a compact hardtop suitable for fishing, cruising and towing water toys. It offers comfort and convenience in a lightweight package, that doesn't require a lot of horsepower, both in the outboard that drives it and the car that tows it.
Being a semi-custom boat you have the ability to get carried away with extras, including painted or unpainted, seating, flooring and your canvas package. Overall a very comfortable, well-built family hardtop and another winner from this progressive builder that for some years has moved under the radar. However, that's all changing and plans are for bigger things in the future. Look for a twin-engine 7.5m hardtop weekender from Frewza next year. Might even be able to get across to Stewart Island next time!
Model: Frewza F21                          
Priced from: $NZ62990                
Price as tested: $NZ95600    
Type: Hardtop Pontoon
Construction: 5mm/3mm alloy
LOA: 6.30m                                    
Beam: 2.30m
Deadrise: 20 deg
Height on trailer: 2.90m
Trailerable weight: 1600 kgs
Test Power: Honda 150
Propeller: 17" Solas
Power Range: 115-200        
Power options: outboard only
Fuel capacity: 150 litres
Trailer: Mudgway
| | |
| --- | --- |
| rpm | knots |
| 1000 | 3.5 |
| 1500 | 5.5 |
| 2000 | 6.5 |
| 2500 | 8.0 |
| 3000 | 12.5 |
| 3500 | 18.0 |
| 4000 | 21.5 |
| 4500 | 25.5 |
| 5000 | 29.0 |
| 5500 | 33.5 |
| 6000 | 36.0 |
| 6000 | 36.0 |
| 6500 | 38.0 |