The Endurance 750 has proven to be another very successful pilothouse from Hampton Yachts. Australasian agent, Leigh-Smith Yachts recently delivered their 25th, Endurance 750.
Built for a previous Endurance owner, he had a lot of input to the boat's design and layout right from the start. This is something that Dean Leigh-Smith says he encourages with his clients. Having had a 650 for some time, he knew what he wanted to achieve. 
Although Covid-19 came along midway through the build Dean says they adapted very quickly with weekly and sometimes daily video conferencing and guidance by Blackpond Marine Consultants / Surveyors at the Gold Coast Marine Precinct. 
"In many ways, this process ended up streamlining the result when the vessel arrived from the factory, as we had gigabytes of data from videos of so many systems even down to the water level in the heads were all reviewed in detail and checked", says Dean. He added that like so many businesses, they adapted to these new changes swiftly. Still, along the way, the increase of zoom calls, appointments, and technology resulted in simply all fantastic things for our industry. The entire build was overseen by Australian based marine surveyors.
"A luxury Motor Yacht is the epitome of self-isolation as any boater will attest, we go boating to get away, escape the pressures of work life and boaters Australia Wide have been doing this well before the pandemic", added Dean.
The Endurance 750 has plentiful living space for opulent long term cruising. With its richly appointed sky lounge, an additional day head, three/four large staterooms with ensuite heads, and full crew quarters, the Endurance 750 is built for relaxing, exploring and entertaining. The Endurance 750 was conceived as a coastal cruiser for numerous end use purposes with serious volume and long-range capability, yet manageable for an owner all while future-proofing your boating with provision for crew should you choose to in years to come if needed.
There is a fully enclosed sky lounge with a second raised walk-around deck, allowing full walk-around of the sky lounge. This gives access to the two additional fold-out wing control stations each offering a supremely elevated view for docking or navigating though coral reefs and easy access to clean the windscreen, affix breezeway window covers, change a wiper blade or just rain-ex your windscreen before that next passage. 
The sky lounge is one of the largest and most beautifully appointed in its class. There is a centre mounted helm position, triple 26″ Garmin flat screens, dual VHFs and dual Pomponette helm seats. All screen mullions are wrapped in a matte black trim, with overhead dash lights dimming for night-time driving.
The latest Hampton Endurance also features watertight bus-style door to starboard that opens out to the walk around decks which have sizable stowage in two forward facing lockers as well as a clever drop down hatch system on the interior faces allowing for storage. There is also an intelligent use of space with a forward-facing bench lounge behind helm seats that the backrest flips forward making a full-size leather-trimmed lounge with a second electric pop up 55″ LED Samsung smart TV with recessed sound bar system all trimmed in more of the amazing timberworks. There are essentially two separate lounge rooms with cinema-quality big screens and audio onboard meaning there's always a nice place to escape an relax. There is also a dayhead with vanity and door to the tender deck with BBQ console, refrigeration and sink with cupboard storage for equipment.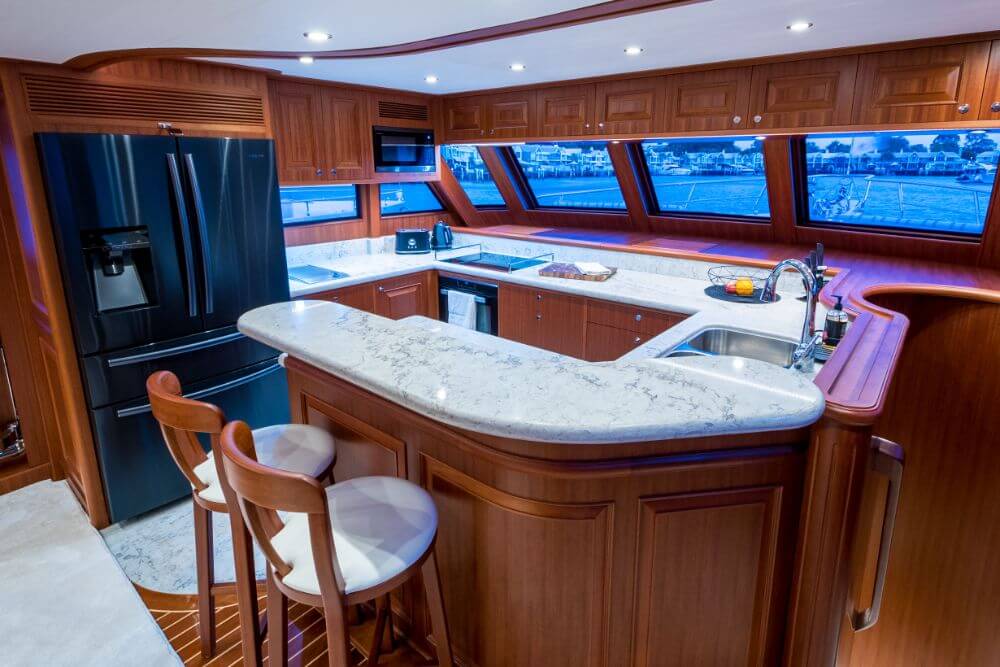 Across the transom is an ADC hydraulic swim platform that raises 300mm above the zero height when the vessel is underway. Drop-in tender cradles can also be used here for smooth water passages to make launch/retrieve of either tender easy. 
Hampton has gone for the minimal maintenance approach with "No Teak" on the nonskid swim platform meaning minimal maintenace, the vacuum bagged Teak Decks start at the side steps & covers the entire aft cockpit and partial side walk around decks. All other exterior surfaces are the new look pure white gelcoat, stainless steel or glass, mitigating excessive maintenance often seen with varnished rails and acres of Teak decking. 
This build being Endurance 75ft hull #25 is the first with the new full white gelcoat. Previous boats have all had the "Chicago White / Oyster White" colour, and the fresh, crisp white contrasts with the tinted windows, black features such as boot stripe & ever-present mirror finished stainless steel sees a timeless black & white colour palate that even Audrey Hepburn would be sure to give her tick of approval too.
The boat also features a new cockpit table design done by the owner; very classy installation of two reinforced stainless steel pedestal seats that swing around each curved end of the cockpit table and lash together under the centre of the table when underway. This allows for additional seating/footrest and no more scratching the boat, the decks or storing deck chairs.  
This also the first boat in class to feature the "LSYachts designed" tender fuel storage system. Five 20L drums can be loaded to a tender or fuel dock, filled and then using the Davit re-loaded to flybridge/tender deck and tethered in with turnbuckles. No more back breaking lugging fuel drums up two sets of stairs. A Custom ADC 1500LB hydraulic davit is used to launch/retrieve a Brig 4.0 Eagle with 50HP Honda and small, lightweight RIB with transom wheels for high tidal areas. The davit can also lift a tender or PWC straight onto the swim platform if required.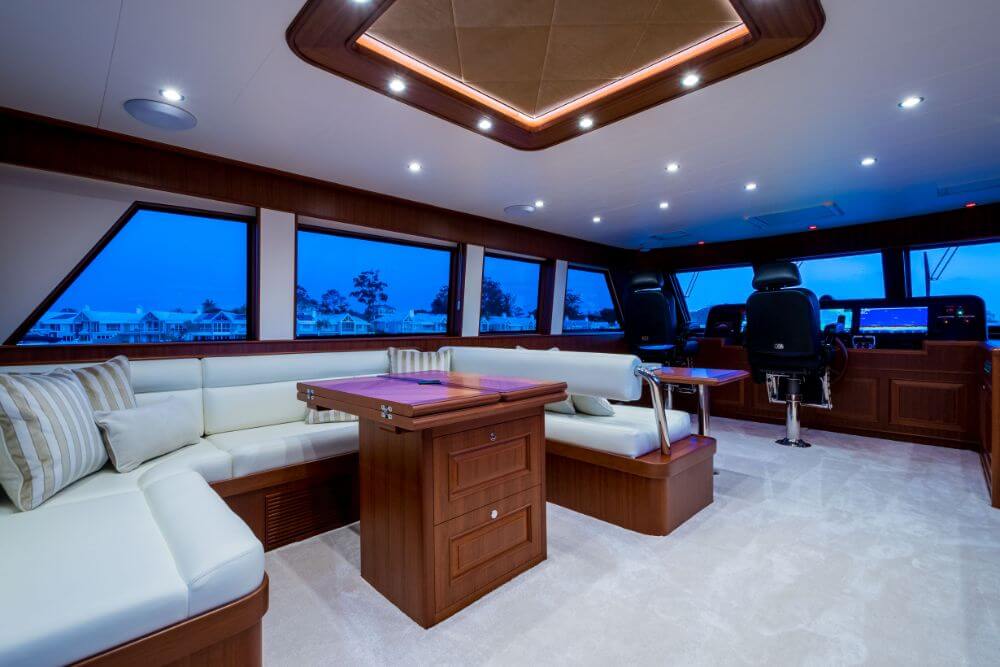 There is a custom made aft console on the main deck with a waist-height lift up on an insulated ice chest with a Corian top. To the right are a bank of draws for coolers, sunscreen and any other necessities and a stainless steel round handrail attached to both sides as added safety rails for when underway. 
Two acrylic side doors are easily pinned closed when on anchor, minimising wind and the elements. The cockpit rooftop is the same GRP tender deck area meaning the roof covers the cockpit's dimensions. This "air voided roof" keeps the aft deck far cooler and more protected/dry than vessels with just fabric awnings. There are also two sides, and aft breezeway covers all mounted with "sail-track" ensuring the outside cockpit is more usable more of the time. 
This is also the first Endurance in Australia to have the upgraded raised carpentry design, with satin cherry timber's throughout. This upgrade costs over $65,000 and in mild terms is "boat builders showing off". In a world of mass production, the Endurance 750's all handcrafted interiors are simply stunning and are for the more discerning yacht owner. For any owner who wants something exceptional, unique, and the most beautifully finished cabinetry, the upgraded interior "Raised Carpentry" option is a must-have. 
Stone inlays made in the factory onto a substrate of ultra-lightweight composite honeycomb backings are now used on the majority of horizontal surfaces to minimise wear and tear and add a further contrast of colour texture from our interior design team.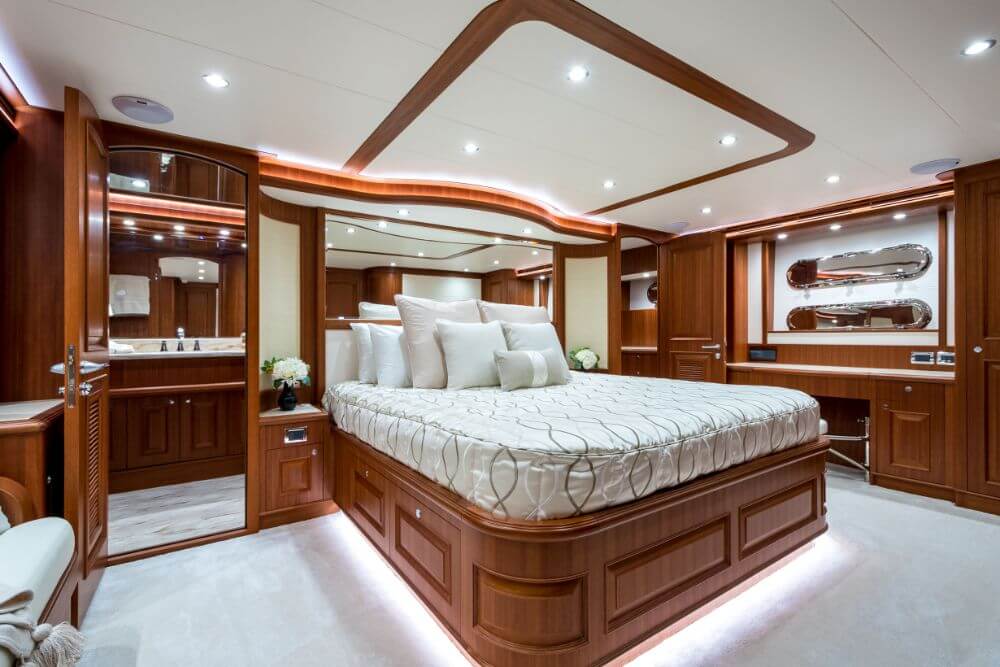 The forward deck area features an eight-seat stand-alone dining room with another exquisite, handcrafted dining table and chairs all trimmed in the same uniformed premium Class A "Kiwi Leathers". Adjacent to the dining room is the ultimate wet bar with wine fridge, Isotherm drinks fridge, display cabinet for glassware and your favourite bottle of single malt. A stand out feature is the "Dumb Waiter" that deploys up/down from the sky lounge deck, meaning a round of drinks or even a daytime snack can be prepared in the leviathan of a galley and sent upstairs
Nowadays, everything from your iPad to the iPhone or even the latest kitchen gadgets all need charging, so we just made it easy to find a USB outlet in every area of the yacht at each PowerPoint.
The galley is fit for any chef or simply anyone who appreciates cooking. The latest Caesar stone colours matching the black facia appliances and more beautiful timber joinery. There is also a bench mounted Meile Deep Fryer complete with a custom locker beneath to drain and store your cooling oil when completed. Electric Hunter Douglass forward blinds rise and fall at the push of a button keeping the sun out or opening up the most amazing galley view of your choosing.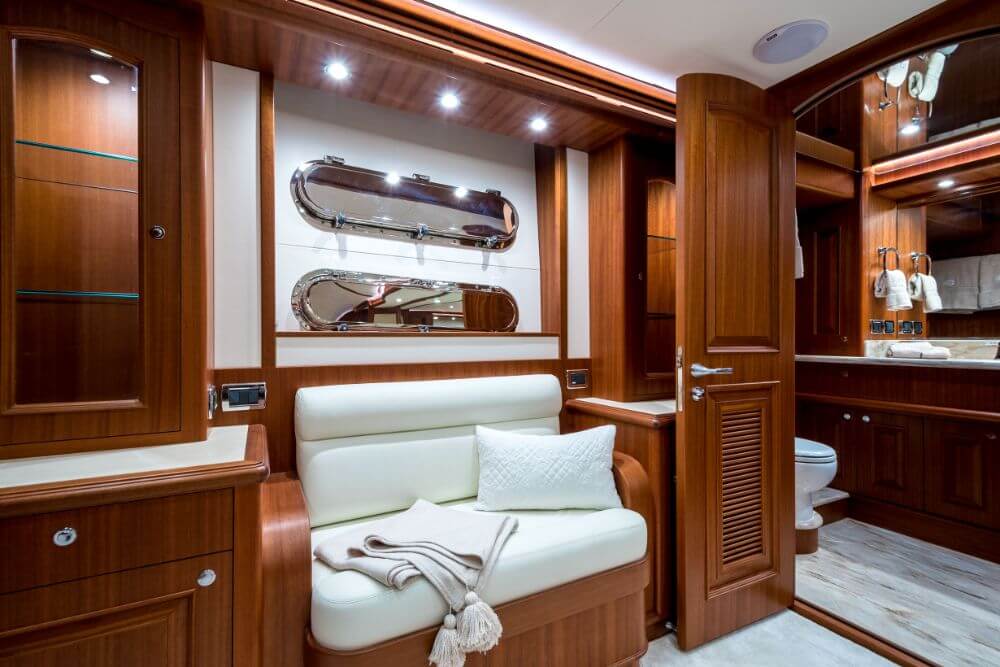 Forward is a queen-size VIP stateroom with an ensuite, with more stunning timber works and custom-designed interiors, specifically chosen by the owner and then handcrafted. Large hanging lockers with cedar-lined linings add exceptional storage. 
To port is an offset double bed cabin, again with an ensuite, and even a creative little nook for storing & charging your phone when in bed. 
The king-size master stateroom is located amidships with a cedar-lined walk in wardrobe to port as well as two more hanging lockers forward, plus extensive draws on each side of the cabin and even under the bed. There is a vanity to port with a swing-out mirror finish stainless steel stool. Folded down this area doubles as the ultimate office as the extra-large oval windows and portlights are directly in front giving water views. Ceiling treatments, textured panels, curved one-piece timber's, stone inlays, LED mood lighting, and luxurious carpets give the owner of this yacht the ultimate feeling of luxury, quietness and comfort. The ensuite is located behind the master bed to starboard side and has a huge contrasting two-colour Corian lined shower measuring over 1sqm.
Aft is a fourth cabin or crews quarters with a queen bed with a single over the top & a built in desk, plus a separate head and full height shower recess either side of the rear door as you walk into the aft area. This area is more than just a cabin; it can be used as a service area for the ship's laundry, and as it is just outside the engine room door, it can also be used for maintenance by laying out the checker-plate rubber protection mat or fishing tackle storage/rigging space. 
The engine room is bright white with perforated Sound Down sheeting covering additional sound insulation that measures over 100mm thick on the forward-facing bulkhead. It is home to twin Caterpillar C18 Acert 1136hp in-line 6-cylinder engines, a pair of Onan 27KW generators and the tops of the AB TRAC 250 at rest stabilisation system giving easy access to oil reservoir & all service points. Powered by the pair of Caterpillar C18s, the Endurance 750 burns around 4.5 lpnm per mile at 8 knots, though she could reach about 20 knots when needed (Light Ships).
A 6-bank Reverso oil change system is also plumbed into both CAT mains, gearboxes & two Onan Genset's meaning an oil change takes a matter of minutes by opening the required valve and pumping out/in oils (Hence Reverso) and can be performed by any mechanically minded owner/operator.
The girthy 750 with her 6.0m/21ft beam is solid fibreglass that's reinforced with two layers of Kevlar from chine to chine and three layers of Kevlar in the forward "collision zone". In other words, the Hampton 750 Pilothouse is one rugged yet refined motor yacht.
"The Hampton / Endurance yard doesn't build quickly or boast about how many hundreds of mass-produced boats they've built. The process of ordering and building is an experience like no other as we truly aim to build you your yacht your way", says Dean.
The focus Dean adds is on practical usage, absolute comfort and luxury with redundancy systems aplenty ensuring these timelessly styled yachts last for decades to come and remain on-trend well into the future.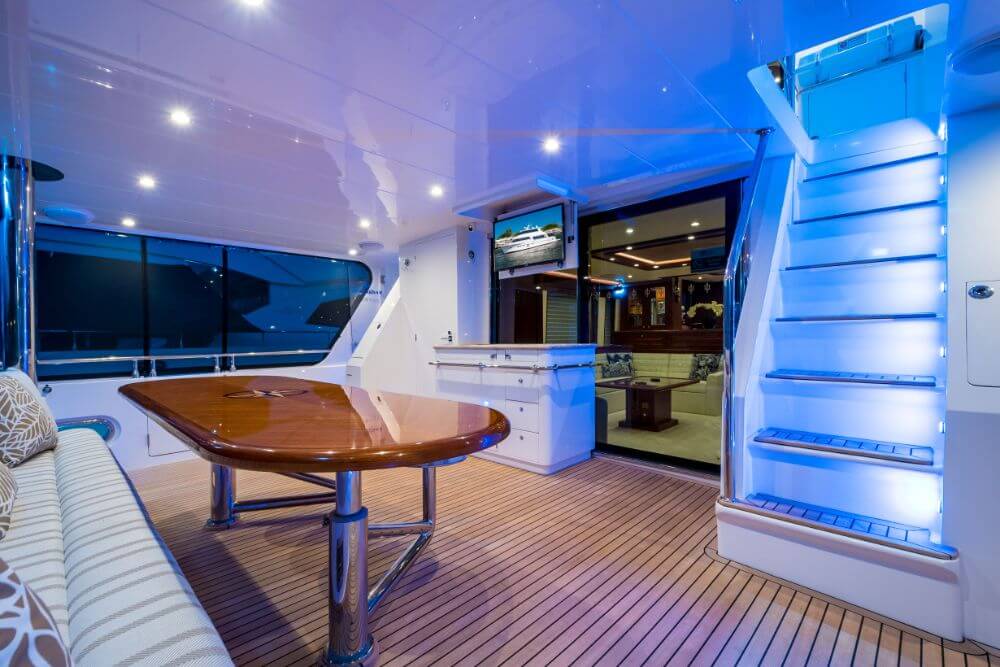 The latest Hampton 750 is extremely well featured and has garnered the attention of clients who have admired the company's 720 pilothouse cruiser with the 750 virtually a rebranded and respected model. It is also the first of the new wide-bodied design. The Hampton 750 with all its great features such as the covered side and aft decks, the full-beam owner's suite and the spectacular open saloon and pilothouse arrangement combine to make the Hampton 750 an exceptional yacht. It's designed to be a destination, where friends and family can join together to truly make memories that will last a lifetime.
For all her rugged good looks and feel, the 750 was also designed for long range cruising so ownership will offer more locations in more comfort more of the time. To that end, she doesn't disappoint either, sporting a four-stateroom, six-head layout with spaces for socialising and entertaining or to escape for some well-deserved quiet time.
Design Name: Hampton Endurance 750 
Year Launched: 2020
Builder: Hampton Yachts 
Designer: Howard Apolloino
LOA: 22.75m – 75ft
LWL: 20.03m – 65.6ft 6
Beam: 6.00m – 21ft
Display (Dry): 50450 kg
Max Speed: 19 knots 
Cruise Speed: 10-11knots
Construction: GRP/Kevlar
Fuel Cap: 11400 litres
Water Cap: 1893 litres      
Engines: 2 x Caterpillar C18s @1136hp,                        
Thrusters: 38HP Hydraulic Trac 
Stabilisers: 38HP Hydraulic Trac 
MFD: Garmin 26" x 3
Generator: Dual Onan 27KW
Capstan: Muir Hydraulic VRC 4500
Drive Train: Shaft x 2
Price As Reviewed: $AU6.6m (Based on USD v AUD spot rate of 0.76:1)