LITTLE BIG BOAT
TEXT BY MIKE ROSE               
INNOVISION'S latest model packs a lot into a compact, capable package
The seventh and latest offering from the board of passionate fisherman and ex international sailor Simon Minoprio is also his smallest to date. Although named the Innovision 515 Sports, it certainly doesn't look, or feel, like a 5-metre boat.
That's probably because, despite is nomenclature, it isn't. It actually has an LOA of 5.25m and a beam of 2.25m. It also has the trademark Innovision plumb bow, meaning most of that LOA also translates into waterline length.
As every boatie knows, and we again had (literally) banged into us in the choppy waters off Tutukaka, when it comes to a smooth ride in less-than-smooth seas, there is no substitute for waterline length.
Simon is building his still fledging business, and his growing reputation, on his boats' ability to handle the short, nasty chop that is so often a feature of the relatively shallow coastal waters that surround the north-eastern part of New Zealand.
He also likes using the phrase "big little boat" to describe his designs: vessels that occupy a relatively small footprint and are therefore easy to power, garage and tow, while being able to safely navigate through sea states that would normally challenge boats of this size.
The 515 Sports is a great example: despite being constructed from certified marine grade 5083 aluminium, it has a trailerable weight of just 1300kgs and, on our test boat at least, is powered by Yamaha F90 outboard. Although Simon rates the 515 for anywhere from 75 to 130hp, the F90 proved more than adequate. With two reasonably large fellows on board we managed to reach a respectable 34 knots in the calm water inside the heads. Cruising-wise, 4000rpm gave us 22 knots at 15.3lph and 4500 gave us 26 knots at 20.3lph.
Outside the heads was another matter. With a confused and often not very pleasant 1-metre chop, it was not the sort of water many 5-metre boat owners would choose to go out in, certainly not for fun. Even fewer, I suspect, would the run hard out across, down and into those seas. Yet, not for the first time, Simon's design surprises. While no boat of this size would be comfortable charging into this sort of chop, the landing was nowhere near as harsh as experience had taught me to expect. There was also no tendency to stop in the troughs, that buoyant bow had us quickly powering up the next face.
Running across and down the waves was, as one would expect, even better. The ride was always predictable with no hint of yawing or wanting to broach.
As the accompanying pictures show, the ride was also surprising dry, the 515's hull directing the spray down and aft, and, most importantly away from where we were standing.
When a boat is described as "entry level" there is a perception that it is something pretty basic; a sort of bare bones offering that can be added to and dressed up as finances allow.
The 515 does not really conform to that model, probably because Simon is such a perfectionist. As a result, with a "price from" of $62,000 and a "price as tested" of just over $80,000, it is more likely to appeal to those specifically wanting a very smart offering in this size of boat.
There is certainly very little of the bare alloy one would reasonably expect in an entry level vessel. Most of the aluminium surfaces in the front half of the boat are painted white and those that aren't are covered in frontrunner. Further aft, in the cockpit proper, the most visible surfaces, the coamings and transom top, are all fitted with a smart grey anti-skid while the floor is treadplate.
The twin seats are of the box variety, upholstered on the front, top and back, meaning it is equally comfortable to stand and lean or perch on top. Both also feature an aft-facing folding queen seat.
The compact dash is large enough to accommodate the Yamaha gauges, a Raymarine A78 MFD, Raymarine VHF, Blue Seas DC switchboard and the control panel for the Maxwell RC6 windlass. There is also a handy carpeted side locker, just for'ard of the throttle control, which is ideal for car keys, cellphone, sunglasses and the like.
There is an even larger locker over on port for the crew and a wide grab rail across the cabin entrance will no doubt be warmly welcomed by those who choose to stand.
One aspect that particularly appeals is the raised return separating the 515's cuddy cabin from the cockpit. Not only does this double as a comfortable footrest, complete with anti-skid, it also ensure items placed in the cuddy stay there, rather than sliding aft into the unprotected open space of the cockpit.
The windscreen is an attractive 5-panel affair although Simon does offer the option of a walk-through for those so inclined.
As one would expect from a boat of this size, primarily designed for fishing and diving, the cockpit is a simple, uncluttered space. There is, however, everything one needs for a successful and enjoyable day out. Under the floor, for'ard of the 125-litre fuel tank, is a spacious underfloor locker, complete with gutter, that can be used for dry stowage or, with the optional kill tank bins, as a place to stow and keep cool the catch.
There is also a livebait tank under the port side walk-through to the platform and an aluminium bait board, complete with four rod holders and a towing knob. Rightly recognising that one can never have too many rod holders, regardless of how small the boat may be, Simon has installed another four per side in the gunwales and another six in the fold-down arch that supports the bimini.
Rather than run two relatively narrow side lockers on each side, Simon has opted for a single deep one and installed a handy Jabsco washdown system in the port side one, sensibly close to the livebait tank.
As with all the Innovision boats I have reviewed, the 515's engineering is of a standard one would expect on a far bigger and much more expensive vessel. The battery is safely stowed in a carpeted transom locker, which also neatly guides all the cabling and wiring from the helm station, down through a tidy tube and the smart connection points below, to the engine, pumping systems and fuel tank.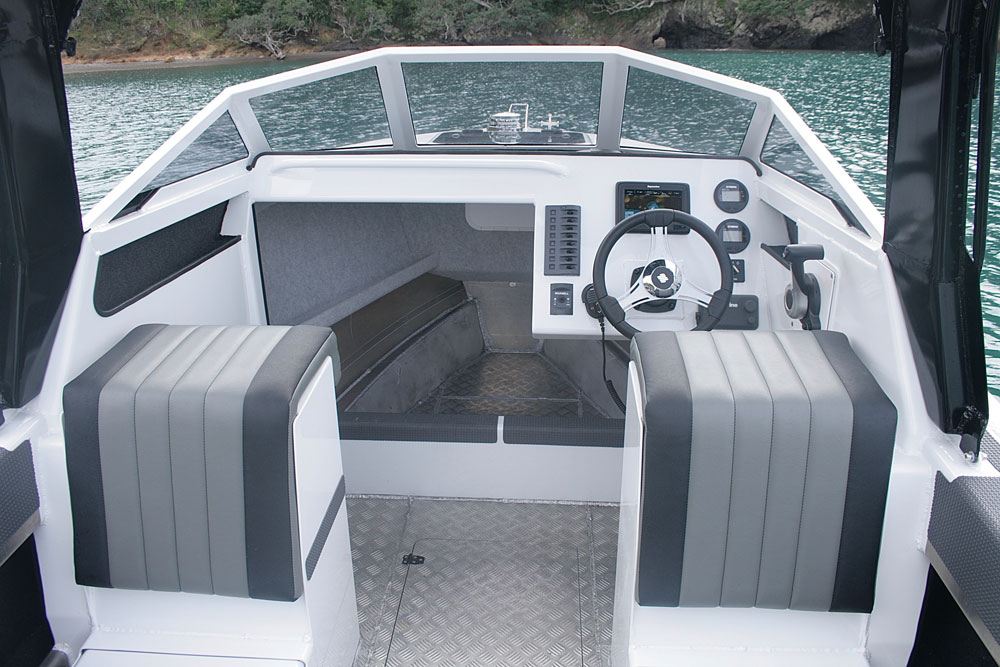 The 515 Sport is Innovision's fifth model and the smallest yet. Like its predecessors, it has that eye-catching plumb bow and distinctive reverse sheer topsides (the transom at the waterline is wider than at the gunwales). It also has the brand's notable ability to handle rough water and uncomfortable chop, although obviously not to the same degree as its bigger siblings.
The 515 is by no means the most affordable boat of this size on the market but I would hazard a guess that it is perhaps the best built and the most well appointed.
While it may not fit the budget of a cash-strapped first timer wanting to get on the boating ladder, it is likely to appeal to someone seeking a manageable, inexpensive-to-use runabout that is both easy to launch and retrieve by oneself, and capable of safely handling a moderate sea if one should spring up.
Model & Model: Innovision 515
Priced from: $62,500
Price as tested: $80,790
Type: Cuddy
Construction: 5083 Alloy
LOA: 6.25m
Beam: 2.25m
Deadrise: 18 degrees
Trailerable weight: 1300kg
Test Power: Yamaha F90
Propeller: 16" 13 ¼"
HP Range: 75-130Hp
Fuel capacity: 125 litres
Trailer: Innovision Custom Alloy
| | | |
| --- | --- | --- |
| rpm | knots | L/h |
| 1000 | 4 | 2 |
| 1500 | 5 | 3.4 |
| 2000 | 7 | 4.7 |
| 2500 | 8 | 8.5 |
| 3000 | 11 | 10.3 |
| 3500 | 17 | 13.2 |
| 4000 | 22 | 15.3 |
| 4500 | 26 | 20.3 |
| 5000 | 29 | 32.5 |
| 5500 | 33 | 37 |
| 6000 | 34 | 38 |