BIGGER IS BETTER
Text & Images by Mike Rose
Size matters to an owner who wants to fish, cruise overnight and regularly cruise across the Firth of Thames.
Whereas most buyers of a 6-metre aluminium trailer boat are primarily just after a good fishing boat, the new owner of Innovision's latest 616 Explorer was considerably more demanding. He wanted a good cruising boat, able to be used for overnighting; a boat capable of "commuting" from his home on Waiheke Island to his holiday house in Coromandel; and a serious fishing platform, complete with hard-wired outlets for his electric reels.
He had long admired the Innovision's trademark plumb bow and had been looking for a while at the company's 515 Sport before deciding he needed a 6-metre vessel. After deciding that the new Innovision 616 Explorer was "easily" the roomiest 6-metre on the market, he found he also liked the helm station ("nice, neat and flush"); the integral bait station ("awesome") and the "can do" attitude of Innovision owner, designer and builder, Simon Minoprio.
Although Simon does design and build to set sizes (current models so far include 515, 585, 605 and 616), virtually every boat is its own model, customised to meet its owner's needs. This latest iteration of the Innovision 616 Explorer, for instance, is finished to the highest spec yet.
"It boasts just about every extra possible," jokes Simon, "apart from outriggers and window wipers."
Because it will regularly transit across the Firth of Thames, an area known for its conflicting currents and often short, sharp chop, construction is very solid and there are strong hand grips carefully positioned throughout.
Even the boarding platform, with its step-thru' access on both port and starboard, seems supersized, easily big enough to accommodate the Yamaha 175hp 4-stroke outboard, with room left over for substantial pushpit "cages" if desired.
As is usual with a boat intended for serious fishing, the transom area is dedicated to things piscatorial. There are large round tuna tubes in each quarter, a live bait tank under the port step-thru' and that "awesome" island transom bait station. This latter features 5 rod holders to complement the 8 in the wide side decks and another 8 in the rocket launcher. There is also a hard plastic baitboard screwed into the middle section and flanked by two enclosed open areas ideal for stray hooks, sinkers or thawing pieces of bait. It also features a large, lockable tackle drawer.
Under this is a totally enclosed double battery locker, safely high off the deck and also home to the isolating switches and the connection bus for the Zipwake automatic trim tab system. Lower still is access to bilge with the fuel filter, hydraulic steering unit and bilge pump all protected behind a drop-down alloy hatch.
Like many of New Zealand's leading trailerboat designers, Simon Minoprio is one of those fellows who is always thinking about ways to make things better, easier and more enjoyable for those who spend time on his boats. His latest addition is a perfectly positioned tube holder for the coiled washdown hose, high up at the aft end of the port side locker.
Cockpit stowage is in the large carpeted side lockers, under the starboard walkthru' and in a spacious underfloor locker that comes complete with lift-out hard plastic liners.
The 616's seating consists of two permanent padded bench-style seats for the skipper and crew, with drop-down seats behind for the kids or other passengers. There is a handgrip-style footrest for the skipper while the upstand separating the cockpit from the cabin serves the same function for crew.
That much-admired helm station has an unusual but attractive asymmetric shape and is just the right size to accommodate all the screens, instrument gauges and control panels one could want on a 6-metre craft.
Pride of place is occupied by the Raymarine Axiom 12" MFD, delivering charting, CHIRP DownVision, CHIRP SideVision and 3D sonar information. Below this, flanking the wheel, are the BlueSea DC panels, Maxwell RC6 and Rule bilge pump controls (to port) and the Yamaha digital instrumentation, the Raymarine VHF and the Zipwake auto trim tabs' controls.
Completing the 616's electronics package is the Fusion MSRA55 stereo with its two waterproof speakers centrally mounted in the open carpeted lockers alongside the seating modules.
There is also a great space for old-fashioned paper charts, cruising and fishing guides and the like in the large carpeted space above the cabin. Smaller objects such as sunglasses, cellphones, wallets and keys find a safe haven in the small, again carpeted, lockers on each side.
The 616's cabin is a large, spacious affair, boasting 2m-long bunks, an infill that converts the entire area into a giant berth and a Jabsco marine toilet, cleverly positioned out of the way on starboard, directly behind the helm station. A canvas curtain across the entrance provides the privacy and a Vetus Slimline hatch the ventilation.
All lighting on board is LED with a practical red/white light under the hardtop, white cockpit lights for night fishing, blue lights under the side decks, a spotlight bar on the cabin top and attractive blue underwater lights for attractive baitfish and looking good.
Because the 616's owner is keen on extended cruising and overnighting, he wanted to be able to fully enclose the cockpit. Simon has achieved this by creating a structurally sound enclosure that has been designed to look like an integral part of the boat rather than a caravan-type add-on. To do this he has used twin powder-coated aluminium poles that sit in the aft-most side deck rod holders and a selection of multiple separate clear panels. These include the "roof", two large and two small side curtains and a three-segment rear curtain.
The result is as attractive as such an enclosure can be and one that can only really be appreciated from on board. It literally feels as though the interior space has been doubled, one is completely protected by the elements and yet still able to enjoy all-round visibility. Even better, the multi-panel design means one has an almost infinite choice of combinations depending on weather, wind strength and direction and whether one wants to continue fishing or not.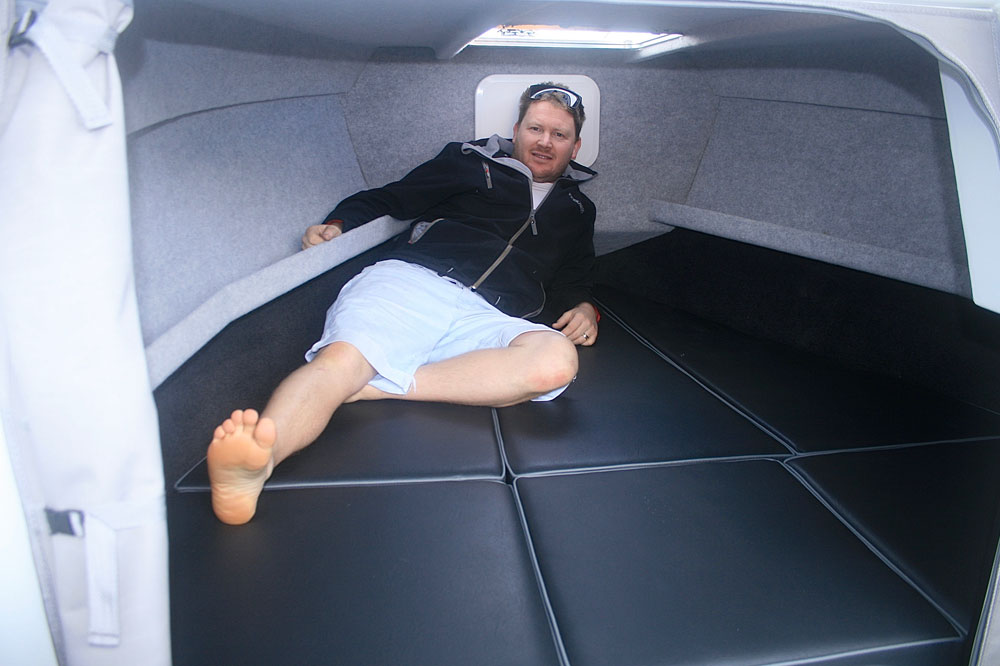 Have now driven several of Simon Minoprio's Innovision models I am well acquainted with how well they perform. This owes a lot to that distinctive plump bow. By dropping the stem virtually directly down to the waterline, Simon's ensures his vessels' waterline is virtually as long as their overall length. And we all know that, when it comes to handling chop and flattening out those waves, there really is no substitute for waterline length.
Innovision boats also boast a fine entry, wide shoulders and hydrodynamic stability chines. Together they combine to produce a large volume boat and a smooth, even ride almost totally regardless of the conditions or the strength or direction of the waves.
In practical terms, that means the 616 covers ground like a far larger boat, lands softly when it does leave the sea and corners at high speed like a jetboat.
The first time I drove an Innovision, I spent a considerable time trying to make it misbehave, trying to find a flaw of some type in its performance. Now, some four years older, and hopefully wiser, I know better and simply enjoy the experience.
Model & Model: Innovision Boats 616 Explorer
Price as tested: $141,500
Priced from: $90,000
Type: Hard Top      
Construction:  6mm / 4mm
LOA: 6.25m                        
Beam: 2.45m
Deadrise: 18deg
Height on trailer: 3.10m
Trailerable weight: 1925kg
Test Power: F175 Yamaha           
Propeller: 17" 141/4     
Power options: Outboard
HP Range: 150-200hp                
Fuel Capacity: 200lt  
Trailer: Innovision Alloy, Hosking               
FUEL & PERFORMANCE DATA

    

Innovision 616 Explorer

 

Fuel capacity:

200

litres

 

RPM

Knots

L/h

L/NM

Range  (NM)

1000

5.0

3.9

0.780

230

1500

7.0

5.4

0.780

230

2000

8.0

9.9

1.300

130

2500

11.0

13.8

1.300

130

3000

16.0

19.4

1.300

130

3500

23.0

23

1.000

180

4000

27.0

30.2

1.200

150

4500

31.0

40.2

1.300

130

5000

34.0

53.6

1.600

110

5500

37.0

61.19

1.700

100