The new Aspire 42 Sedan may look in essence as simply an upmarket version of the Integrity 44, but in fact it is an entirely new boat from the keel up.
Launched at the 2014 Gold Coast Expo, the first Aspire 42 Sedan was sold prior to the show and the second to an existing Integrity owner who stepped aboard at the show and immediately fell in love with the space and volume of the new design.
Integrity Boats Australia MD Brett Flanagan explains the reason behind the new Aspire was for an upmarket version of what he was already offering with the Integrity range but with a more European look with an accent on colours and flavours, as well as making it more of a long range coastal cruiser. "There is a different market for those who want something more refined and with the extra comforts that we are not really offering in the more 'price driven' Integrity range", says Brett.
While the Aspire 42 Sedan retails for a base price of around $A649,000, the Integrity 44 Sedan is $A599,000. Once you have looked through the Aspire 42 it's not hard to see why the boat carries a higher price tag.
The Aspire 42 Sedan is not built by Integrity Yachts, but next door at Dream Yachts in Guangzhou, China. The tooling and ownership of the Aspire brand is a joint venture by Integrity Yachts Australia and the factory.
The Aspire 42 by Integrity Yachts is designed for those boat owners who still want the simplicity of a basic cruiser, but with a touch of class. The Aspire 42 combines unrestrained luxury with exceptional performance and sea keeping, with the hull designed by world renowned naval architect, Howard Apollonio.
Brett's brief to the designer was for a boat that was long distance capable, a good coastal cruiser and was able to be run at displacement speed, but also be capable of 18-20 knots with a single engine.
Power in Aspire 42 #1 was a single Steyr SE266S36 @ 260hp, which gives a top speed of just over 11 knots. You also have the option of other brands such as John Deere, Volvo Penta or Cummins. At 6.5 knots the Steyr burns around 3.5L/h, which gives the Aspire 42 a range of over 2000 nautical miles. If it's speed you are after and if you are like me and find anything under 10 knots a bit too slow, then drop in a single Cummins or Volvo around 450-480hp and you will have a cruise speed around 12-14 knots and a top end around 18-20 knots.
With a bow and stern thruster as part of the standard equipment, docking and manoeuvring at low speed is very easy, even with the single engine.
When I first stepped aboard the Aspire 42 Sedan I felt I was looking straight into the saloon of a 60 footer! If there is one word to describe the open feeling of the layout, it's "awesome". It's probably something you have heard before, but you actually need to see the Aspire 42 close up to realise how spacious it is. Also, what is impressive is the way everything from the rear of the cockpit to the forward helm has been integrated and blends seamlessly together. The contemporary lines are complemented inside with a fresh looking European influenced interior that is finished with the highest quality hand waxed American oak timbers and superior furnishings.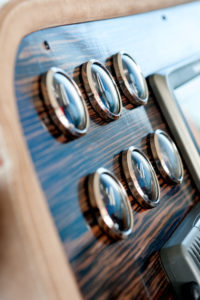 All the living is on one level so the whole boat can be used as one large continuous area in almost all weathers, with an indoor/outdoor living space. A long overhead fixed hardtop is surrounded by clip-on clears that provide a very sheltered cockpit when necessary. Side covers open to allow access to the wide side decks, but also keep out the wind and rain from the cockpit.
The cockpit layout is very much for entertaining, with big comfortable layback seating and oversize cushions. The large drop-down polished teak table means you have some extra accommodation as well and a complete glass rear bulkhead design with sliding doors and hopper windows offering open serving areas from the galley and uninterrupted sightlines forward. Under the teak sole there is an extra-large lazarette, with ease of access to a lot of the engineering systems.
There's a good size boarding platform over the transom, which is ideal if you are into fishing, with drop in-rails to mount your barbeque, bait board or rod holders. This is also a place to stow a small tender.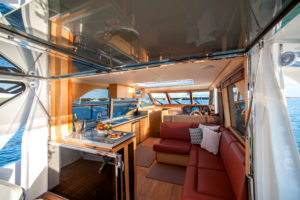 Being semi-custom, you can have a variety of saloon layouts and the one in Aspire #1 was driven somewhat by the owners. It's very much a standard layout you would find in a boat like this, with the port side aft galley, starboard forward helm and rear lounge areas all working perfectly as they are. However, if you want to change all that around then you can.
The galley, down the entire port side of the saloon is huge and has loads of workable bench space, a pair of deep stainless bowls and plenty of storage under with soft close drawers and cupboards. The counter return aft even houses the pop-up TV built into the combination stone/Corian bench top. Standard items include twin Indel fridges, electric hob and convection microwave.
Opposite, the triple helm chair has storage under and while the electronics package is optional, our boat was equipped with the latest Raymarine 12" touch screen MFD, surrounded by the usual array of instruments and controls. The helm has a Pantagraph side door access to the bulwalks which is an excellent feature if you are short-handed when docking.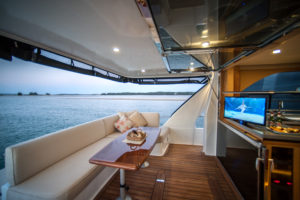 Aft of the helm is a generously sized L-shaped lounger and adjustable table which is also another great space for dining. I liked the proximity of the saloon lounge to the galley and cockpit dining area so that even if you have to divide up those aboard for a meal, you are still all reasonably close together, without being crowded.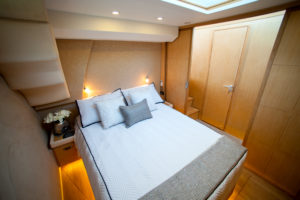 This is a two-cabin single-bathroom boat that is designed for coastal cruising in absolute comfort. It's your choice as to which you use as the master suite as both have large double berths and both share the same head/shower compartment. However, it's the starboard side suite that is the most obvious choice, with its very large walkaround island berth, excellent storage in a deep hanging locker and under the berth and copious head space. Along with the side port, there is an opaque panel overhead which lets in natural light from the saloon. For a boat of this size it really is a monster size bedroom.
The 'guest' cabin in the forepeak is also of a generous size, with a choice of accommodation layouts available from a large double island berth or multiple singles. In the case of Aspire 42 #1, the owners wanted something a little different and chose an athwartships double berth. As in the other cabin, there's no shortage of hanging lockers and storage places to stow your gear. Multi-directional panelling breaks the starkness of the flat bulkhead areas and helps accentuate that quality up-market image that comes with the Aspire brand. The single ensuite has an a electric head coupled to a 200-litre holding tank with macerator pump out, separate shower stall with rain rose overhead and large vanity with mirror and raised bowl.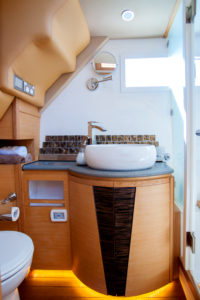 Since Brett took over the Integrity range over 2 ½ years ago his company has sold 35 new Integrity boats, not bad through a world recession. His confidence in the market extends to not only owning stock boats but currently there are seven Integrity boats in production at various stages.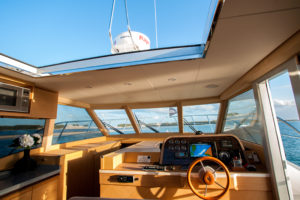 He sees the same happening with Aspire and his confidence in the new product sees more 42s on order. A flybridge option with an internal staircase will soon be available. This is only the start of the Aspire range, with the next likely to be an Aspire 48. Size for size, the Aspire 42 Sedan is certainly great buying and is exceptional value for money in a market that it now shares with a growing number of other brands.