When you are as serious about fishing as John Dunn is, then you know that his boat is going to be something special. His all-new custom-built Southern Lazer XP996 is in every way a boat designed for a fisherman, but it doesn't lack any of the comforts that make long stays away that much more pleasant.
At over 10m overall, the XP996 is right on the transition between a big trailer boat and a small cruiser. However with a beam of 3.2m it's 200mm into special permit territory and with a 5.5 tonne weight capacity it's also going to need a seriously big trailer and tow vehicle. Not that trailering is at the forefront of the owner's requirements, as the boat is housed in the Gulf Harbour Marina drystack complex.
Built in Dunedin at the Southern Lazer factory, Seas The Day was transported by rail to Auckland and hauled into the Whiting Power Systems yard at Westhaven. Here it got the Yanmar diesel installed and Lloyds Marine Electrical ran all the wires for the myriad of electronics and electrical systems aboard. Southern Lazer built the alloy hull, with local cabinetmakers, Wood Solutions in Dunedin doing the majority of the fit-out.
"I didn't want to see any aluminium inside the boat so I got them to cover everything in either timber or fabric", says John.
The finish is certainly more akin to a small cruiser than a trailer boat, which is what he wanted to achieve.
Final woodworking trim was carried out by Mitchell Marine in Auckland.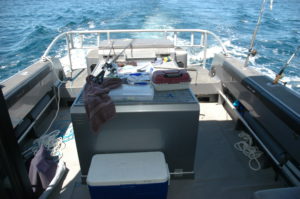 After spending a number of years chasing kingies and snapper in his SouthernSport 605 Hardtop and getting a little weary of punching his way back home from offshore fishing grounds, John felt he needed to move up into something bigger. "I often go away fishing for a few days on my own and wanted a boat that was a live-aboard and would afford me the comforts that I lacked in the smaller boat.
It also had to be set up to take a few mates away and give everyone a bed", he added. He also wanted to get away from petrol power, so the diesel stern drive option was an obvious choice. When Gulf Harbour Marina in Auckland announced they were doing an open dry stack that also appealed. "The novelty of beach retrieval with a tractor late at night after a 200 kilometre day's fishing trip soon wears off, so having the advantage and convenience of a dry stack certainly appealed to me".
This also meant that the new boat wouldn't require a trailer, so the beam constraints were somewhat less. "My limit was that the beam must not exceed 3.2m, for transporting purposes from the factory to Auckland", says John. Consequently, in collaboration with Southern Lazer he was able to take advantage of the extra 200mm, something that certainly had a bearing on the final layout.
Within Certain Parameters
Design parameters right from the start were for a big cockpit for fishing, with no compromise on the layout plus a main saloon of generous size and comfortable forward accommodation space. All this has certainly been achieved in the 996. "I love catching kingies and I love getting out to the Barrier, but with a smaller trailerboat you can get caught out and it can become very unpleasant at times, especially if you want to stay out overnight", said John.
The accommodation forward caters for two to three, depending on how comfortable you want to get. Below is a small double, with a generous single berth above. There is plenty of storage under the berths and in side storage. There's a forward deck hatch for extra light and ventilation and another giving access to the rear of the instrument panel.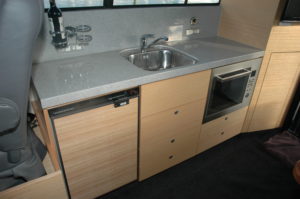 John wanted a good size galley so he had the ability to prepare proper meals when he was away. The galley takes up most of the starboard side of the saloon, with a composite bench top providing good servery space and alongside the ample storage lockers below, are a built-in convection microwave oven and a small fridge. A separate portable induction hob with ceramic hotplate is kept in a drawer and brought out when required.
The saloon layout has been especially designed to make any journeys as comfortable for the passengers as it is for the skipper. The helm seat for example is a custom creation that started with a fully functional Isuzu seat, which was recovered in soft leather – inexpensive and extremely comfortable!
The three-tier helm facia is nicely trimmed with ash panelling, with a Lowrance HDS10 screen in the centre and the necessary switch panels and controls surrounding it. A Simrad autopilot helps with long trips.
Opposite is a double seat, so that his fishing buddies can sit alongside and be very much part of the journey with John as he cruises 'out wide' in search of bigger game. Directly aft is the soft cushioned L-shaped settee that converts to a huge double. The custom made dining table, complete with a magnetic chessboard, drops down when not in use to form the base for the infill. If the fishing tales are getting a little hard to believe or when John is away fishing on his own there is a 22" LG TV.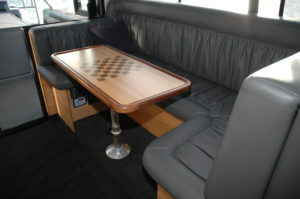 Using a locally designed combined VHF/UHF Apollo active aerial with a 22dbf gain, he says that the reception is excellent, even right out behind the Barrier or the Mokohinau Islands. A cellphone amp booster and aerial provides exceptional coverage and John has set the boat up as a WiFi hotspot.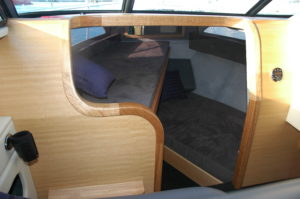 Four sliding side windows provide adequate ventilation when required and when the rear-folding window is open, the cockpit and saloon are transformed, with an uninterrupted indoor-outdoor flow. Every available space has been used for storage, including a massive area running the full length of the saloon sole.
Seas The Day's cockpit that has been designed without compromise when it comes to all things fishing, from the LED spotlights that illuminate the cockpit when fishing at night, to more than 20 rod holders, wide full length lockable side trays and padded coaming side panels when stand-up fishing. There are also deep kill tanks either side of the engine box. First noticeable feature is the central engine box that takes up a serious amount of the floor space. John explained that it could have been a whole lot lower and left as a raised section in the aft centre area of the cockpit. Just something to trip over and of no real use as it was too low to be used as a table.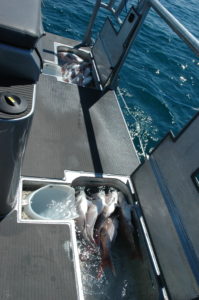 By raising it up to the coaming height he has transformed it into a practical feature. It serves as a work station for both sides of the boat and is a very useable area for not only bait but also your tackle.
I found when we were out fishing that the engine box certainly didn't get in the way and was really useful for everything from a place to have my tackle box handy to somewhere to drop my lunch in a hurry when the reel screamed at just the wrong time! It was also great for standing on with the binoculars and scanning the horizon for a work-up. Plus, with wide access either side you can get around from the rear platform to the forward cockpit area without intruding on your fishing companions' space.
Forward on the port side is a sink unit and bench seat, with dedicated storage beneath for the auxiliary outboard, rubbish bin and a variety of gear. Opposite is the external head with a shower unit. This is also another secure area to stow the rods when you're away from the boat. Mounted directly aft is the Mase generator that comes with a very handy cushion seat, plus access either side to the very large aft platform.
This too has come in for some special attention with scaffolding grade aluminium tube used around the cage and removable bars on both side access areas. It's solid and secure when you're fishing hard off the transom. Tucked into the platform sole are live bait tanks and a couple of tuna tubes.
Seas The Day also has a couple of T-Topper style game poles that lay down on the hardtop and simply fold out when needed.
When you ride in a boat as big and as heavy as the XP996, you just know it's going to be a comfortable trip. Even in some nasty water on our test day, the hull just hummed along at a cruise speed around 20 knots without so much as a shake. It was extremely quiet, with no hull noise and with the rear bulkhead completely closed, the sound inside is minimal.
It's a big boat to get on the plane with a small engine, although the diesel engine does have good low-down torque. However, John chose to add some strakes to the running surface after initial trials, which he says has made quite a difference to both getting onto the plane and the performance of the boat. The boat has more lift and the top speed increased by a few mph as a bonus.
The alloy strakes were designed and manufactured by Southern Lazer who also specified exactly where they were to be welded to the hull, one either side. The power plant chosen for the boat is a Yanmar 6LPA-STZP2, a direct injection, 24-valve, overhead cam, turbocharged and intercooled 4.1-litre in-line six-cylinder diesel that is rated at 315hp, with a continuous rating of 286hp. This fresh water cooled engine is matched to a MerCruiser Bravo 2X stern drive with a 2:1 reduction ratio. Initial trials were carried out with a 21" pitch three-blade alloy propeller that allowed the engine to reach just over 4000 rpm @ 32mph. This gave the big 5.5-tonne boat plenty of bite down low to get onto the plane easily, although at the expense of some top end speed. A smaller diameter 23" pitch propeller dropped the engine 200rpm, and perhaps now assisted by the added strakes, increased the speed to 36 mph and lowered the maximum rpm to 3800.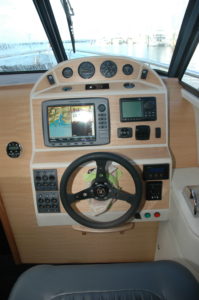 Cruise speed is now around 3800 rpm @ 25 mph which returns a fuel figure of ???????L/NM.
One of the interesting things about the Yanmar 6LPA-STZP2 is that it is not only Tier 2 compliant – hence the number 2 – but it is also a mechanically operated engine, whereas most other brands have gone to electronics to meet the Tier 2 standard.
Interestingly, the owner's first choice was for the all-new Yanmar 8LV370 @ 370hp, but it wasn't released until after the boat was completed. However, John is not discounting a possible upgrade in the future to the bigger engine, a V8.
Prior to our day aboard the boat, John had already run up some hours, including an overnighter to the Mokohinau Islands, (a small group of rugged islands about 100 km northeast of Auckland) where he blooded the boat with its first kingie.
"I'm absolutely rapt with the boat. It does everything I expected it would do and then some", says a very happy John.