KIWI CHARM
Text by Barry Thompson 
Maggie is the latest Roger Hill designed power cat to be built by Alloy Cats (NZ) Ltd and the second of three from the same Kingfishercat 1200 design. A full displacement power cat, it is unpretentious in appearance and layout, yet finished to an exceptionally high standard with comfort and easy living in mind.             
Over the years I have reviewed many and varied Roger Hill designed power cats and they are all quite different. Hill is unquestionably New Zealand's most prolific power cat designer and can work across all mediums, from high-speed planning boats such as the 40-knot Voodoo to full displacement power cats such as Maggie.
While Maggie is a full displacement design, the fact that it is built in alloy means the bottom shape is quite different from that of a fibreglass full displacement boat. Roger explains. " A displacement hull in composite features a round bilge forward transiting to a chine at the rear, but that is very hard to do in alloy.  What we do is retain the hard chine to allow it to be easily built and yet still maintain the waterline beam to length ratio to retain the displacement hull proportions".
The hulls profile shape has a very narrow entry on the waterline and fine sections in the first 2m of the waterline forward, with a twisted bottom that ends up flat at the stern. Roger says that there is no noticeable difference in handling or performance when compared to a round bilge hull.
One thing I noticed when I took Maggie for a run on a calm Auckland Harbour was the lack of transition as the boat accelerated. It is a very slippery hull on the water with minimal bow lift. When Kingfisher Boats built their first Kingfishercat 1200, the power choice was a pair of Hyundai 170hp 4 cylinder engines, which gave a top speed of 24 knots and a 70 lph total fuel burn. Drop that back to 20 knots and the fuel dropped to 43 lph. Bringing the rpm back further and running in cruise mode of 15 knots, fuel burn was just 24 lph, which is less than 1 lpnm.
The D170 however, has now been replaced by the 2.2 litre R 200 engine, which is reported to give 18% more power and delivers 22% more torque than its predecessor for better acceleration and quicker performance to get on plane.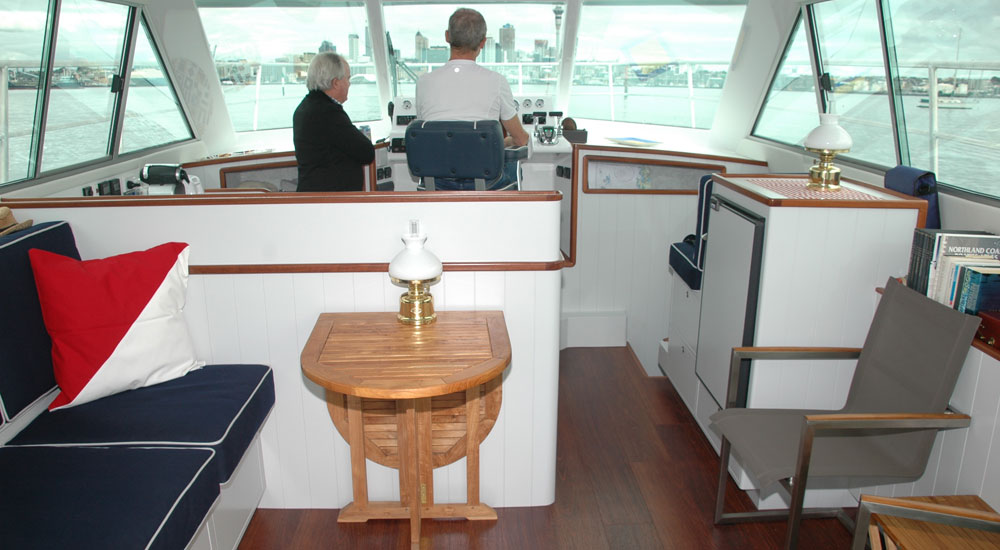 When the owner of Maggie, Claes Gibel went for the larger Hyundai S270P, a 270hp, 3.0 litre 6 cylinder engine, it wasn't for the extra speed – 24 knots compared 27 knots – but the fact he could run the engines at a lower and less stressful rpm range for a higher cruise speed. Having more power than you need means you have the reserve power when required and the engines are working at lighter loads in cruise mode. The extra 54 kgs per engine per side was compensated by moving the engines further forward than the four-cylinder 170s. "We always do a weight estimate and centre of gravity calculation on every boat we design so there are no surprises when the boat is launched", says Roger.
He adds that it is a common problem when designers and builders get involved with a project and don't communicate when changes, particularly with regard to when weight distribution is made. "With Alloy Cats we have never had an issue and that's why we have full confidence with every boat they build of ours", says Roger.
The drive train is based on a standard 7 deg down angle gearbox with the props set into tunnels, with individual rudders. The engines are just aft of amidships and precisely positioned for optimum centre of buoyancy. The keel is slightly lower than the base of the propellers and rudders, so there is not only protection for the drive gear, but the boat can also sit vertically on a haul out grid or a beach.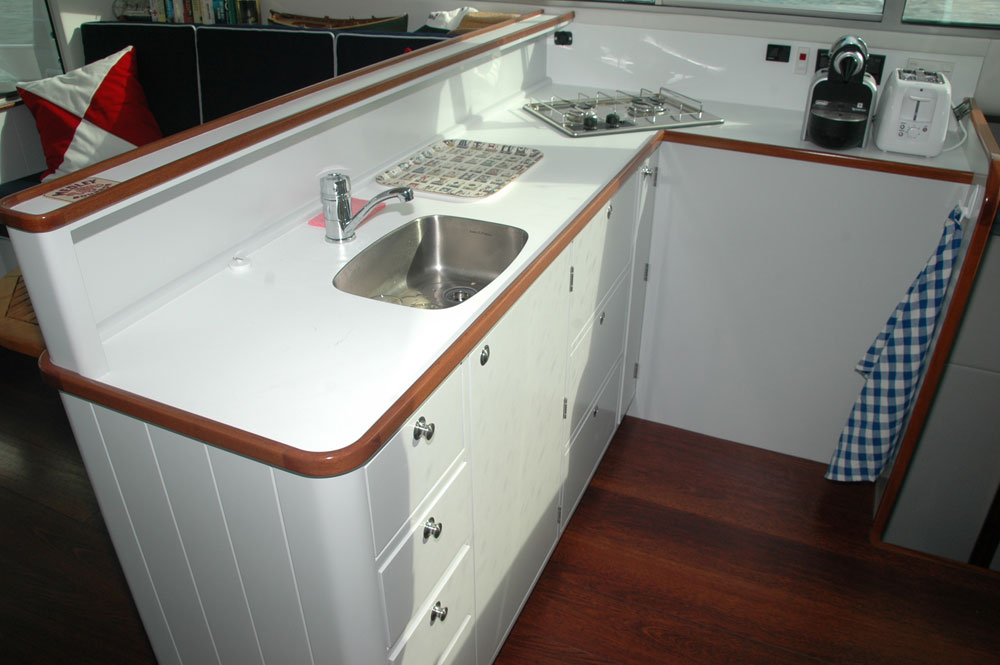 Being an alloy boat that is essentially a custom build, Maggie differs from the other two sister ships with a different deckhouse and wing deck length. In Maggie the deckhouse is longer, the wing deck is slightly further forward and the side decks are narrower. The result is more volume inside, but with a little shorter cockpit. While boat's #1 and #2 had alloy hardtops, #3 is having a composite top, although on a very similar profile to the alloy versions.  With a foam core centre, the composite hard top offers better thermal insulation. Both options allow for the addition of a sliding sunroof.
To make the winter boating more pleasant, Claes has installed a 5.5kw Webasto heater, which he says provides excellent heating throughout the boat. The vents are centrally placed in the side companionways to spread the hot air evenly.
Being a cat, the obvious place for the accommodation is in the hulls. In Maggie, the owner has chosen a couple of forward double berth cabins and a single aft. The forward berths are mirror imaged on both sides, with cave lockers under and quite simply there's not a lot else.
The only head is found aft in the port hull and surprisingly no shower. Claes has installed a cockpit shower with a wrap around curtain instead. However, if you would rather an indoor shower, there is plenty of space in the head compartment.
Roger mentioned that they had designed similar sized power cats with a two cabin/two bathroom arrangement, which has proven popular with charter operators. The layout you choice in the aft cabins is entirely dictated by what you choose to do above in the saloon, with the floor/ceiling heights determined by the layout.
In Kingfishercat 1200 #3, the wing deck is moved even further forward than Maggie to allow enough space in the port side master for a transverse queen size double with access around the end. The starboard hull will have two single berths, with the head/shower still in the port aft sponson.
Maggie's main deck is functional, practical and with pleasant, dedicated areas well defined. The forward central helm is served by a solitary helm seat, which still leaves plenty of access room to the stairwells to each hull and the accommodation areas. Claes didn't want more than he had to have at the helm, so there are just the basics.
"I wanted the dash as small as I could get it as I don't like a lot of instruments and I have found that keeping it simple is best and it all seems to work very well", says Claes.
A Raymarine Hybrid Touch 9" MFD looks after all the navigation issues, with standard engine gauges for the pair of Hyundai diesel. There is also a Fusion MSA70 taking care of the sound, a Raymarine VHF and Jabsco spotlight controls. Engine controls are the latest Ultraflex electronic. I found them very smooth and responsive throughout the rpm range.
Completing the forward area of the saloon, the Formica benchtop galley is again minimalistic but practical.  Mahogany trim is used around the bench top and throughout the boat. It has all you need for coastal cruising with a two-burner stove, loads of storage and a sink unit. There's an Isotherm fridge on the starboard side plus a forward facing seat with storage under.
The saloon layout is a little unique in a boat this size with loose chairs to starboard, rather than a built-in lounger.  There is a settee to port with storage under and this also becomes an overflow single berth.
Claes has chosen a fold out dining table, rather than one that is a permanent fixture. This is half folded up against the galley bulkhead and is conveniently out of the way when not being used. Open it up and there is seating for at least six around it. It also doubles as a cockpit table, where there are another couple of chairs providing even more seating.
Sliding Seamac doors and large windows divide the saloon from the cockpit, where you find a large central island complete with storage and a stainless sink. Claes has a Weber bbq stowed under, which he brings out when required. While this boat doesn't have a lot of fishing options, they are all available and the transom area can be configured to suit your most exacting fishing requirements.
Boarding platform access is either side of the island, which also acts as a mounting point for the custom davit crane. Hanging out over the transom is a Takacat and Tohatsu 9.8hp outboard. Flexiteak is used on all exterior deck and cockpit floor spaces.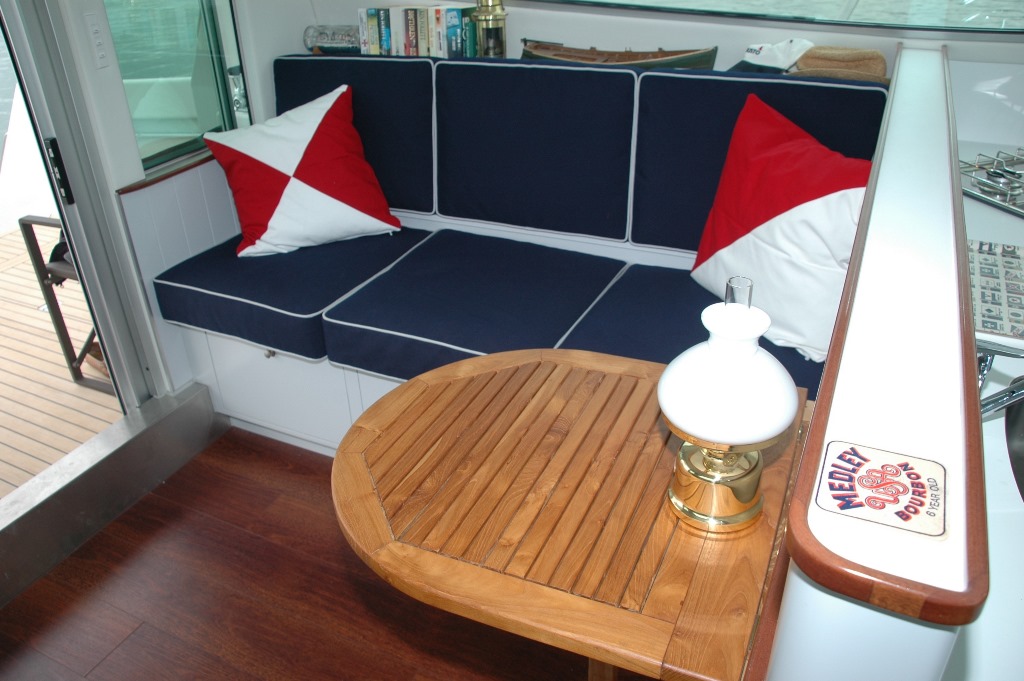 Claes is a very experienced boatie, with many years of sailing cats and tris and monohull powerboats. "My last boat was a slow trawler style and I wanted something faster but that still offered exceptional fuel economy, good handling and plenty of space. All the things you find in a good power cat", says Claes.
He says what he liked about the Kingfishercat was the soft modern lines, without being a little 'out there' like many of the French power cats and the size was right.
When I arrived aboard Maggie, Claes had only owned it a couple of weeks and already he was clocking up the hours. The delivery trip from Tauranga to Auckland was a great start. He plans to use the boat around the Hauraki Gulf mainly but does see Great Barrier Island, Whangaroa and the Bay of Islands on the agenda. His primary use of the boat is relaxed cruising and so far he says Maggie is doing everything he had wished.
Boat Design Name: Kingfishercat 1200
Boat Name: Maggie
Year Launched: 2016
Builder: Alloy Cats (NZ) Ltd www.alloycats.co.nz
Designer: Roger Hill Yacht Design                                    www.powercatsnz.com
Interior Designer: Owner/Kingfisher Boats
Builder: Kingfisher Boats
LOA: 12m
LWL: 11.55m
Beam: 4.5m
Draft: 0.8m
Displacement (Loaded): 8993 kgs
Max Speed: 27 knots
Construction: 5mm/4mm Alloy
Fuel Capacity: 800 Litres
Water Capacity: 400 Litres
Engines Make/HP: 2 x Hyundai S270P @270hp
Drive Train: Shaft with tunnels
Props: Austral 22.5" x 23"
Electronic Controls: Ultraflex
Lighting: Hella
Spotlight: Jabsco
Anchor Winch: Savwinch (Drum)
Heater: Webasto
MFD: Raymarine Hybrid Touch 9"
Tender: Takacat/Tohatsu 9.8
              FUEL & PERFORMANCE DATA

Kingfishercat 1200 / 2 Hyundai S270P

Fuel capacity:

800

litres

 

RPM

Knots

L/h

L/NM

Range  (NM)

680

4.5

1.5

0.330

2100

1000

5.9

3.7

0.630

1100

1500

8.5

9.5

1.200

600

2000

11.7

21.3

1.820

390

2500

16.1

33.4

2.100

340

3000

19.8

50.7

2.600

270

3500

23.2

76

3.300

210

3850

25.7

105.8

4.200

170
L/NM is calculated to two significant figures and rounded up. Range is calculated to two significant figures and rounded down. To allow for adverse conditions, range is calculated on 90% of the fuel capacity.