Neil Curtling is unquestionably one of the most experienced and innovative inflatable boat constructors in the country and has been responsible for creating some outstanding RIBs over the past three decades. The Seafarer SF 430R is his latest creation
While externally the new Seafarer SF430 R is not dissimilar to a lot of other console RIBS, it does have one particular and unique point of difference. After having built a custom-made hot air welder, Seafarer Inflatables have developed hot air welding to a whole new level.
Neil calls it the Dual Seal Construction System, which means all the tubes are sealed 100% both internally and externally. They have also developed this system to weld internally and externally both the cone ends and internal baffles.
"The result for our customer is the very best air retention and a solid, reliable weld. The hot air welded cones and baffles are we believe a world first. Normally these are Radio Frequency welded which means they are not internally and externally sealed" says Neil.
Seafarer is the first NZ manufacturer to manufacture polyurethane hot air welded airtight tubes. He adds that the polyurethane (TPU) fabrics are as good if not better than Hypalon and are 30% to 40% cheaper. " We have a big demand for this impressive new product", he adds.
The tubes are glued and covered with an anti-peel hinge to an all alloy 4mm hull designed by Neil and manufactured by Hibiscus Sheetmetals. All the fastening holes in the hulls are pre-drilled before powder coating to eliminate any corrosion.
One of the other advantages is the time it takes to construct a boat. Neil points out that in the past a RIB this size took about 16 hours to assemble and now it's down to 12 hours.
The SF 430R is a development of the existing SF 380R which is half a metre longer but retains the same internal and external beam. Like the 380R and the larger 550R and 600R, you have the option of everything from tiller steer to side, centre and jockey consoles.
The first SF 430R was fitted with a lightweight yet durable alloy console, which is an innovation from the heavier grp consoles on previous models. The small dash is big enough for a couple of engine gauges, and there is space for a small bracket mounted fishfinder. The battery and isolating switch is installed in the console and is easily accessible via a hatch.
The jockey seating is big enough for two, and while our seating frame was open, there is space beneath for a chilly/isky bin, or you could close the whole area in for a big dry storage area.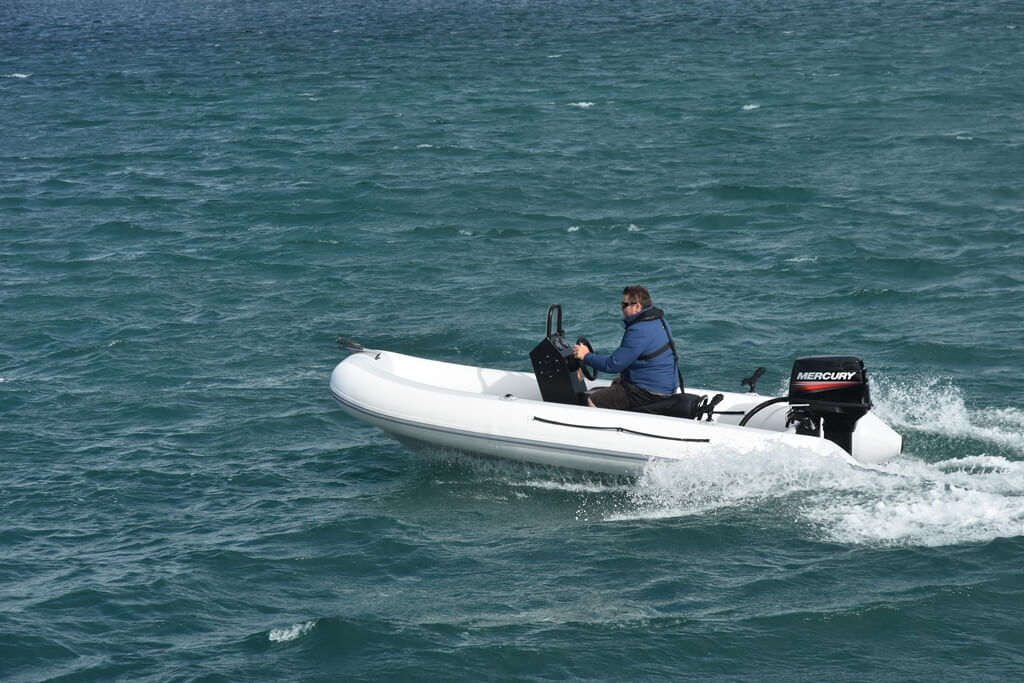 Neil points out that not only is the aluminium lighter, but it also gives them the flexibility to manufacturer more custom consoles with seating, facias, storage options and even screens adaptable to what an owner wants.
In small RIBs, you are often faced with the tote tank taking up valuable space on the cockpit sole, so it was good to see that in the 430 R it is hidden away in a forepeak locker. The fuel line is routed under the U-Deck covered the floor and pops up at the transom, so there is no exposed hose. There is an optional seat cushion for the foredeck should you want some extra seating.
There is also an upstand to stop the fuel tank from moving aft in the locker and covering the anchor tackle space. Another innovation is the stainless steel bow roller, (previously GRP) although Neil says this is going to be changed for a powder coated alloy version.
The 430 is suitable for single outboards from 30-50hp, with our test boat running a Mercury 40hp 2-stroke, supplied and fitted by Matakana Marine. Top speed is a very respectable 40 mph with a 40hp. If you have plans to carry 3-4 divers and all their gear, then I would probably go for 50hp.
It's a very easy boat to move through the water. The tubes offer the usual stability you would expect from an inflatable and in our test run off Gulf Harbour in a small confused choppy sea the 430 was an easy boat to drive. It's a light boat with a shallow vee that is quite fun to drive.
The SF430 R is a versatile rig that is suitable as a tender or family boat towing water toys, diving or fishing. At a trailer weight of around 300 kgs, it only needs a small to medium car to tow it. The SF430 R is one of four models the SF Series of console RIBs, starting with the SF600 R, the SF550 R and now the SF430 R and the SF380 R. the all up package with the jockey console comes out at around $23,000.
Model & Model: Seafarer SF430 R
Builder: Seafarer Boats
Price as tested: $23,000 (B/M/T)
Type: Console RIB   
Construction: 4mm alloy/TPU
LOA: 4.30 m
External Beam: 1.85 m
Internal Beam: Trailerable Weight:  300 kgs
Test Power: Mercury 40 2S
Propeller: ? ?
Power options: Outboard Only
HP Range: 30-50hp       
Fuel Capacity: Tote Tank
Decking: U-Deck