Legacy Marine has evolved from  the success of Extreme Boats, New Zealand's most awarded alloy trailer boat builder.
CREATING A NEW ERA OF ALUMINIUM MOTOR YACHTS
Big things often start with a small step and over six years ago a cardboard model of a 70 ftSport Fishing Motor Yacht was put together perched on a table with every aspect of it getting critiqued and examined to the finest detail. Thoughts about how to make it look better, what was required to make it functional, perform and not only match what else already existed – but better it were running through Glenn Shaw's mind.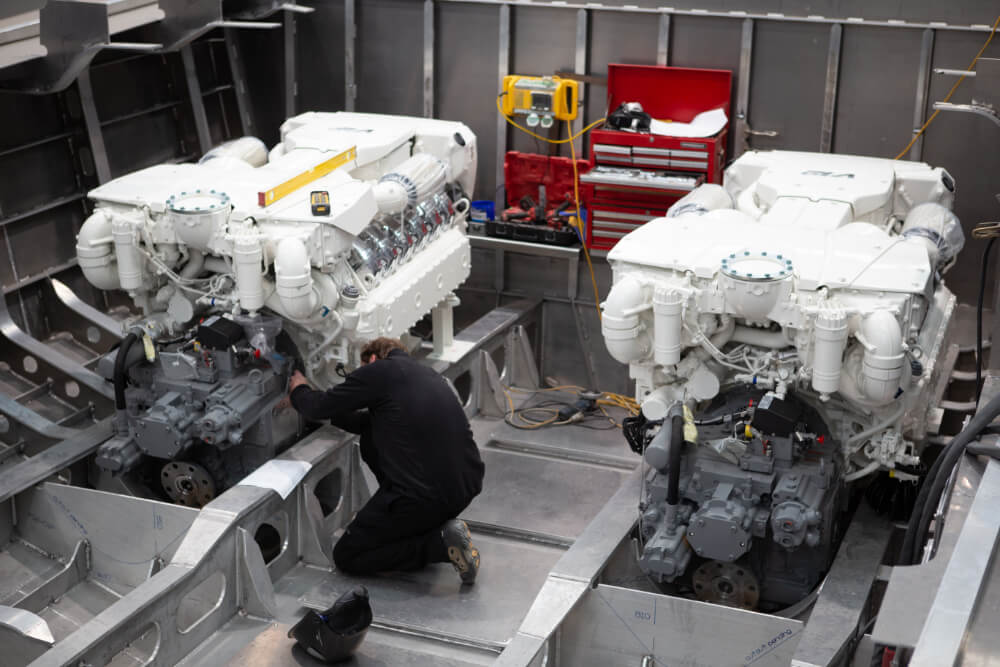 No stranger to building aluminium Boats, the Shaw family are behind the helm of New Zealand's most awarded aluminium trailer boat manufacturer Extreme Boats. From a small run of handcrafted boats in a rural shed over 25 years ago, the Shaw family have turned Extreme Boats into an internationally recognised manufacturer building over 300 boats per year with more than 90 staff and 20 different models in the range.
A natural progression to travel further than most trailer boats could and stay on the water for longer ignited the desire to come up with a range of high end aluminium motor yachts, and ultimately the birth of Legacy Marine.
THE NEXT STEP
What these motor yachts required was learnt by doing what they are intended to do, and many offshore voyages between Australia and New Zealand, and New Zealand and the Pacific Islands were undertaken with Glenn behind the helm in the years leading up to the design work. Well known New Zealand based naval architects LoMOTION were then contracted to assist with the designs, and ensure they were built to standard and would perform in the environments they were intended and thrive on water.
The range currently offers four different models from 35ft right up to just over 70 ft in length. The smaller member of the fleet is the L35 which is a motor yacht that will appeal to many. Very manageable in size yet with sleeping quarters to accommodate six in comfort this motor yacht will be ideal for those living on the waterways, looking for an on-water batch, or a serious fishing platform. It truly is a versatile vessel suiting many boating requirements.
The L70 interior is opulent, functional and above all, inviting.
The L45 is a Euro styled sedan cruiser with accommodation for 6 in two double beds and two single bunks. This Motor Yacht is an entertainers dream with a spacious saloon opening into the cockpit through a large electric window seamlessly fusing the outside environment with the comfort offered in the luxurious saloon. One of its key features is a concealed tender garage making exploration of offshore islands and bays a breeze with the ability to simply slide the tender out and head of in exploration, or to get ashore and gather those groceries while cruising.
When it comes to a boat built for offshore adventures or serious fishing expeditions in comfort and ease the L52 comes into its own. An enclosed flybridge motor yacht with two double beds and two singles along with a shared bathroom and ensuite, stay away trips will be made in comfort.
The L70 is Legacy Marines flagship model for those that demand a boat superior in every way.
With its twin 1900HP V12 MAN's pushing it along and 9000L of fuel capacity this is a boat designed to experience all our oceans have on offer in comfort and class. Fully air conditioned with a fresh water maker, ice maker, gyro stabiliser, dive compressor and sleeping capacity for eight there will be no hurry to return to shore.
If the success of Extreme Boats is anything to go by, Legacy Marine has an exciting voyage ahead.