Ever had trouble dealing with 'difficult to remove' shackles, then you need to check the NU-D Rated Towing Shackle.
Stemming from his own frustrations with shackles Chris Bransgrove's, a keen boatie and regular trailer user, decided there had to be a better way, so he developed the NU-D shackle. The NU-D shackle is easier to tighten and loosen without the use of tools and have 56% more leverage. After Chris developed an early prototype, he teamed up with Alistair Craig, a fellow boatie and business mentor and together they have refined, tested and patented the NU-D rated towing shackle.

The NU-D shackle was launched at the International Hardware Show in Vegas in May 2018 and then presented to the NZ public at the Innovation Tent at the 2018 Fieldays, Mystery Creek in Hamilton. Positive feedback flooded in, including a sale to the Minister of Agriculture, Damien O'Connor. We also received comments from people with arthritic hands who found the shackle easier to grip and others who live in colder climates were amazed at how much easier the shackle was to use – even with gloves on!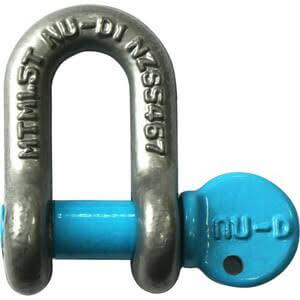 The big blue pin is the symbolic trade mark of the galvanised steel towing shackle, which is available in dee and bow type design with a range of sizes that is continuously growing. There is also now a  stainless steel shackle with a captive pin. This is also rated and more sizes are becoming available soon. These shackles are available on-line and in stores around NZ.