In the second chapter of Maritimo's 20th anniversary celebration, we are inspired by the passion and pride of two owners of Maritimo M60s from different eras, 20 years apart.
Peter Robson owns the Maritimo 60 Flybridge Motor Yacht "Class Act", the first to ever roll out of the Maritimo factory 20 years ago. Jamie Montgomery has owned three Maritimo's over the years and is now the proud owner of "Dirty Deeds", a 2023 Maritimo M60 Flybridge Motor Yacht that is heir to the legacy. Although separated by two decades, Peter and Jamie are bound by their shared love of family and the brand they chose to fulfil their boating dreams. Peter Robson, the owner of the original Maritimo 60 Flybridge, "Class Act", looks back over two decades of boating memories that echo the very essence of what it means to be a Maritimo owner. "Twenty years is a long time, but it has flown by. We still get compliments on how good it looks," he says, referring to his Maritimo 60 which is in as superb condition today as when it was handed over. "She's called Class Act, because she truly is." The original Maritimo 60 was launched in 2004, the ground-breaking product of Bill Barry-Cotter's vision for a true bluewater motor yacht with an array of innovative features to suit the contemporary boating lifestyle. Revolutionary at the time were traits such as a superbly engineered hull designed for smooth long-range cruising, wide walkaround decks, the galley aft at the heart of the social space, spacious accommodation, and an internal staircase leading to the climate controlled enclosed flybridge sky lounge.
Praising Maritimo's innovative spirit, Peter recalls the launch of the first Maritimo 60 back in 2004. The industry was forever changed, as Maritimo redefined the flybridge cruising motor yacht category. Their unwavering commitment to dependable engineering and systems, straight shaft technology, large fuel capacity, and fuel-efficient performance cemented Maritimo's status as one of Australia's leading long-range luxury motor yacht builders. Peter and his wife, Marilyn have four children, 10 grandchildren and seven great grandchildren, all of whom are just as passionate about boating as he is. "We're water people! The whole family have learnt to swim on holidays on board Class Act. We love spending Boxing Day on board – not all at once, though. 26 people is our limit." His deep love of the water found a perfect match in Maritimo's exceptional blue water pedigree and offshore cruising prowess. In two decades, there have been no major changes to his beloved Class Act. "I've never had one regret about buying into the Maritimo brand. When we see other Maritimos out on the water, we wave and feel proud that we're in the club." At 79 years of age, Peter has no thoughts of slowing down, or swapping his M60. In fact, Peter and Marilyn are planning their next adventure. "I believe we should never stop learning. We are keen to see more of Australia. We want to explore the Kimberley Coast with 12 or so on board."
 Further north, Jamie Montgomery and his wife Erin and their four daughters, are intent on living life to the full, sharing quality time with family and friends. Jamie is a passionate boatie and owner of a 2023 Maritimo M60 Flybridge Motor Yacht, "Dirty Deeds", with its distinctive dark-grey roof. The new M60 represents the evolution of the original 60-foot flybridge with which Maritimo established its fleet 20 years ago. Since 2011, Jamie has owned three Maritimos and, now on his fourth with "Dirty Deeds", he's proud to be a member of the Maritimo family. Fanatical about design, engineering and the ethereal benefits of boating, Jamie says he uses his boat "properly", getting year-round enjoyment from the on-water lifestyle. As a family, they have spent many years exploring the tranquil waters of Lake Macquarie, cruising the east coast, from Sydney, Pittwater, Newcastle, Port Stephens, the Gold Coast to Tangalooma. Jamie is a self-confessed stickler for practical, harmonious design. It's his livelihood and his preference when it comes to leisure. "I want efficient, functional, fast, not fiddly boating, which is why Maritimo has always appealed to me," he says. "Before I bought my first boat, I did my homework.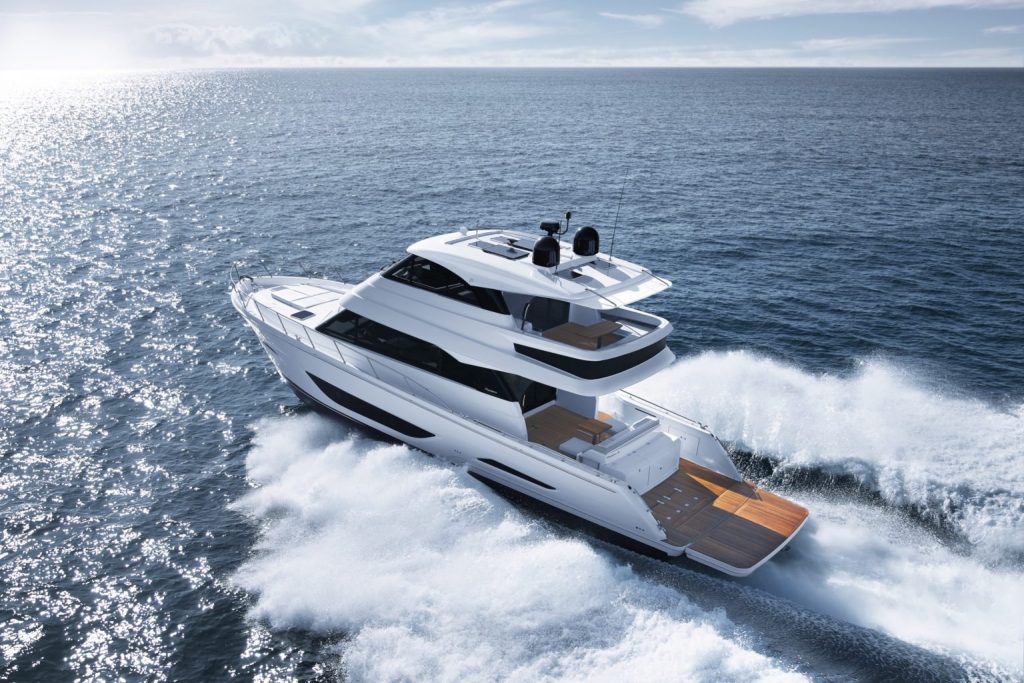 The Aegean 60 had a full-beam master, a visionary and his flybridge models are iconic for their balance and proportions. "Maritimos are Australian made, meticulously designed and constructed with a fantastic flow and heaps of features. They're boats built for all conditions and they're ideal for the Australian lifestyle." When it came time for their next Maritimo, the new M60 beckoned. "It's at the forefront of the new generation of Maritimo motor yachts, even better design and styling," Jamie says. "Tom has achieved absolutely enlightened design," he says, with admiration for Maritimo's new era in styling and optimal use of space. "The fully-enclosed flybridge is exactly what people want. It delivers even more usable space on board, especially in the flybridge with its unique use of space with widening the bridge out over the wings. There are dozens of new features such as the Adventure Deck, huge flybridge aft deck, larger captain's lounge, huge tender and toy storage garage, panoramic opening side windows, king bed in the master, increased storage solutions, you have the option of three tender storage options of traditional foredeck, tender garage or mounted on rear hydraulic platform." According to Jamie, the Adventure Deck is the "cherry on top" of the features integral to the DNA of all Maritimo models: wide, walkaround decks, fuel-efficient hull design and construction, long-range cruising capacity, superior engineering and most importantly, shaft-drive propulsion. For added performance and control, Jamie opted for the Scania engine upgrades and Twin Disc gear box and Express Joystick System (EJS) & hold station. We cruised to Sydney, and I was preparing to dock the boat with the hold station on, even in a howling wind while getting ropes and fenders ready, it helps you immensely and provides hassle free boating. Erin can reverse the boat in. It makes it so easy." "We work hard and when we have time off, our boat is our escape," Jamie says, already envisaging long summer days reclining and entertaining on the M60 Adventure Deck. Jamie's story is a classic tale of satisfying heart and mind and managing to balance the two. "Aesthetics and functionality are important to me," says this doyen of residential construction. "Through my design eyes, the M60 is the embodiment of the perfect flybridge motor yacht. It's the future of boating."