ENL has announced the latest, most highly anticipated release from Furuno – the GP-1871F (7″) and GP-1971F (9″) MFDs. Both units will be launched at the 2018 Hutchwilco New Zealand Boatshow on the 17th to 20th May hosted at the ASB Showgrounds in Auckland.
ENL's engineering team have been working with Furuno R&D for more than two years on this project to design a product for the NZ trailer boat market. ENL engaged with boat users from a variety of backgrounds to assist in refining the system to ensure that it has the features that people really want – simple operation in an easy to install package.
"The design ethos from day one was that the system must be simple to operate, have exceptional sounder performance, and be sexy. We have achieved all of the above" – says ENL National Sales Manager Nick Fogarty, "There are a lot of subtle enhancements to hardware and operation that users are going to really appreciate."
These two state of the art 7″ (GP-1871F) and 9″ (GP-1971F) MFDs feature a stylish all-glass high-bright touchscreen, 1kW TruEcho CHIRP or RezBoost fish finder (transducer dependent), internal 10Hz GPS/WAAS antenna, C-Map 4D charting, NMEA2000 networking, and Radar capability (with DRS4W Wireless Radar) all-in-one compact display.
www.enl.co.nz
Lowrance has announced the release of a new software update for HDS Carbon, HDS Gen3 and Elite-Ti displays that include sonar enhancements, new automatic routing functionality and improvements for C-MAP charting.
At the heart of the release is FishReveal, a new sonar feature that makes fish easier to see on DownScan Imaging. The upgrade also includes significant enhancements to StructureScan 3D and StructureScan HD; the addition of C-MAP Easy Routing and Navionics Dock-to-Dock Autorouting capability; plus, a new, easy-to-interpret C-MAP navigation palette.
FishReveal is a leap forward in fish finding technology that allows anglers to quickly and easily discover how fish orient themselves in and around cover and structure, with clearly defined fish arches. Unlike traditional CHIRP views that provide strong fish targets but lack refined structure detail, or DownScan Imaging that provides photo-like images of bottom and structure details but show fish targets as tiny dots; FishReveal smart target viewing blends the best data from both technologies, eliminating the need for split-screen viewing and interpretation.
High-Visibility Colour Sonar allows you to see fish and fish-holding structure like never before that is exclusive to HDS Carbon. High-Visibility Colour delivers clarity and range, with near-photographic images to each side and below your boat. By making full use of the dynamic colour spectrum, SideScan, DownScan Imaging and StructureScan 3D can now produce richer images with greatly enhanced detail and better contrast. Just as the human eye compensates for varying degrees of darkness, High-Visibility Colour automatically improves brightness in darker areas, while simultaneously preventing overexposure in brighter areas. This extends the visible range, making it possible to see what is in the shadows close to the boat or more than 100 feet away.
C-MAP charts just got a major upgrade in readability that is most apparent near shore, where the colours used for land, docks, anchorage areas, water, and channels are nicely differentiated and water contour lines are distinct. The new palette makes it easier to see where the boat is in relation to a channel, navaid, ledges and drop-offs, or a point of land. The colour scheme is also much easier on the eye.
www.lowrance.com.
AISNet+ now with VHF-AIS splitter
Many ports and maritime offices want the benefit of a local AIS feed to see shipping activity, ETAs and movements.  Digital Yacht's AISNet+ AIS base station is a low-cost AIS receiver designed for just this application with a network port for connecting to local computer networks or the internet for relaying of local signals to services like Marine Traffic and other internet-based AIS monitoring solutions. 
It also has a USB connection for a simple plug 'n play connection to a local computer and the package includes viewing software for Windows.   The system also integrates well with popular coastal surveillance software such as MaxSea/Time Zero and will overlay AIS information onto charting and radar displays.
AISNet+ also has a built-in, patented ZeroLoss VHF-AIS antenna splitter allowing an existing VHF antenna that may be installed on the building to be used for the AIS as well as VHF – easing installation without the need to fit the 2nd antenna.  Most ports and harbours will already have a VHF radio installation, so this dramatically simplifies the addition of AIS.
The sophisticated receiver will also decode specialist AIS targets such as ATONs and SARTs so can also be used for lone worker safety applications around ports using personal MOB AIS alarms.  There is also the option of a version with VPN connectivity for encrypted transmissions for military applications.
www.digitalyacht.com
Lowrance Cashback Offer on the HDS Carbon Range
Lowrance has announced its latest promotion in Australia and New Zealand. Available from May 1 through to July 31, 2018, Lowrance is offering up to $500 cash back on each SKU across the entire HDS Carbon range. The Lowrance HDS Carbon adds a high-performance dual-core processor, multi-touch SolarMAX HD screen, dual channel CHIRP and Network Dual Sounder to the proven features that have made HDS multifunction displays the choice of anglers at all levels. The HDS Carbon series includes 16-, 12-, 9- and 7-inch models.
Anglers in the market for a want-it-all integrated system need a processor that can smoothly drive the high-tech capabilities of HDS Carbon like StructureScan 3D with SideScan and DownScan Imaging, NEW FishReveal, dual channel CHIRP sonar, StructureMap and Broadband Radar support. HDS Carbon takes processing power to an unprecedented level with a dual-core processor that allows anglers to switch between applications and simultaneously view independent sonar feeds with ease.
To redeem your cashback visit www.lowrance.com/catchmore=
Simrad Yachting has released a new software update for NSS evo3, NSS evo2, NSO evo2 and GO Series displays that include sonar enhancements, C-MAP charting improvements and touchscreen control of MotorGuide Xi5 trolling motors
At the heart of the release is FishReveal, an exciting new sonar feature that makes fish easier to see on DownScan Imaging. The upgrade also includes significant enhancements to StructureScan 3D and StructureScan HD; plus, a new, easy-to-interpret C-MAP Navigation Palette and support for touchscreen control of MotorGuide Xi5 trolling motors.
Exclusive to NSS evo3 displays, Enhanced Sonar Imaging clarity and range, with near-photographic images to each side and below your boat. By making full use of the dynamic colour spectrum, SideScan, DownScan Imaging and StructureScan 3D can now produce richer images with greatly enhanced detail and better contrast.
Control the Xi5 trolling motor from the touchscreen of your Simrad display, making it easy to maintain your current position or navigate to a new one without leaving the helm. Navigation options include navigating to cursor, a heading, waypoint, along a route, or pre-defined turn pattern.
www.simrad-yachting.com.
Free Sunnies with Simrad NSS evo3 Purchase
Simrad Yachting has just announced its latest deal in Australia and New Zealand, offering a pair of Apex Mako Sunglasses (polycarbonate), valued at $199 RRP AUD, with the purchase of any NSS evo3 multifunction display.
Next generation Simrad NSS evo3 multifunction displays feature new SolarMAX HD screens, Dual Channel CHIRP sounder compatibility and an expanded keypad, plus a host of premium features that make them the premium choice of electronics for power boaters and sport fishermen around the globe.
The NSS evo3 series include 16-, 12-, 9- and 7-inch models. An easy-to-use interface and support for full operation via touchscreen or keypad ensure trouble-free operation in all weather conditions and while the boat is in motion.
Mako sunglasses produce leading, fashion-forward fishing and outdoor frames catering specifically to those who not only need effective sunglasses but also want to look good wearing them. The Apex is made of tough warp resistant TR90 nylon composite material delivering a light and comfortable feel. The fit is a six base meaning it sits off the face reducing fogging while rubber inserts in the nose and on the arms minimise slippage during extreme head movements.
Offer available May 1, 2018, through to July 31, 2018.             
www.simrad-yachting/mako or www.makoeyewear.com.au
Drone control with AXIOM Pro
Raymarine's new technology now enables AXIOM Pro owners to control a UAV (Unmanned Aerial Vehicle or drone) direct from their MFD, while enjoying all the benefits of live streaming video and high quality still photos from the air.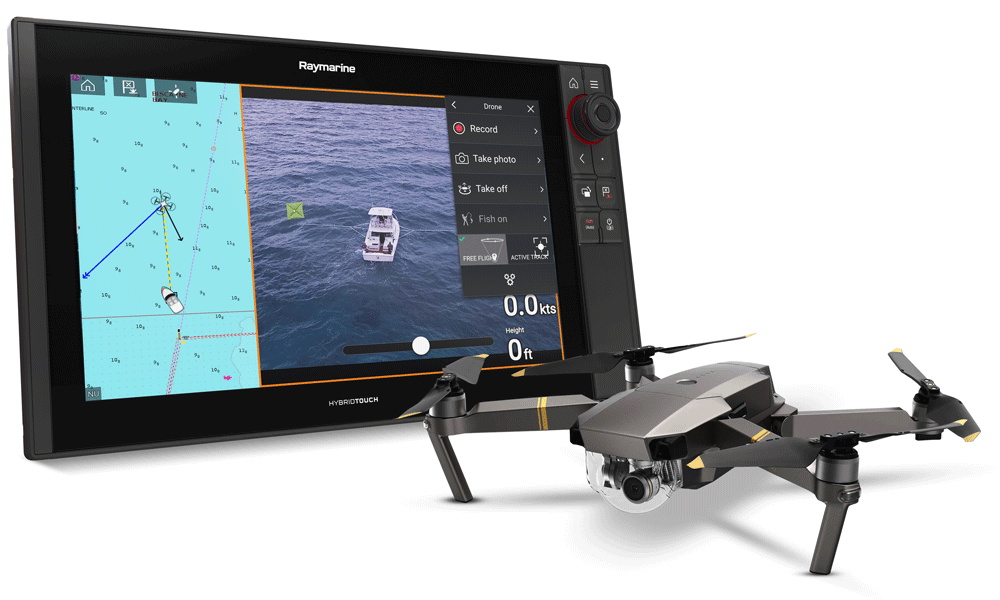 Currently compatible with DJI Spark and Mavic UAV drones (both of which are now readily available in New Zealand), the new technology opens up a whole world of new possibilities for owners, boaties and fishers. For example, anglers can now capture their battles with trophy fish, live stream them to big screens on board the boat for real-time viewing and save them to watch later or share with envious friends.
As well as launching the drone direct from their AXIOM Pro MFD, owners can also use their display to instruct the drone to hold station a certain distance, altitude and direction from the boat while it is underway; to circle the vessel for an all-around birds-eye view; or head off into the range to check on friends' boats or see whether a flock of birds are just cruising or actually taking part in a nearby work-up.
Other handy features include single button launch/track/record control and a GPS link, complete with a variety of "follow" modes, for easy, hands-free drone operation. Owners can also instruct the drone to take a high quality still image at any time.
The new leading-edge technology is expected to be available in New Zealand over this autumn and be on display at the Lusty & Blundell stand at the Hutchwilco New Zealand Boat Show in Auckland in May.
Lusty and Blundell on (09) 415-8303 or at www.lusty-blundell.co.nz.
Clarion NMEA 2000 Interface Module
The new Clarion NMEA 2000 Interface Module lets you control onboard functions with a Multi-Function Display.
The MW6 NMEA 2000 Certified interface module allows Clarion marine source units to be seamlessly added to a boat's onboard NMEA 2000 network, enabling control of Clarion source units directly from the boat's Multi-Function Display (MFD) device.
The MW6 offers a simple plug-and-play installation with no programming necessary. Once installed between the MFD and supported Clarion marine source units, boaters will be able to control various audio system functions, including power on / off, source selection, play/pause, next/previous track and more, directly from the UI of their MFD.
Additionally, the MW6 enables two-way communication between a Clarion source unit and MFD, providing the MFD feedback regarding source selection, song/ track/album title, radio frequency and more to display within the GUI. RRP: AUD 305
www.bla.com.au
Humminbird HDR 650 Depth Gauge
The HDR 650 In-Dash Digital Depth Sounder gives you instant, reliable digital depth readings, and offers customisable bezel and face colours to complement installed gauges. This unit comes packed with a transom mount transducer. Bezel colours included are white, black and chrome. Faceplate colours included are white and black. The supplied transducer can be transom mounted or epoxied into solid fibreglass hulls.
Features include single beam: 200 kHz / 20˚ @ -10dB, depth to 183m / 600ft and an RRP of $249 AUD
www.bla.com.au