Heading Down Under
Continuing to build on the highly successful introductions of the Nordhavn 72, 47 and 43, Pacific Asian Enterprises (P.A.E.) has introduced the Nordhavn 55, a long-range, full-displacement passagemaker that incorporates the company's modern styling and heightened focus on enhanced interior accommodations.
Several Nordhavn 55s have cruised New Zealand waters on their westward journeys from North America. Recently a Kiwi client, having recognised that the quality and ruggedness of this brand is well suited to his home cruising area of Marlborough Sounds, placed an order and will be the first NZ customer to take delivery of a Nordhavn 55.
"The popularity of our new 47 confirmed our belief that our owners want more living space and more conveniences without sacrificing offshore capability, " said Jim Leishman, vice president of P.A.E. "Our new N55 offers the interior room of many luxurious 60-footers, and yet she has the ability to cross oceans and take her owners to the far corners of the globe."
Thanks to the feedback of the P.A.E. staff as well as Nordhavn owners who have logged hundreds of thousands of miles offshore, the N55 has been designed to provide maximum comfort underway and while living aboard during extended cruises. "The generous interior volume is made possible by the relatively high bow and high freeboard of the design," adds Leishman. "We've learned that there is really no downside to adding more freeboard to our designs, and when done right, the advantages are many."
The high bow provides extra buoyancy when punching into large head seas and the higher deck takes on less blue water during rough conditions. The added height provides significantly more volume below the cabin sole. "Because of the added height, we can now use our bulletproof 'gravity feed' fuel system," comments Leishman. "We use a similar system on our Nordhavn 40 which we took around the world, and it has proven to be totally reliable and easy to use." The use of fibreglass fuel tanks adds to the trouble free, long-term service of the boat.
Of special note, the tanks have human-sized inspection plates and because the baffles are removable, a service technician can actually enter the tank and if necessary, thoroughly clean it of contaminated fuel and algae residue.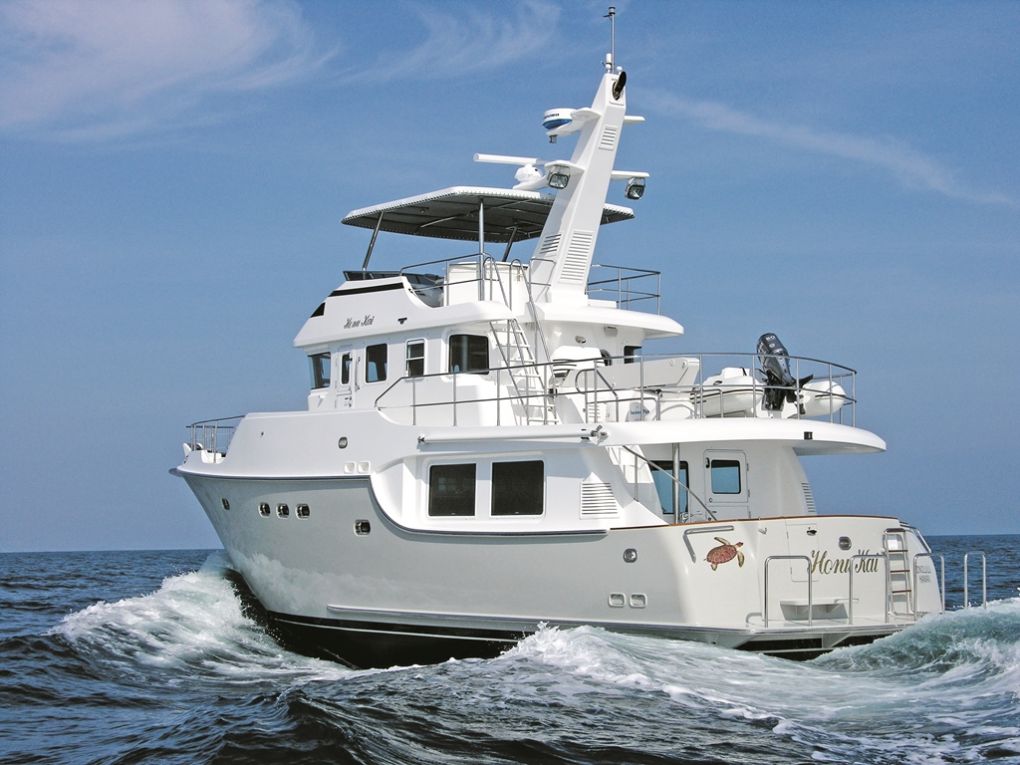 Long a Nordhavn feature, the main saloon opens directly to the aft cockpit, which is on the same level. This design effectively expands the living area from the inside to the outside, and when fitted with optional side curtains, the cockpit becomes an extension of the saloon, even in foul weather.
The asymmetrical cabin design allows for a wider main saloon and galley and features a wide side deck on the starboard side. A large, L-shaped settee and beautifully finished teak table are adjacent to two comfortable reading chairs. Two bar chairs face the pass-through counter top in the galley, which is two steps down from the saloon.
With full-sized home-style appliances, abundant storage cabinets and generous counter space, the galley will please the most demanding chef. Standard equipment includes a Sub-Zero refrigerator with icemaker, a 4-burner Thermadore stove and oven, a GE microwave/convection oven, a Broan trash compactor, G.E. dishwasher and GE top-load freezer.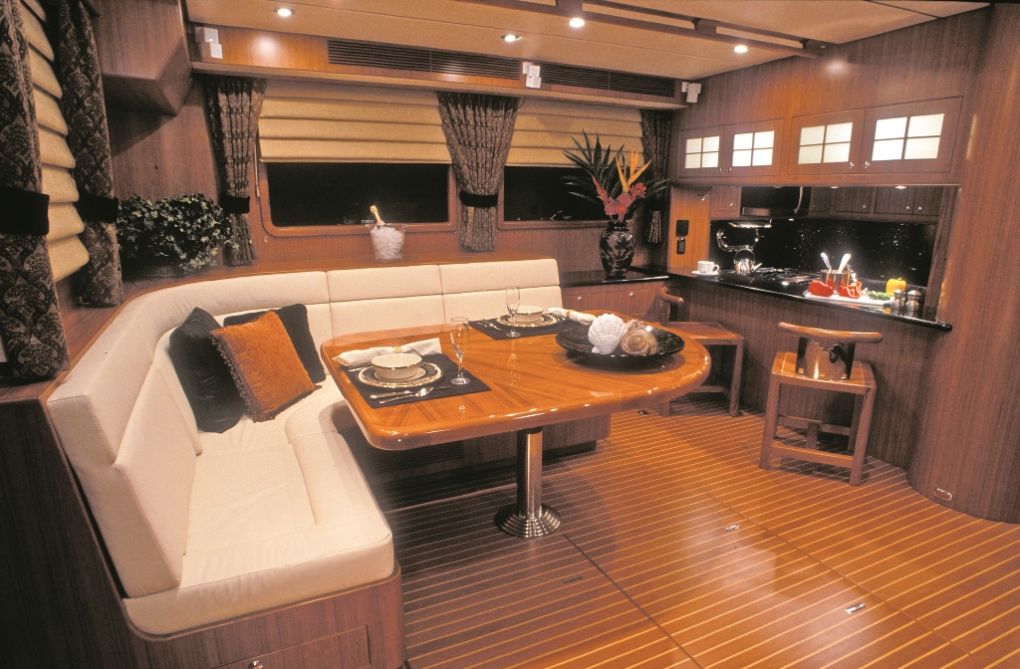 The owners' stateroom is on the same level as the galley, and it is located amidships, where the motion is least objectionable during passages and while at anchor. A queen sized, walk-around berth, two hanging lockers and a spacious head complete with a shower/bath tub rival the space of most home bedrooms. Forward is a spacious guest cabin with double berth, huge hanging locker, office area and private head with stall shower.
The Nordhavn 55 shows her serious side in her commercial-like pilothouse. Located amidships for minimal motion at sea, it provides excellent, 360 degree visibility. A full-sized helm chair puts the captain comfortably in command of his ship, with all electronics and controls within sight and easy reach. New for Nordhavn is a 45-degree tilted wheel, a position that's not only more comfortable, but easier for making quick turns.
Aft of the helm chair, an L-shaped settee and table, elevated for superior visibility, will seat three to four crew members. Beneath the settee are full-sized chart drawers and additional storage. But the most surprising feature of the N55's pilothouse is its private captain's stateroom complete with head and double-sized berth. Perfect for the off-watch captain or crew on long passages, this area will also serve as a private guest stateroom.
The Nordhavn 55 has been designed to incorporate a flying bridge as standard. Located directly over the pilothouse, it provides excellent visibility and is the ideal place from which to run the vessel in fair weather.
With a waterline of slightly more than 50 feet, the Nordhavn 55 has an efficient hull speed of 9.5 knots and under full load conditions, a range of 1500 nautical miles. At 8.25 knots, her range is 3,000 nautical miles. Its hull form, a refinement of Nordhavn's MFD (Modified Full Displacement) design, features fuller aft sections that reduce "squatting" when running at higher speeds. Added benefits include reduced pitching motion and increased stability.
The main propulsion is provided by a Lugger diesel engine that turns a 3-inch Aquamet shaft via a 4:1 reduction ZF transmission. This amount of reduction allows the 40″ prop to turn slowly, greatly reducing noise and vibration. The dry exhaust is a signature design element of all Nordhavns. A little known fact is that now the N55 model is also being offered with twin engines specifically for owners who are more confident with this configuration.
While each Nordhavn is priced individually due to the significant number of choices of finish details, layout options, custom details and accessory equipment, the value for money of the Nordhavn 55 is considered to be internationally competitive. "This is a lot of boat for the money," offers Leishman. "We've been able to bring this new design to the market at this attractive price because our labour, while highly skilled, is simply costing us less at our new factory in China." The Nordhavn line of long-range cruisers now boasts fifteen different models between 40 and 120 feet. The construction of this large range of models is shared between two shipyards, one in Taiwan, the other in China, both dedicated solely to the building of Nordhavn vessels. Nordhavn's robust, quality construction and timeless designs contribute to the high resale value of previously owned Nordhavns. "Buying one of our boats has proven to be one of the best boating investments our owners have ever made," concludes Leishman. This message is resonating with serious boat buyers, as P.A.E. took over a dozen orders for the Nordhavn 55 before hull number one was even launched. So popular has this model proven to be, that construction of N55 hull #56 has begun.
Design Name: Nordhavn 55
Builder: Pacific Asian Enterprises
Designer: Jeff Leishman
Interior Designer: Jeff Leishman
LOA: 17.07m
LWL: 15.26m
Beam: 5.49m
Draft: 1.75m
Displacement: 44.25 tonnes
Cruise Speed: 9 knots
Fuel Cap litres: 8517 litres
Water Cap litres: 2271 litres
Construction: GRP
Engine: Lugger L1276A @ 340 hp