Norman R. Wright & Sons have been selected by the Queensland Department of Environment & Science to build their new custom 17m aluminium patrol vessel.
Wrights were chosen after extensive evaluation following a competitive Invitation to Offer process including  review of their construction of the recently launched 19m aluminium landing barge for the Queensland Police Service, the Stewart Kerlin II.
Designed by Incat Crowther the new patrol vessel was developed in a conceptual design process specifically to meet multiple operational requirements and roles, based on specific criteria to deliver a high service delivery capacity for the operation. This requires excellent seakeeping, reliable cruise speed, low fuel consumption, reliability, ease of maintenance, good product support, aesthetics and value for money.
The new vessel will for the Great Barrier Reef Field Management Program will perform a range of tasks including; marine protected area management, island national park management, compliance operations, incident response, diving operations, mooring maintenance and research. The vessel will operate throughout the Queensland Coast and Great Barrier Reef waters to the extent of the Exclusive Economic Zone.  Much of this vessels work will be in remote areas of the Great Barrier Reef.
The hull has been specifically designed for the demanding Great Barrier Reef Field Management Program operation. The hull form features a new-generation Z-Bow, large reserve buoyancy and a nacelle to combat rough seas from south-east trade winds. The development process included operational experience from the existing fleet and computational fluid dynamics (CFD) to optimize the new solution. The performance was independently verified by rigorous speed and seakeeping tests at the Australian Maritime College's (AMC) facilities.
The vessel makes the most of the platform size, which is specific to fit its homeport berth. The main deck is dominated by an aft working deck with a quick launch and recovery system for a 3.4m RIB, dive racks, deck winches, BBQ area, a sink and multiple deck lashing points.
Inside the main deck cabin is a wet room, mess, full size galley and chest freezer. The elevated wheelhouse accommodates the captain's bunk, whilst side doors provide direct access to the foredeck. Under this wheelhouse are a pair of twin cabins. Under the main deck cabin is a pair of single cabins.
The roof includes ample cargo area suitable for up to two 4.5m RHIBs, a deck crane and multiple storage boxes, topping off a highly flexible and functional vessel. A deck crane allows the loading of cargo onto the roof, as well as answering the call for both on-board RHIBs to be launched and recovered easily and safely.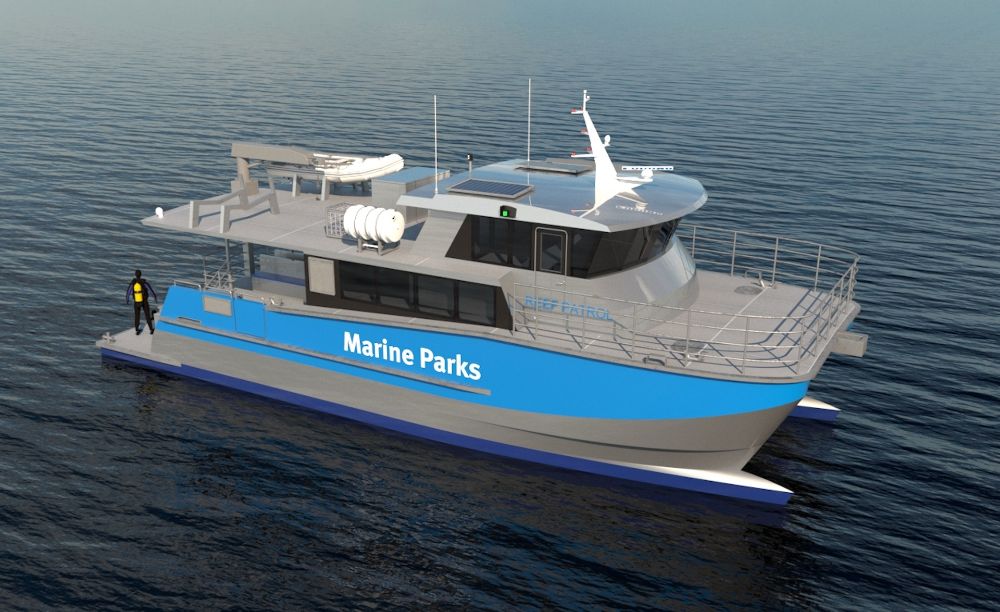 Energy efficiency is aided by roof mounted solar panels to maximize use of available renewable energy and reduce environmental impact.
The construction of the vessel by Norman R. Wright & Sons will include high quality materials that minimize weight, whilst ensuring high strength, robustness, and low maintenance.  This allows the Incat Crowther 17 to maintain good efficiency whilst packing a high level of capability for the size.
The vessel will be powered by twin MAN i6-850 main engines driving fixed-pitch propellers through ZF V-drive gearboxes. She will have a service speed of 20 knots. The vessel is designed to be autonomous for up to 10 days at sea with a 500 nautical mile range.